Take a sip of this story, brought to you by SoulBoxer – quality, ready-to-drink cocktails that promise less time making, more time drinking. Put a little soul in your life, Milwaukee.
The Wisconsin fish fry is a favorite of many folks. Most of us associate it with Fridays, a tradition based on the Catholic custom of abstaining from meat on that day, but many restaurants serve the coveted fry more often – or even every day.
OnMilwaukee food writer Lori Fredrich is working on a series that identifies some of the best local fries, ingeniously named "Thank Cod It's Fryday," and after reading and editing these stories for a couple of months, I've had fish fry fever more than ever.
Earlier this month, my friend Biju Zimmerman went on a month-long tour of the U.K. as the merch manager for the musician Aleem. Knowing my propensity for the fried fish, he texted photos of his plates of "fish and chips" and we started to compare and contrast the Wisconsin fish fry with the classic fish dinners on the other side of the pond.
Luca Musker, the general manager of Three Lions Pub in Shorewood, joined our conversation. Musker, who grew up near Manchester in jolly old England, ate fish and chips his entire life. Thus, Three Lions offers British fish and chips that, according to the menu copy, "meets the standards of Wisconsinites and Brits alike."
"It's a fusion of the two," says Musker, who moved to Milwaukee from England in 2007 to attend college and play soccer and says he enjoyed himself so much he never left.
Zimmerman, Musker and Ben Dexter, a London resident also on tour with Aleem, broke down the similarities and differences of the two meals.
How are they the same?
Traditional fish and chips and Wisconsin fish fries both beer-batter and deep-fry the fish. According to Musker, haddock is more common in England than cod, which is often the preferred fish of choice here. Zimmerman says he's enjoyed both haddock and cod during his tour.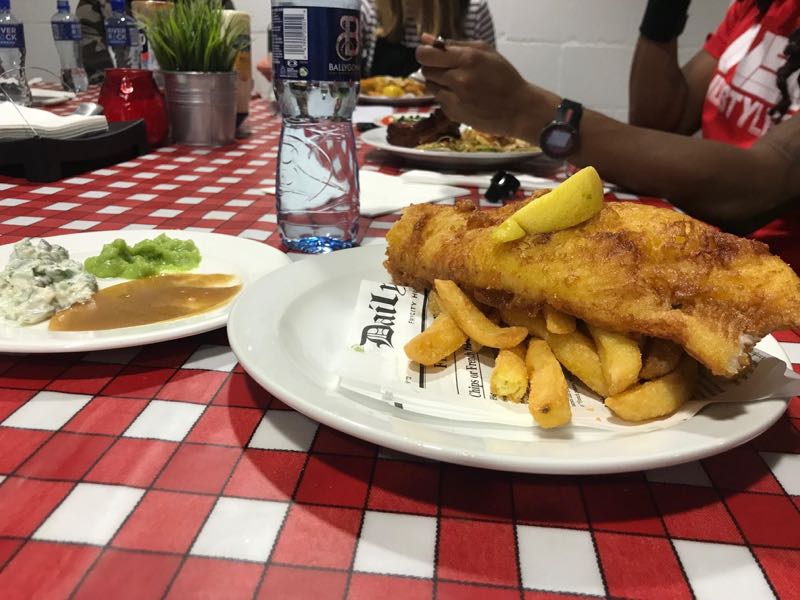 "Chips" (what we call "fries") are the customary side to fried fish in England. Although they are popular plate-mates to Wisconsin fried fish, we often have a variety of potato options including potato pancakes, a baked potato or different types of fries. Musker says in England some fish and chips shops offer potato pancakes, but they are called "potato dabs." Slices of bread are also common with both meals.
At one time, Wisconsin had many "all-you-can-eat" fish fries, but in the last decade these gluttonous and glorious gimmicks have almost disappeared. The all-you-can-eat fish fry is not offered in England and so, at least as of recently, the two share this commonality.
In both places the majority of fish fry dinners are served in independently owned restaurants instead of chains. "There's no McFish-and-chips in England," says Musker.
Finally, in both England and Wisconsin, beer is the beverage of choice to wash down a fish dinner.
"A pint of beer is all we need. Nothing too fancy," says Musker."Pretty much the same in Milwaukee. Nothing too fancy."
How are they different?
As mentioned earlier, haddock is the most common fried fish in England whereas in Wisconsin it's probably cod. Probably the biggest differences between the two, however, is in the sides and condiments.
Shortly after landing in England, Zimmerman had a fish and chips dinner with London-native Dexter at The Albert. Although ketchup is available for the chips, malt vinegar and salt are much more common condiments with English fish fries.
"Dex told me to make sure I added malt vinegar and salt because that's how you're supposed to do it here, and so I did," says Zimmerman.
A curry dip is also often served with chips, and it quickly became a favorite of Zimmerman's. "It's amazing," he says.
Coleslaw is usually served with a Wisconsin fish fry, but not in England. Instead, they have a side of garden peas or "mushy peas."
"Mushy peas are exactly what they sound like," says Musker.
Tartar sauce is also a standard condiment for Wisconsin fish fries, but is not always served with fish and chips. "Sometimes you have to ask for it if you want it (in England)," says Musker.
Musker also says in England the majority of fish and chips shops are take-out, whereas in Wisconsin, going out for a fish fry is a celebrated social event. "Many of the shops are just storefronts," says Musker. "You go and order your food and wait around until it's done and then take it home."
Many of the English fish and chips dinners are wrapped in fake newspaper, something that isn't usually practiced in the United States. At one time, in some places, real newsprint was used to wrap fish dinners.
"It's not a myth. In some places where I am from they still wrap fish and chips in paper," says Musker.
The price of fish and chips dinners, based on four dinners had by Zimmerman, is a little cheaper, at 8 pounds which is about $10.50. In Wisconsin fish fries are usually slightly more, but don't usually run over $15. Three Lions fish and chips dinner is $13.99; Kegel's Inn has dinners ranging from $11.99 to $15.50; Serb Hall's are $11.50.
Old Fashioneds are also popular Wisconsin fish fry libations and Musker says although they aren't commonly drank in England, he's introduced his family to them when visiting his hometown.
"I love an Old Fashioned, and now they do, too," says Musker.
So which is better?
This is, of course, a very subjective question, and yet one that Zimmerman was quick to answer.
"I love fish and chips better because it's simple, good and curry on chips is amazing," says Zimmeman. "Plus, at a Wisconsin fish fry I am usually disappointed in the coleslaws, considering I think my mom's is the best."
Musker says he will always be biased toward the fish and chips in England, but after 10 years in the United States and managing Three Lions, he's grown accustomed to Wisconsin's fish fry ways.
"I've grown to really like a Wisconsin fish fry," says Musker.
Now craving a Wisconsin fish fry? We got ya covered.

Molly Snyder started writing and publishing her work at the age 10, when her community newspaper printed her poem, "The Unicorn." Since then, she's expanded beyond the subject of mythical creatures and written in many different mediums but, nearest and dearest to her heart, thousands of articles for OnMilwaukee.

Molly is a regular contributor to FOX6 News and numerous radio stations as well as the co-host of "Dandelions: A Podcast For Women." She's received five Milwaukee Press Club Awards, served as the Pfister Narrator and is the Wisconsin State Fair's Celebrity Cream Puff Eating Champion of 2019.