Last year around this time, the search for a new Milwaukee flag began to heat up as various outlets came out for and against the official civic design. Eventually, more than 1,000 submissions were narrowed down, and the public chose between five finalists.
The clear winner was Robert Lenz's "Sunrise over the lake." But while participation and buzz over the People's Flag of Milwaukee ran quite high, no official action was taken by the Common Council and prominence of the project quickly faded.
But while momentum may have slowed, the project has not died, thanks in part to an indefatigable Steve Kodis, the original contest organizer, and Greater Together, who continue to tout the People's Flag as a forward-looking symbol of a new day and better future.
While I thought the winning design was a vast improvement upon the civic flag, I originally panned the "Sunrise over the lake" design as being a bit too obvious. But I have since recognized the beauty of the symbol. It's simple and understandable; features complimentary, contrasting colors; and it's imminently flexible, customizable and forward-looking. Very few flags even use circles, which adds to its uniqueness.
And now Fyxation, a local bicycle company, has recognized the new symbol with their latest custom bicycle project which has been designed around the People's Flag.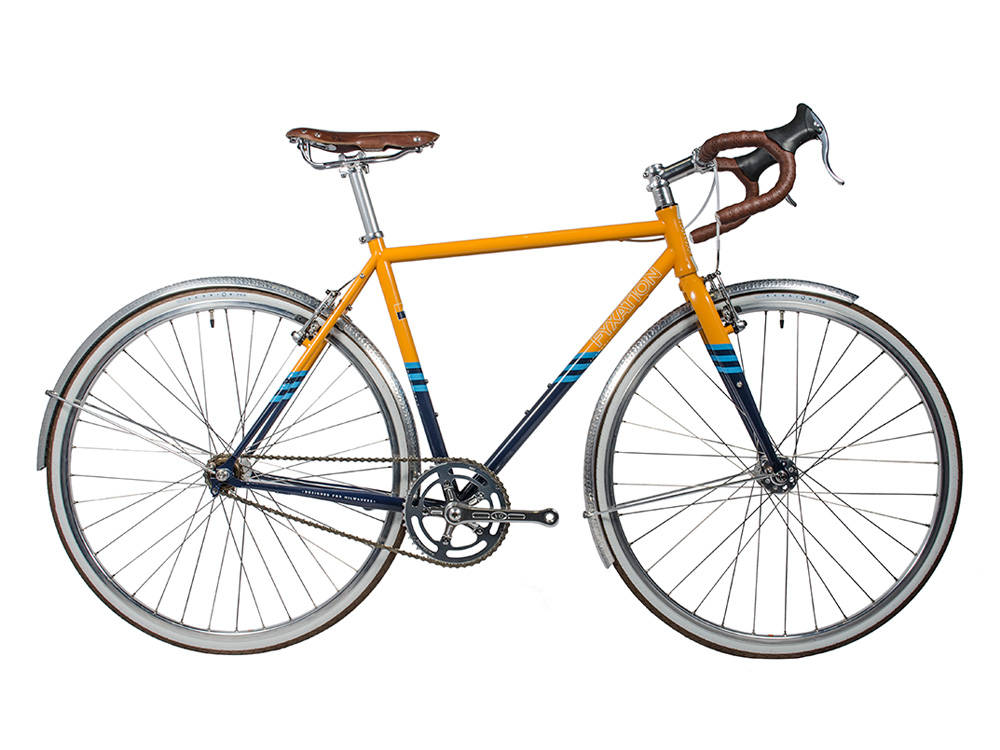 In a press release, Nick Ginster, co-founder of Fyxation said, "As a company that is headquartered in Milwaukee and is constantly evaluating and pushing design, we immediately fell in love with the new Milwaukee flag. The simplicity of the design and rich symbolism got our gears spinning and it was only natural for us to express our support the best way we knew how, to design a bike around it."
The Fyxation flag bike was hand masked and painted with precision by Wisconsin-based painter Ryan Hovde of Velovas. The design uses the rich colors of the new Milwaukee flag with the lake below and sky above which are separated by the three blue stripes representing Milwaukee's three rivers and three founders.
Then Fyxation placed the flag itself directly below the seat and on the chain stay they replaced "Designed in Milwaukee," which appears on their other original bike designs, with "Designed for Milwaukee."
The bike also features stylish white-walled tires and hammered aluminum fenders, which contrast with the beautiful leather saddle and bar tape. It's a looker – and, unfortunately, not currently for sale.
Fyxation plans to rotate the bike through different local venues throughout 2017 (but has no specific schedule to date). It currently resides at Fyxation's headquarters at 2943 N. Humboldt Blvd. in Milwaukee. You can see this or other custom Fyxation designs, including designs for 88Nine, Lakefront Brewery, Colectivo Coffee and more at fyxationcustoms.com.
Jason McDowell grew up in central Iowa and moved to Milwaukee in 2000 to attend the Milwaukee Institute of Art and Design.
In 2006 he began working with OnMilwaukee as an advertising designer, but has since taken on a variety of rolls as the Creative Director, tackling all kinds of design problems, from digital to print, advertising to branding, icons to programming.
In 2016 he picked up the 414 Digital Star of the Year award.
Most other times he can be found racing bicycles, playing board games, or petting dogs.