The Riverwest 24 is a 24-hour bike ride and community event. It started in 2007 and managed to attract around 150 people, most of whom signed up on the day of the race. It has since bloomed into a sold-out, neighborhood-wide, holiday block party involving hundreds of volunteers and thousands of participants.
During the event, which takes place July 27-28 this year, riders loop around Milwaukee's Riverwest neighborhood on open streets, stopping to stamp their manifest at four checkpoints along the way. Periodically, bonus checkpoints open up, which get people off of their bikes to accomplish tasks, explore hidden nooks and interact with their neighbors. These earn participants more laps.
After 24 hours, the rider or team with the most laps "wins," though the results are prone to inaccuracies, and the prize packages mostly include getting your picture taken behind a rapidly melting ice sculpture. Basically, if you aren't riding for fun or personal goals, you probably don't have the right attitude for this event.
Even if you aren't riding, there are still plenty of ways you can spectate and participate.
Pre-party
The Riverwest Public House is throwing a pre-race party on Thursday, July 26, from 8 p.m. to close. Bring your best RW24 stories, play games and take advantage of drink specials.
A new Checkpoint 1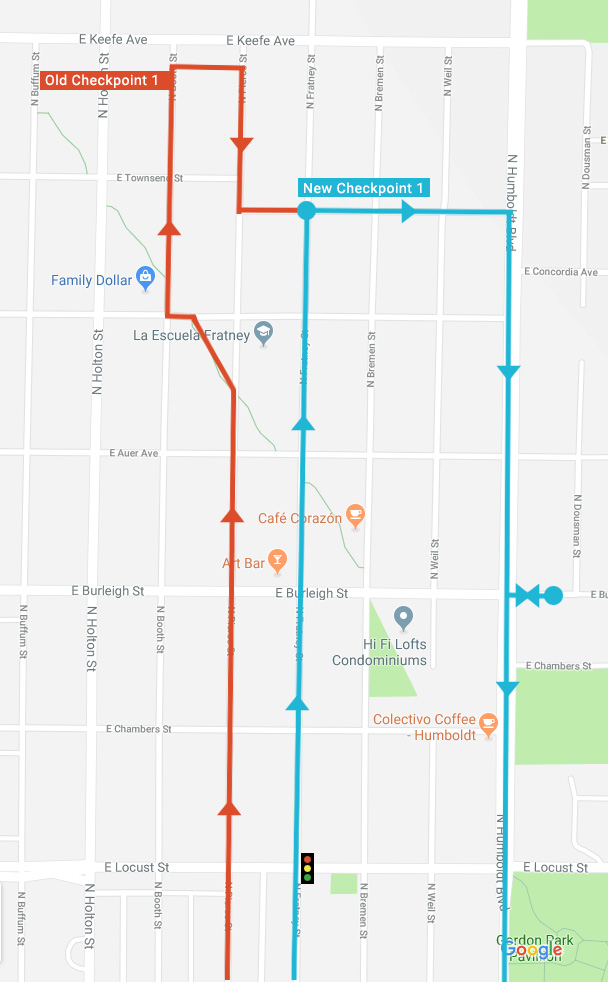 For the last 10 years, Checkpoint 1 has resided at Booth and Keefe, but thanks to a confluence of events, the first stop has moved to Fratney and Townsend.
This has the benefit of sending more riders through a signaled crossing at Locust, which should make crossing that street a little safer, but it does have the drawback of shortening the course by a little over half a mile, which also cuts out a decent chunk of the neighborhood as well. And yeah, I'm taking it personally, as someone whose house sits at the old checkpoint.
New class: Convoy
There are different types of teams to increase the fun and competition. Riders can choose to race solo (male or female), Team A (up to 6 people on one bike, relay-style), Team B (up to 6 people on up to 6 bikes, relay-style) or tandem. This year, a new team class has been added: The Convoy class. This is like solo, but with a team of 3 people. All 3 people have to be at every checkpoint at the same time.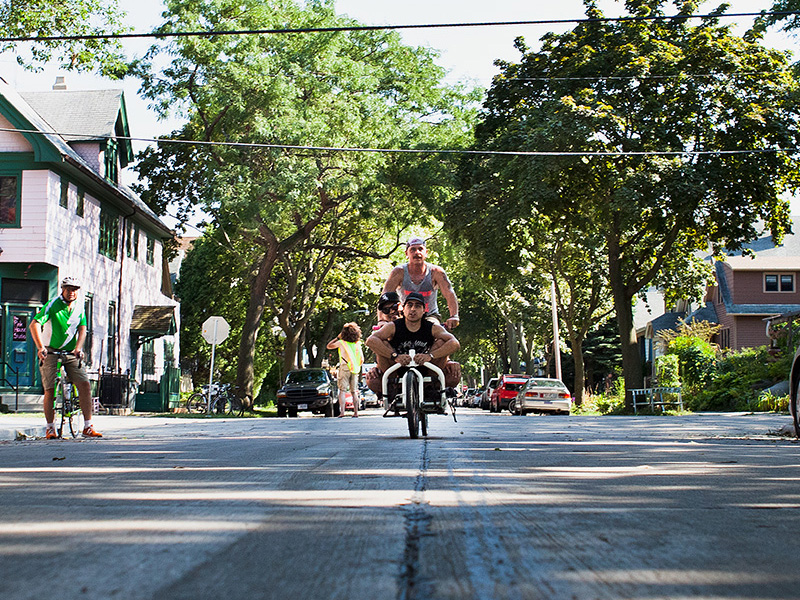 Kids races
Kids can race their own version of the Riverwest 24, which is held in the parking lot of Gaenslen Middle School behind Checkpoint 2. Parents can help their children sign up at 11:30 and races start at noon and last 24 minutes. There are two classes: kids 8 years old and under, and youth 8 - 18.
Checkpoint Parties
It's worth wandering around the whole neighborhood, as every standard checkpoint will have their own parties with their own unique ways of celebrating, including music, dance parties, food, drink and other creative revelry.
There will be plenty of other house parties and block parties that pop up along the route as well.
Local craft beer tent
Fyxation will be featuring beers from the Riverwest Brewery Syndicate in their parking lots. The syndicate includes Black Husky Brewing, Company Brewing, Gathering Place Brewing Company and Lakefront Brewery.
If you buy a pint from each, you get the fifth one free.
Live Music
Art*Bar is teaming up with Dino's for their annual Mishmash FEST off of Fratney at Burleigh and Chambers respectively. The Mishmash will feature two stages of music between 5 and 10:30 p.m.
Jason McDowell grew up in central Iowa and moved to Milwaukee in 2000 to attend the Milwaukee Institute of Art and Design.
In 2006 he began working with OnMilwaukee as an advertising designer, but has since taken on a variety of rolls as the Creative Director, tackling all kinds of design problems, from digital to print, advertising to branding, icons to programming.
In 2016 he picked up the 414 Digital Star of the Year award.
Most other times he can be found racing bicycles, playing board games, or petting dogs.