Made in Milwaukee is a new series about the businesses that sell to the world but call Milwaukee home. Presented by House of Harley-Davidson, Milwaukee's locally owned Harley dealer, we're shining a spotlight on these iconic companies – their histories and their futures.
Year founded: 1948 (GE founded in 1892)
Number of employees: 54,000 (globally)
Location: 9900 W. Innovation Dr.
What do bats, submarines and babies have in common?
The answer: Ultrasound.
In the late 1700s, Italian priest and scientist Lazaaro Spallanzani discovered that blindfolded bats could find their way around and catch flies. Yet, when he took off the blindfolds and covered the bats' ears, they were hopeless. This finding, also called echolocation, would eventually lead scientists to the invention of ultrasound.
Fast-forward about 150 years to World War I: The British Royal Navy used an early, man-made version of ultrasound to find and sink German submarines in the Atlantic.
Today, clinicians use the technology to see the human body in amazing detail – from the beating heart in 4D (three spatial dimensions plus time) to a smile in utero.
In Milwaukee, GE Healthcare's engineers and developers are coming up with the latest innovations in the ultrasound industry. The company first entered the medical ultrasound industry in 1990 and expanded its operations in Milwaukee County to become a global industry leader in just 11 years.
One of the jewels of the global GE Ultrasound business is manufactured right here in Milwaukee County. GE Healthcare's Wauwatosa site develops, manufactures and ships the LOGIQ E9 to hospitals around the world. This is the type of system you might find at a large hospital or major academic institution. Last year, GE celebrated the 17,000th shipment of this system, making it the most popular ultrasound system in the industry and part of the overall GE Ultrasound portfolio that impacts more than 600 million patient lives every year.
While most people have seen an ultrasound "in action," not many know how it works. For that, we're taking you behind the scenes with Brian McEathron, general manager of GE Healthcare's General Imaging Ultrasound business.
OnMilwaukee: We've all heard of ultrasound but how exactly does it work?
Brian McEathron: Every fourth of July, I love listening to the sounds of the massive fireworks in downtown Milwaukee. Each "boom" is followed by a series of echoes off the buildings. The echoes seem to continue for many miles until they fade out. This is the general idea of medical ultrasound: we send a "boom" of sound into the body and a sophisticated machine listens closely for those echoes.
However, an ultrasound "boom" is extremely low power and high pitch. In fact, it's about 200 times higher pitch than what a dog can hear.
Instead of echoing off buildings, the echoes come from different parts of the body. The ultrasound machine is so precise that it can use these echoes to paint a picture of the body's insides. In a way, it gives clinicians a "superpower" to look inside of you.
This ultrasound "superpower" allows doctors all over the world to diagnose diseases, help guide procedures and even screen for hidden diseases like breast cancer. Because ultrasound is fast, easy and incredibly safe, it's used all over the world to help save lives.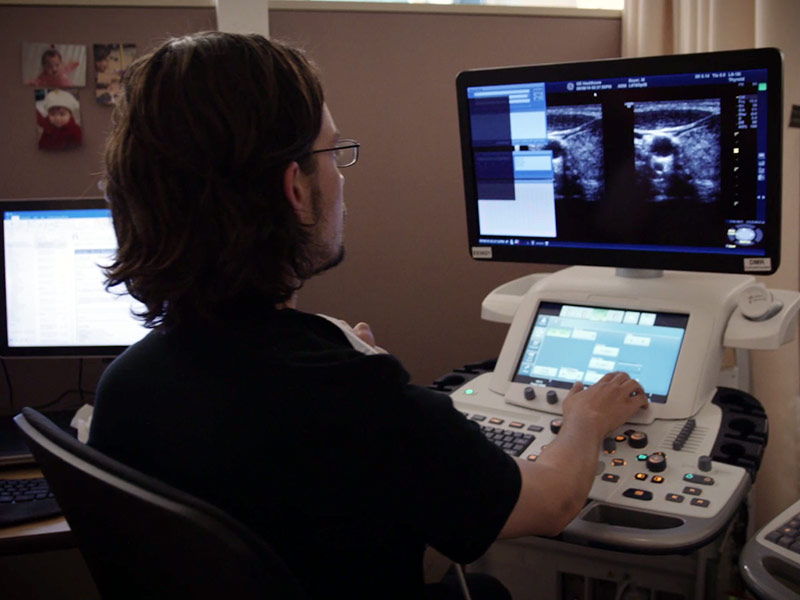 What is an ultrasound transducer made of?
McEathron: An ultrasound transducer is the part of the ultrasound machine that a doctor holds against your body – think of it as a speaker and microphone in one. This allows it to both create the "boom" of sound and hear the echoes. The Piezoelectric Effect is a physics property of materials that converts sound to electrical signals and vice-versa. We use different ceramic crystals in our transducers that have this amazing effect.
Why did GE Healthcare Ultrasound choose Milwaukee? Is there anything that makes ultrasound innovation so prevalent?
McEathron: Milwaukee is known for hard-working, smart, passionate engineers who want to make a difference in people's lives around the world. Once these people come together, they get hooked on what is possible, and they stay together. With this, they get even stronger and more innovative. It's really cool to work in an environment like this.
What has astounded you the most through your 32 years in the ultrasound industry?
McEathron: Most industries grow, plateau and then slowly decline. This isn't the case for ultrasound; it's followed a different pattern over its 40-plus years. Just when it's about to plateau, an entire new breakthrough comes along and grows the industry dramatically around the world. Ultrasound has gone from looking at babies, to examining every organ and guiding procedures, and even to breast cancer screening. Given that it's safe, low-cost and readily accessible to people around the world, there seems to be no end in sight for what it can do.
What's next in ultrasound?
McEathron: There are several dramatic breakthroughs in ultrasound on the horizon. An ultrasound machine is essentially a supercomputer connected to the internet at its core, so the internet of things will have an ultrasound system as part of an ecosystem of information, much like your iPhone. Doctors will be able to easily share information, access apps to help with diagnosis and understand how to make their equipment more efficient – ultimately improving healthcare and reducing costs. This also provides access to new capabilities like "Deep Learning" which is used by companies such as Google and Tesla to constantly make users and machines smarter.
When you're not coming up with the next inventions in ultrasound, what's your favorite Milwaukee activity?
McEathron: Growing up in Germantown with my older brother as the swim team coach, I'm a water bug. I love to boat, swim, water ski on our beautiful lakes, but I suspect my barefooting days are over.
Andy is the president, publisher and founder of OnMilwaukee. He returned to Milwaukee in 1996 after living on the East Coast for nine years, where he wrote for The Dallas Morning News Washington Bureau and worked in the White House Office of Communications. He was also Associate Editor of The GW Hatchet, his college newspaper at The George Washington University.
Before launching OnMilwaukee.com in 1998 at age 23, he worked in public relations for two Milwaukee firms, most of the time daydreaming about starting his own publication.
Hobbies include running when he finds the time, fixing the rust on his '75 MGB, mowing the lawn at his cottage in the Northwoods, and making an annual pilgrimage to Phoenix for Brewers Spring Training.