It's time for Dining Month, presented by Deer District and its spooky Halloween-themed alter ego, Fear District. Throughout the month of October, we'll be serving up fun and fascinating content about all things food. The signature dish, however, is our 2019 Best of Dining poll, who's winners we will dish out all month long. Get hungry, Milwaukee!

There have been so many times in my life when I heard about a Milwaukee restaurant closing and I immediately felt bummed, disappointed or surprised. But often, when I'd give it a few more minutes of thought, I'd realize I hadn't been to the place in a year – or two or three or five – and that even though in my mind I supported the restaurant, I certainly didn't with my money.
And we all know you can't pay for steaks or table napkins with mental support.
About a year ago, I launched a column called "Get Your Ass In Here" that was a reminder to Milwaukeeans – myself included – that we have to physically go to the places we love otherwise we increase the chance of them disappearing.
I visited a myriad different local businesses – from eateries to taverns to shops – that are quirky, unique or simply a Milwaukee institution in hopes of generating more interest in these beloved establishments.
Because it's Dining Month on OnMilwaukee, let's look back at the restaurants that we need to get our asses to – or accept that they might go away. In short, we can love it or lose it. It's up to us, Milwaukee.
I am exactly zero-percent German, but I grew up in Milwaukee where German culture is everywhere and I appreciate it. And I don't want Mader's to close. Ever.
Mader's, 1037 N. Old World 3rd St., looks and feels old school European, with Bavarian decor and authentically-dressed servers. The dining rooms are elegant; there's a more casual environment in the adjoining Knight's Bar.
We recommend the "Schnitzwich," a wiener schnitzel with tomato jam and Boursin cheese, topped with fried pickles and served on a pretzel roll with a side of warm German potato salad.
Read more about why you should get your ass into Mader's here.
Milwaukee boasts the fifth largest Polish population in the United States and yet has only one Polish restaurant, Polonez.
Originally, Polonez, 4016 S. Packard Ave., was located on 6th and Lincoln, and moved to the current St. Francis location in 2001. The current space is large and brightly lit with numerous nods to Polish culture, including mannequins presumably dressed in vintage Poland-made garb and a Coat of Arms of Poland wall-hanging.
The menu features classic Polish dishes – mostly the recipes of the co-owner George Burzynski's grandmother – and includes pierogie, stuffed cabbage, sausages, a variety of soups including barszcz and dill pickle and perfect house-made potato pancakes.
The portions are large and the prices are very affordable. There's also a solid selection of Polish beer and cocktails, including a vodka drink that came with a side of pickle juice.
Read more about why you should get your ass into Polonez here.
You eat with your hands at an Ethiopian restaurant, so make sure your dinner date values personal hygiene. But if finger food is really not your jam, Ethiopian Cottage, 1824 N. Farwell Ave., offers forks, knives and spoons upon request.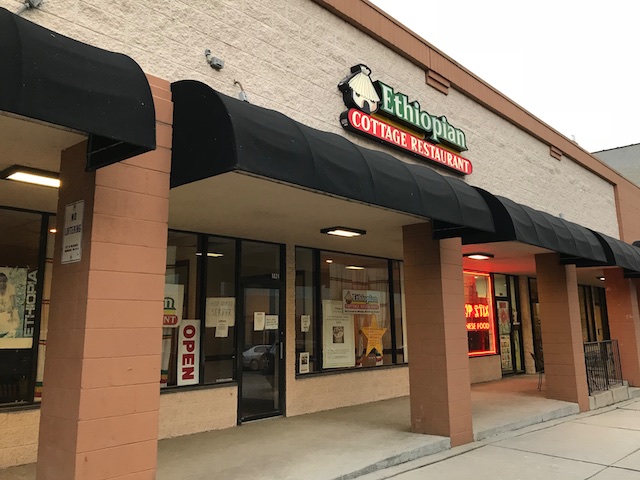 Ethiopian food is traditionally served on injera, a staple food of Ethiopia similar to a bubbly, fermented, sourdough pancake. (Gluten-free injera is available upon request.) Diners tear off pieces of injera and stop up the piles of meat and vegetables called wat – spiced stew made from beef, chicken, lamb and / or various kinds of vegetables – using the bread as a utensil.
Diners order separately and the food arrives on one circular metal pan and is placed on a Moseb basket table.
For drinks we recommend Ethiopian honey wine called Tej, Ethiopian beer (Bate, Bedele or St. George) or a non-alcoholic mango drink and Ethiopian tea.
Read more about why you should get your ass into Ethiopian Cottage here.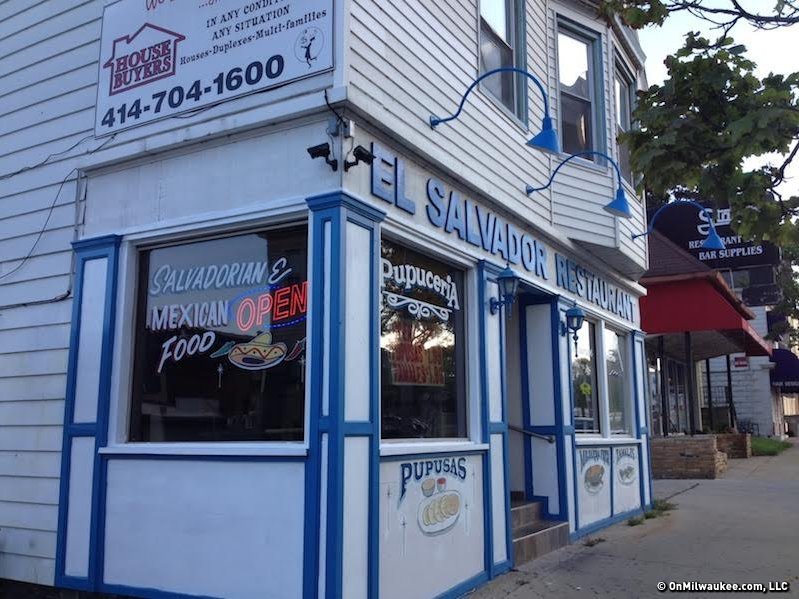 El Salvador Restaurant, 2316 S. 6th St., is Milwaukee's (and perhaps Wisconsin's) only Salvadoran eatery and, quite possibly, the easiest place in town to locate because it's directly across the street from the massive and opulent Basilica of St. Josaphat.
The space is clean and casual, with about eight tables and four or five booths. The walls are adorned with Salvadoran art, flags, tiles and a couple of flatscreen televisions playing Spanish-language programs.
El Salvador is open for breakfast, lunch and dinner, and the menu features three pages of primarily Salvadoran dishes with Honduran and Mexican items mixed in.
The pupusas are a signature Salvadoran dish and a must try – especially at a restaurant like El Salvador, where the word "Pupuceria" (a place where pupusas are sold) is painted on the front of the building.
Pupusas are thick corn "pancakes" served with a side of crunchy curtido – a vinegary, slightly spicy cabbage slaw – intended to be eaten on top of the pupusas.
El Salvador offers imported sodas, refresco de chan (a popular strawberry-and-chan-seed drink in El Salvador) and a small cantina, featuring imported tragos (Malibu, tequila and brandy), margaritas and numerous beers, including hard-to-find-in-Milwaukee Central American cerveza imports like Nicaragua's Toña or Famosa (or Gallo) from Guatemala.
Read more about why you should get your ass into El Salvador Restaurant here.
If you're a fan of family businesses (this one started in 1957!), thin crust pizzas, excessive holiday decorations, vintage signs and religious paint-by-number art collections, Maria's Pizza, 5025 W. Forest Home Ave., is the place for you.
The menu features appetizers – the breaded mushrooms are our usual go-to – along with salads, fried chicken, pasta dishes and, of course, pizza. Anyone who claims to like pizza (which is everyone?) should try Maria's pizza, not only because it's good, but also because it's unlike any other pie in the city.
The pizzas come in two sizes: a 14-inch circle or an 18-inch rectangle. Toppings are simple and include sausage, pepperoni, onions, mushrooms, black olives and green peppers. The pizzas are served on baking sheets and the edges of the pizza hang over the sides.
The thin crust starts off crispy but becomes softer and softer as the grease from the cheese and toppings soak into it. Often the pizzas are only partially cut, so diners tear off pieces of pizza and fold it over or even roll it up (if the crust is soft enough) and eat it burrito style.
Soda is served by the plastic cup or the pitcher and for decades the house beverage was Black Bear's blue raspberry lemonade soda. However, the local soda company closed recently and so Two Brothers Beverage Co., located in Riverwest, took the blue pop top spot.
Maria's decor includes red-checkered tablecloths, strands of lights and paint-by-numbers of religious paintings brushed by the original owner. Sadly, someone stole one of Maria's paint-by-number Jesus paintings earlier this year and despite efforts was never returned.
Around Halloween, Christmas, Valentine's Day, Easter and Fourth of July, Maria's dons a plethora of holiday decorations, including a talking Santa in December.
Read more about why you should get your ass into Maria's here.
The atmosphere at Three Brothers, 2414 S. St. Clair St., is as much of a draw as the food. Vintage Schlitz signs, '50s Formica tables, sturdy but old wooden chairs, ambient Serbian music and a plethora of plants offer a very "back in time" feel.
Customers should prepare themselves to spend at least 90 minutes in the quaint Serbian eatery, especially if ordering burek, the restaurant's signature dish.
Burek is a rich and filling pastry made of thin, flaky dough and is available filled with cheese, cheese and spinach or meat. Many longtime customers come to Three Brothers specifically for the burek, and for first-time diners, it's a must try – as are the stuffed grape leaves.
Read more about why you should get your ass into Three Brothers here.

Molly Snyder started writing and publishing her work at the age 10, when her community newspaper printed her poem, "The Unicorn." Since then, she's expanded beyond the subject of mythical creatures and written in many different mediums but, nearest and dearest to her heart, thousands of articles for OnMilwaukee.

Molly is a regular contributor to FOX6 News and numerous radio stations as well as the co-host of "Dandelions: A Podcast For Women." She's received five Milwaukee Press Club Awards, served as the Pfister Narrator and is the Wisconsin State Fair's Celebrity Cream Puff Eating Champion of 2019.