Adore that old school restaurant? That quirky bar? "Get your ass in here" is a new series highlighting original and extraordinary local businesses that are thriving, but to ensure continued success, need our asses there on a regular basis. Love it or lose it, Milwaukee.
On Valentine's Day, Ethiopian Cottage, 1824 N. Farwell Ave., will celebrate 11 years in business – and over a decade later, there's still a lot to love about this place.
Ethiopian food is traditionally served on injera, a staple food of Ethiopia similar to a bubbly, fermented, sourdough pancake. (Gluten-free injera is available upon request.) Diners tear off pieces of injera and stop up the piles of meat and vegetables called wat – spiced stew made from beef, chicken, lamb and / or various kinds of vegetables – using the bread as a utensil.
Yep, you eat with your hands at an Ethiopian restaurant, so make sure your dinner date values personal hygiene. And if finger food is really not your jam, forks, knives and spoons are available upon request.
"People rarely ask for utensils, they just need to get the hang of it and then they are fine," says co-owner Yiglete Debebe.
To take the intimacy of the dining experience even a step further, in Ethiopia, it is a sign of respect to feed your companion by scooping with the injera and putting it to his or her mouth. Suddenly, can you see how Valentine's Day is the perfect anniversary for this place?
Diners order separately and the food arrives on a circular metal pan and is placed on a Moseb basket table. There are four-legged tables as well if you're feeling less adventuresome.
On a recent visit, we ordered a beef and chicken sampler for two. To drink, we recommend Ethiopian honey wine called Tej, Ethiopian beer (Bate, Bedele or St. George) or a non-alcoholic mango drink and Ethiopian tea.
Debebe came to the United States from Ethiopia to study. After receiving a bachelors and masters in political science and journalism from the University of Wisconsin-Stevens Point, he and his wife, Almaz Bekele, opened Ethiopian Cottage in Milwaukee. Bekele and a second chef do all of the cooking and the friendly Debebe serves as the host and manages the front end.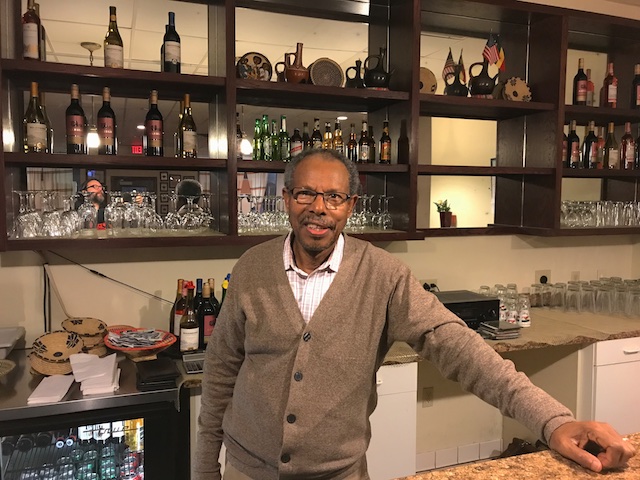 The decor is simple and clean and the vibe is upbeat even with few diners thanks to lively Ethiopian music. One of the restaurant's walls showcases an impressive number of awards and recognitions.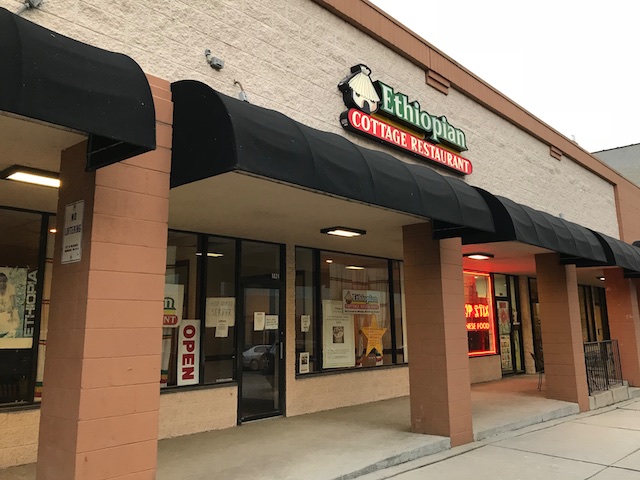 "Everything is really good here," says Debebe. "Everything."
Ethiopian Cottage is open daily, except Mondays, for lunch and dinner.
Molly Snyder grew up on Milwaukee's East Side and today, she lives in the Walker's Point neighborhood with her partner and two sons.
As a full time senior writer, editorial manager and self-described experience junkie, Molly has written thousands of articles about Milwaukee (and a few about New Orleans, Detroit, Indianapolis, Boston and various vacation spots in Wisconsin) that range in subject from where to get the best cup of coffee to an in-depth profile on the survivors of the iconic Norman apartment building that burned down in the '90s.
She also once got a colonic just to report on it, but that's enough on that.
Always told she had a "radio voice," Molly found herself as a regular contributor on FM102, 97WMYX and 1130WISN with her childhood radio favorite, Gene Mueller.
Molly's poetry, essays and articles appeared in many publications including USA Today, The Writer, The Sun Magazine and more. She has a collection of poetry, "Topless," and is slowly writing a memoir.
In 2009, Molly won a Milwaukee Press Club Award. She served as the Narrator / writer-in-residence at the Pfister Hotel from 2013-2014. She is also a story slam-winning storyteller who has performed with The Moth, Ex Fabula and Risk!
When she's not writing, interviewing or mom-ing, Molly teaches tarot card classes, gardens, sits in bars drinking Miller products and dreams of being in a punk band again.