People tell me I'm hard to shop for, and they're probably right. Lots of interesting stuff arrives in the mailbox here at OnMilwaukee for us to review, and admittedly, I tend to buy – or at least browse for – gadgets when I can't fall asleep. So, the least I can do is share everything I've learned with you this holiday season.
I'm sure you know a guy "who's got everything," but I guarantee he doesn't have everything on this list:
I lose my keys almost every day. Over the years, I've demoed trackers from Kickstarter, as well as the Tile wallet tracker. But only the TrackR Pixel is small enough to fit on a keychain, loud enough to be heard and built to accommodate a replaceable battery so you don't have to throw it out after a year. At $21, you might even consider buying a few to attach to gym bags and jacket zippers, depending on how forgetful you are.
I'm pretty much at the point where just sniffing a glass of wine will result in a next-day hangover, so I was intrigued to receive a sample of Morning Recovery, an elixir developed by a former Tesla engineer. I've tried several of these alleged miracle cures over the years, and none of them did anything for me. This one helped – a little. After a night of swilling Miller Lites, then taking a Morning Recovery right before bed, I still felt fairly awful the next morning. But I felt a bit less dehydrated, with a slightly milder headache than expected. This doesn't sound like a ringing endorsement, because it's not. But give it a try; your mileage may vary. Or, I suppose, you could just drink less.
Buying bottles of water is so dumb, and yet we all do it, anyway. Carrying around a permanent container is much more eco-friendly and affordable, but if you're traveling (on a plane, at the beach, or with a kid), it can be bulky. Instead, check out the Hydaway Bottle. This collapsible bottle comes in a large, 21-ounce-size, or a kid version that's 12 ounces. It's watertight, BPA-Free and dishwasher safe, and compresses down to something you can stuff in your pocket, backpack, diaper bag or overnight bag.
No, I'm not calling you fat, so hear me out. I picked up this clever piece of hardware when I was mailed a very premium pair of jeans to review – but even though they were my size, they were way too tight out of the box. I also tried it on a pair of jeans from my younger, skinnier days, and this thing totally works. Just screw the turnbuckle into place, spray the waistband with water, and wait overnight. The next day your pants will fit. Now, feel free to pig out for the holidays.
If you're already in the Apple ecosystem, you might know why AirPlay is superior to Bluetooth. Not only is the audio fidelity better, but it works on your home's Wi-Fi and allows for multi-room audio. But dedicated AirPlay speakers tend to be expensive and usually suck. If you have a real receiver and speakers, simply add this $40 hockey puck to your setup to hear music the way it should sound.
Every car made after 1996 has an OBD2 port. While this scanner can offer all sorts of interesting data about horsepower, fuel efficiency and other things going on under your hood, I like it because it will tell you – then allow you to reset – the dreaded "check engine" light. In my case, it went on because our '99 BMW Z3 freaked out when we forgot to screw the gas cap on after a fill-up. At $25, it's way cheaper than a trip to the mechanic.
Speaking of old vehicles, I have both a '75 MGB and a '78 Yamaha XS750 with batteries that are always draining. The Battery Tender Junior not only keeps your car/motorcycle battery topped off, but it has a quick connector so you don't have to constantly attach and detach the clips on the terminals. This $24 tool may just save your day during our brutal Milwaukee winters.
As dudes get older, hair moves from where you want it to be (the head) to where you don't want it to be (the back). Enter the BaKblade 2.0, a giant razor with long, ergonomic handle so you can shave your neck or back (or anywhere else, I suppose) without having to ask someone to do it for you. The S-shaped handle is key, because in your advanced age, you don't want to throw out your back while defoliating it. The $30 razor comes with two sets of blades, and replacement packs are available online, too, although unless you're very hirsute, a blade should last a good long while.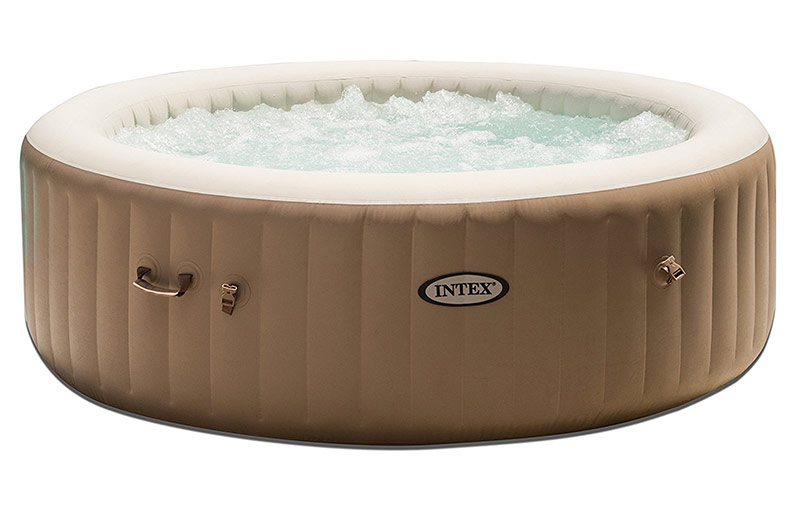 I've always wanted a hot tub, but I'm not the kind of guy who can plunk down $10,000 for something so self-indulgent. I can, however, plunk down $500 for a hot tub that is actually pretty good. Made out of the rubber you see in bouncy houses, it's durable and big enough for about four adults. At this price, don't expect the heater to have enough power to keep the hot tub going past October in our climate, but it really is at least semi-portable. You could put this thing in your basement during the winter, then bring it back outside in spring. I was suspicious when I bought it in June, but it's the real deal.
Andy is the founder and co-owner of OnMilwaukee.com. He returned to Milwaukee in 1996 after living on the East Coast for nine years, where he wrote for The Dallas Morning News Washington Bureau and worked in the White House Office of Communications. He was also Associate Editor of The GW Hatchet, his college newspaper at The George Washington University.
Before launching OnMilwaukee.com in 1998 at age 23, he worked in public relations for two Milwaukee firms, most of the time daydreaming about starting his own publication.
Hobbies include running when he finds the time, fixing the rust on his '75 MGB, mowing the lawn at his cottage in the Northwoods, and making an annual pilgrimage to Phoenix for Brewers Spring Training.