Female grillers are some of the most passionate and talented when it comes to weilding a tongs over an open flame.
OnMilwaukee and On The Rocks ready-to-pour cocktails teamed up and tracked down a half dozen of local gal grillmasters. Grab your own OTR from a local store and get grilling!
According to popular market research company NPD Group, only 19 percent of American women in heterosexual relationships assume grilling duties during a barbeque. These statistics have remained the same for at least 30 years.
WATCH:
Dubbed "the one and only male-dominated appliance in America," the grill is seen by many cisgender men as a socially-acceptable place to wear an apron.
But despite the uneven ratio, female grillers are some of the most passionate and talented when it comes to wielding tongs over an open flame.
OnMilwaukee and On The Rocks ready-to-pour cocktails teamed up and tracked down a half dozen of local gal grillmasters. Each participating woman picked what they wanted to grill, where they wanted to buy their grillables, how they wanted to grill and the perfect OTR cocktail to accompany the process.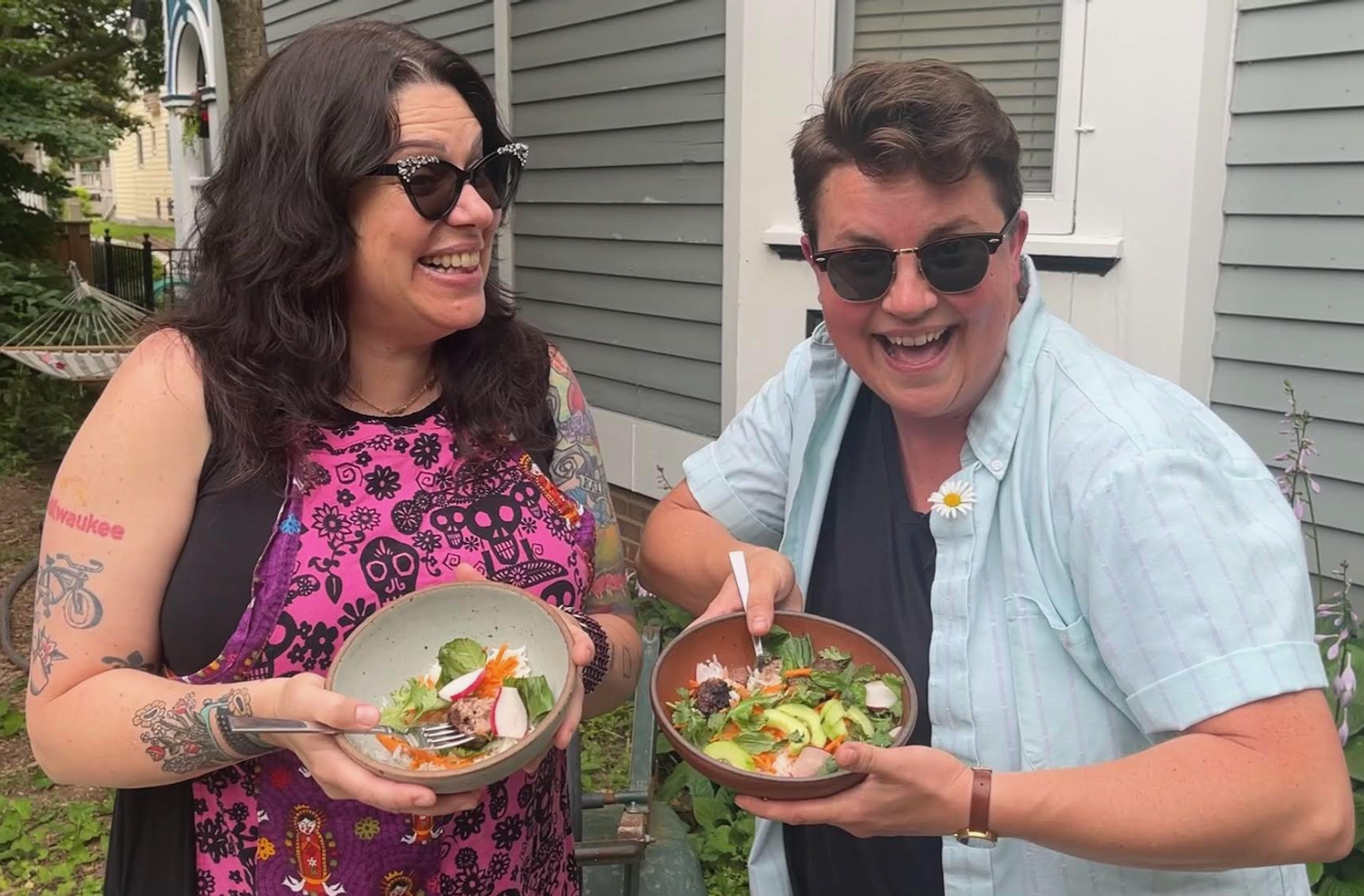 This is the second episode of this series, and Shorewood's Susie Seidelman and her Big Green Egg show us how it's done. And scroll to the end of this article for the recipe.
Number of years grilling: 20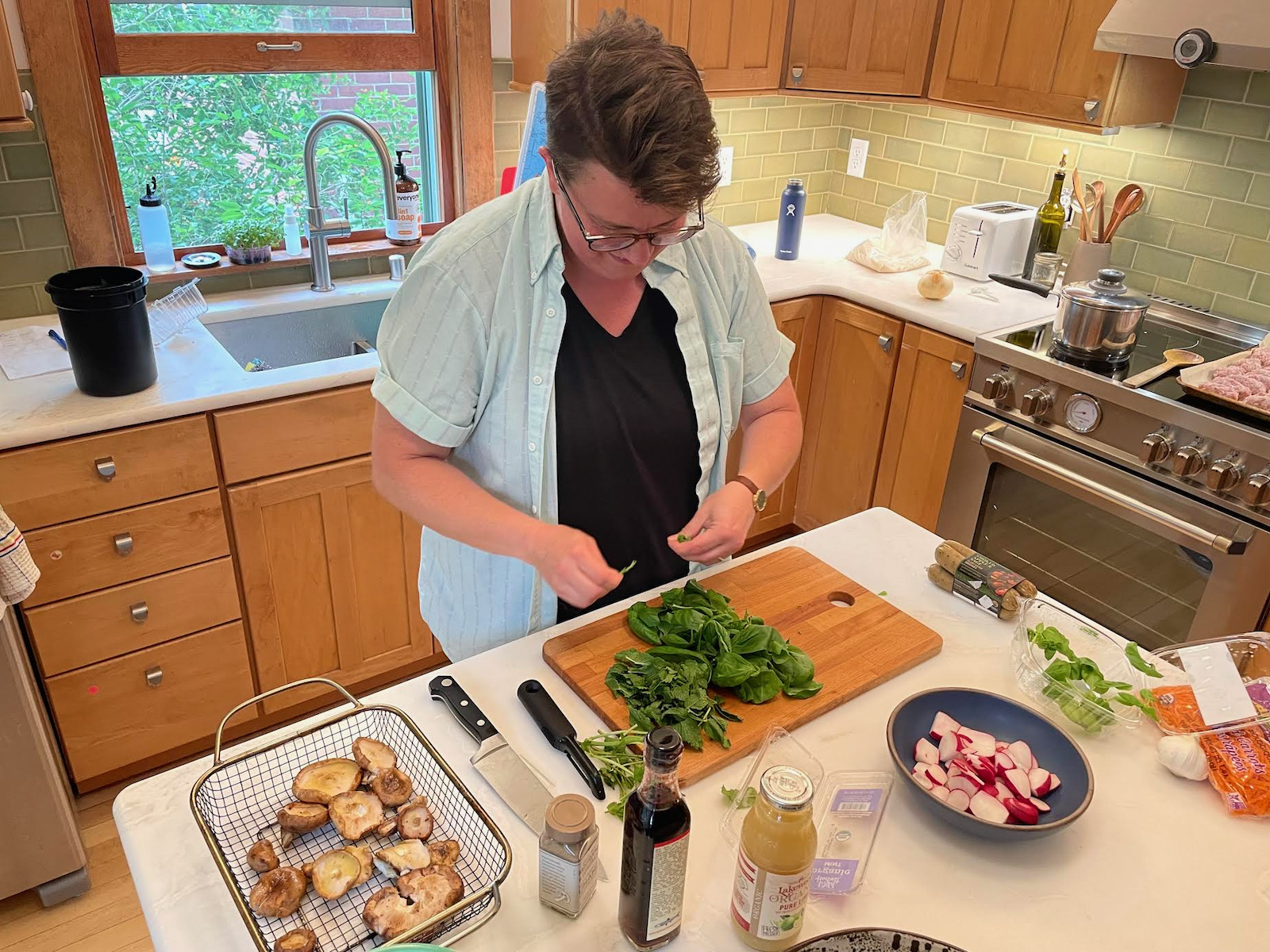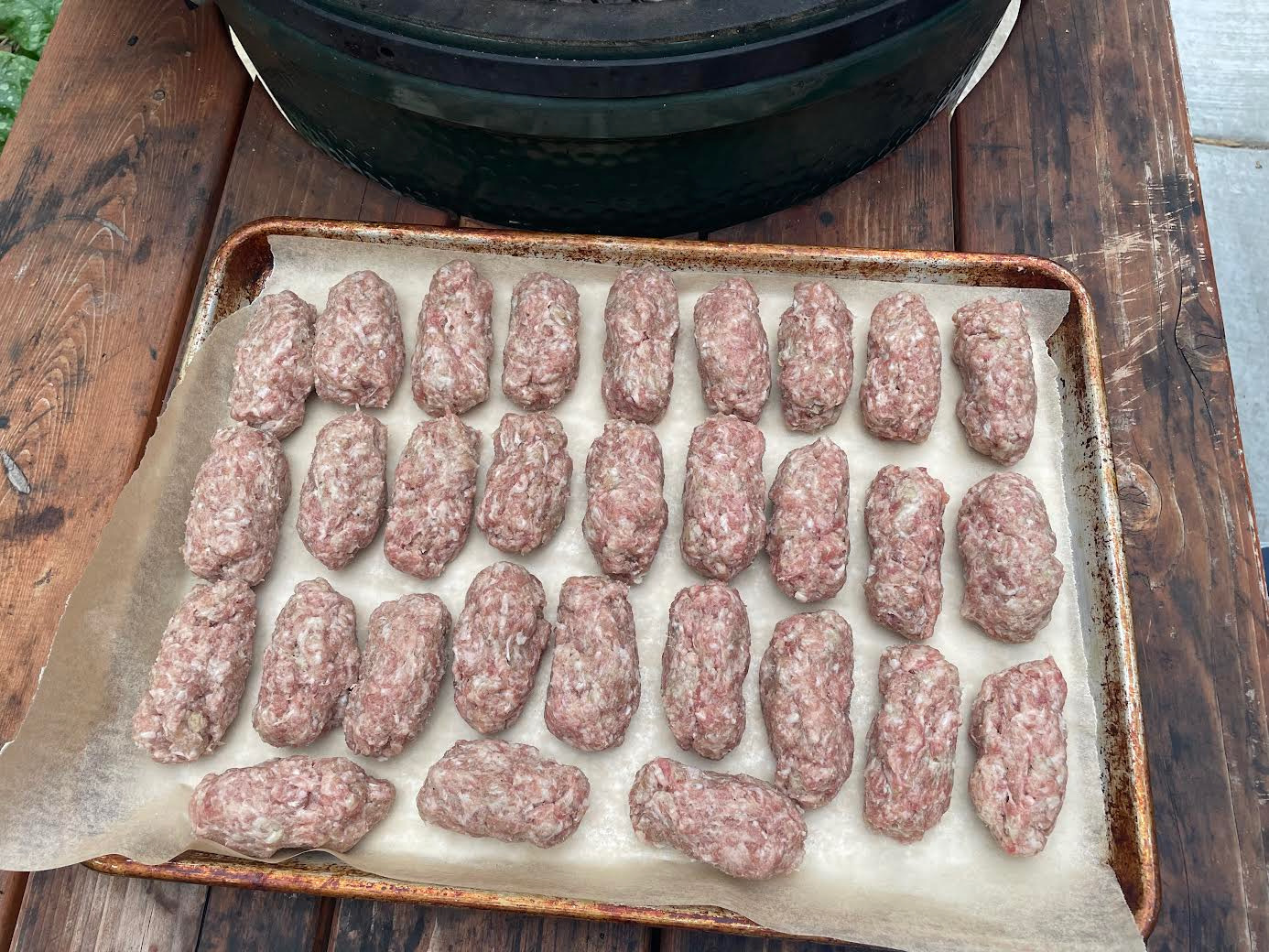 Gas or charcoal: Charcoal, hardwood only – nothing shaped into a pillow with a logo on it.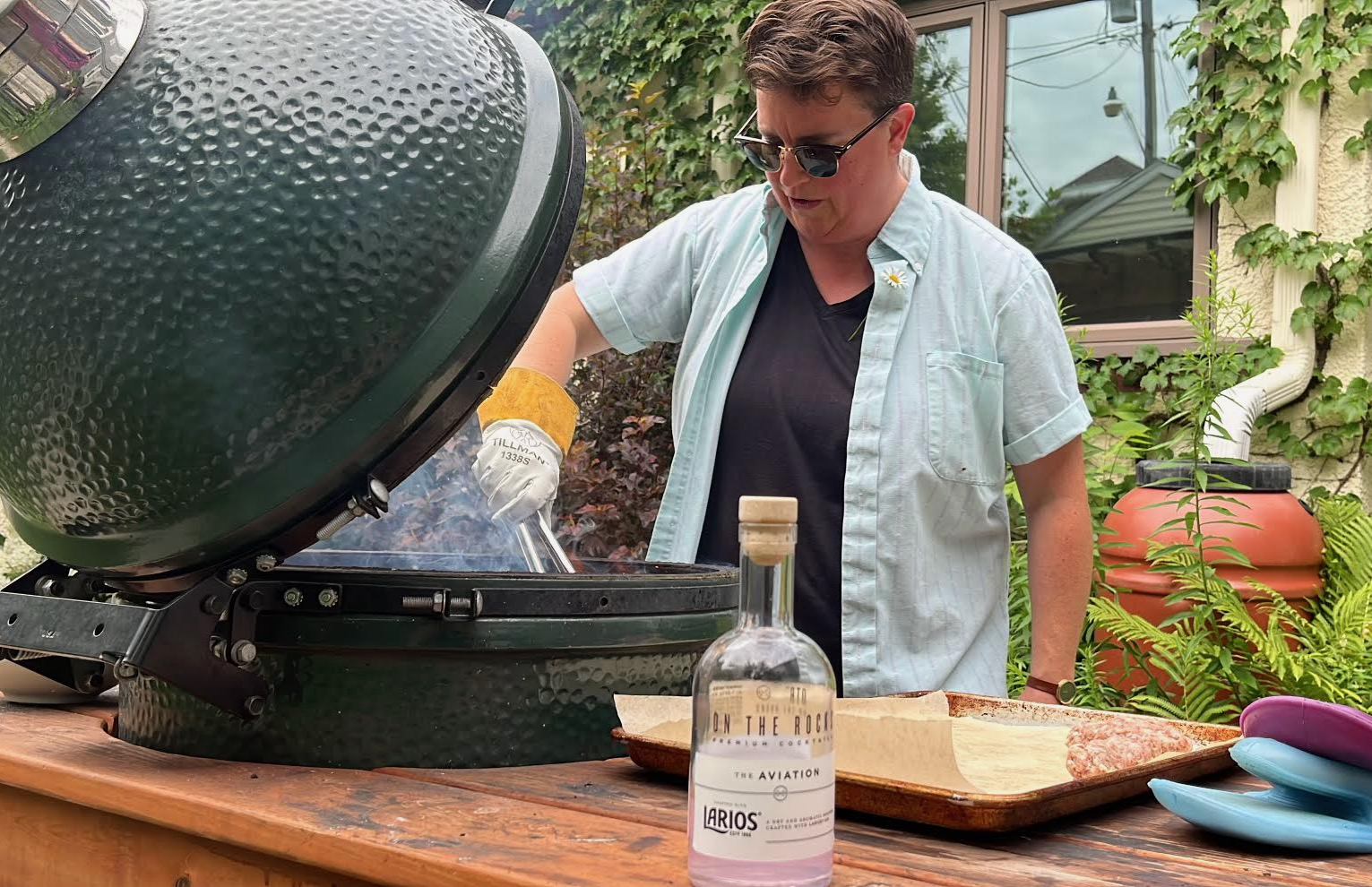 Chimney or lighter fluid: Chimney
Grocery store of choice: Outpost Natural Foods
What you grilled for this series: Viet/Lao sausages, vegan sausages, shiitake mushrooms
One grilling tip: So long as you don't light a structure on fire, you can't mess this up. Even if you burn several meals, who cares. Just keep trying and eating the outputs and having fun, always remembering the masculine mystique around barbecue is a thin veil concealing its utter (and joyful) simplicity.
OTR cocktail paired with meal: The Aviation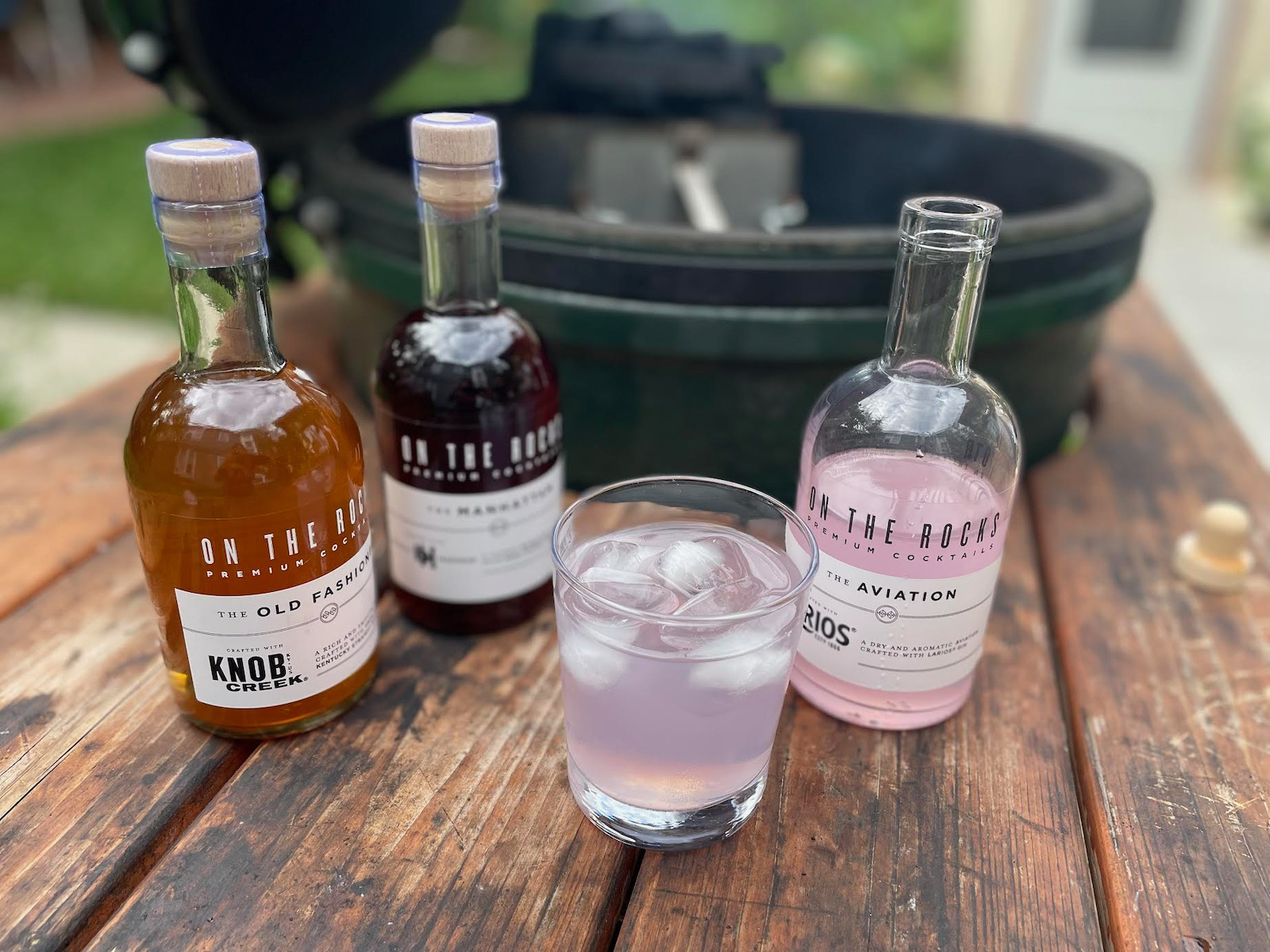 Recipe:
Susie's Viet/Lao Pork Sausage

Ingredients:
1.5 TB jasmine rice, toasted in a pan until golden brown and then ground into a powder in a spice grinder (alternatively, use 1TB white rice powder, toasted in a pan until golden brown)
1TB sugar
1/2tsp freshly ground black pepper
½tsp baking powder
2.5TB fish sauce
2.5tsp garlic paste (pounded in a mortar & pestle or from a tube if you don't need that catharsis)
1TB lemongrass paste (same as garlic)
1TB rice wine, sake or vermouth
1 pound ground pork (do yourself a favor and get the best stuff you can afford, ideally from a place like Outpost that sells locally raised heritage hogs that have been raised humanely - this may sound like BS, but the meat tastes better and it's better for you.)
Directions:
After rice powder has cooled a bit, mix the first eight ingredients in a large bowl to make a paste. Get your mise en place ready by placing a cookie sheet lined with parchment next to your sausage mixing station. Add in ground pork to seasoning bowl. Wash your hands really well, and then use your fingers to mix the pork with the seasoning paste for about one minute. During this time, you will feel the meat texture change into a sticky mass that's bound together - this is what you're going for.
Roll the sausages into little logs (about half the length of a store-bought bratwurst, same thickness) and lay them on the cookie sheet. Put these in the fridge, uncovered, for at least a couple of hours, for two reasons: 1) you want to give the flavors time to meld and develop, and 2) putting seasoned meat in the fridge uncovered allows the exterior of the meat to get even stickier (the resulting coating is called a pellicle), and this sticky film grabs even more smoke while grilling/smoking, resulting in even more deliciousness.
Remove from fridge about a half hour before cooking. These are fantastic on the grill using either a direct heat or hot-smoking method, but you can also pan fry or roast in a hot oven until they're gorgeously brown on the outside and 160 degrees on the inside.
When cooking on a grill, know ahead of time flare-ups will happen, and that's OK - the blackened pork is delicious. When the outside is to your liking, move to the cooler parts of your grill to finish coming up to temp on the inside. Once you get used to mixing up a batch of sausage, this whole process (from start to rolled sausages) takes less than 15 minutes. The uncooked sausage can also be frozen for a fast meal.

Molly Snyder started writing and publishing her work at the age 10, when her community newspaper printed her poem, "The Unicorn." Since then, she's expanded beyond the subject of mythical creatures and written in many different mediums but, nearest and dearest to her heart, thousands of articles for OnMilwaukee.

Molly is a regular contributor to FOX6 News and numerous radio stations as well as the co-host of "Dandelions: A Podcast For Women." She's received five Milwaukee Press Club Awards, served as the Pfister Narrator and is the Wisconsin State Fair's Celebrity Cream Puff Eating Champion of 2019.