Just because Black Friday has come and gone, don't think that the Brew City beer parade has come to a halt. Never!
In fact, this holiday season, the Milwaukee area's roughly three dozen craft breweries have plenty of new and interesting beer to offer.
Here's a taste...
Founder Kyle Vetter says, "We will be releasing two Christmas-themed Berliner Weisse beers before we close for the holiday weekend. The public pre-sale will be Tuesday, Dec. 22, (9 a.m.-3 p.m. or until sell-out) for pick up Dec. 22-23. Pre-sales at biermi.com/store/1840.
1840 will be open Tuesday, Dec. 22 and Wednesday, Dec. 23, from 4 until 7 p.m. for to-go sales and pre-order pickups. It will be closed the remainder of the week.
In addition to the taproom-only Spiced and Nice holiday-themed beer, which is an imperial stout with figs, molasses, ginger, allspice and vanilla aged in bourbon and rye barrels – Sheboygan's 3 Sheeps has these seasonals.
The seasonal Bon Bon Chocolate Milk Stout is chocolatey and creamy, light bodied and easy drinking, while the limited release Veneration is an homage to the Trappist monk brewers of Belgium.
It's a true-to-style Belgian quad, with figs and molasses and aged in rye whiskey casks. It's sweet and malty and earthy with oak and rye spice, plus the complexity provided by the molasses and figs.
They're both available in six- and 12-packs at retail around the state.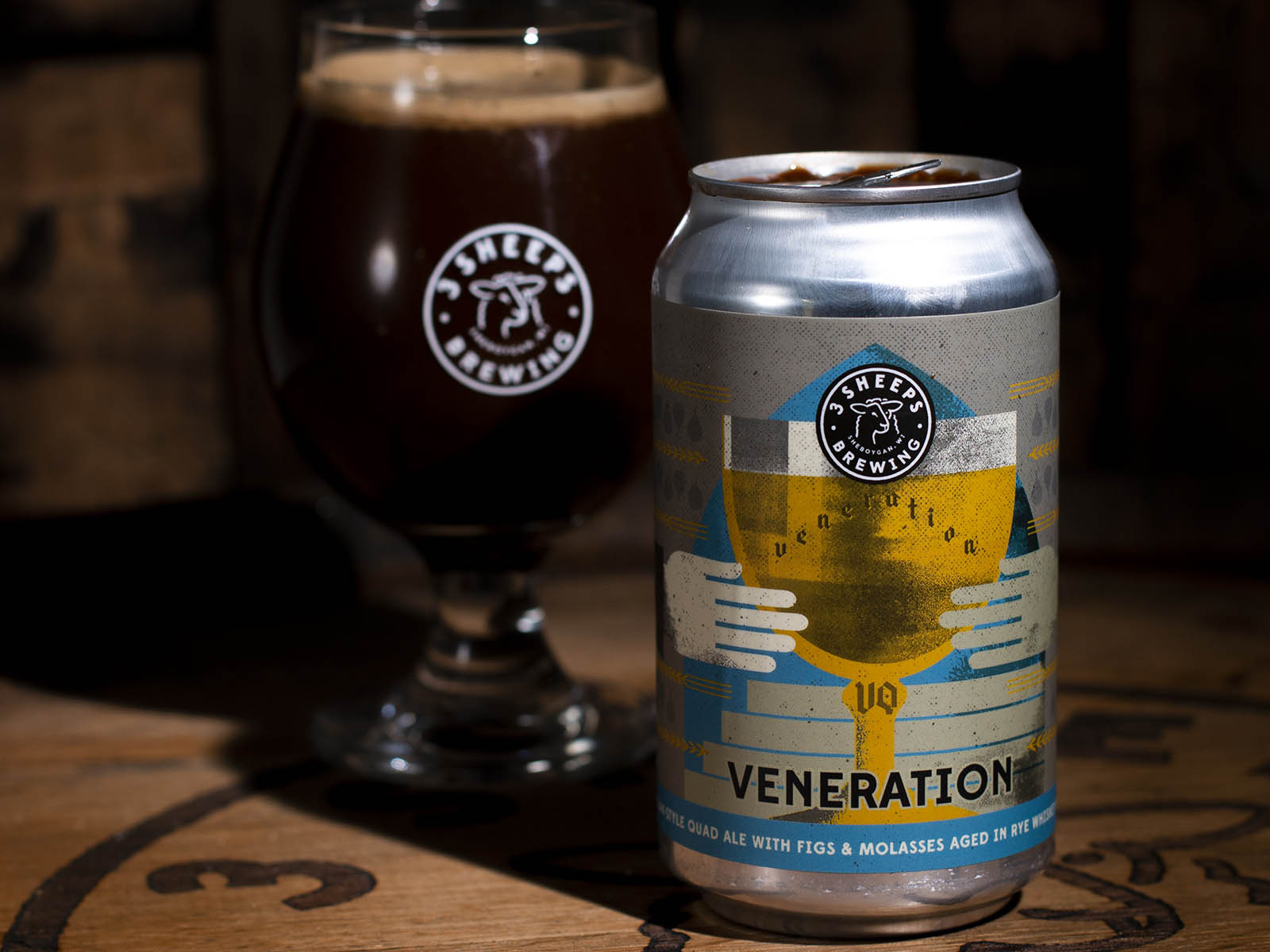 Brookfield's Biloba Brewing released two holiday brews: a decadent Belgian chocolate stout and Night Out Russian imperial stout.
According to owner Gordon Lane, "We added a massive amount of chocolate to this (stout) to give flavors of dark chocolate, coffee, light cherry with a velvety finish."
This one is available on tap and to-go in growlers, but Night Out is available in 500ml and 750ml bottles only. The 14 percent Russian imperial stout was aged in bourbon barrels and is velvety smooth with malt, caramel and a bourbon barrel sweetness.
Also, Lane says, there are very limited quantities of 500ml bottles of Impossible, the 20-plus percent, low-carbonation American strong ale aged in 14-year Old Fitzgerald barrels. This might be one to sip from a Glencairn.
"We sold out on Black Friday," says Lane, "but several mug club members over bought and want to make it available to others for the holidays!"
This year's Christmas Sproose beer, made with the spruce boughs from the City of Milwaukee Christmas Tree, has a special story, which you can read here.
According to the brewery's Tim Eichinger, "We still have a few cans available but they won't last long. I will also be pulling a keg or two of some cellared beers like St. Nikkilaus from 2019. I think that's going on tap (now). We also have bombers of 12 Dog Imperial Stout which we typically provide for those breweries that do 12 days of Christmas beers. Nothing like years past but we want to do something."
Owner and brewmaster Chad Ostram says that Oconomowoc's Brewfinity is tapping an eggnog pastry stout as part of its Small Batch series this week.
"We also have our award winning You're Killin' Me S'mores beer on tap as well as our Black Friday beers Knuckle Dragger (barleywine) and Chocolate Nut House (peanut butter/chocolate porter)," he said.
Brewfinity will be closed on Christmas, but open noon until 6 on Christmas Eve and back open again on Dec. 26.
According to co-owner Tim Pauly, Broken Bat isn't doing any special holiday season releases. "We're saving all the awesomeness for our anniversary weekend in a few months," he says.
However, Pauly adds, "we still have a few cases of our bourbon barrel-aged imperial stout '762*'."
Act quickly, if you want to nab some of that!
Bay View-based Component Brewing is releasing its Candy is Dandy collab with Madison's Working Draft. This fruited chocolate kettle sour modeled on Terry's milk chocolate orange balls, with tangerine puree, vanilla, orange zest and cocoa nibs. The brewery, located in the Lincoln Warehouse is hosting a pop-up can sale from 5 to 10 p.m. on Dec. 23.
Eagle Park in Muskego is hosting a Hoppy Holidays drive-thru event on Sunday, Dec. 20. Each ticket includes a four-pack of Cobbler A La Mode (a 6.2 percent sour ale with peach, plum, cinnamon, nutmeg, brown sugar, vanilla and natural flavors), a pound of smoked hot ham, six kaiser rolls and an Eagle Park Brewing Company Coupon for $5 off of a $25 order, valid at both taprooms.
A portion of proceeds from this event will be donated to Broadscope Disability Services, which advances opportunities for individuals in southeastern Wisconsin with disabilities and their families through employment, independent living and Respite programs.
Purchase your tickets at:
eventbrite.com/e/hoppy-holidays-drive-thru-event-tickets-129919383373
The Explorium will release a pair of holiday beers on Tuesday, Dec. 22 at both locations.
MCS Holiday Edition is Explorium's Milwaukee County Stout aged in our Explorium Private Select Maker's Mark Barrel. Available in 22-ounce bombers.
Figgy Quad is a Belgian-style quad treated with figs, star anise and cinnamon, in 750ml corked and caged bottles.
Limit one of each per person.
While there's a bit of Sweater Weather and variants still available, there's not much, so act now if you're interested. Details on that here.
There are also three beers releasing on Saturday, Dec. 19:
Mexicali Brew, says The Fermentorium's Maggie Skinner, "is a Molé Stout with three kinds of peppers, toasted almonds, coriander, cinnamon, cocoa nibs and smoked corn husks. This beer was made in collaboration with Zymurgy Brewing & Sanford Restaurant. Our brewer, Matt Aprahamian, pays homage to his inspirational forces for his 200th brew! This beer is a taproom only release."
Brandy barrel-aged Gefarhliches Ding is a brandy barrel-aged Dunkel Weizenbock, and Juicier Packets is a double double-dry hopped double IPA version of Juice Packets.
According to founder Joe Yeado, Gathering Place has two holiday releases available on tap and in 500ml bottles. They are The Wonderworker Biere de Garde and the 2019 Barrel-Aged Wonderworker, aged 12 months in wine barrels. Order at gatheringplacebrewing.com/shop/the-wonderworker.
The folks over at Hacienda on the East Side have a double can release on Wednesday, Dec. 23, with two beers that they make very rarely each year. One is the Tropi-Choco chocolate orange milk stout, and the other is Electric Flower Garden, a lush rye pale ale double dry-hopped with Michigan Chinook, Mosaic and Sultana hops.
Order online here.
On Dec. 16, Indeed launched a 6.9 percent bock that's been lagering since September.
"Our take on this dark brew boasts a full mouthfeel and robust malty character that harkens back to its German roots," says Indeed's Jeff Gray.
On Dec. 23, the brewery releases a Kviek pale ale, that, says Gray, "will land about 5 percent. This pilot beer uses an array of experimental hops that create tropical flavors and a soft mouthfeel."
Finally, on New Year's Eve, Gray says, "we intend to release an infusion – just one keg! – (that) will be our oatmeal porter infused as a 'coquito.' It will showcase coconut flakes, vanilla beans, fresh ginger, fresh ground nutmeg and cinnamon, much like the Puerto Rican holiday drink."
Lakefront Brewery released a barrel-aged Christmas Doppelbock Lager, in very limited quantity, this week.
"Six years ago, a My Turn Series beer, My Turn David, was a Weihnachsbockbier," says Lakefront's Michael Stodola. "Its roasted maltiness, caramel and dried fruit have been sleeping in whisky barrels for over six years. We bottled what we had in 500 mL bottles, ending up with just 400. I tasted it last week, and it will not be around long."
The 13.1 percent Weihnachsbockbier is $20 a bottle.
Over at the 9th Street Brewery, and at the Ale House in the Third Ward, you can find a maple vanilla porter on tap, and to-go in crowlers and growlers. There's also the Plowed In Winter Ale and the Recombobulation Barrel Aged Russian Imperial Stout.
Read more about the Recombobulation brew here.
As always, there's a lot going on at MobCraft in Walker's Point, incldung the release of Padishah Barrel-aged Imperial Stout, which CEO Henry Schwartz says, "is a big ol 11 percent ABV beer. This year we have five variants: Heaven Hill barrels with Jamaican Fair Trade coffee, Great Lakes rye barrel-aged, Great Lakes bourbon barrel-aged, Port wine barrel-aged and Cognac barrel-aged!"
They are all available for local pickup at toasttab.com/mobcraft/v3#d200000005571409045d848f266d-87d5-41bd-82be-df180cf4f034. They can also be shipped to states that the brewery ships to (see the website).
The brewery is also releasing a Dark and Malty 12-pack with a mix of Bat$h!t Crazy Coffee Brown Ale (3), Vanilla Wafer Porter (2), Moowaukee chocolate milk stout (2), Grasshopper (inspired by the cocktail) (2), Benedict Scutterbotch (2) and Field OF Creme crème brûlée inspired bourbon barrel-aged stout (1).
A 24-pack with double the quantities, is also available, as are 12- and 24-count Variety Packs that offer a mix of flagship, seasonals and limited releases, with no more than four of any single brew.
Lastly, for now, as a tantalizing taster, MobCraft is getting ready to launch a new Sour Society, which Schwartz calls, "the ultimate package for those who love sour and wild beers. More details on that forthcoming, but it's a mix of society-only beers, a brew day, dinner with the brewer and more!" Stay tuned!
New Barons Brewing Coop in Bay View is offering what it's calling a "Fa la la la lager" deal on The Queen Mexican lager. Six-packs will be $1 off to go on Wednesday, Dec. 23 ($9 for member owners, $11 for non-members).
Also, at the moment New Barons is hosting a holiday market with swag from a number of member brewers.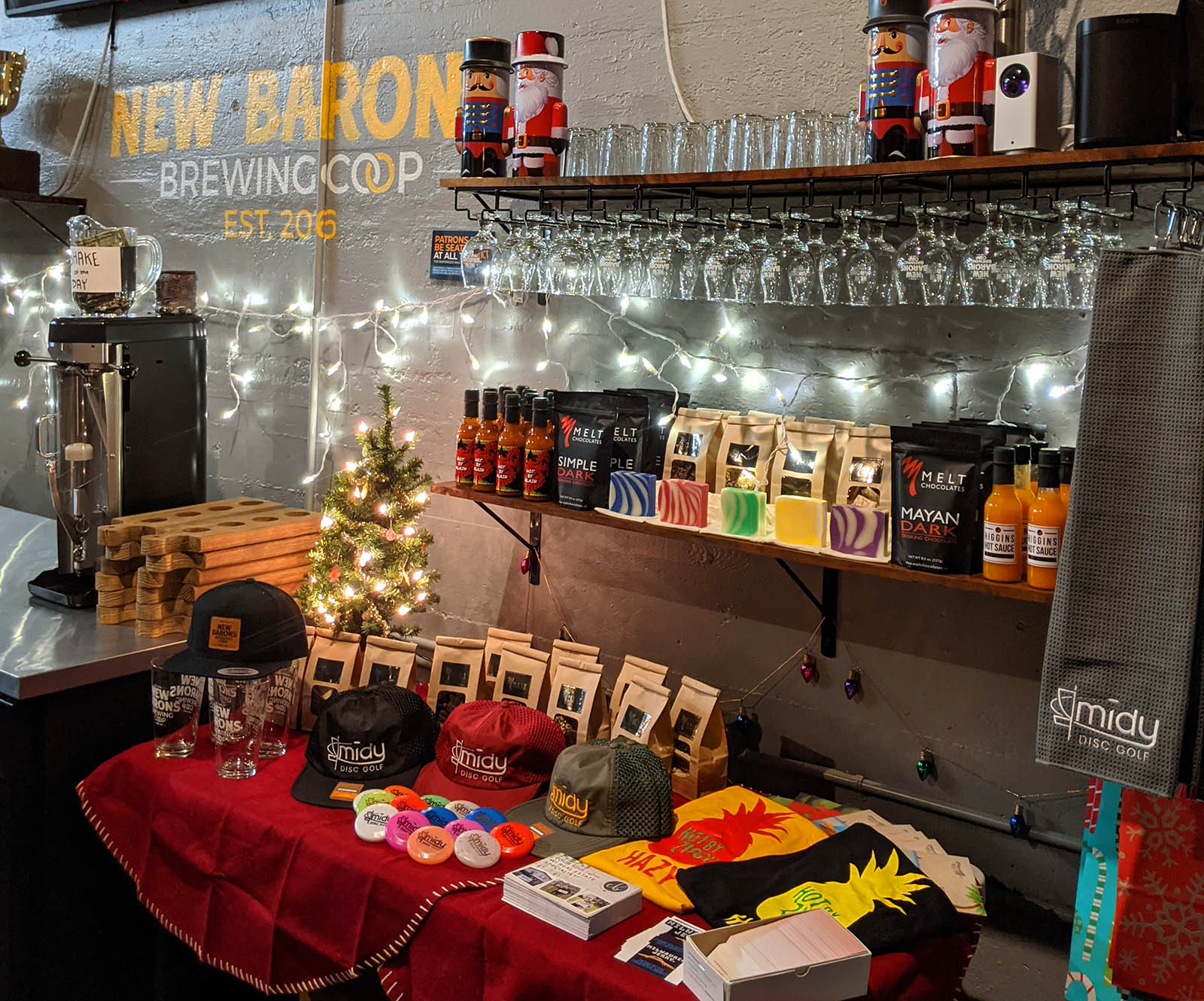 "Any person that is a member owner of the co-op has the ability to sell goods or promote services they offer," says New Barons' Heidi Dalibor. "One hundred percent of the profit goes directly back to the seller. We have 16 different owners participating and currently on track to have sold $1,000 worth of their offerings in the month of December.
"This time of year, and this year especially, it is important to us to be a resource for our members and also to push small business as much as possible. We are selling things like chocolates and hot sauce to sweatshirts and can covers. We do free gift wrapping as well. All items are only available for purchase on site – there is not better way to Christmas shop than with a beer!"
Owner Nick Reistad says, "We have Santa's Sack Christmas Ale available in cans and growlers. It is a spiced Christmas red ale brewed with cinnamon, nutmeg, ginger and star anise. We have a few four packs of 2018 and 2019 barrel-aged versions of Santa's Sack available yet, though quantities are limited.
"On Dec 24 from 1 to 4 p.m., we will be releasing mixed four-packs of our Lonesome Hazy IPAs, and will include one of each of our Lonesome beers: Lonesome Citra, Lonesome El Dorado, Lonesome Mosaic, and Lonesome Simcoe. Learn more about the series here: https://www.raisedgrainbrewing.com/lonesome-series. There will be no drive through for this release. All four beers will be available on draft on the 24.
"On Jan 1, we will be releasing our first Barleywine, clocking in at 14 percent ABV. It has been aging for 18 months in the 2019 Anniversary Stout barrels. Drive-through pick up option will be from noon to 2. This beer will also be available on draft in the taproom. No growlers.
Raised Grain also still has bombers of its 2020 Anniversary Stout – celebrating the Waukesha brewery's fifth anniversary, still available.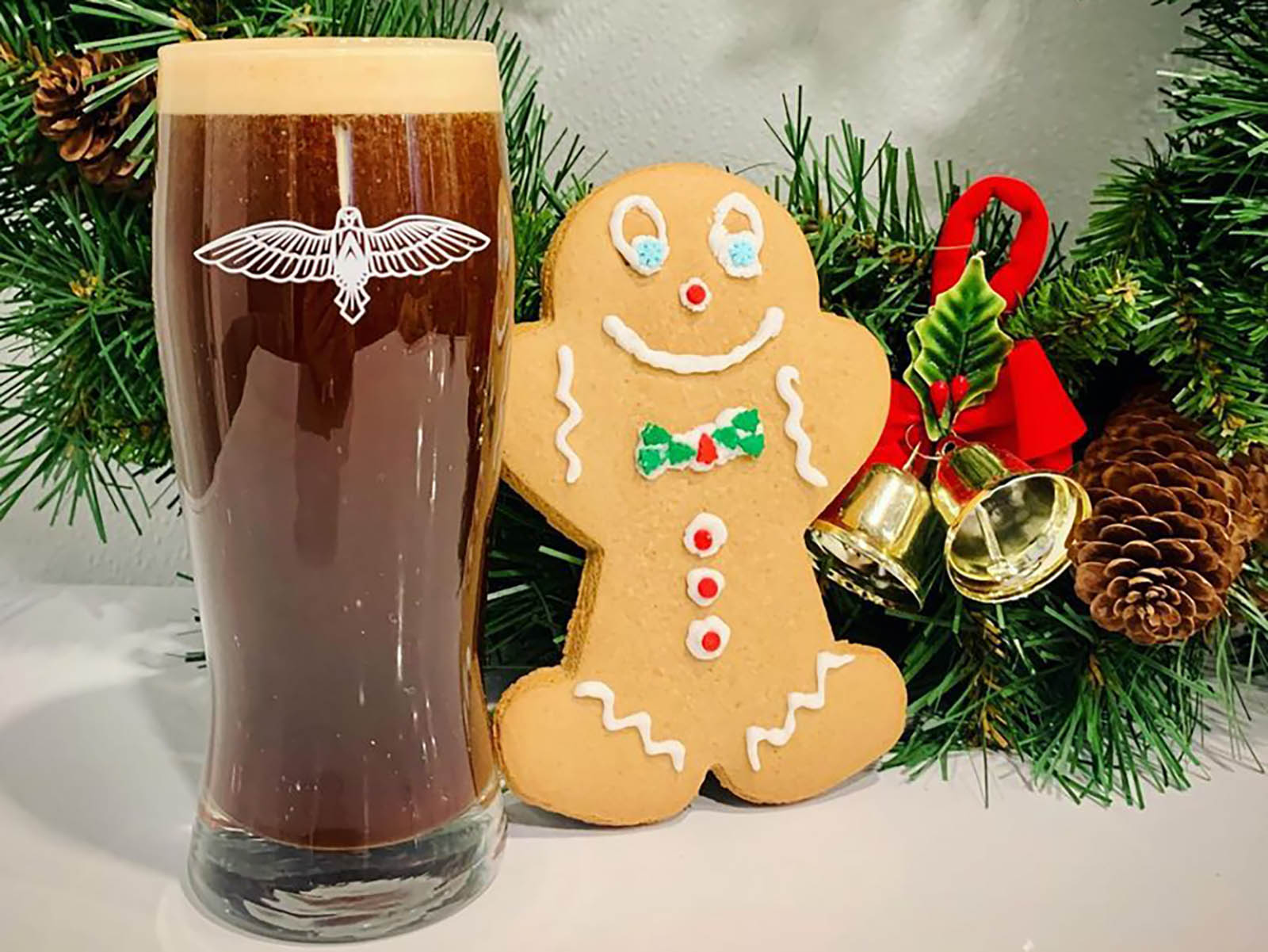 Up in Grafton, Sahale is offering a bevy of bevies, including:
Three The Hard Way, a triple milkshake IPA eleased the day before Thanksgiving, that owner Matthew Hoffman says, "is fermented with Kviek yeast and dry-hopped with five different hops. The result is a creamy, smooth and fruity brew that's a deceptive 10.4 percent abv.
"El Fuego is our Mexican hot chocolate-inspired imperial stout brewed with cocoa, vanilla, cinnamon and ghost peppers to provide a subtle heat that appears in the finish. This one isn't sweet, but otherwise has all the hallmark flavors of the drink that inspires it.
"Mulling It Over is a mulled wine version of our Cabernet Sauvignon version of our Graped Crusader. This Imperial Golden Ale was packed with the maximum legal amount of grapes and then conditioned on orange peel, cinnamon, clove and star anise. The brew can be enjoyed warm or cold and tastes just like that holiday favorite.
"It's not really the holidays without gingerbread cookies! Gingerbread Brown tastes just like those cookies in beer form, so skip the cookies and go straight for the beer this year. This brown ale is brewed with molasses, ginger, cinnamon, clove and nutmeg."
Sahale is also offering a 12 Beers of Christmas 12 Pack for $72 (retail value $85), which includes: Mulling It Over, Gingerbread Brown, all four year-round beers, El Fuego, Pumpkin Spice Hustlas, Many Mickles Make A Muckle, Totally Rye-ghteous!, Belgium At Dawn and Three the Hard Way.
Owner Steve Pribek says there will be no holiday beers this year, but he hopes to do some next year.
"COVID has disrupted our brewing schedule. We normally release our Weizenbock the first week in January, but we're looking at February this year."
On the upside, if you act extremely quickly, as of Wednesday afternoon, there were two cans each of the 2018 Big Ring Bourbon Red, the '18 Whiskey Porter and the '20 Two Step Black Friday beers still available and the Belgian Dark Strong is still on tap.
"I'm excited about what the near future holds as we will be releasing our Willy Scotch Ale, the aforementioned Weizenbock, Alice who the Helles Alice, and Ruby, a dry-hopped Imperial Blood Orange Wheat," Pribek says.
Uptown Crossing's Vennture Brew Co. has two brews coming between now and the new year. The first, which should arrive on Wednesday, Dec. 23, is Mulled Wine Bruv, a Berliner with Merlot juice, cinnamon, allspice, orange peel, cacao, hibiscus and cardamom, and co-owner Simon McConico calls it, "Kinda crazy, but its all things holiday in a glass!"
Then there's a version called Sparkling Bruv that should be out in time for New Year's Eve cork-popping. This one is the Berliner with Chardonnay grapes.
"Dry, wine and all awesome," says McConico.
If your idea of bliss is Nutella (and whose isn't?!), Water Street Brewery has what you're looking for. The Chocolate Hazelnut Brown Ale, which was added to tap lines at all WSB locations on Thursday, is a dark brown ale with caramel and chocolate malts, aged on hazelnuts and cocoa. A mere 15 IBU but a respectable 6.5 percent ABV, so go slow.
Westallion has three holiday brews available on tap and in growlers and bombers to go. They are a chocolate and peppermint Candy Cane Lane Peppermint Sout, a Hot Chocolate Bomb Stout, released today, with marshmallow, chocolate and hot cocoa powder, and, releasing on Dec. 23, an Egg Nog White Stout with vanilla, cinnamon, nutmeg that sits atop rum flavored coffee beans.
The folks at Wizard Works are promoting the idea of giving the gift of a crowler for Christmas to the beer lover(s) on your list. And while you're thinking about that, consider that the Third Ward brewery still has some of its Black Friday special release – Golden Butterfly Passionfruit Sour – available.
Born in Brooklyn, N.Y., where he lived until he was 17, Bobby received his BA-Mass Communications from UWM in 1989 and has lived in Walker's Point, Bay View, Enderis Park, South Milwaukee and on the East Side.
He has published three non-fiction books in Italy – including one about an event in Milwaukee history, which was published in the U.S. in autumn 2010. Four more books, all about Milwaukee, have been published by The History Press.
With his most recent band, The Yell Leaders, Bobby released four LPs and had a songs featured in episodes of TV's "Party of Five" and "Dawson's Creek," and films in Japan, South America and the U.S. The Yell Leaders were named the best unsigned band in their region by VH-1 as part of its Rock Across America 1998 Tour. Most recently, the band contributed tracks to a UK vinyl/CD tribute to the Redskins and collaborated on a track with Italian novelist Enrico Remmert.
He's produced three installments of the "OMCD" series of local music compilations for OnMilwaukee.com and in 2007 produced a CD of Italian music and poetry.
In 2005, he was awarded the City of Asti's (Italy) Journalism Prize for his work focusing on that area. He has also won awards from the Milwaukee Press Club.
He can be heard weekly on 88Nine Radio Milwaukee talking about his "Urban Spelunking" series of stories.