Get ready to soak up more bar articles, imbibable stories and cocktailing content, brought to by Miller Lite. For more of our Bar stories click here!
Erv's Mug is typically filled to the brim – but come holiday season, it's practically overflowing.
Even if you didn't know about the local bar and restaurant's tinsel-happy tradition, you can practically see the festive cheer all the way from Ryan Road, with cutouts of bright cartoon characters riding a "Ho Ho Express" Christmas train on the patio, a Christmas tree window cling in the front door and the soft glow of electronic sex gleaming in the window (aka a "Christmas Story" leg lamp drape). Then you actually walk into the Oak Creek icon, found at 130 W. Ryan Rd., and discover the rest of the winter wonderland inside, halls fully decked with countless Christmas items. They are literally countless – owner Danielle Baerwald couldn't even fathom a guess at how many holiday trinkets, trains and snowflakes cover their walls and ceilings, which already come well-packed with brewery signs, old photos and beer tappers.
"When little kids come in, we challenge them to count how many snowmen or Santas they can find," she said. "But I have no idea how many we have."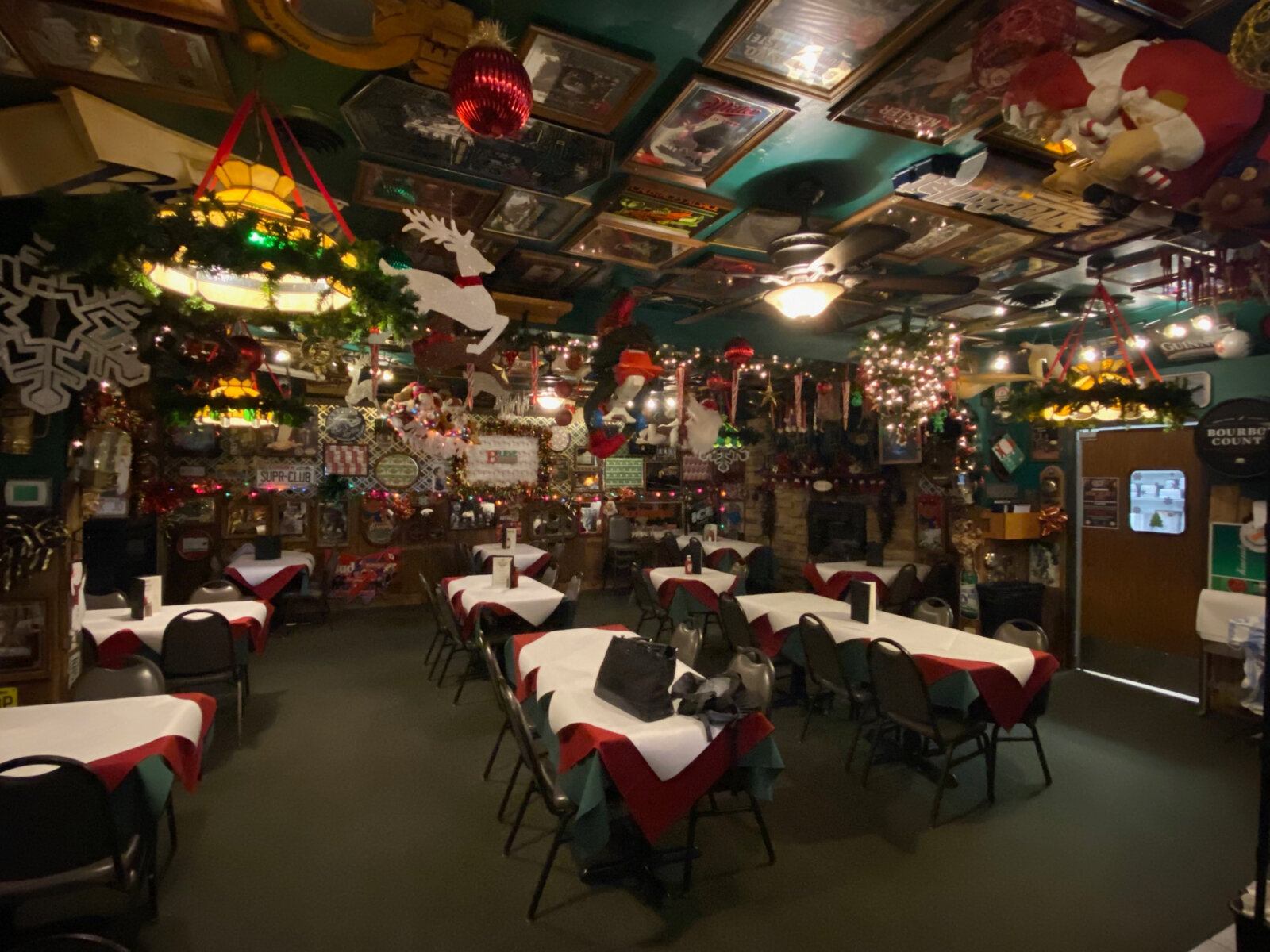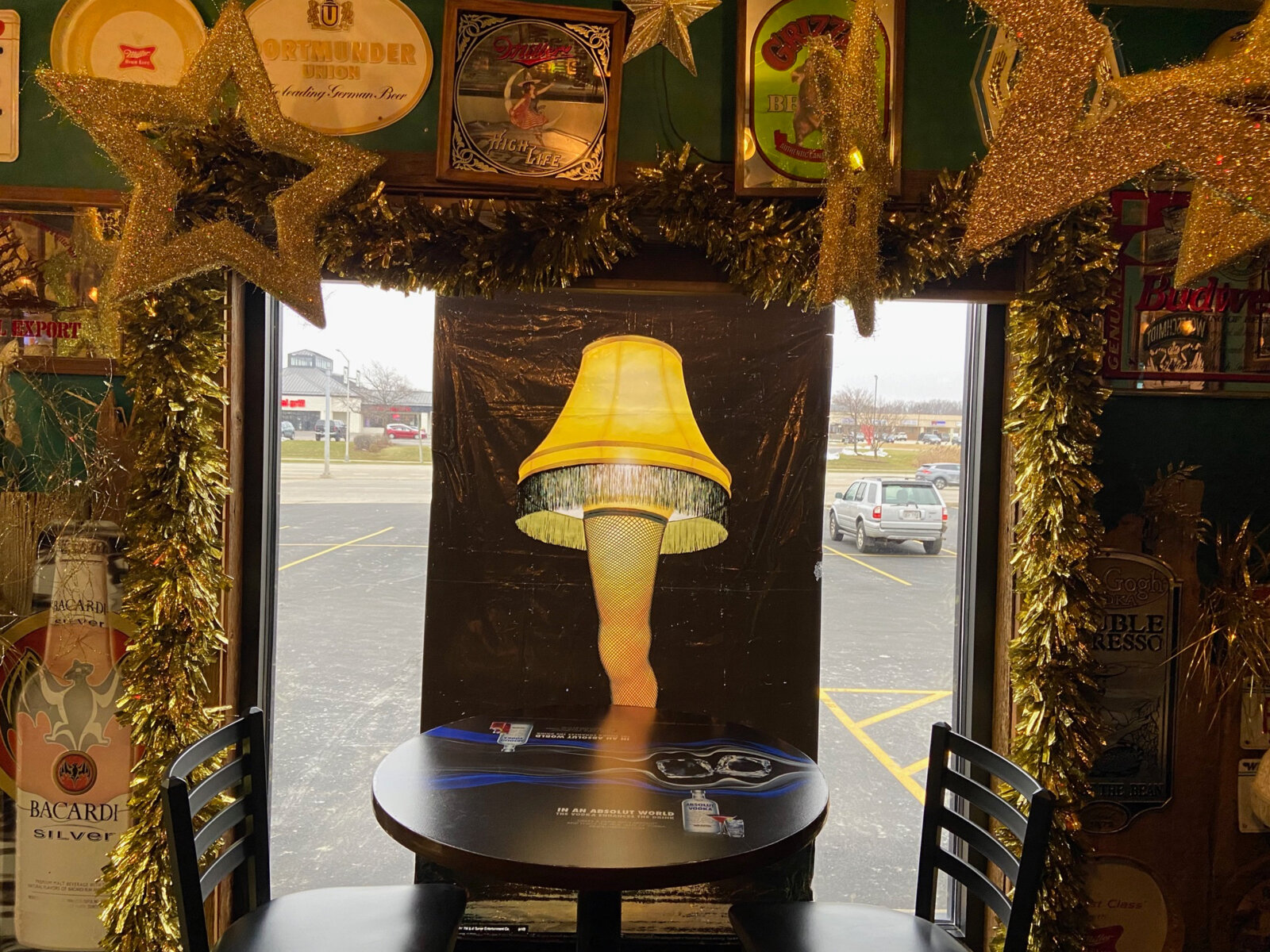 Baerwald does know, however, the origins of the holiday tradition and of the Oak Creek favorite housing it all. She is, after all, the daughter of the titular Erv Kazik, who bought and founded the neighborhood tavern with his wife Barb back in 1979. Safe to say it was far different from the establishment Kazik and Baerwald turned it over the next four decades.
"It was truly the dive bar," Baerwald recalled. "There was no refrigeration behind the bar. There was no kitchen of any kind. There was an apartment attached to it, and a part of this building had been moved from across the street when they built Ryan Road, called The Dispatch House."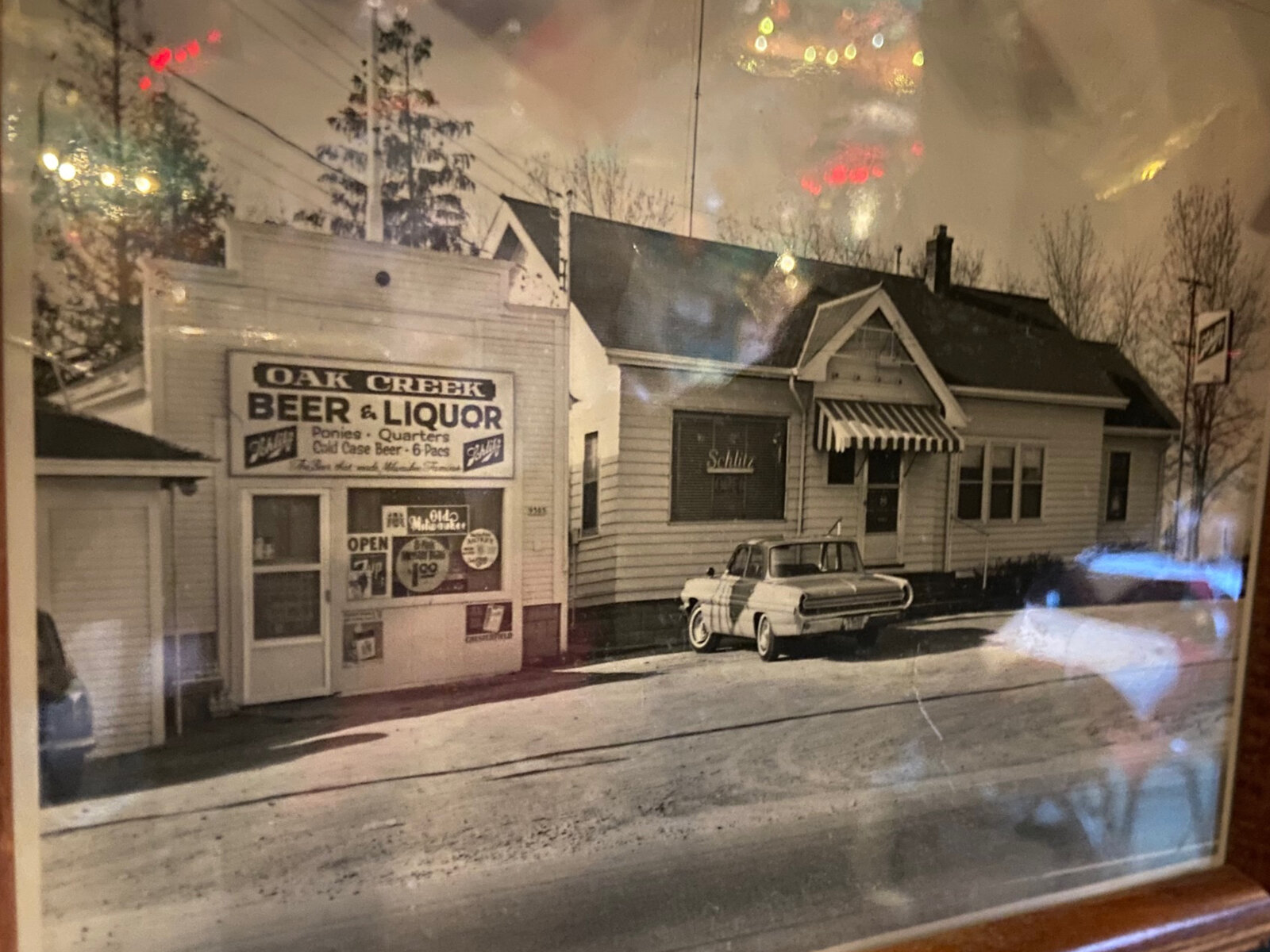 Her father, though, had a vision for the little neighborhood tap and, year after year, developed that vision into reality. They added a food menu, cooking out of the attached apartment's kitchen at first before building a grill behind the bar and eventually adding a proper kitchen. They also updated the building's then-residential electric set-up and, in 2010, expanded its footprint with an addition. And as Erv's Mug grew, so did the tap's reputation and neighborhood following thanks to its fittingly snug-as-a-mug atmosphere and beloved dishes, headlined by its famous Friday fish fry.
Another part of that original early vision for Erv's Mug? Gung-ho holiday cheer. The year after purchasing the bar, when the holiday season rolled around, Baerwald's parents bought hundreds of red bows to decorate across the bar – like the tavern version of a Lexus Christmas ad. Like everything else in Erv's Mug, the Christmas décor evolved from there, transforming from simply red bows to an all-out festive free-for-all, inspired by Butch McGuire's in Chicago and its extravagant winter displays.
"He has a train that goes around the top of the dining room," Baerwald said, adding with a laugh, "We never got that far."
Erv's Mug may not have a running train – but it's got pretty much everything else decking the halls, from snowflakes to stockings to streams of tinsel to upside-down Christmas trees spinning thanks to motors hidden in the ceiling and much more. Baerwald adds new decorations to the festive collection every year, all hung up by the staff on a single Sunday spree and all coming with their own origin stories.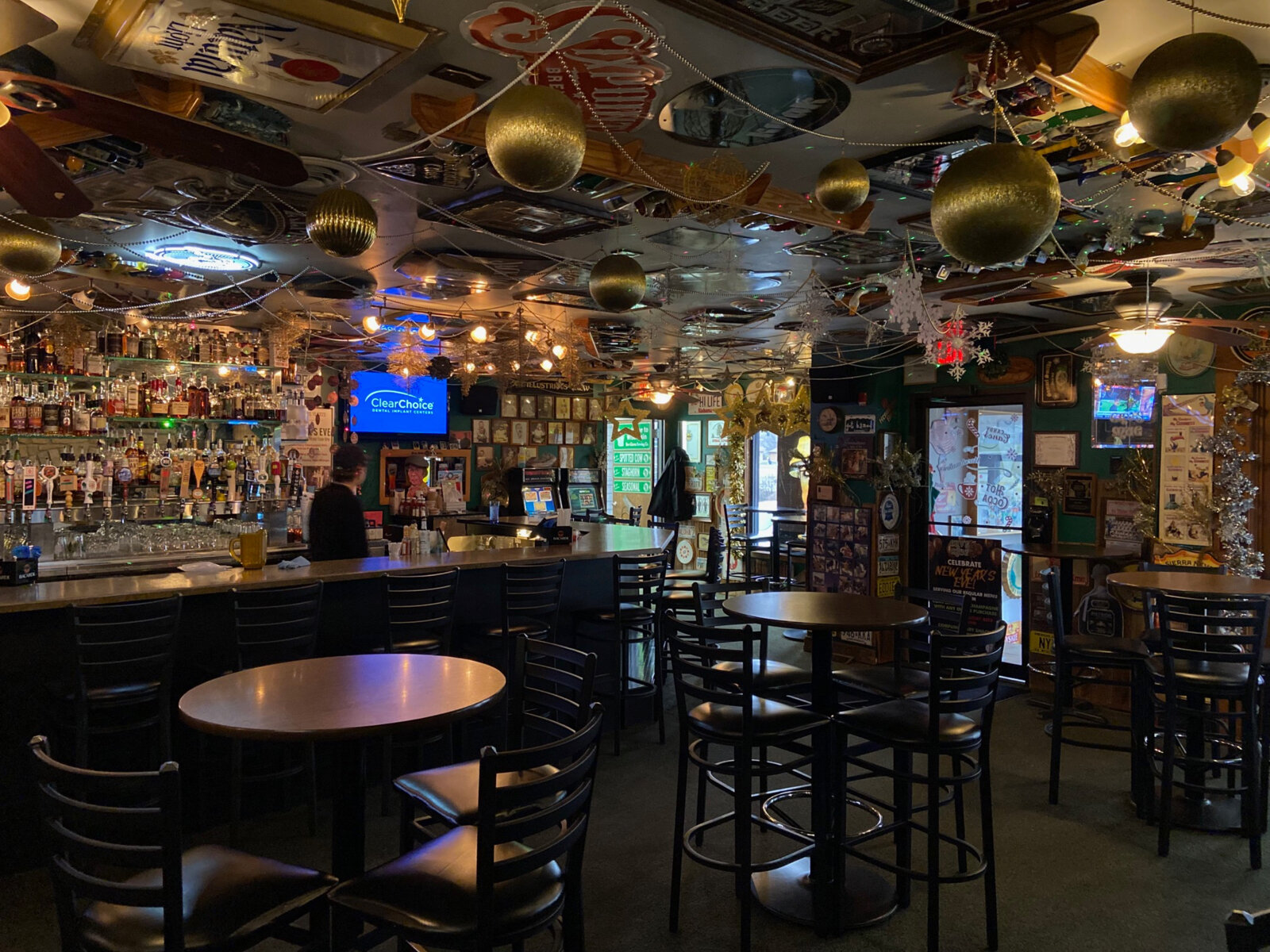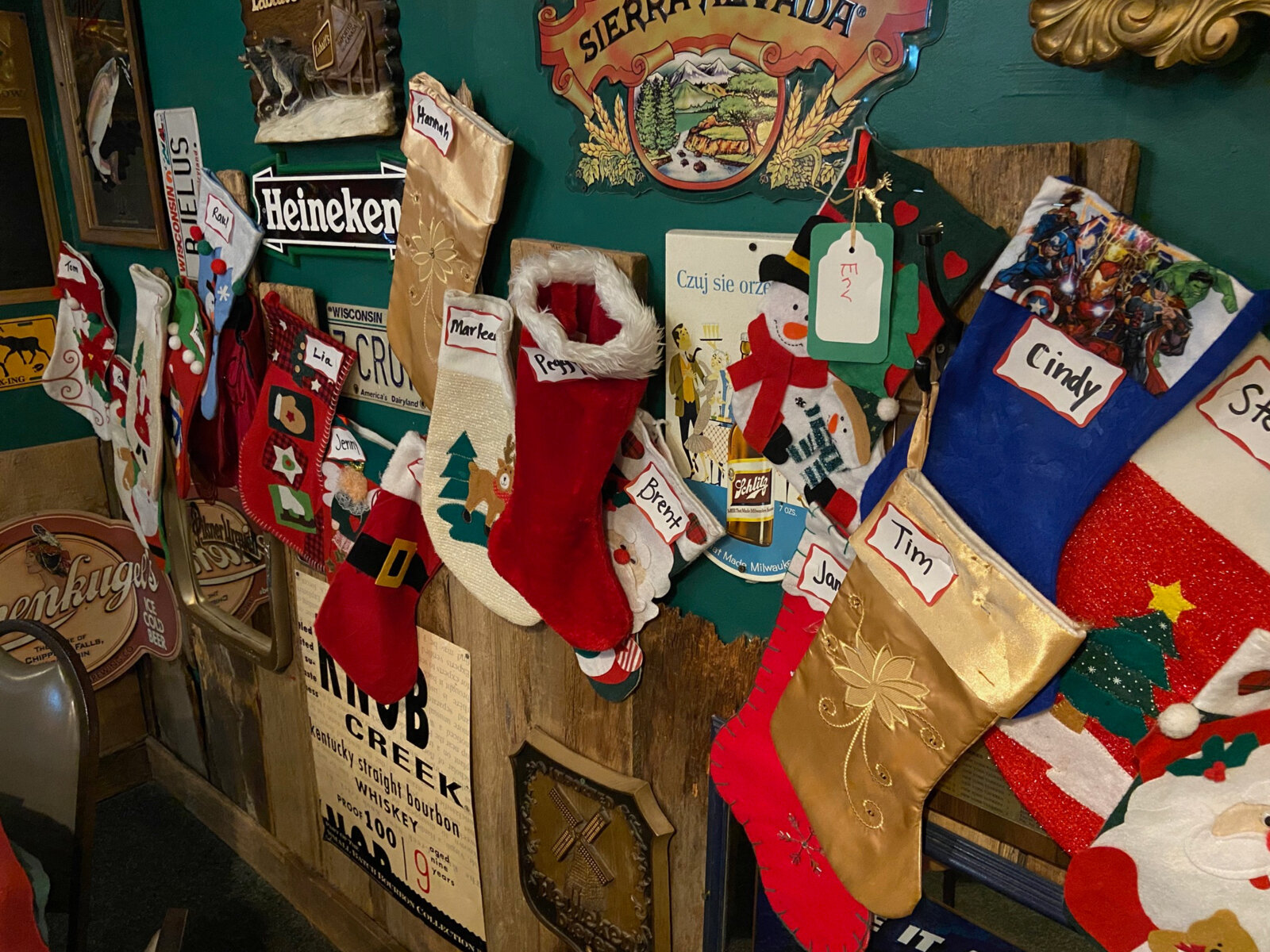 "I remember my first year in law school – 1987 – I was at my parents' house every weekend instead of studying for exams, making many of the displays you see in the main dining room," Baerwald recalled.
The sled with stuffed animal riders spinning and dangling from the dining hall ceiling, for instance, was one of the original post-red bow holiday pieces, assembled by the Erv's Mug crew. Then there's the elf flying on a model plane, complete with a marshmallow shooter loaded not with sweets but with memories.
"My mom thought it would be a good idea to buy my children a marshmallow shooter when they were little – so my kids promptly played with it around her house and drove her dog crazy," Baerwald reminisced. "The dog ate too many marshmallows and got a little sick – so then the marshmallow shooter ended up in the decorations pile."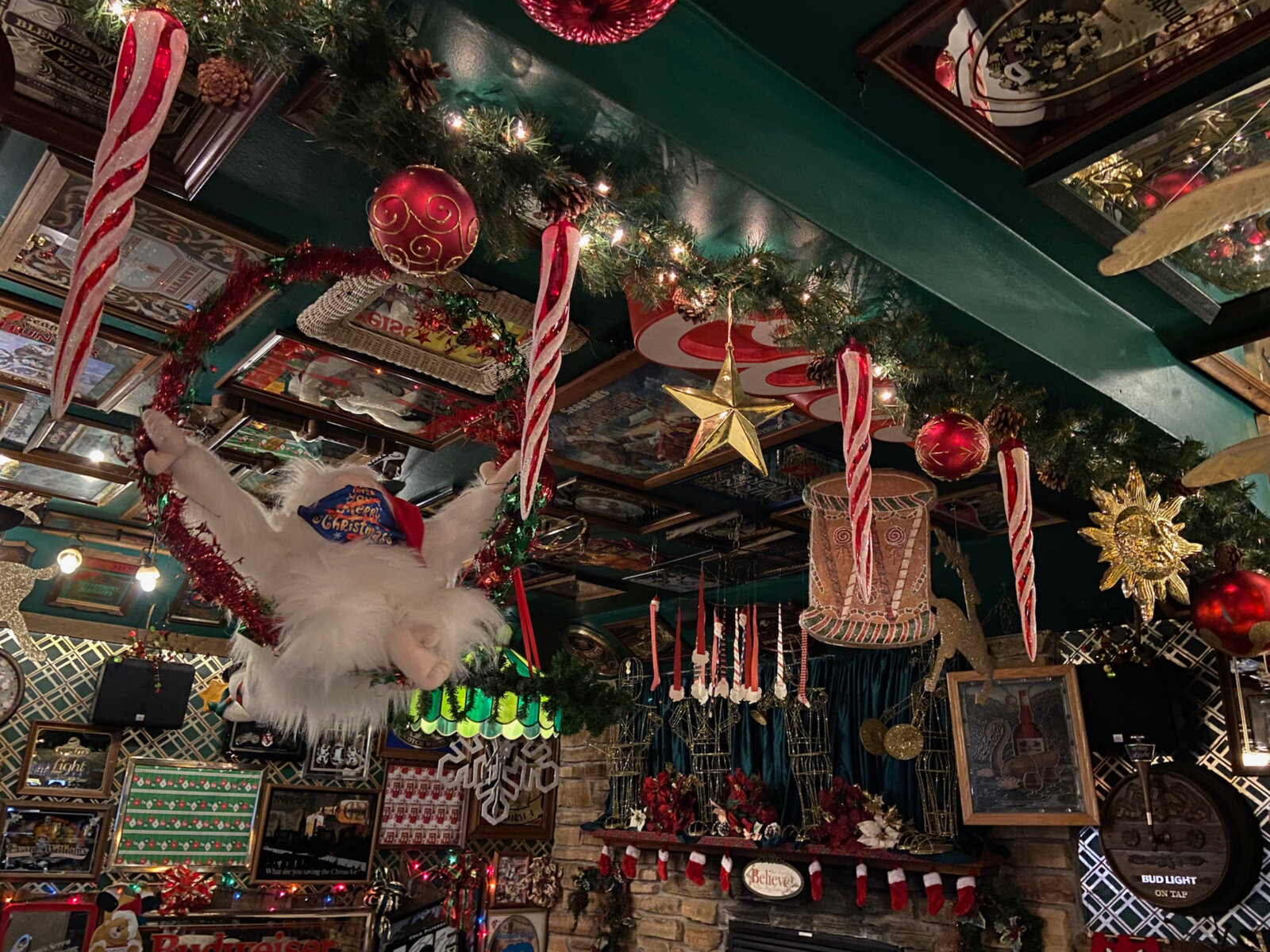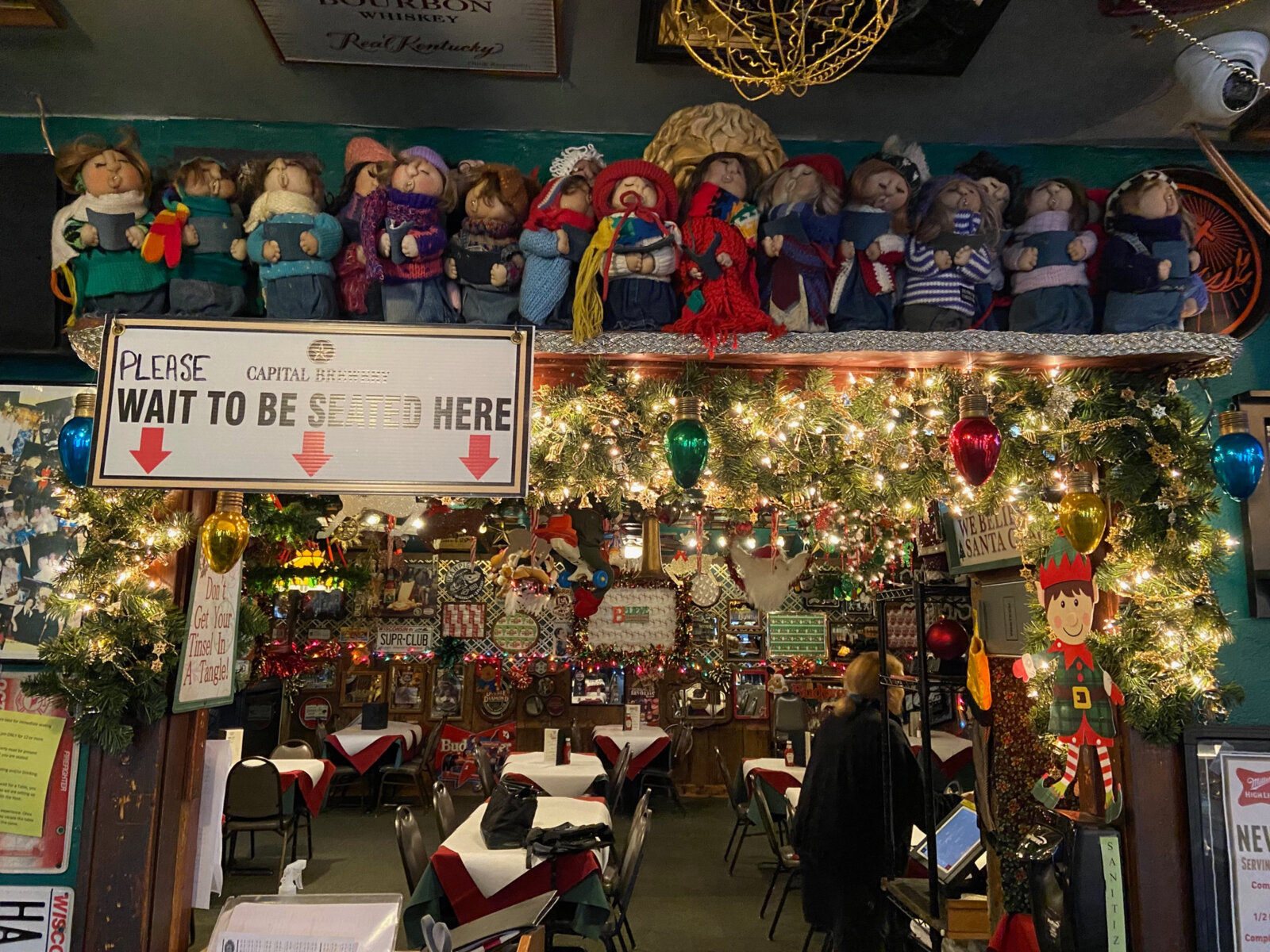 The result is a cozy Christmas hangout with a personal touch – like a family's living room rather than just a restaurant's dining room. It's a warm feeling that Baerwald hopes her customers sense walking in the door – and that her staff senses even more after taking a day to put up the décor and turn Erv's Mug into a seasonal spectacular.
"Front of the house and back of the house, they have to work together in ways that they don't normally, and I think that brings a sense of family to the staff," Baerwald said. "They like to walk around and say, 'I decorated that tree this year' or 'I put the train together this year.' There's a sense of pride in the work they completed that day.
"It brings people in – not just in, but back. We see familiar faces who moved away and come back to visit family and make it a point to stop here every year. We get a lot of our employees back who participated in this, um, adventure and come back to see how it was done this year – and they'll let me know that they don't like that we changed the tree to red and green, instead of white."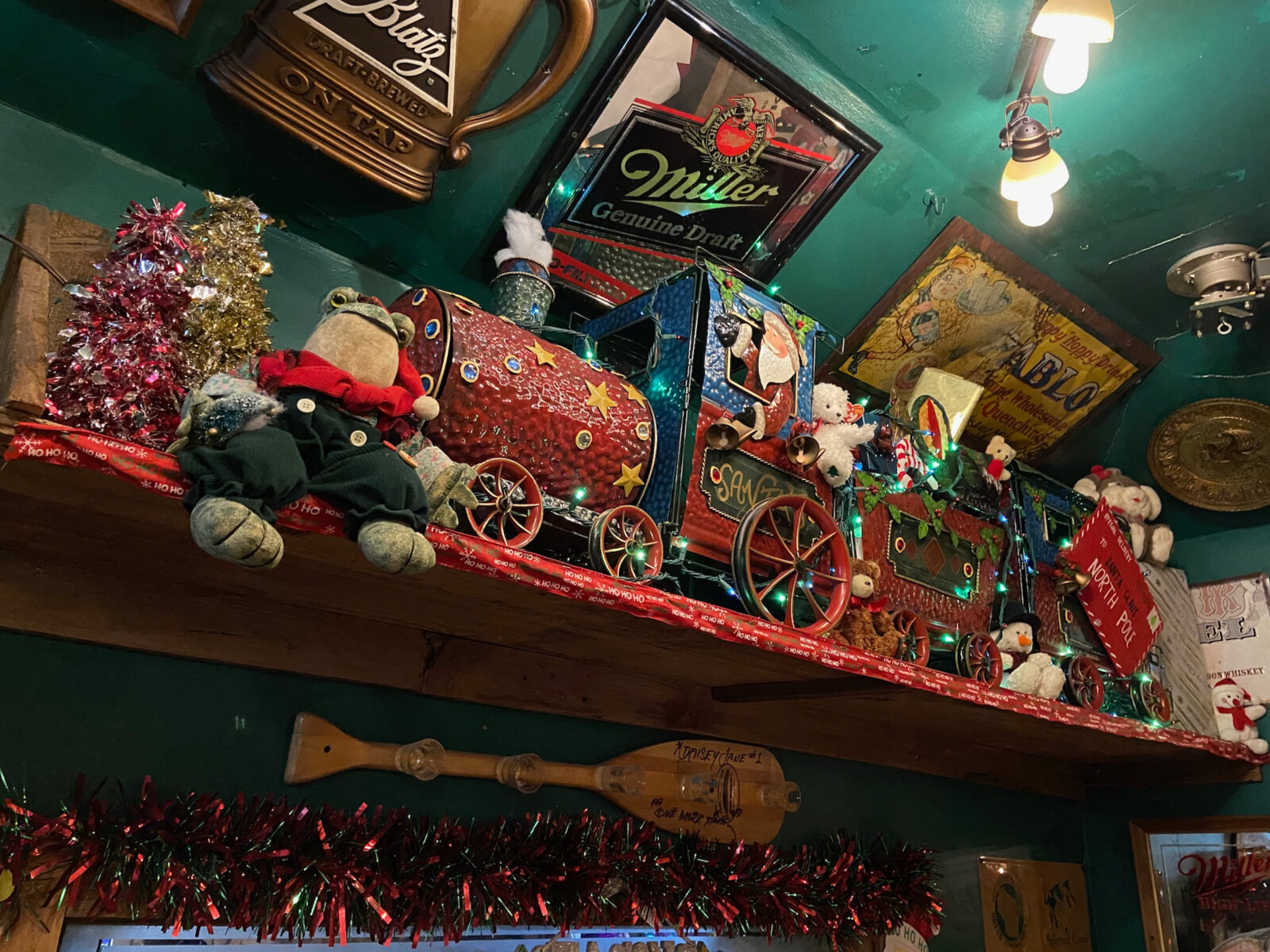 To see the decorations for yourself, Erv's Mug is open Tuesdays through Saturdays from 11 a.m. until close, with the kitchen open until 9 p.m. In a rarity, the bar and restaurant will also be open on New Year's Eve – landing on a Saturday night this year – to ring in 2023. And while the Christmas spirit will eventually get taken down, the quirky, comfortingly cluttered communal spirit at Erv's Mug stays around all year long.
"We're not cookie-cutter. You can't go to Waukesha and get one of Erv's. This is it – and a lot of the things we do, we've done them the same since 1979 or 1980 when the kitchen opened. Our beer-battered fish fry is the same; our garbage sandwich is the same. You can't get it any place else. That's the highlight – not just for us but for any independent restaurant.
"We're never going to be hip and trendy. We do what we do, and we've done it since 1979. And we're going to hope to keep doing it."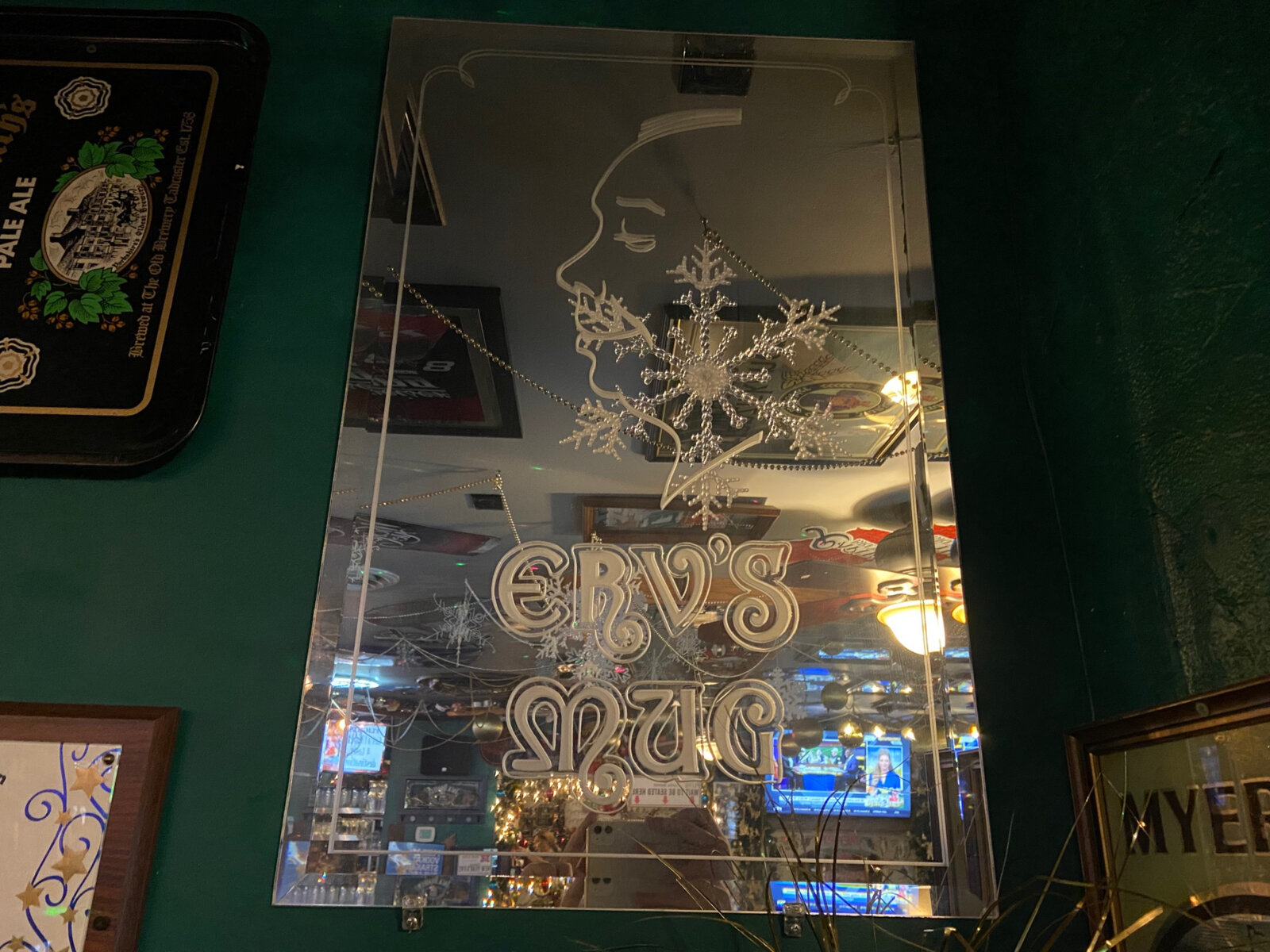 As much as it is a gigantic cliché to say that one has always had a passion for film, Matt Mueller has always had a passion for film. Whether it was bringing in the latest movie reviews for his first grade show-and-tell or writing film reviews for the St. Norbert College Times as a high school student, Matt is way too obsessed with movies for his own good.
When he's not writing about the latest blockbuster or talking much too glowingly about "Piranha 3D," Matt can probably be found watching literally any sport (minus cricket) or working at - get this - a local movie theater. Or watching a movie. Yeah, he's probably watching a movie.