Patricia Cataldo has owned Jo-Cat's Pub, 1311 E. Brady St., since 1978. Patricia originally owned the bar with her husband, Joe Cataldo – hence the name "Jo-Cat's" – but was awarded the bar when the couple divorced in the '80s.
Patricia lived with her sons Jeno and Lorenzo above the family's now-defunct restaurant, Cataldo's, which was also on Brady Street. (The space is now occupied by Bosley on Brady.) She ran the bar with the help of her best friend, Anna Sorce, who passed away from breast cancer after serving as the bar manager for 15 years.
To this day, the family wonders if Anna is "watching over" the bar whenever a glass breaks or a bottle gets moved.
"Anna was one of the most fantastic people you'll ever meet," says Jeno, who works in commercial real estate and helps Lorenzo run the bar now that their mother is semi-retired. "My brother does an incredible job here. I am so proud of him, of my mom, of this bar."
Patricia still comes in every Wednesday just to spend time with customers.
"When you own a bar for a long time, customers become family. On Thanksgiving, we'll have 30 people in here, celebrating together," says Jeno.
Jeno and his brother grew up at Jo-Cat's, and he credits his solid steel-tip dart playing to years of hanging out in the bar after school, helping his mom and shooting darts.
"Ninety percent of my life has been spent here on Brady Street. My mom still lives five blocks away. The bar has been wonderful for our family," says Jeno. "My dad doesn't own the bar anymore, but we are all really close, and he was and is a big part of this bar."
Jeno Cataldo behind what will soon be the new bar upstairs at Jo-Cat's.
Jeno says his love for music – and the importance of playing eclectic, good music in the bar – comes from his father's passion.
"My dad was at Radio Doctors (a music shop on Old World Third Street that closed in the early '90s) almost every day. He was always searching for new music. I'm the same now. I listen to music constantly with my 1 1/2-year-old son," says Jeno.
Jo-Cat's had its share of struggles over the years. Jeno says he remembers a time when they had only four bottles of liquor behind the bar because they didn't have the money for more.
But then Brady Street transitioned in the '90s from struggling to thriving and more people came to the block in search of entertainment. This was good news for Jo-Cat's; however, the bar eventually became so popular they often had to turn away customers – particularly large groups – to abide by capacity requirements.
"We didn't want to break the law," says Jeno.
The family looked at other bars in the area and thought about opening a second location, but decided they would instead expand Jo-Cat's. At the end of February, construction began to convert the upstairs – formerly an apartment – into a second-floor bar with two large rest rooms and a rooftop patio.
Jeno says the rooftop project was designed with protective wall / sound barriers as a courtesy for neighbors Mimma's and Rochambo.
"We have a lot of respect for both businesses," he says.
Jo-Cat's renovation project is in full swing and will be completed in early summer.
"This will allow us to host events – to reach out to new customers as well as accommodate our loyal customers," says Jeno.
Jeno says they already have events booked in the new space later this summer and they are particularly excited to accommodate wedding parties.
"A lot of couples meet here, and they want to stop in for a shot between their marriage ceremony and reception," he says. "It was a lot, in the past, to have 30 or 40 people show up at once, but soon it won't be an issue."
It was important to the family that Jo-Cat's did not change in appearance too drastically. However, the old carpeting – along with seven layers of sub floor – was removed and replaced with new flooring, the back of the bar was expanded, new staircases were built and there is new paneling, almost identical to the old paneling. There's also an ADA-compliant entrance and a new walk-in cooler.
Jo-Cat's closed for only a week and the remodeling continues while patrons are again bellying-up to the bar, which was moved back a few feet to allow more room for customers not sitting at the bar.
Jo-Cat's bar was originally in Shenanigans, an Irish pub that was in the space that now houses the Hi-Hat across the street.
When Shenanigans closed in the late '80s, Patricia bought the wooden bar and the stools for $500.
"The bar was literally carried across the street and put in here," says Jeno.
Despite all the renovations, Jo-Cat's already feels and smells fresh and clean. But it has the same look and feel.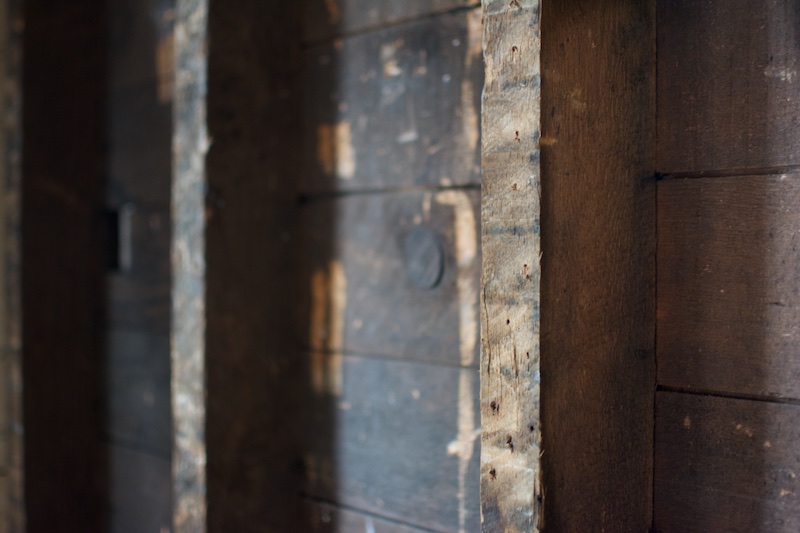 The upstairs at Jo-Cat's has been stripped down to the wall studs.
"Our goal was to upgrade everything, but keep it the same," says Jeno. "A cleaned-up version of the original bar. We had to do this to up our capacity – and it was a challenge – a lot of work. We basically rebuilt the bar from the inside out and added a second floor. We could not have done this without the help of so many people, especially our alderman, Nik Kovac. He's been great."
Jeno says he likes reading reviews on Yelp and getting different perceptions on how people view his bar. Some think it's a drunk college-kid bar, but Jeno knows that's not accurate.
"Some people say it's a dump, and I get it. But we've made it a lot nicer now; maybe some of those people will come back, maybe not," says Jeno. "And we do have a lot of college kids in here, but we have all ages, all types. People are people here and we love 'em all."
Maintaining the bar's commitment to service, friendship and the neighborhood continue to be the top priority at Jo-Cat's.
"We are one of the last family-owned bars in the area. I'm so proud we went from no customers to a capacity issue and it's all because of my mom, great customers, other Brady Street business owners and employees along the way," says Jeno.

Molly Snyder started writing and publishing her work at the age 10, when her community newspaper printed her poem, "The Unicorn." Since then, she's expanded beyond the subject of mythical creatures and written in many different mediums but, nearest and dearest to her heart, thousands of articles for OnMilwaukee.

Molly is a regular contributor to FOX6 News and numerous radio stations as well as the co-host of "Dandelions: A Podcast For Women." She's received five Milwaukee Press Club Awards, served as the Pfister Narrator and is the Wisconsin State Fair's Celebrity Cream Puff Eating Champion of 2019.