What was notable about the reaction to my newspaper column about Dan Kiley's grove at the Marcus Center for the Performing Arts was not the quantity of responses – which was substantial – but the nature of them. It was the stories that people told of enchanting first dates, long-standing family traditions, and encounters with the inexplicable, what one reader described as "an island of peace," to offer a single example among many.
This is the test of a great work of art – that it has been so evidently experienced.
So, while many of us can and should debate the particular design issues at stake as plans to destroy this treasured public space are considered, I hope those in positions of power will not lose sight of this obvious fact.
To catch you up, if this debate is new to you, the Marcus Center unveiled plans for a broad range of changes to its campus in December, which I detailed for the Milwaukee Journal Sentinel. Later, I wrote a column about part of that scheme, the plan to destroy Kiley's modernist grove, a sunken garden with precisely laid lines of horse chestnut trees. The Marcus Center wants to bring that area up to grade, put in a rectangle of grass, what it is calling a "great lawn," and plant mature locust trees at the edges.
A robust and meaningful civic discussion has ensued. While I have little to add to my original arguments, I appreciate The Cultural Landscape Foundation's invitation to address some points of confusion that have surfaced in the debate. Here are a few key points to keep in mind prior to an important public hearing on Monday, April 1, where the city's Historic Preservation Commission will consider whether the arts center campus should be granted historic status and, in turn, some protections (in Milwaukee City Hall Room 301-B at 3 p.m.).
This is a debate about design, not trees. In recent weeks, much has surfaced and been said about the extent to which the grove's trees are diseased or hazardous. In truth, none of this matters much. This is a debate about preserving Kiley's design, not individual trees, as meaningful as they may be. Preserving Kiley's work may involve replanting some or all of the trees, a not-uncommon procedure in the European gardens, like Paris' Tuileries, which inspired Kiley.
"Destroy" is the right word. While Jim Shields, the architect on the project, plans to retain the shape of Kiley's grove and plant eighteen mature locust trees where Kiley's chestnuts now stand, his plan fundamentally obliterates Kiley's design intent. It should in no way be confused with a preservation or restoration effort. The sunken space and the full array of trees are essential to Kiley's deceptively simple plan. No expert I spoke with disagreed on this point.
We have no idea what it would take to restore the grove. Shields suggested in an interview that a benefit of preserving the shape of the Kiley grove is that the Marcus Center could reverse course in the future. It could decide to restore the original Kiley grove at a future date, if it wanted to. In fact, this could be done easily and in a matter of a few weeks, Shields added. My question is this: How do such comments square with the idea that restoring the grove may be challenging or expensive now, as some believe it may be? No real numbers have been attached to this project yet. At the very least, a public accounting of what it would take to restore the grove is warranted.
This is not a debate about accessibility. It is not uncommon for older public spaces to be updated to be made accessible for those with disabilities. Other Kiley-designed spaces have been updated in this way, and some gentle changes could be made to the Kiley grove while preserving the design. While the Marcus Center's planned "great lawn" would be accessible for those with disabilities as well, it does not unto itself represent a choice for accessibility.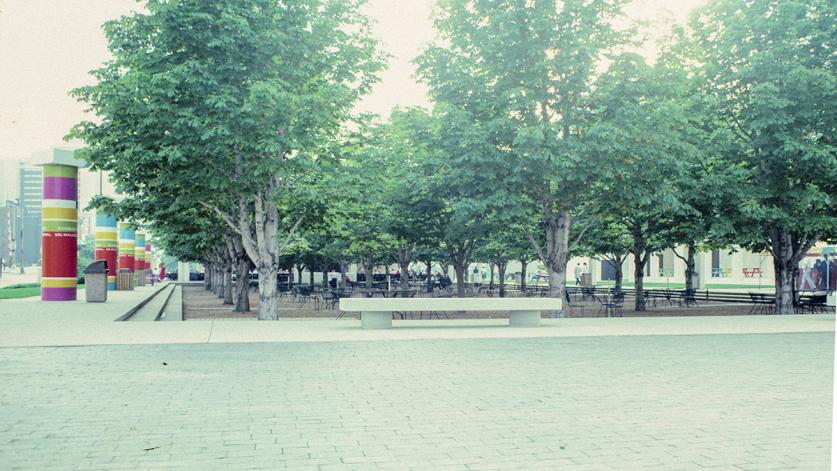 The grove as it appeared in 1986. (PHOTO: Joe Karr)
Don't let past misadventures excuse more mistakes. Shields has argued that the art center's campus has been so transformed over the years that preservation is less of a concern. He is correct that the changes – a new entrance, a total recladding of the building, and the addition of the outdoor Peck Pavilion, among other things – are not inconsequential. Still, what is significant about Harry Weese's modernist building – its lines and volumes – remains largely intact. The same holds true for Kiley's elegant oasis. Indeed the Marcus Center's decision to invest in its campus could be an opportunity to correct some of the design misadventures of the past, rather than to further diminish the work of Weese and Kiley, two preeminent designers.
Are we missing the bigger picture? Paul Mathews, president and CEO of the Marcus Center, makes the case that the proposed changes to its campus will contribute to a more financially and artistically sustainable future for the arts center. Is he right? As a public institution, that future should be of interest to us all. These plans warrant more discussion specifically within this context. What is the bigger picture here? What kind of investment is most needed for a thriving arts center?
This is public space. Let's not forget who owns the Marcus Center. The art center's officials are stewards of a resource that belongs to our community. While the art center conscientiously surveyed its patrons about what they wanted and needed from the arts center, it also appears they were blindsided by the public backlash that they are obliged, as public servants, to consider.
Again, I offer these thoughts as a means to address the confusion that's been stirred up by recent discussion, and I recommend my original column to you, which presents my broader argument. I plan to be present for Monday's public hearing. This is our last opportunity to show up and support the proposal filed by landscape architect Jennifer Current and architect Mark Debrauske. The historic designation would, in turn, provide some protections for the site. If you cannot be present, you can send a letter to the commission: hpc@milwaukee.gov.
Mary Louise Schumacher is an independent journalist and critic. She is the former art and architecture critic for the Milwaukee Journal Sentinel. Her position was eliminated in February in a system-wide downsizing by Gannett. This opinion piece appears courtesy of The Cultural Landscape Foundation.