It's time for Dining Month, presented by Deer District and its spooky Halloween-themed alter ego, Fear District. Throughout the month of October, we'll be serving up fun and fascinating content about all things food. The signature dish, however, is our 2019 Best of Dining poll, with winners getting dished out all month long. Get hungry, Milwaukee!
The last couple of times I went to Kopp's, my family and I remarked that the buns seemed different. We described them as "fluffier," "brighter in appearance," and, as my son pointed out, the new buns are "(less absorbent and therefore) less likely to get soggy."
These are all good things, but to find out the best part of the new buns I had to call Kopp's and ask a manager about it. Donald Folgert confirmed that, yes, they had changed bun distributors because their old supplier, an international distributor, discontinued making the jumbo-sized bun. For comparison's take here's a photo of the "old bun":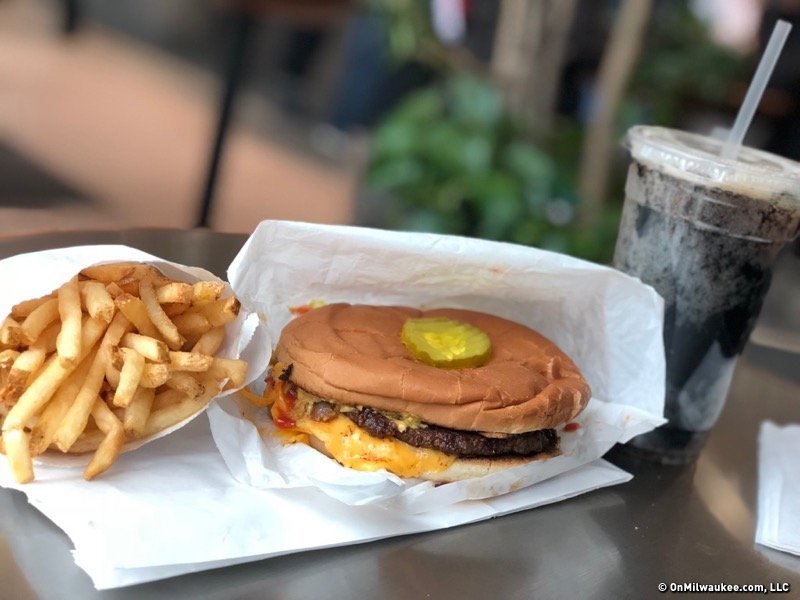 "We now use Milwaukee's Sciortino's buns. They are higher quality and cut out all the unnatural ingredients," says Folgert.
The new buns are the same hefty size – five inches in circumference – but are now locally sourced from Peter Sciortino's Bakery and made from scratch.
Kopp's, which has three restaurants, was founded by Elsa Kopp in 1950. The hearty Kopp's burger was named Milwaukee's best burger by OnMilwaukee readers in 2019.
"We were very conscious about this decision because we know how much our customers care about our burgers and we appreciate that," says Folgert.
So when I say "nice buns, Kopp's," I really mean that. And not in a creepy way.
Molly Snyder grew up on Milwaukee's East Side and today, she lives in the Walker's Point neighborhood with her partner and two sons.
As a full time senior writer, editorial manager and self-described experience junkie, Molly has written thousands of articles about Milwaukee (and a few about New Orleans, Detroit, Indianapolis, Boston and various vacation spots in Wisconsin) that range in subject from where to get the best cup of coffee to an in-depth profile on the survivors of the iconic Norman apartment building that burned down in the '90s.
She also once got a colonic just to report on it, but that's enough on that.
Always told she had a "radio voice," Molly found herself as a regular contributor on FM102, 97WMYX and 1130WISN with her childhood radio favorite, Gene Mueller.
Molly's poetry, essays and articles appeared in many publications including USA Today, The Writer, The Sun Magazine and more. She has a collection of poetry, "Topless," and is slowly writing a memoir.
In 2009, Molly won a Milwaukee Press Club Award. She served as the Narrator / writer-in-residence at the Pfister Hotel from 2013-2014. She is also a story slam-winning storyteller who has performed with The Moth, Ex Fabula and Risk!
When she's not writing, interviewing or mom-ing, Molly teaches tarot card classes, gardens, sits in bars drinking Miller products and dreams of being in a punk band again.