Thanks to a trio of NA versions of Lakefront Brewery beers, Dry January easier than ever for local hop heads.
After decades of disappointing to downright dreadful non-alcoholic options, the craft beer world has really embraced non-alcoholic beers, changing the landscape of this category that once felt like little more than an afterthought.
Last spring, Lakefront launched an NA version of its classic Riverwest Stein and in November it added similar versions of East Side Dark and Extended Play IPA.
All three are contract brewed and canned at Waunakee's Octopi Brewing, which is one of the few breweries in the area with the equipment to do such work.
"There was a trend for non-alcoholic beverages, low alcoholic beverages," says Lakefront's Brand Manager Michael Stodola, "and it seemed to be larger than we could ignore, so we thought, 'let's try to do our flagship beers NA and see how it goes'."
According to research reported by Forbes early last year, market research firm CGA Strategy found that the NA beer market is one of the fastest growing segments in beer, growing 96 percent over the previous year, worth nearly $100 million.
The business magazine called NA beer "the space to watch" in the non-alcoholic category.
Released in 1987, Riverwest Stein Amber has grown into Wisconsin's best-selling amber and a beer synonymous with its maker, Lakefront Brewery.
It's NA version has a slight bite and maltiness. The current batches have differed from the first one last May, which was something of test run.
"(We) noticed that through the experience of making an NA beer, that it tasted a little bit too dry, so we back-sweetened it a little bit," says Lakefront Head Brewer Luther Paul. "So if you notice on the Nutrition Facts that the carbohydrates are a little bit up that's because there's a little bit of sugar added back to it."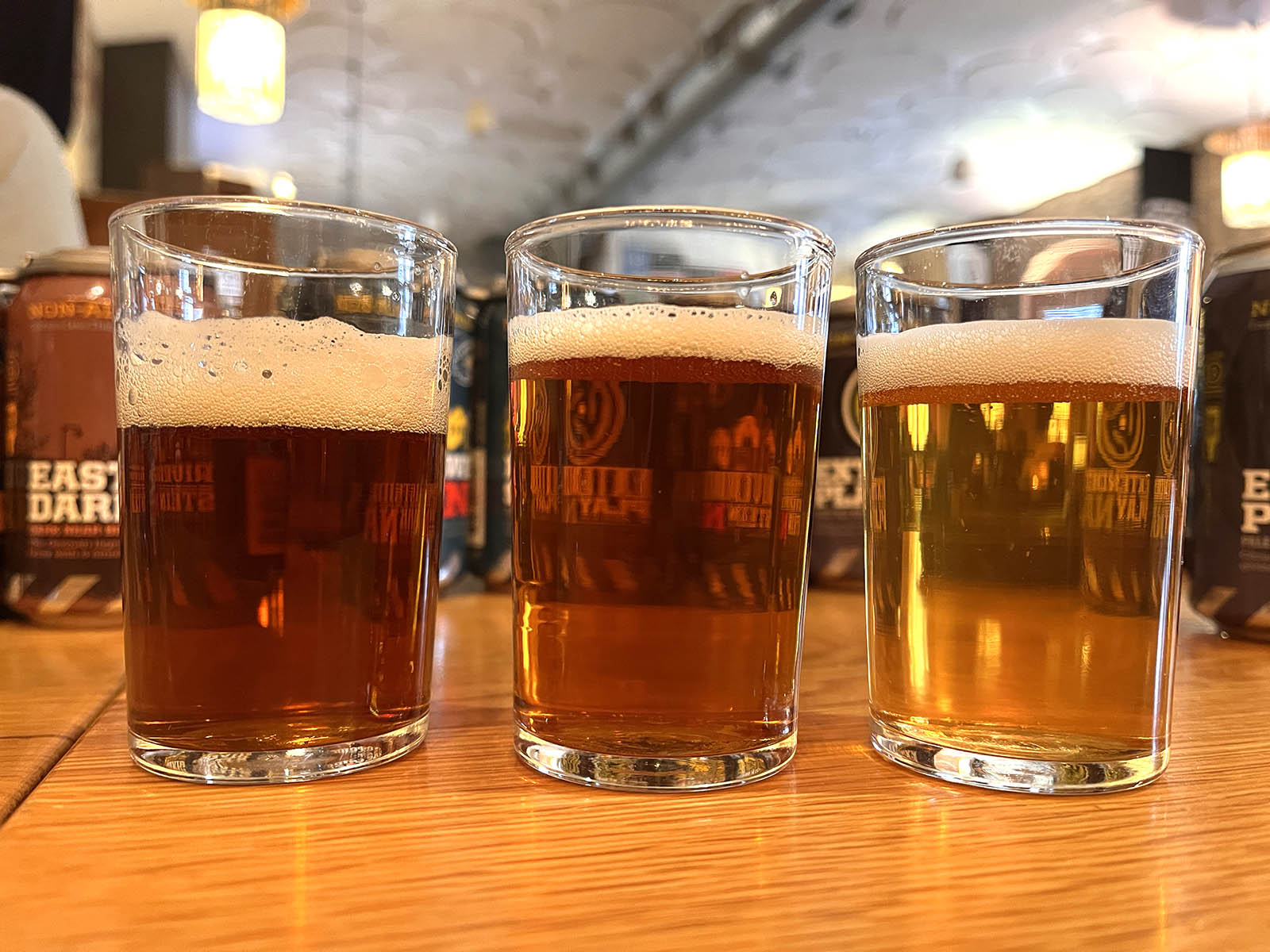 This is true of all three beers, to help them taste more like their original versions.
"These are the first batches of Eastside Dark and Extended Play," adds Stodola. "We didn't do a test batch on those. But so far so good. We've heard great reports across the board."
The standard versions range in ABV from 4.2 percent (Extended Play) to 5.8 percent (Riverwest Stein), with East Side Dark in the middle at 5.6 percent.
The NA version of the latter has a subtle flavor with a touch of malt and a velvety mouthfeel. Extended Play's hop-forward character might lead some to think it has the most instantly recognizable "beer" flavor, though all three reflect their related original brews.
They're close enough, says Paul, that you might not be even to tell the difference.
"I think the biggest thing of course is just you miss that little bite of alcohol," he says. "A lot of beers will run flat if they don't have that alcohol flavor. I think that (these) come pretty dang close.
"I've done some sensory (tests), you know, without telling people which is which, and some people couldn't tell the difference."
The NA versions are also nearly indistinguishable to the naked eye from their originals.
Stodola adds that the NA options have been well-received.
"I mean, boom, as a brand, it just took off," he says of the Riverwest Stein release. "When I talk about beer brands, I talk a lot about giraffe birth. That baby giraffe falls out of the the mom giraffe and if it doesn't get up and walk, it dies. The same with a lot of our beers. If they don't take hold somehow with the public and start walking on their own, they're essentially going to die.
"This is one that came out running."
That led to discussion of expanding the line, says Paul, but it didn't take much to decide on which to add.
"We didn't discuss them them much," he recalls. "We were just looking to kind of fill out the the styles a little bit. So you have Extended Play, which a pale ale; a little bit more hoppy. And then East Side Dark covers the dark beers.
"Also just kind of knowing how de-alcoholizing changes flavor, I felt that those two were really good beers to kind of push forward with it. I think the Extended Play is the one will have the most competition. It seems like the craft NA market's really kind of going towards the IPAs lately,"
Adds Stodola, "Over 40 percent of the craft market's IPA, so (Extended Play) is a natural. And (East Side Dark) is (a Lakefront) heritage (beer), too."
Once Lakefront has enough inventory of all three NA brews, says Stodola, the brewery will combine them all into a variety pack.
The beers are all packaged in 12-ounce cans.
In the meantime, local beer lovers can rejoice that there are now more great tasting, locally brewed NA beers on the market to help satisfy folks who want (or need) less alcohol without sacrificing beloved beer flavor.
"I'm not sure if the flavor followed the trend or the trend followed the flavor," says Stodola, "but they both kind of have risen at the same time."
Born in Brooklyn, N.Y., where he lived until he was 17, Bobby received his BA-Mass Communications from UWM in 1989 and has lived in Walker's Point, Bay View, Enderis Park, South Milwaukee and on the East Side.
He has published three non-fiction books in Italy – including one about an event in Milwaukee history, which was published in the U.S. in autumn 2010. Four more books, all about Milwaukee, have been published by The History Press.
With his most recent band, The Yell Leaders, Bobby released four LPs and had a songs featured in episodes of TV's "Party of Five" and "Dawson's Creek," and films in Japan, South America and the U.S. The Yell Leaders were named the best unsigned band in their region by VH-1 as part of its Rock Across America 1998 Tour. Most recently, the band contributed tracks to a UK vinyl/CD tribute to the Redskins and collaborated on a track with Italian novelist Enrico Remmert.
He's produced three installments of the "OMCD" series of local music compilations for OnMilwaukee.com and in 2007 produced a CD of Italian music and poetry.
In 2005, he was awarded the City of Asti's (Italy) Journalism Prize for his work focusing on that area. He has also won awards from the Milwaukee Press Club.
He can be heard weekly on 88Nine Radio Milwaukee talking about his "Urban Spelunking" series of stories.