Ever find yourself on Lincoln Memorial Drive, glance downward and see a carefully laid but perhaps somewhat lonely looking section of brick pavers? If so, have you given them a second thought? A first thought, even?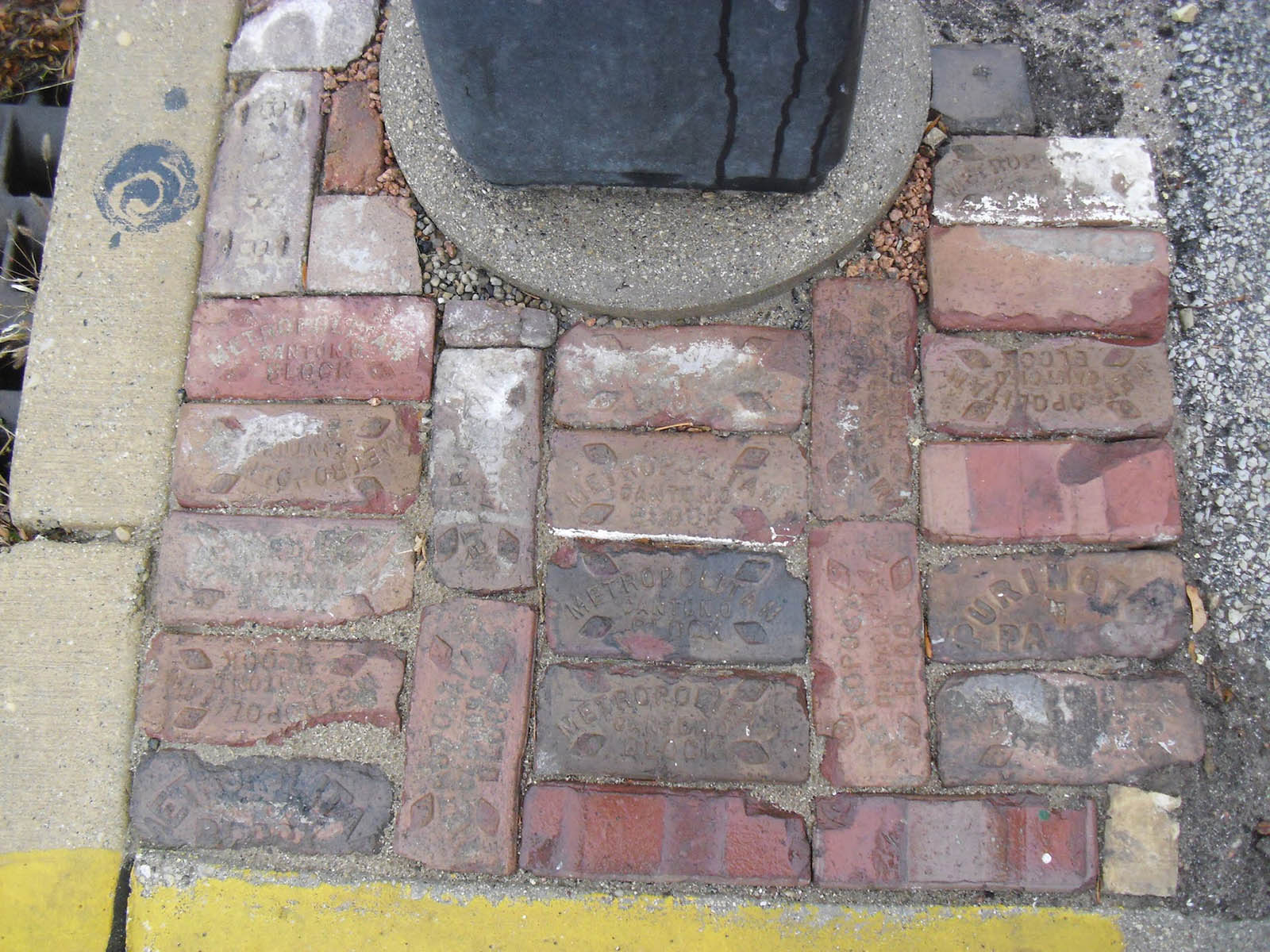 They're not official, and they're not some accidentally uncovered remnants of an earlier pavement (though in a sense they are ... read on).
Those are the work of Craig Gilbart – and sometimes his friend and partner Patti Stauss – who wrote to me after reading my story about Lincoln Memorial Drive, in which I mention (and picture) some of the old pavers and bricks – part of the landfill that can be found along the lakefront.
The landfill came from demolitions of buildings and streets in Milwaukee.
"About five or six years ago a friend and I began reclaiming bricks – those very same bricks your friend, Jeff Bentoff, found from the lakeshore between Bradford Beach and the since-removed Milwaukee gun club," Gilbart wrote.
But they didn't take the bricks for their personal gain. They didn't use them to make a patio in their backyard. Instead, they kept them at the lakefront.
"Our aim was to do some 'Urban Guerilla' work along Lincoln Memorial Drive," he said. "After the major roadwork on this stretch in 2000 work around the pedestrian crosswalks was either neglected or simply not finished.
"Access to crosswalk activation buttons was separated by unfinished ground, sometimes as much as 10 feet away from a solid concrete footing, often leaving muddy stretches to reach the walk buttons: after significant rain some of these spots would remain so for days. In some cases simple weathering had created depressions as deep as 12 inches."
Gilbart saw a problem.
"It struck me as inconvenient for most pedestrians, not to mention ADA noncompliance," he said. "Having been a regular tennis player at nearby McKinley Marina tennis courts since the early '80s it was something I noticed regularly."
So, he and Stauss came up with a solution, albeit an unsanctioned one.
(The County asks that such problems be reported at this link and the City of Milwaukee DPW has a reporting site here.)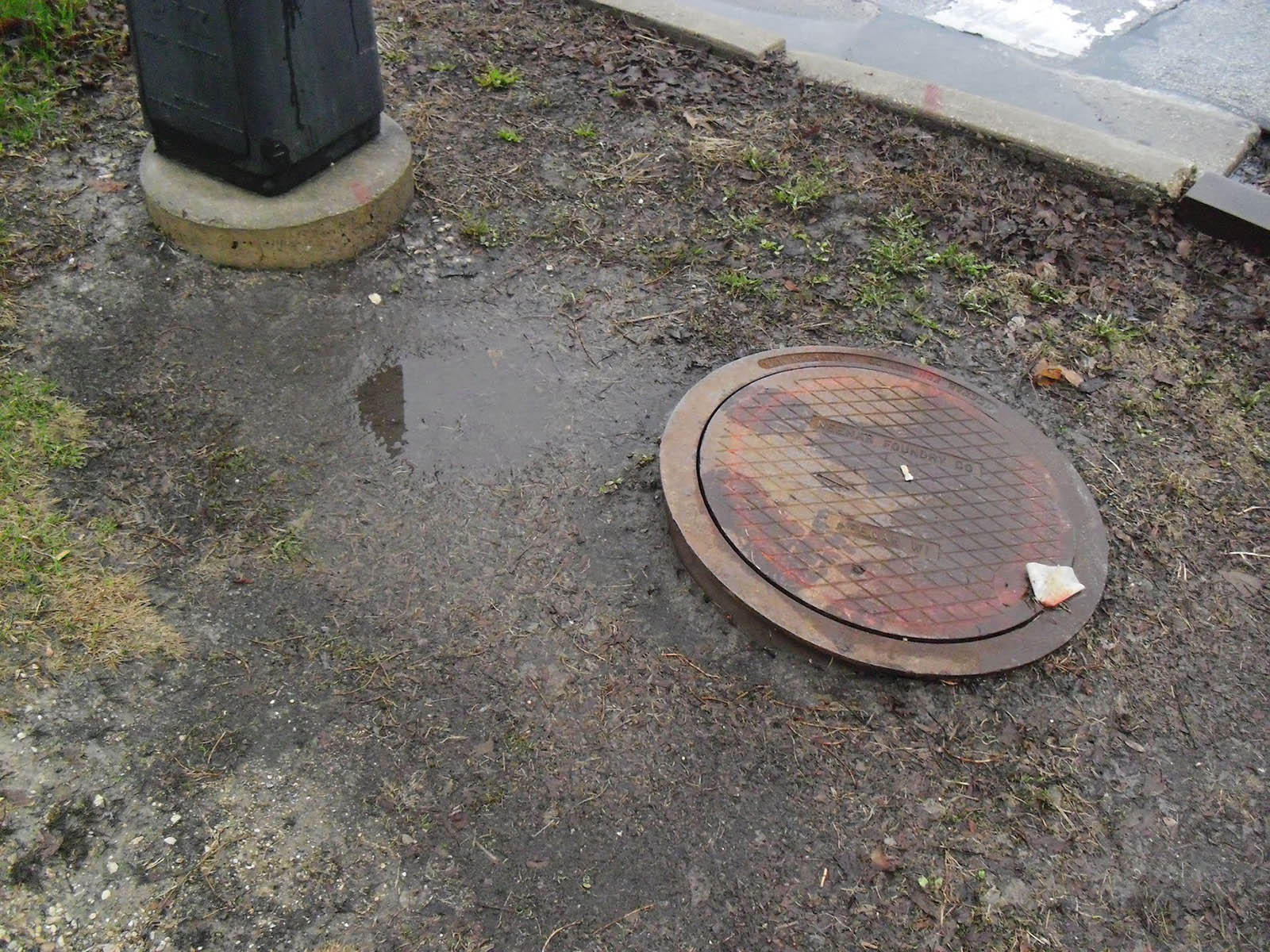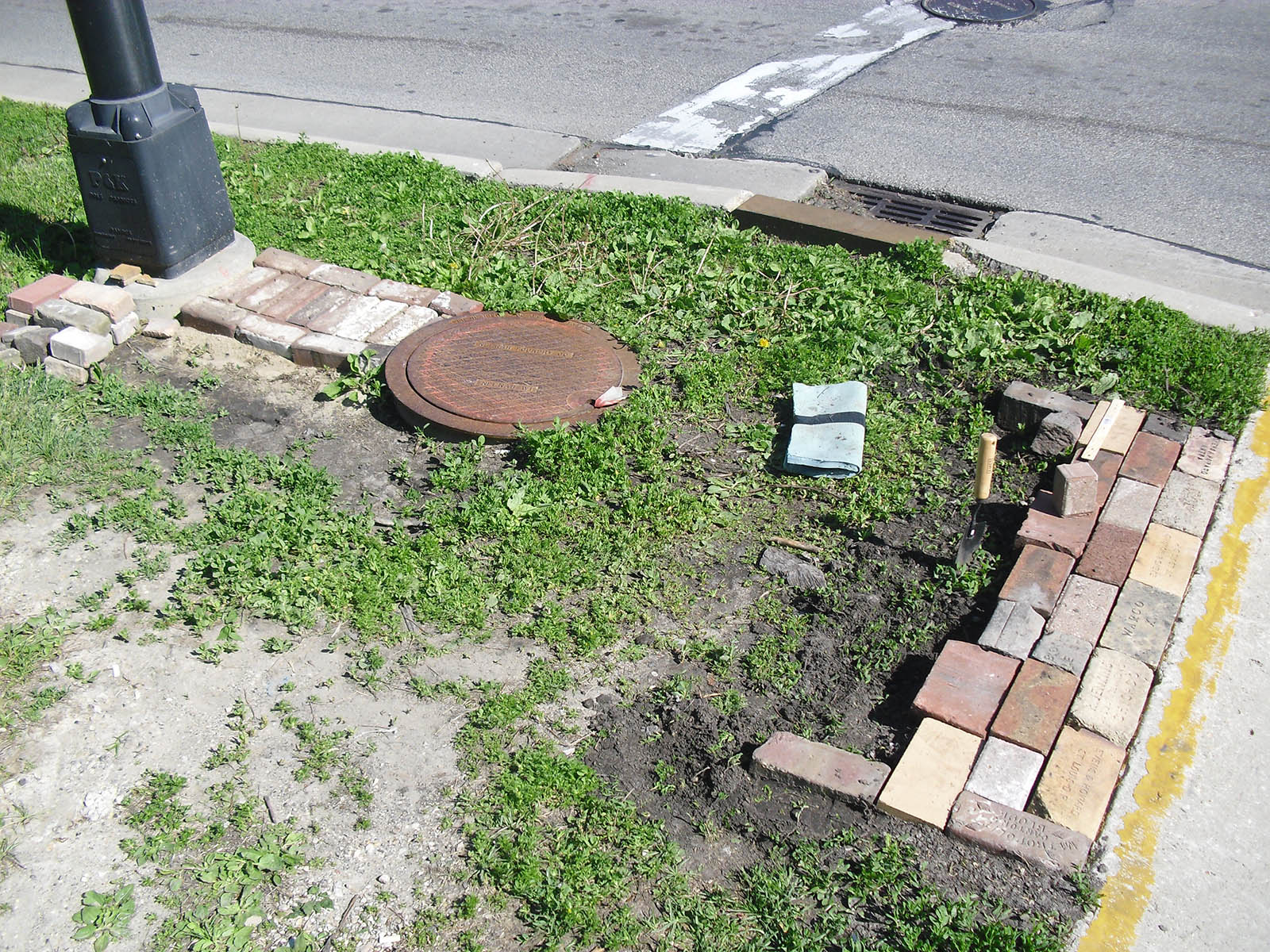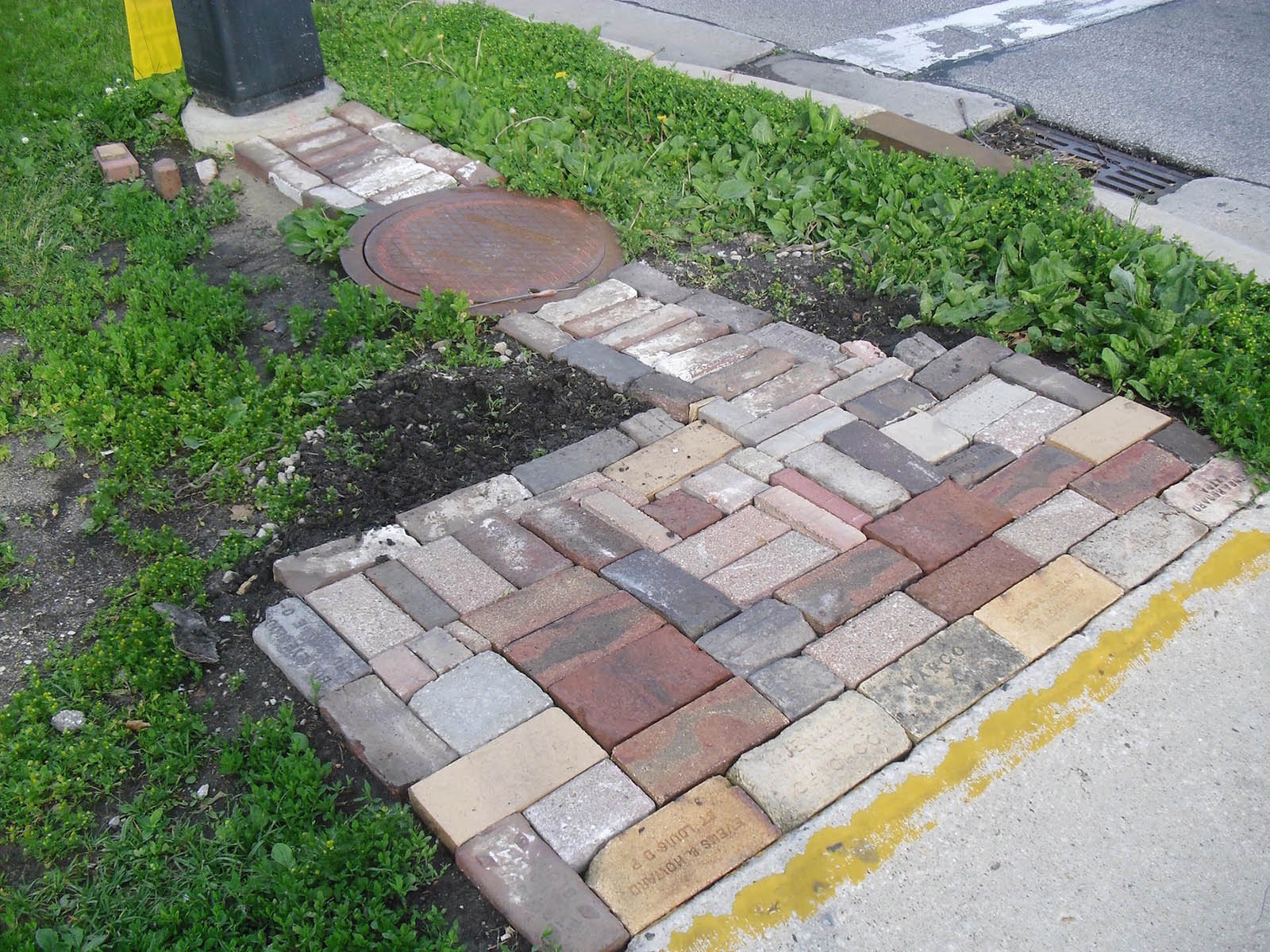 Gilbart and Stauss got started at the busy intersection of Lincoln Memorial Drive and Lafayette Hill, near McKinley Marina, laying roughly 300 bricks around six lamp posts.
"Most were heavy pavers (e.g. Metropolitan Block or Purington) reclaimed from the lakefront," he said. "Not an easy task. Patti and I had to clamber about the uneven and jagged rocks gingerly to get the material."
Over time, they expanded their territory – transporting bricks by bike and using hand tools – and filled depresssions near the Milwaukee Art Museum and the parking structure across the street, as well as at the corner of Lagoon and Lincoln Memorial Drives.
Sometimes, says Gilbart, the scope of work was too ambitious for their approach. But, still, they made an effort, and it became a part of a more permanent pavement. (Other segments of their work are less fixed in place.)
"Near Discovery World, there was an area that was too large for our small operation," Gilbart said. "In this case we merely laid a walking path of some 30 bricks. Surprisingly, a year later the city filled in the remaining space with concrete, thoughtfully building their construction forms around the bricks and preserving the old world aesthetic – sweet!"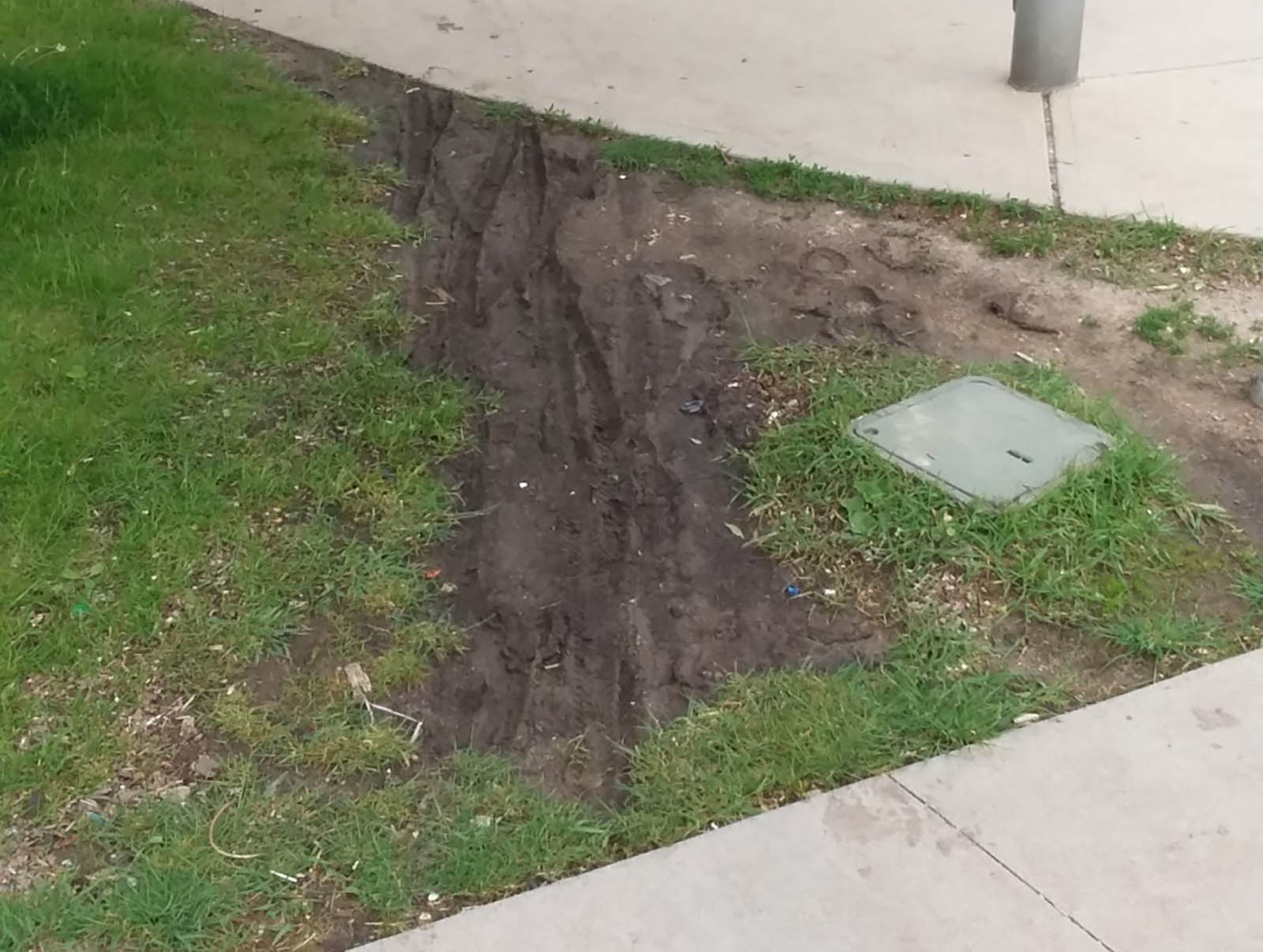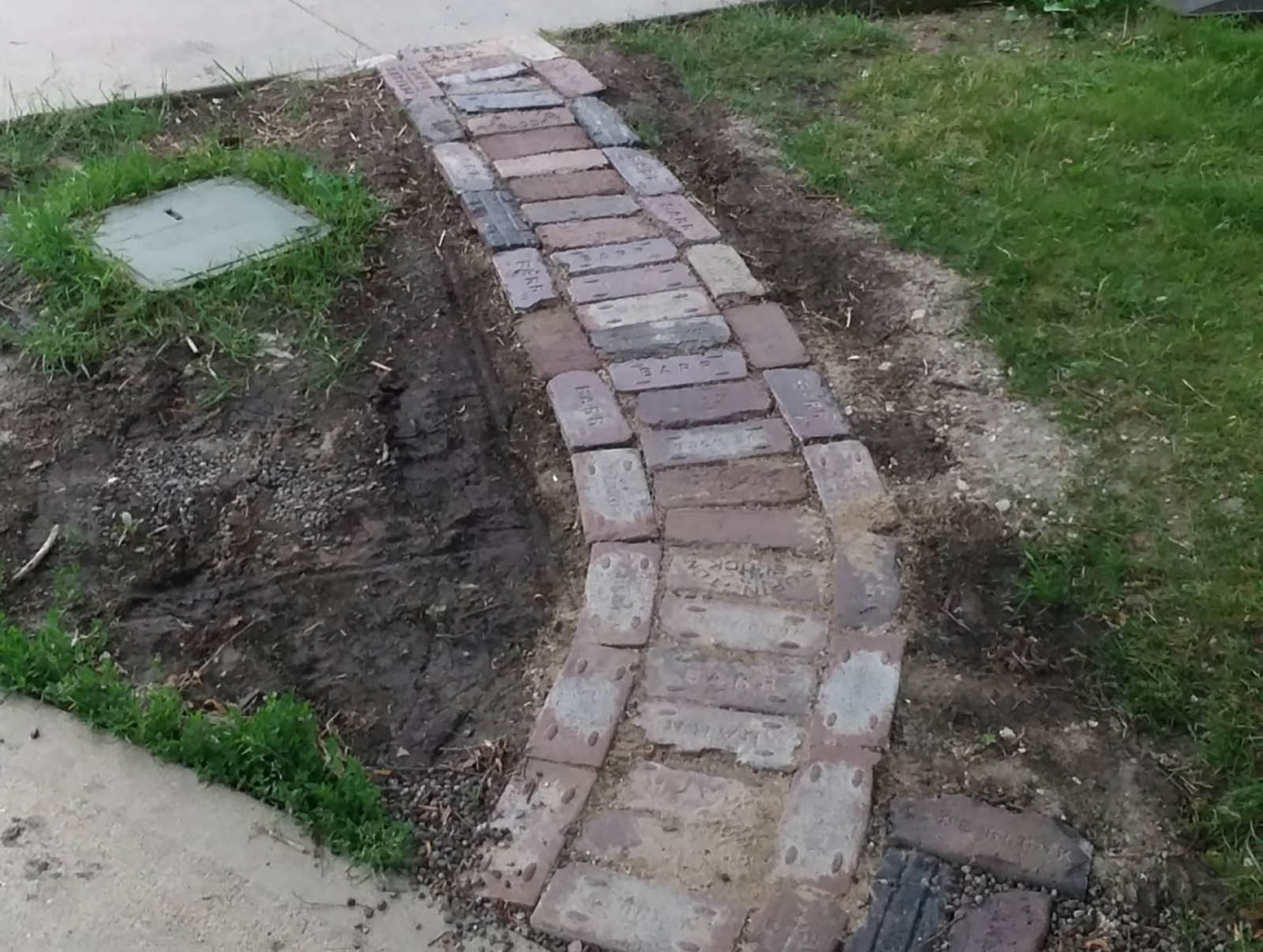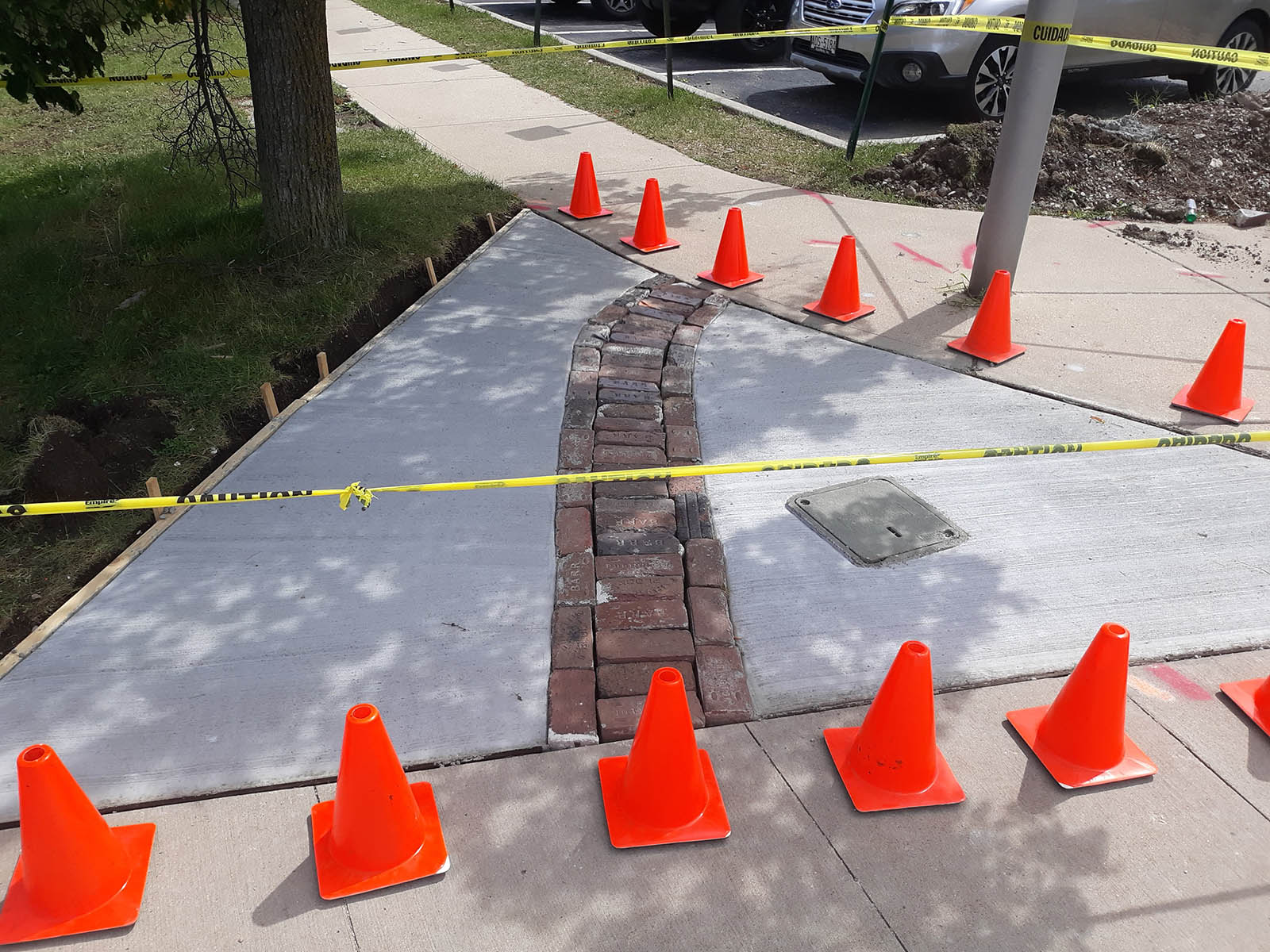 The most obvious project was the dynamic duo's swan song. At the intersection of Lincoln Memorial Drive and Water Tower Road, they added brick segments to three of the four corners."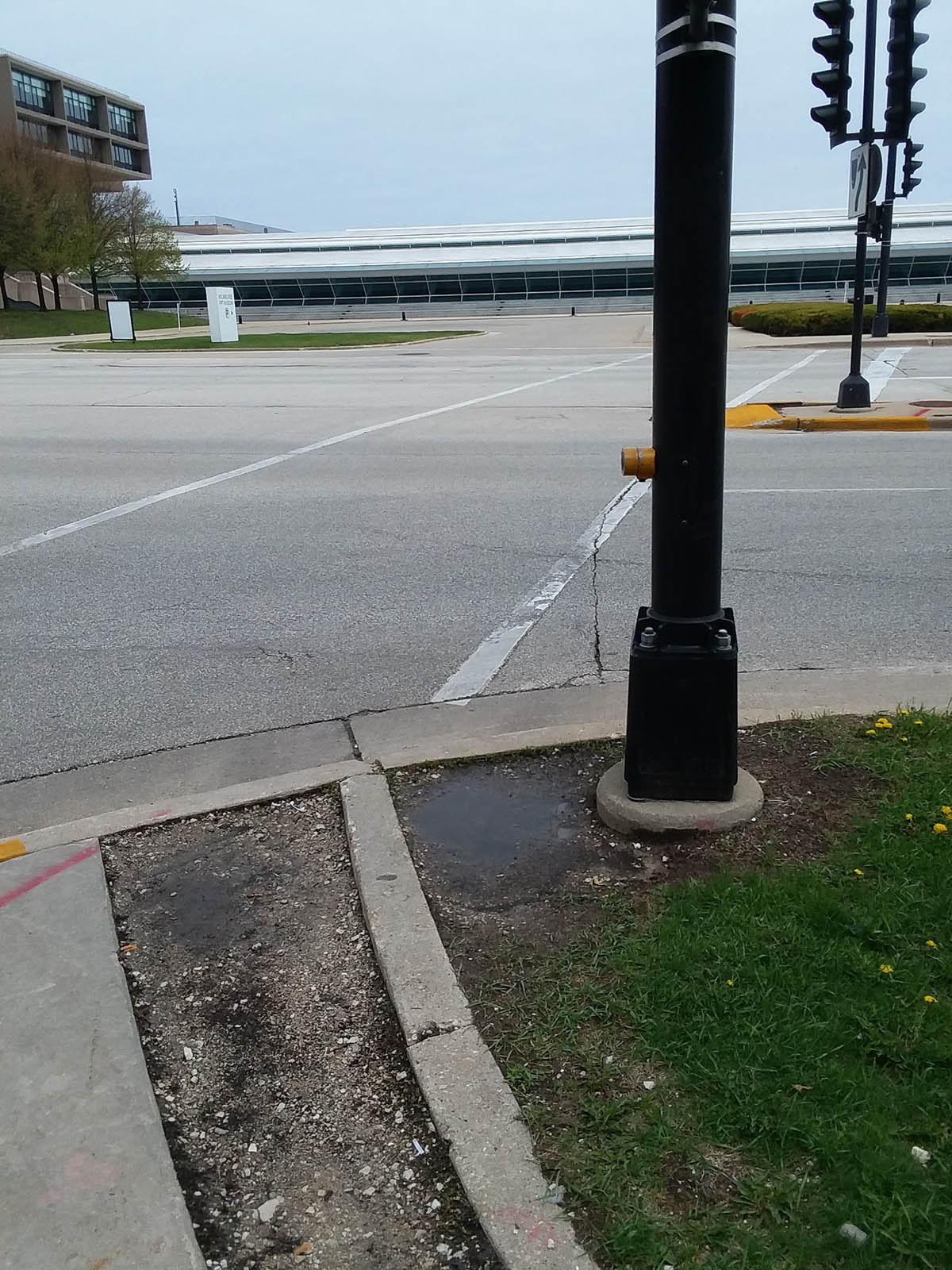 Gilbart estimates they laid 800-1,000 reclaimed brick pavers, though not all have survived.
"Sadly, three of our installations were removed when the McKinley Marina intersection was reconfigured last year," Gilbart says.
Not all of those pavers came from the former gun club area, near the soccer pitches, where Gilbart says most of the bricks have since disappeared.
"Someone. collected virtually every last one of them this past summer," he says.
Some of the blocks came from the Oak Leaf Trail above the McKinley Marina tennis courts and other pavers came from further afield, including on the Hank Aaron Trail.
"The city of Cudahy renovated their downtown area a few years ago and we were able to reclaim bricks from here as well," Gilbart said. "We even scavenged material from the Downtown Transit Center when it was demolished in 2017.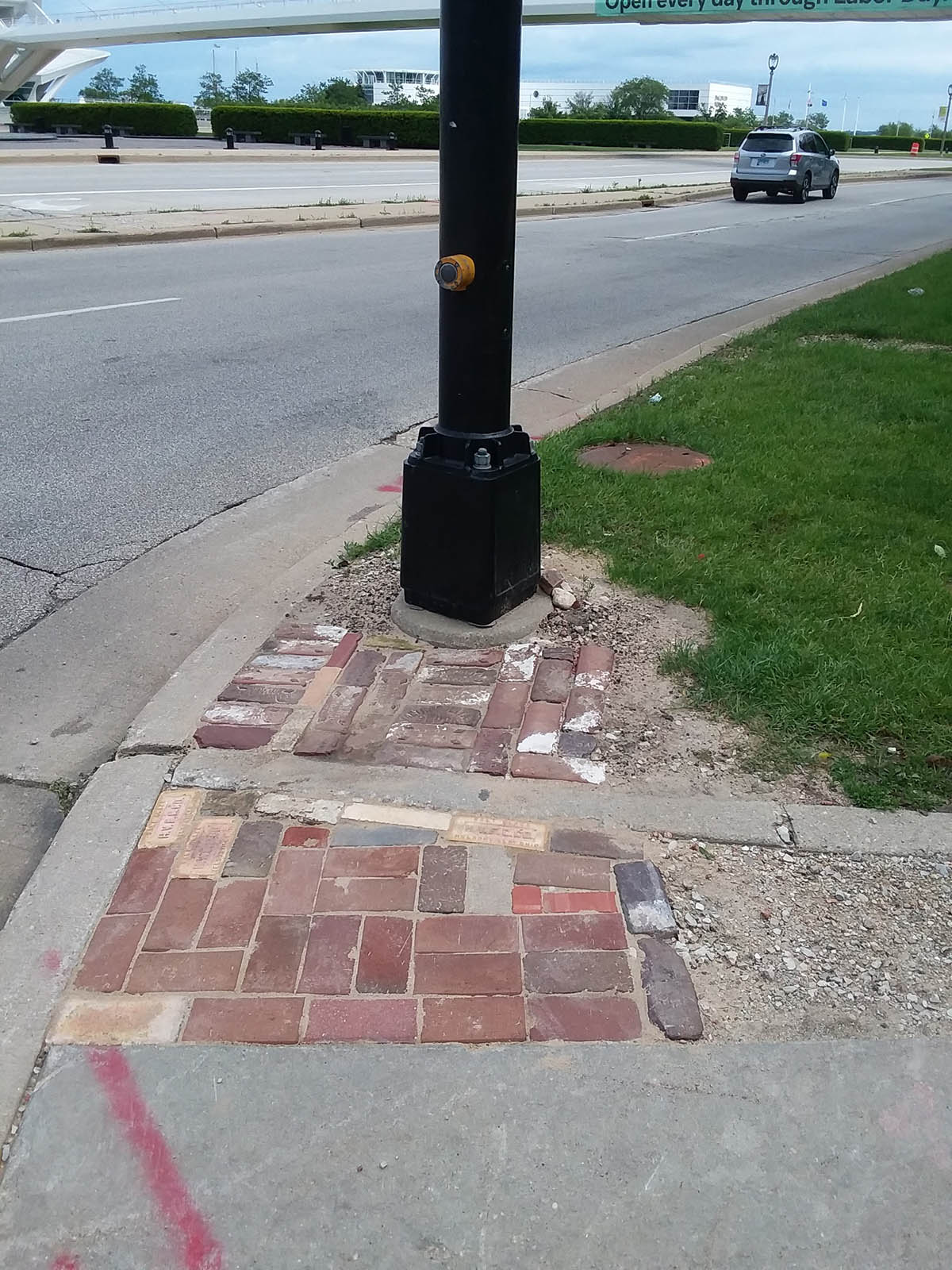 "Many summer days we would pick over a dozen suitable pavers and then ferry bricks and hand tools to the chosen location, digging and placing them in; working about an hour at a time. When completed, we would sweep in sand (from Bradford Beach) for a finished look."
It should be noted that neither Gilbart nor Stauss is a trained mason.
"Sometimes people would stop and ask us why we were doing this," Gilbart said. "We might tell them that we managed a hedge fund, making millions but then ran afoul of the Fed for tax evasion, so now we have to do community service.
"There were some other interesting encounters as well. (Patti) provided cover so that people who might be suspect of a crazy old man scratching around in the dirt would be less so of a crazy old couple scratching around in the dirt."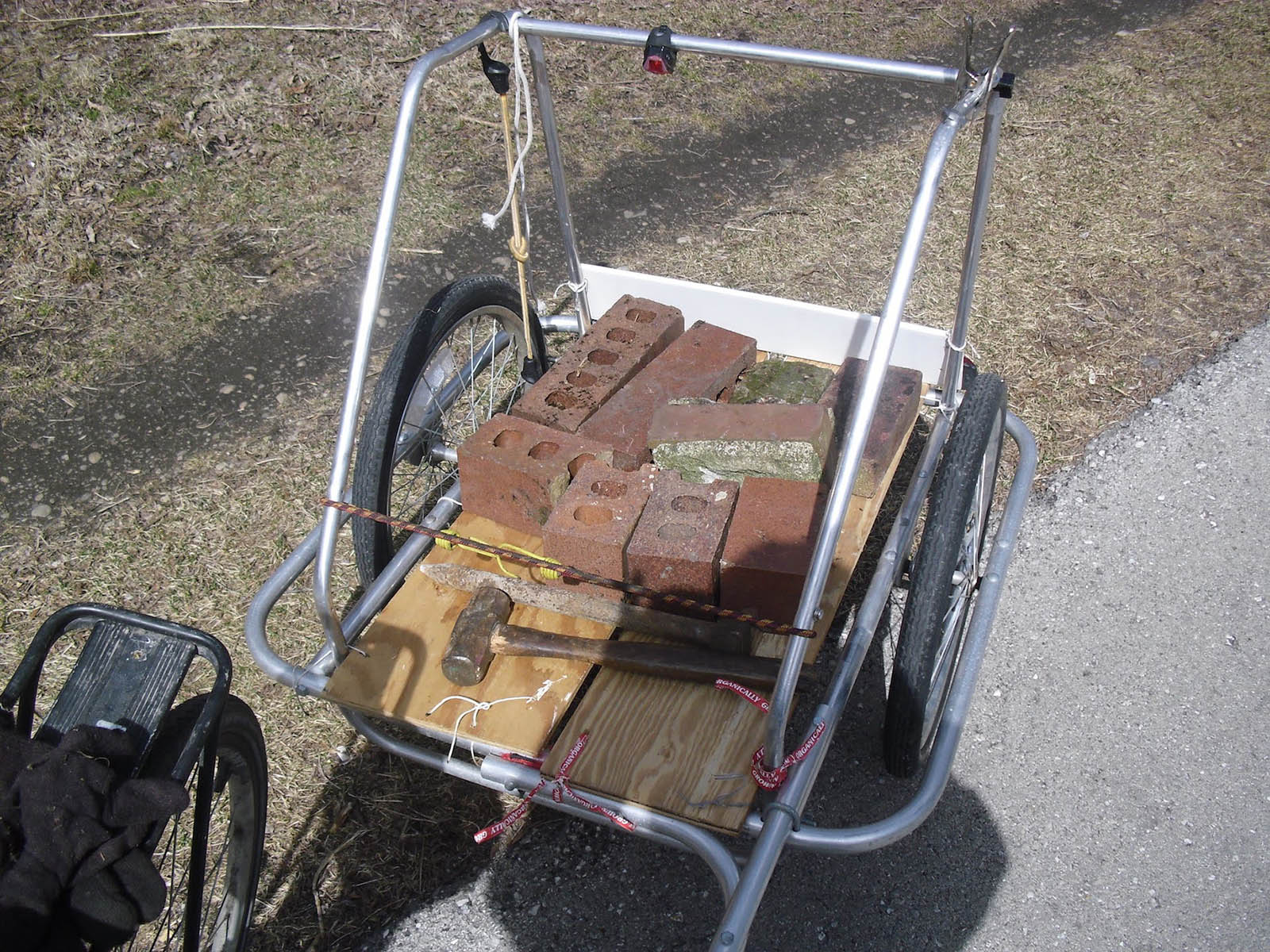 So, um, why?
"Part of the reason we did this work is because we are retired and it seemed like a worthwhile endeavor," Gilbart says, "and we had the time to do so."
Every now and then Gilbart returns to his pavers to tinker.
"Some of the bricks were laid five or more years ago and have settled, and now the expanse undulates," he said. "Other bricked areas we did have become overgrown and obscured with weeds. Every other year or so, I bother to clean them up a bit."
To view the before and after photos, it's clear that the work Gilbart and Stauss undertook was not perfect – and likely it was not legal – but it was most definitely useful to some and a task undertaken in the spirit of good citizenship.
Born in Brooklyn, N.Y., where he lived until he was 17, Bobby received his BA-Mass Communications from UWM in 1989 and has lived in Walker's Point, Bay View, Enderis Park, South Milwaukee and on the East Side.
He has published three non-fiction books in Italy – including one about an event in Milwaukee history, which was published in the U.S. in autumn 2010. Four more books, all about Milwaukee, have been published by The History Press.
With his most recent band, The Yell Leaders, Bobby released four LPs and had a songs featured in episodes of TV's "Party of Five" and "Dawson's Creek," and films in Japan, South America and the U.S. The Yell Leaders were named the best unsigned band in their region by VH-1 as part of its Rock Across America 1998 Tour. Most recently, the band contributed tracks to a UK vinyl/CD tribute to the Redskins and collaborated on a track with Italian novelist Enrico Remmert.
He's produced three installments of the "OMCD" series of local music compilations for OnMilwaukee.com and in 2007 produced a CD of Italian music and poetry.
In 2005, he was awarded the City of Asti's (Italy) Journalism Prize for his work focusing on that area. He has also won awards from the Milwaukee Press Club.
He can be heard weekly on 88Nine Radio Milwaukee talking about his "Urban Spelunking" series of stories.