When Steny's reopens for business, a "new" sign reading "Welcome to Steny's" will greet patrons. Ryan Steny, owner and son of the original owner, Jerry Steny, found the sign in the basement while he was cleaning, something he's done a lot of in the past two months.
"This is the first sign we ever had in the bar. It's from November 12, 1985, which was our first day we opened," says Steny. "We were pretty excited to find this poster, so we made a a frame for it and hung it up for the first day we re-open."
The mandatory shut down due to COVID-19 has been tough on Steny, but he was determined to make the most of it. He, his dad and various members of the staff worked tirelessly – without the help of a single contractor – to refinish the wood floors, table tops and bar (which was sanded five times!). They also painted the walls, which were dark maroon, to a lighter, fresher gray color.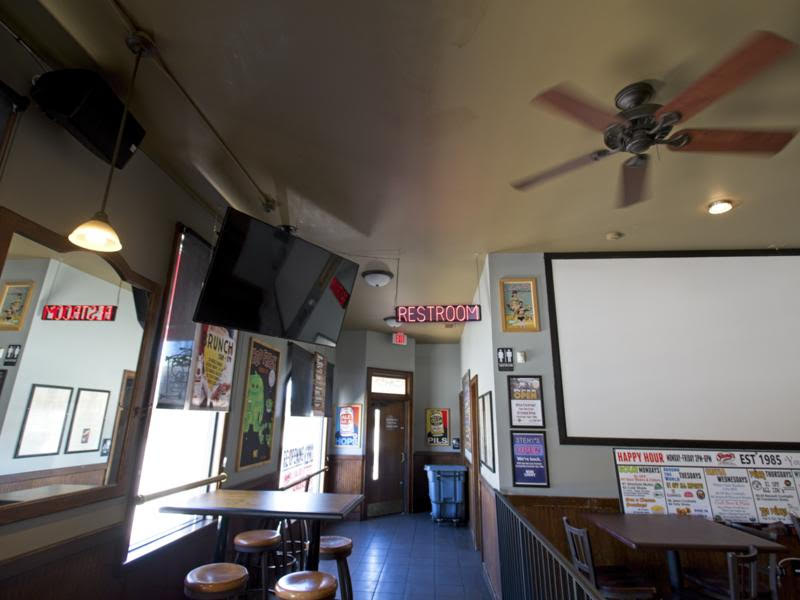 "It definitely makes the dark wood pop," says Steny. "As for the tables, I just wish I had taken 'before' photos. The difference is amazing."
The dining room, which is usually packed with tables, has less than half of the seating it it did prior to the pandemic. Steny says once the bar and restaurant can reopen, his staff will be closely monitored to make sure they aren't sick via temperature taking and he has installed hand sanitizing stations throughout the area. They will also only use disposable plates and utensils.
Steny's kitchen and basement also got a major reboot during the lockdown. Every inch of surface was scrubbed, including places people will never notice. Steny also invested in shiny, new fryers and wheels for his massive oven so it can be easily moved and cleaned behind more regularly in the future.
"We deep scrubbed, on our hand and knees cleaning, for weeks," says Steny. "And now we feel great about it."
The bar and restaurant now has a large, walk-in cooler just for food and a basement-level beer cooler that was remodeled to twice its size.
"You could barely get two people in there before. We finally have some room," says Steny.
Steny says he has rehired 80 percent of his staff and now offers a full-menu for curbside pick-up. He looks forward to completely reopening soon, but safely.
"We really want to get our feet back on the ground," says Steny.
Although at this point it's uncertain when bars and restaurants will be able to legally reopen in Milwaukee, Steny says they are ready. And as they had to basically halt their business for two months, he's proud of himself, staff and family for using the time wisely.
"My dad keeps saying that in 35 years, we've never had the opportunity to do everything we've done lately," says Steny.
Because the Walker's Point neighborhood has boomed in popularity and offerings during the past decade, Steny says the expansion aspects of their recent work had been necessary for a long time.
"We never had the time because our business was open seven days a week, from 11 a.m. to bar close," says Steny. "Now we're ready for anything."

Molly Snyder started writing and publishing her work at the age 10, when her community newspaper printed her poem, "The Unicorn." Since then, she's expanded beyond the subject of mythical creatures and written in many different mediums but, nearest and dearest to her heart, thousands of articles for OnMilwaukee.

Molly is a regular contributor to FOX6 News and numerous radio stations as well as the co-host of "Dandelions: A Podcast For Women." She's received five Milwaukee Press Club Awards, served as the Pfister Narrator and is the Wisconsin State Fair's Celebrity Cream Puff Eating Champion of 2019.