Join us for the 8th annual Milwaukee Taco Fest on the Henry Maier Festival Grounds. Get your tickets now - they are limited!
Throughout his 20-plus years in the local food industry, Mike Holz been around a lot of delicious meals. But his favorites?
"The best food I would have was when the staff would get together and make tacos in the back," Holz recalled.
In order to bring some of those delicious experiences out of the back and into the dining room – and to bring another good taco place to the Downtown area – Holz teamed up with Norberto Pliego, a friend he met about six years ago while working at Brunch together, and opened Taco Mike's in the former short-lived Burgerim found at 1001 N. Dr. Martin Luther King Jr. Drive.
"We were just kind of playing around one day and making tacos – next thing you know, we're opening up a taco place," Pliego said.
Together, Holz and Pliego created a menu that combined the tips, tricks and flavors they picked up over the years in the restaurant kitchen with their own skills and inspirations. Just one problem: They moved in and opened Taco Mike's in summer 2020, still in the midst of the COVID pandemic and all the uncertainty and concerns surrounding it.
"Oh my god, it was hard," Holz recalled. "Me and Norberto used to work 24/7, seven days a week, to open the place by ourselves. It was a lot of to-gos, a lot of DoorDash, a lot of Grubhub. That was interesting."
Eventually, though, Taco Mike's got its footing, winning over customers with its tasty varieties of tacos – inclulding pork carnitas, carne asada, chicken tinga, barbacoa beef, al pastor pork, shrimp and birria. The location didn't hurt either – especially the following summer, perched just down the street from Deer District as the Bucks made their championship run and turned the area into an eye-popping block party for the ages.
"It was an experience. It was a championship experience," Pliego said. "The parade was insane – just waves of people you'd see coming your way ... It was definitely electric, all throughout the city, and seeing all the people lined up against the glass and in the middle of the street, trying to catch the game on our big screen here. It was insane – but I wouldn't trade it for the world. One of the best experiences ever."
Between the top-notch location and top-notch menu, Taco Mike's has gotten comfortable at its corner – certainly more comfortable than its prior tenant, whose mini-burgers didn't even last a year at the address. But while Holz and Pliego are growingly comfortable, they're by no means getting complacent.
"We're always constantly trying to evolve and try different things and give our customers a different point of view on tacos," Pliego said.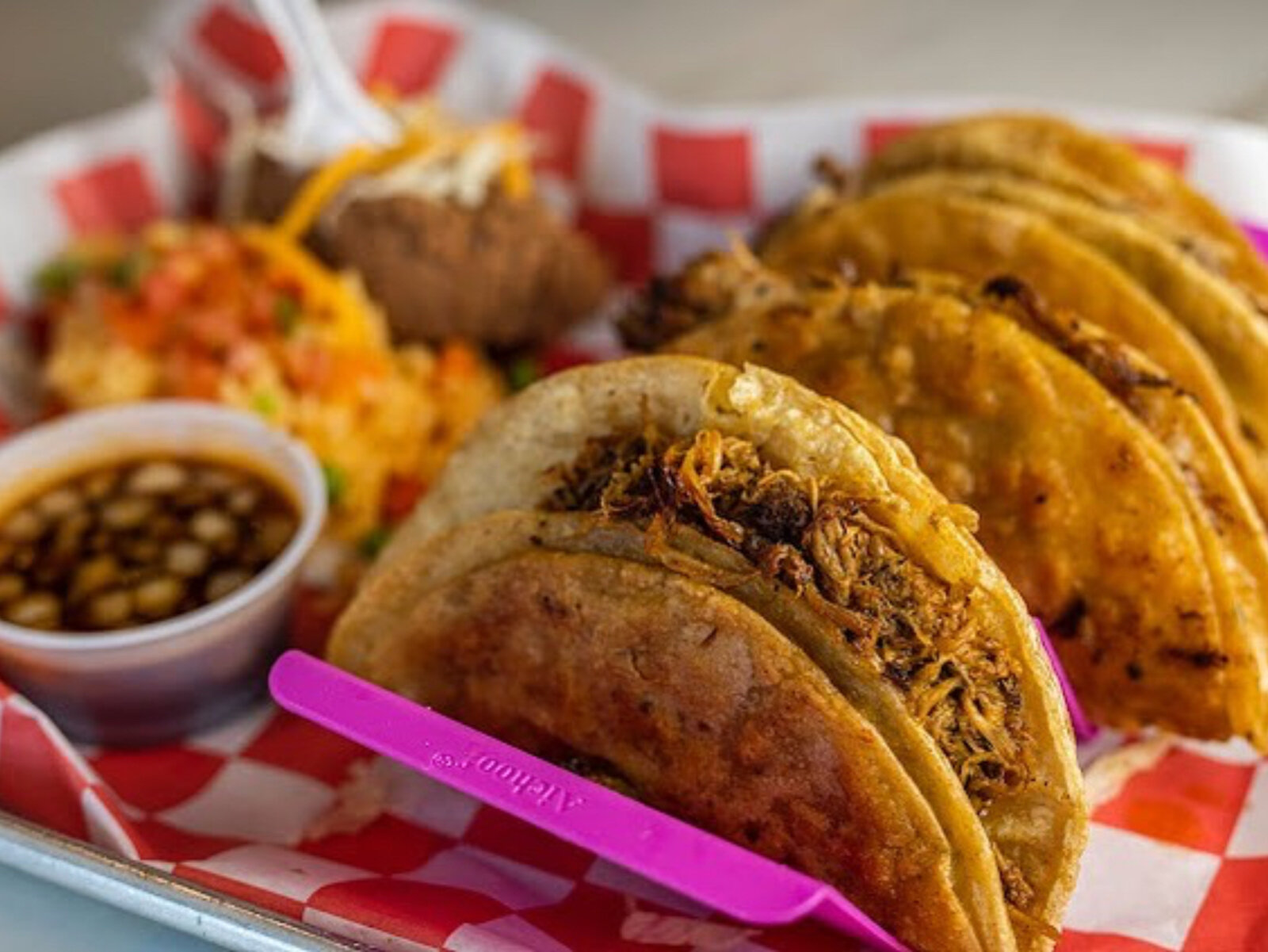 What is your most popular food item? According to Holz and Pliego, Taco Mike's birria – featuring shredded braised beef and jack cheese inside a fried corn tortilla, complete with red dipping sauce – is always the crowd favorite, thanks in part to birria's viral status amongst foodies on Instagram and Facebook. Carne asada, however, comes in a close second.
What kind of food will you be serving at Taco Fest? For this weekend's foodie festivities, Taco Mike's trailer will serve two off-menu specials: a Carolina carnitas taco featuring barbecued pork with a Carolina-style sauce as well as a Nashville hot chicken-inspired take on their usual fried birria tacos.
Any vegetarian or vegan items? While Taco Mike's won't have any specifically vegetarian or vegan options at Taco Fest on Saturday, the restaurant does offer a vegan taco – featuring a mix of peppers, corn, onion, cauliflower, guacamole and cilantro in a corn tortila – on its regular menu.
If you could park your truck anywhere for one day, where would it be? Holz and Pliego split on their fantasy food truck destinations, with Holz pitching a try at Texas as his dream locale while Pliego selected the bustling Las Vegas strip.
As much as it is a gigantic cliché to say that one has always had a passion for film, Matt Mueller has always had a passion for film. Whether it was bringing in the latest movie reviews for his first grade show-and-tell or writing film reviews for the St. Norbert College Times as a high school student, Matt is way too obsessed with movies for his own good.
When he's not writing about the latest blockbuster or talking much too glowingly about "Piranha 3D," Matt can probably be found watching literally any sport (minus cricket) or working at - get this - a local movie theater. Or watching a movie. Yeah, he's probably watching a movie.