Here's how good Lizzo and her Fiserv Forum tour stop was on Tuesday night: She made a Minnesota Vikings reference on a Wisconsin stage, and not one person in the crowd could fathom booing or grumbling. Sure, it came within the Trojan horse of her smash-hit sing-along modern classic "Truth Hurts" – but still, the Minnesota native more than earned a reprieve from even the most devout Packers loyalists in the crowd with her sun-bright, blissed-out "Special" tour set that was, indeed, very special.
The Fiserv Forum concert marked the Grammy-winning superstar's first Brew City stop since 2019, a grounds stage headlining gig at Summerfest where the positivity on stage was unfortunately overshadowed by some negative headlines off of it afterward. Thankfully, Lizzo's Milwaukee return was nothing but good vibes, glittering giddiness and good spirits – including some very popular colorful ones served in lyric-branded pouches, making everyone look like they were sipping jumbo adult Capri Suns.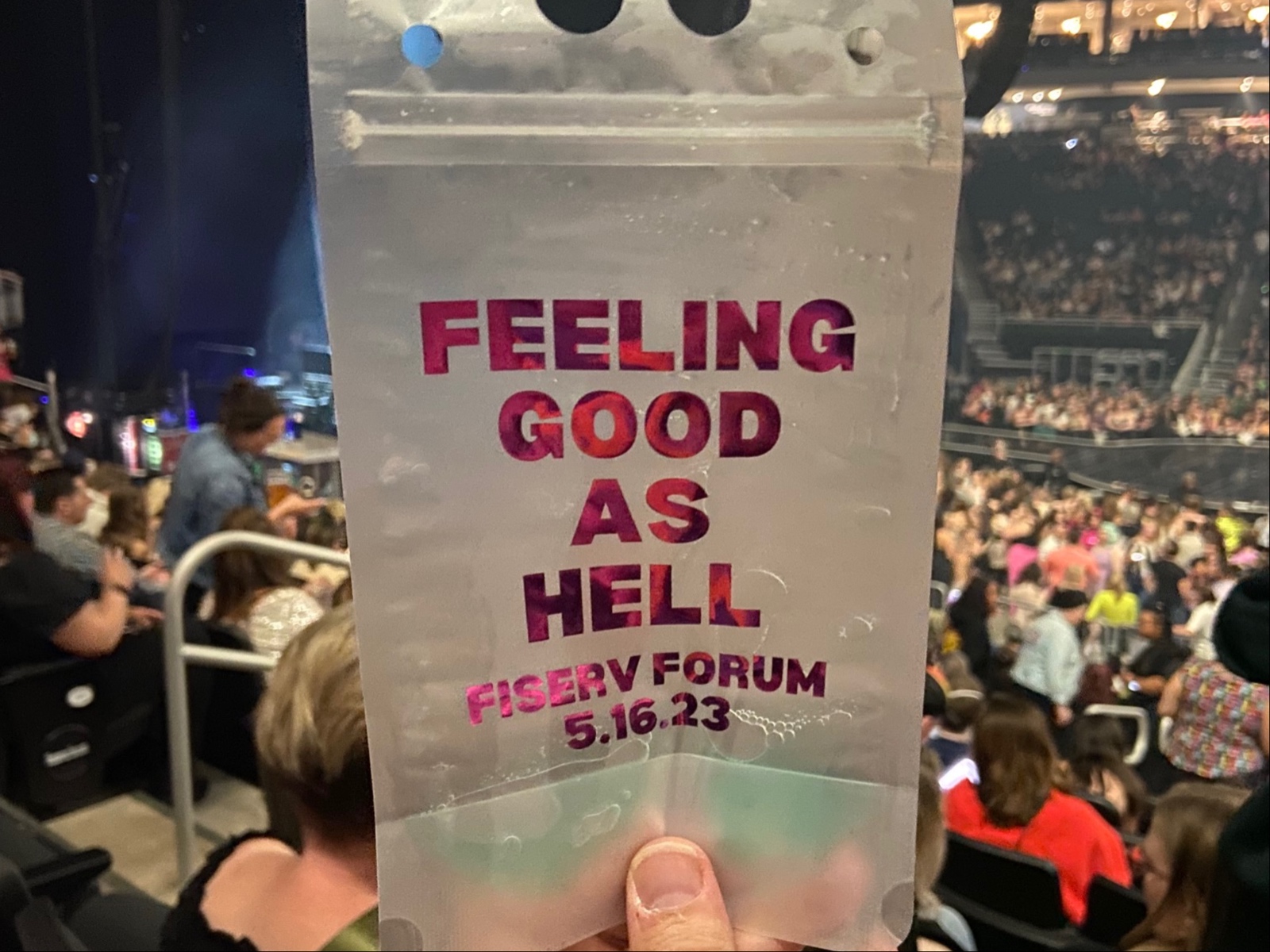 After the first of many Lizzo-signature affirmational self-love messages throughout the night, the popstar burst onto the stage for her opening numbers: the glowingly peppy and positive bops "The Sign" and "2 Be Loved (Am I Ready)." Boogieing and beaming in a shimmering outfit that put the finale disco ball's sparkle factor to shame, surrounded by her famed Big Grrrls dance crew, Lizzo earned a howlingly loud greeting after the two energetic hits – so much so the star's eyes gratefully welled up barely five minutes into the evening. Or maybe her eyes were just watering from the blaring sonic blast coming from those in attendance. (But really: I've been to the likes of the Jonas Brothers and Shawn Mendes – and Tuesday night would maybe rank even higher amongst the most ecstatically ear-rattling crowds my hearing's survived.)
While the Fiserv Forum audience eventually leveled to a still roaring but more otologist-approved volume, the night's energy never lagged or let off the pedal. The set list happily hopped from hit to hit all across Lizzo's astronomical rise to fame: the playfully jangly Beastie Boys riff "Grrrls," the slinky bass groove of "Boys," the triumphant R&B croon of "Special" and the disco-dancing Pride anthem "Everybody's Gay." Even when the show settled down during its slow jam ballad section, complete with an on-stage chaise lounge, or ventured into an extended Coldplay cover (a transition into the song "Coldplay" but still – surprise!), Lizzo never lost the crowd's adoring attention.
That's in no small part due to the fact that Lizzo puts on A Show. The production constantly keeps audiences entertained – from a goofy Russian nesting purse gag before breaking into "Phone" to a crowd noise meter to reach "100 percent that bitch" for "Truth Hurts" and cleverly bringing in Cardi B for her "Rumors" verse with a thematically on-point cell phone video (even if the rapper was clearly just half-performing the clip in a hotel room). Costume changes came and went blindingly quick, with casually chatty pre-recorded messages from Lizzo on the giant circular backdrop screen helping fill the short gaps. In a night full of dance, the production even made the night's still moments dynamic, like the noir-ish shadows draping over Lizzo lounging during "Jerome" or turning Lizzo into a projector's canvas, butterflies and stars moving across her body on "Naked."
The production's bells and whistles, however, seem comparatively dim next to its star and her company. The live band and singers – the Lizzbians – brought an extra live jolt to the dance-happy hits and to moments like the wiry guitar outburst at the end of "Boys." Meanwhile her Big Grrrls dance crew – the centerpiece of her Emmy-winning Amazon Prime Video competition show – kept the energy and movement up throughout the approximately 100-minute set, sharply busting out regular dance breaks.
And then there's Lizzo, the effervescent and welcoming sun which all revolved on Tuesday night. My concert companion, a veteran of the pop star's shows, said the Fiserv Forum show was perhaps slightly less energetic or powerful than some past performances. If that was the case, judging by Tuesday, then clearly even if Lizzo is just 73 percent that bitch for a night, it's better than most artists' full hundred.
The "Good As Hell" star constantly danced and bopped with the Big Grrrls and mesmerizingly belted on point – particularly on "Cuz I Love You," so much so even she had to silently mutter an impressed "bitch" about her own vocal chops. And when she wasn't singing and grooving, she was busting out a handful of her now-signature flute solos. With superstar shows set at often superstar prices, you want to see the work and effort on the stage, that they're not too cool to care – and indeed, midway through the Fiserv Forum show, Lizzo had clearly and proudly worked up a well-earned sweat with much more performing to come.
Even more magnetic than her performance, though, was Lizzo's personality throughout the night. She may put in the effort on stage, but her presence is effortless charisma, selling the heck out of even the deepest cuts and more still musical numbers. Pop star affirmations and compliments can ring canned at some shows, but Lizzo's regular shoutouts to self-love, empowerment and acceptance always felt genuine. Even so, considering the number of them scattered throughout Tuesday's show, you'd think they'd would lose affect after a while – but you'd think wrong. Instead, even the pre-recorded messages felt sincere, even asking a buzzed and boisterous crowd to take a therapeutic pause and a deep breath at one point – and actually getting it.
Her bubbling positivity was infectious throughout the night – maybe most of all during a late extended crowdwork break. Between "I Love You Bitch" and "Good As Hell," Lizzo chatted with a number of audience members with a light-on-her-feet delight, accepting an artist's painting like it was a Grammy (and returning the favor by plugging his art's Instagram account), handing over the spotlight to a crowd member for a twerk showcase, bonding with a fan who postponed tonsil surgery for the concert and turning one glowing cowboy-hat-clad birthday fan into a happily blubbering mess with a shoutout. She even made a seamless Sheboygan reference during the extended break. One fan's sign proposed a Lizzo 2024 presidential run – she did laughingly note she's finally of age to do it – and judging by the crowd's adoration and her charmingly authentic interactions, she might just get 100 percent that vote.
First things first, though, she had a show to finish. After the "Coldplay" aside and earning the sing-along tell-off anthem "Truth Hurts" with the That-Bitch-o-Meter, Lizzo and company wrapped the show with "I Love You Bitch" and the joyful "Good As Hell."
Then, in perhaps her greatest move of the night, as the crowd prepared one final cheer burst for an encore, a video message from Lizzo cut off the dutiful roar, playfully wondering where she'd gone and tasking herself to fetch herself back on stage (once she figured out how to break through fourth wall). It's about damn time we killed off the hand-slapping encore rigamarole. But first, it was time for "About Damn Time" and "Juice" as the night's official closing numbers, just as energetic and boisterously gleeful as the night's opening all those dance breaks, flute solos and belted hits before.
Lizzo's dominant Fiserv Forum performance comes amid the star's ongoing pop cultural world domination, scoring Grammys, winning Emmys, acting in blockbusters like "Hustlers" and most recently popping up in "Star Wars" shows and "The Simpsons." And with Tuesday's jubilant ode to positivity, empowerment and being one's unapologetic self, combined with the crowd's reception, I'd expect that takeover to only continue. After all, if even the Vikings can't ding her crown in Packers Nation …
Setlist
"The Sign"
"2 Be Loved (Am I Ready)"
"Soulmate"
"Phone"
"Grrrls"
"Boys"
"Tempo"
"Rumors"
"Scuse Me"
"Fitness"
"Naked"
"Jerome"
"Break Up Twice"
"Doo Wop (That Thing)" (Lauryn Hill cover)
"Special"
"I'm Every Woman" (Chaka Khan cover)
"Like a Girl"
"Birthday Girl"
"Everybody's Gay"
"Water Me"
"Cuz I Love You"
"If You Love Me"
"Yellow" (Coldplay cover)
"Coldplay"
"Truth Hurts"
"I Love You Bitch"
"Good As Hell"
Encore
"Juice"
"About Damn Time"
As much as it is a gigantic cliché to say that one has always had a passion for film, Matt Mueller has always had a passion for film. Whether it was bringing in the latest movie reviews for his first grade show-and-tell or writing film reviews for the St. Norbert College Times as a high school student, Matt is way too obsessed with movies for his own good.
When he's not writing about the latest blockbuster or talking much too glowingly about "Piranha 3D," Matt can probably be found watching literally any sport (minus cricket) or working at - get this - a local movie theater. Or watching a movie. Yeah, he's probably watching a movie.