I'm not gonna lie: day four of Country Thunder is always a blast, but it's one of those blasts where you feel like you've been through the wringer. You're excited to see for the artists coming up, yes, but you're also excited to see your pillow and blanket for more than a couple hours at a stretch.
That said, day four left the other three in the dust.
The rain cleared in the early afternoon. The sun came out. People started filling the bowl early. I popped out to the campgrounds again, just to see what Sunday was like out there. As you can imagine, four days of partying had taken its toll. Some people looked like they'd been run through the shredder and were barely hanging on. And others looked like they could go a few more rounds.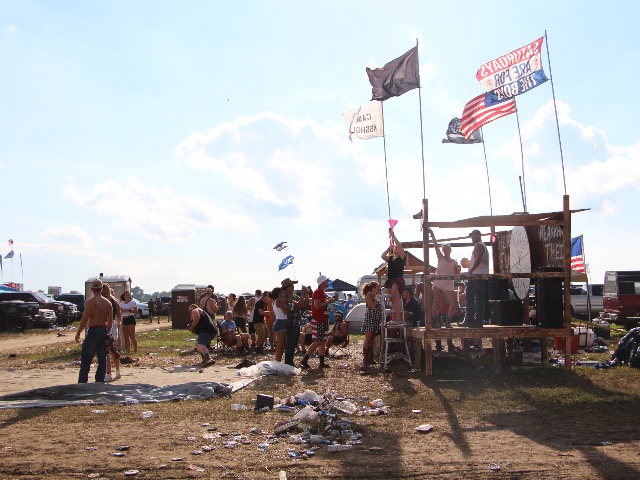 (PHOTO: Lora Kaelber)
Back in the Thunder Bowl, Little Texas led the lineup with its many, many hits. Formed in the late '80s before getting huge in the '90s, the band hasn't lost a step. I was walking through the bowl when it played "What Might Have Been," the quintessential destroyed heart song. Some of the younger folks amongst us weren't singing, but the rest of us? Yeah, belting it out. This weekend has seriously made me miss the '90s country stars. Little Texas's set was great. Really great.
Following Little Texas, newly minted country rocker Morgan Wallen captured the crowd's attention. Wallen first hit Nashville a few years ago and immediately started charting his course. His first single dropped in 2016 and broke the U.S. Country Airplay Top 30. His now crazy, chart-topping summer hit "Up Down Up Down" featuring Florida Georgia line dropped at the end of 2017. Since then, Wallen has earned a headlining tour and is gaining ground at an unprecedented rate.
(PHOTO: Lora Kaelber)
He brought out a lot of songs from his catalogue, and even though the crowd wasn't super familiar, a lot of what he played had really good beats. The crowd got into it and danced along with Wallen. He played his newest single, "Whiskey Glasses," and his forthcoming single "Happy Hour" – both really fun songs. He also played "Redneck Love Song" and wrapped with his mega hit, "Up Down Up Down." For the second spot of the day, he really, really had the crowd going.
Next up was Sawyer Brown. Another band formed in the early '80s, the band's catalog is stacked with top 20 hits, which it played ... hit after hit after hit. So good. Sawyer Brown wrapped up its set with "The Race Is On" and "Some Girls Do," and the crowd loved every second of it.
Then, well, what you can say about Brett Young? Dreamy. Sexy. With a voice that just doesn't quit. It's so smooth it's almost not country. But he is and he was awesome – though it took the crowd about half of his set to sort of wake up and realize his awesomeness.
(PHOTO: Lora Kaelber)
Young led his set off with "Close Enough" and swung right into "Memory Won't Let Me." The beginning of his set was pretty mellow, though he did play "Like I Loved You" third in the lineup and the crowd was there singing for that. His set was chill; that's maybe why the audience was seemingly half there. It was also Sunday and energy is a premium. I'm really not sure. Please don't misundertand: Young was great. It just felt like the crowd was ready for an amped up set before Luke Bryan.
A couple really cool things still happened during Young's set, though.
He did a couple songs with just his guitar. He performed a super-slow, heartbreakingly beautiful rendition of "Walking in Memphis" by Marc Cohn. And then he played what he said was his favorite song of all time and he didn't care if that made him a cliché: "Hallelujah" by Leonard Cohen. He was joined by his bass guitar player Noah Needleman. You guys, I really wish you could've heard this. Just two guitars and amazing harmonies. Such a highlight of the set.
He also introduced two brand new songs. "Here Tonight" is a super-fun pop country love song with a great, great beat. It's for sure a windows down, dancing in the car kind of song. And the crowd in the Thunder Bowl really loved it. Young's second new song is one he didn't name; I'm going to guess that it's either "Can't Get Used to Missing You" or "Missing You." This song, too, had a killer beat – probably a dancing song – but the lyrics are about a break up. But both are definitely songs I'd download.
After that, he pretty much stuck to his radio play songs including his latest hit "Mercy," plus "In Case You Didn't Know" and "Sleep Without You." And the crowd was with him all the way home.
Young's set was masterful.
Forty-five minutes later, the Thunder Bowl was packed and ready for the main event. Luke Bryan took the stage with pyrotechnics hot and flaring. He was amped up from the get go – but then he really wouldn't be Luke Bryan if he wasn't, right?
For nine straight songs, Bryan danced and sang and ran up and down the catwalk, jamming on his guitar and just nailing what it means to be a stadium-filling country artist. Truly.
Opening with "Country Girl" and flying right through "Huntin,' Fishin' and Lovin' Every Day," "I Don't Want This Night to End," "This Is How We Roll," "All My Friends Say," "Light It Up," "Someone Else Calling You Baby" and "Kiss Tomorrow Goodbye," he finally began to slow it down slightly.
He took a pause to really talk to the crowd before "What Makes You Country," asking who had to work on Monday. With cheers filling the bowl, Bryan replied, "Sh*t. Aw. That's gonna suck." He continued, "You know, I'm working right now with a hangover, so you can, too." Which you can imagine garnered a giant roar. He went on to explain that it was his birthday week – so, you know, a hangover is totally allowable.
He started to choke a little at this point – you know, like the kind where you inhale spit into your lungs? Yeah that. So, to clear his throat, he did a shot of tequila. Again, more roaring. He took a second shot and teased the audience before shooting that one back. Then he thanked members of the military and first responders.
Bryan then grabbed his guitar and headed out to the catwalk for a solo acoustic set. He played a lovely and very slowed down version of "Good Directions," a song he wrote, as well as "I Do."
He picked things back up after "Drink a Beer" with "Play It Again" before finishing the set with "Rain Is a Good Thing." After a really short, heavily cheer-laden pause, Bryan and the band returned for a two-song encore comprised of "Move" and "That's My Kind of Night."
(PHOTO: Lora Kaelber)
Bryan didn't climb the sound tower this time. But he really didn't need to. I mean the guy, his energy is awe-inspiring. He kept the Thunder Bowl crowd engaged for almost two hours. He was amazing.
And just like that friends, the 2018 edition of Country Thunder Twin Lakes came to a close.
The 2019 version will close with an equally giant headliner. Yesterday, organizers announced that Mr. Chris Stapleton will be the Sunday headliner. How insane is that? Insane enough that we'll be back on the festival grounds cover the action. Until then, be well, country friends.
(PHOTO: Lora Kaelber)
Luke Bryan setlist
"Country Girl (Shake It For Me)"
"Huntin,' Fishin' and Lovin' Every Day"
"I Don't Want This Night to End"
"This Is How We Roll" (Florida Georgia Line cover)
"All My Friends Say"
"Light It Up"
"Someone Else Calling You Baby"
"Kiss Tomorrow Goodbye"
"Most People Are Good"
"Sunrise, Sunburn, Sunset"
"What Makes You Country"
"Kick Up the Dust"
"Strip It Down"
"Drunk On You"
"Crash My Party"
"Home Alone Tonight"
"Do I"
"Good Directions" (Billy Currington cover, written by Luke Bryan)
"Drink a Beer"
"Play It Again"
"Rain Is a Good Thing"
Encore
"Move"
"That's My Kind of Night"
Brett Young setlist
"Close Enough"
"Memory Won't Let Me"
"Like I Loved You"
"You Ain't Here to Kiss Me"
"Not Over You" (Gavin DeGraw cover)
"Makin' Me Say"
"Crazy Love" (Van Morrison cover)
"Ain't Too Proud to Beg" (The Temptations cover)
"Walking in Memphis" (Marc Cohn cover)
"Hallelujah" (Leonard Cohen cover)
"Here Tonight"
"Missing You" (debut of new song, he didn't give title)
"Beautiful Believer"
"Mercy"
"In Case You Didn't Know"
"Left Side of Leavin'"
"Sleep without You"
Moving to Milwaukee in 1998, Lora quickly adapted to and embraced big city living. A graduate of Carthage College and Marquette University Law School, Lora clerked for the Hon. Diane Sykes at the Wisconsin Supreme Court, worked as a litigator in private practice, and most recently was employed as a development officer for the MACC Fund.

In all of her experiences, time was focused on writing which has been a passion since junior high school. A series of food service industry jobs both before and after law school taught her that bringing out the human side in any story is key to great storytelling and good writing.

A die-hard east side girl, you'll usually find Lora down by the lake or on the Oakleaf. She's an avid photographer, and sometimes storm chaser.

Hobbies include biking, gardening, cross country skiing, swimming, blogging, and of course working on her fictionalized autobiography--fictionalized, because whose life is really interesting enough to fill 400 pages?

She's in IMDb. Look her up.