Driving up to Country Thunder on day three, the mud started about a half-mile from the festival ground. Then came the vehicles, caked in campground mud – covered, spattered, painted. It has come to feel like it's not a successful Country Thunder experience if there's not at least a little mud. So, no matter what else happens from here on out, we have reached the bar of success.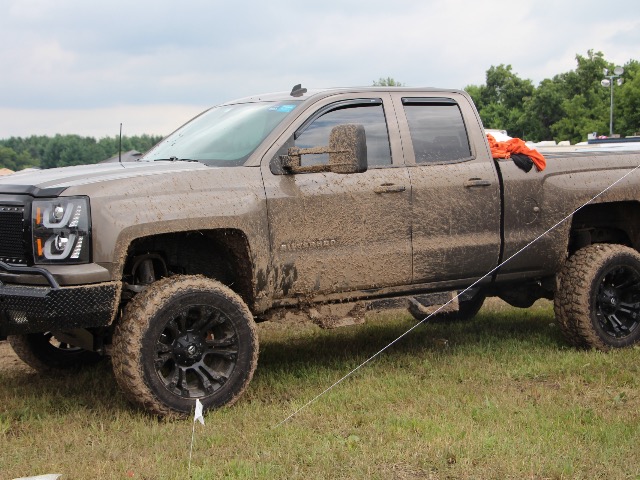 I also learned something today in the campgrounds: mud-walking. It's a skill one quickly has to master. Failure is not an option. The thought of being covered in manure-laden mud is not appealing – call me crazy. So, here's the deal with mud-walking: Stand like you would normally stand and then step about three or four inches out with either foot and walk that way. No joke. I mean yes, it's a little bit of a pregnancy waddle. But I'm all for it if it means not falling on my keister into a giant sludgy pile of manure mud.
The campgrounds around noon were not exactly hopping, but they weren't calm either. Aside from the mud, the solo cups – red, yellow AND blue – littered the ground. Thunder crew were making the rounds collecting garbage. People were streaming out of the showers. (Yes, they have communal showers on site.)
I met some great people out there in my wanderings. It's not just lip service that you are in an instant neighborhood in the campgrounds. I was offered many a beer – and something called jungle juice. You can't see it, but this is me raising my eyebrows …
Many campers were already taking advantage of the weekend and day drinking. Country music was blaring, and drinking games were afoot – most popular among them: something called beer darts. God, my life is sheltered, right?
My main goal, however, was to try to find the couple that got married last year. But the former location of the campsite was empty. Hopefully, I either miscalculated or they just moved campsites.
Back in the Thunder Bowl, Back Country Roads kicked the music off for the day. After initial microphone issues, with the leads singing their hearts out and nothing coming out of the mains, they straightened out – and wow. They're pretty darn good with consistent covers. My favorite was their cover of Guns n' Roses "Sweet Child of Mine."
I dropped in briefly to Bryan White's set. Hugely popular and highly charted in the '90s, White still has it. His voice is powerful, lyrically beautiful and plainly wonderful – still as it was when he started his career.
Waterloo Revival, a rock country duo, followed White. Formed by friends Cody Cooper and George Birge, the duo records for Big Machine Records and has dropped two singles. Their rock country style was super sweet, with just the right amount of both genres to make you dance and grin. Having Cooper and Birge show the crowd their moves didn't hurt either. Waterloo Revival's hour-long set comprised of originals and covers was well worth the weather.
One of my college crushes came next: Mark Chesnutt. Oh man, did I swoon for him in my early twenties. The dude has eight number one hits from an era when number one hits meant something more than it does today, plus another 12 Top Ten hits. And his set was full of them on Saturday. My favorite was the country swing song "Old Flames Have New Names." Not sure why, it's just a toe tapper with great lyrics. What a blast.
Day three was filled with superb rock country. For instance, Tyler Farr is an expert in his craft. Admittedly, I'm not super familiar with his songs beyond what he's seen in radio play, but I can tell you from his performance at Thunder, he's a master at the gritty, honkytonking rock country.
His show was a great combination of hits from the radio, plus lesser-knowns, a couple new ones and one outstanding, roached out version of ZZ Top's "Sharp Dressed Man" – during which he literally pulled (almost dragged a woman up on the catwalk by her arms) to dance with him. I mean, you gotta picture it. The cat walk is a little over five feet from the ground. So here's this super, rock-heavy song in the middle of an insane instrumental jam and Tyler Farr is literally tugging this woman up onto the catwalk and not having an easy time. It was an awkward moment that turned sweet once she got up and started dancing with him. But still … before that, it was a nail biter.
He was funny too, telling the crowd that he thought he saw some foreplay out in the campgrounds today. "Which in Wisconsin," he said, "means mud wrass-ling."
His 75-minute set went by way too quick.
By no means was the Thunder Bowl packed to capacity, but Toby Keith had a really decent crowd that was on its feet and chanting for him before he even took the stage. His show opened with a very cool photo montage of active members of the military and shows Keith has played for them.
He then hit the stage with a bang belting out "God Love Her." He shot right into "American Ride" with the crowd singing along the whole time.
After he sang "I Wanna Talk About Me," Keith paused to toast. He asked the crowd to drink to the firefighter, police force, Sheriff's department and highway patrol for keeping Thunder safe so we could be heathens. He said to take a big old shot for the boys and girls proud enough to wear out country's uniforms and to drink to the families of all of them for their sacrifices. And last but not least, Keith said to raise 'em up and repeat "whiskey for my men and beer for my horse."
I began to feel really old towards the middle of Keith's set when he sang some songs (chart-toppers, of course) that he would've sung when he was first at Country Thunder ... a while ago. So, here's me, singing along, but when I looked around at the young kids, they weren't. Pretty funny, though, that they did go wild when Keith commented on the heavy waft of weed in the air. He joked, "Oh, someone's smoking weed." He said that he didn't know we all had weed up here. Planned or not, he next launched into "Weed with Willie."
The audience jumped back on the Keith train when he laid down such a fun version of "Red Solo Cup." I was totally laughing and grinning the whole time – so bawdy and hilarious. Something about a drip and a sack ... hmmm.
After that, Toby Keith went redneck and threw down his hillbilly songs – every one of them complete with an audience sing along. Leading off with "As Good As I Once Was," he had the crowd with him the most of the rest of the night spinning through "I Love This Bar" and crowd favorite "Should've Been a Cowboy." Keith walked down the wall to let a woman in the crowd sing into his mic. Brave man. She'd clearly had some adult beverages, but her effort was 100 percent awesome. Truly.
Next, he rode into "How Do You Like Me Now" – just so much fun – and then he went straight into a version of "A Little Less Talk and A Lot More Action" that was rocked out and bass heavy. They slid into band intros, then into Ted Nugent's "Stranglehold." And yep, they definitely nailed it. But you know when Marty McFly goes crazy on the guitar in the prom scene during "Back to the Future"? And you remember all the stunned prom-goers faces? The ones that were like, "What ... what the h-e-double hockey sticks just happened?" Yeah. That's how the Thunder Bowl responded.
To re-engage, Keith asked the crowd if they had a groove on and then tagged out the people who left early. "There's sixty-five, empty white chairs down front. You know what that means? Means all those rich c*cksuckers went home and all the party people stayed." To which there were insane cheers. But then he went right back to a wildly talented but not very country version to close the "How Do You Like Me Now"/"Stranglehold" montage and lost them again.
He left the stage then.
The crowd cheered for a good four minutes. A ton of people left before he re-took the stage for his encore.
But then Keith made me cry. He literally had veterans climbing up on the catwalk. About 25 vets young and old, men and women, stood on stage while Keith sang "American Soldier." A super high-ranking military officer brought out a guitar painted like the American flag, and with Veterans flanking him, Keith belted out "Courtesy of the Red, White and Blue (The Angry American)"
Then, with a bird raised, Toby Keith ended his show by saying, "Hey, Wisconsin! Never apologize for being patriotic. F*ck 'em."
With that he closed his show, two minutes shy of a two-hour set. And then, with the mic off, Keith introduced himself to every veteran on stage.
Toby Keith setlist
"God Love Her"
"American Ride"
"Made in America"
"Beers Ago"
"I Wanna Talk About Me"
"Beer for My Horse" (with Willie Nelson via video)
"A Few More Cowboys"
"Who's That Man"
"Wish I Didn't Know Now"
"Weed with Willie"
"Who's Your Daddy"
"Red Solo Cup"
"As Good as I Once Was"
"I Love This Bar"
"Should've Been a Cowboy"
"How Do You Like Me Now"
"A Little Less Talk and A Lot More Action"/Band Intros/"Stranglehold" (Ted Nugent cover)
Encore
"American Soldier"
"Courtesy of the Red, White and Blue (The Angry American)"
Moving to Milwaukee in 1998, Lora quickly adapted to and embraced big city living. A graduate of Carthage College and Marquette University Law School, Lora clerked for the Hon. Diane Sykes at the Wisconsin Supreme Court, worked as a litigator in private practice, and most recently was employed as a development officer for the MACC Fund.

In all of her experiences, time was focused on writing which has been a passion since junior high school. A series of food service industry jobs both before and after law school taught her that bringing out the human side in any story is key to great storytelling and good writing.

A die-hard east side girl, you'll usually find Lora down by the lake or on the Oakleaf. She's an avid photographer, and sometimes storm chaser.

Hobbies include biking, gardening, cross country skiing, swimming, blogging, and of course working on her fictionalized autobiography--fictionalized, because whose life is really interesting enough to fill 400 pages?

She's in IMDb. Look her up.