Made in Milwaukee is new series about the businesses that sell to the world but call Milwaukee home. Presented by House of Harley-Davidson, Milwaukee's locally owned Harley dealer, we're shining a spotlight on these iconic companies – their histories and their futures.
Year founded: 2015
Number of employees: 300
Location: 12500 W. Carmen Ave.
If you've purchased the bulk blocks of chocolate confectionery coating at area grocery stores during the holidays, you've experienced at least one of the products produced at Cargill Cocoa and Chocolate, one of the industry leaders in industrial cocoa and chocolate production.
And it's very likely that product was made right here in Milwaukee, along with countless other chocolate and confectionery products – including chocolate coatings, chocolate chips, ice cream coatings, and inclusions – used by a variety of brands.
"If you remember the line of advertising from the '80s boasting 'Intel inside,'" notes Wyatt Elder Jr., research and development director for Cargill Cocoa & Chocolate North America "That describes, to great extent, what we produce. The name Cargill may not be familiar, but our products are found inside (or outside) many products on the market today—in grocery stores, bakeries and restaurants."
Cargill Cocoa & Chocolate is just one of many businesses within Cargill Inc., a global brand based in Minneapolis, that was founded in 1865 when William Wallace (W. W.) Cargill became the proprietor of a grain warehouse in Conover, Iowa. Today, Cargill supplies food, agriculture, financial and industrial products and services, employing 150,000 employees in 70 countries.
For the past 50 years, Cargill's chocolate enterprise has built its business manufacturing cocoa and chocolate products for chocolate, confectionery and food manufacturers across the globe – producing cocoa powder, cocoa butter and cocoa liquor, as well as chocolate, coatings and fillings for industrial applications.
In addition to its Milwaukee plant – which effectively functions as North America's operational headquarters – Cargill Cocoa & Chocolate maintains three plants in Pennsylvania and two in Ontario, Canada. Those plants produce products under brands including Ambrosia, Gerkens Cocoa Powder, Merckens, Peter's Chocolate and Wilbur. International plants include locations in Belgium, Brazil, Canada, Ivory Coast, France, Germany, Ghana, Indonesia, the Netherlands and the U.K.
The Milwaukee plant is a relatively new part of Cargill's chocolate business. In fact, it was established in 2015 when Cargill acquired the Archer Daniels Midland Co. global chocolate operations -- including the Ambrosia Chocolate Co. chocolate plant on Carmen Avenue -- for $440 million.
It wasn't the first time the Milwaukee-based chocolate company changed hands. Founded in 1894 by Otto Schoenleber, Ambrosia was purchased in 1964 by W.R. Grace, and for years Ambrosia operated on a downtown site that is now a parking lot just northwest of the Bradley Center. In fact, it's likely many long-time Milwaukeeans remember a time when the smell of sweet Ambrosia chocolate wafted across downtown during regular production hours. In 1997, ADM purchased the company, moving chocolate production to Carmen Avenue in 1992.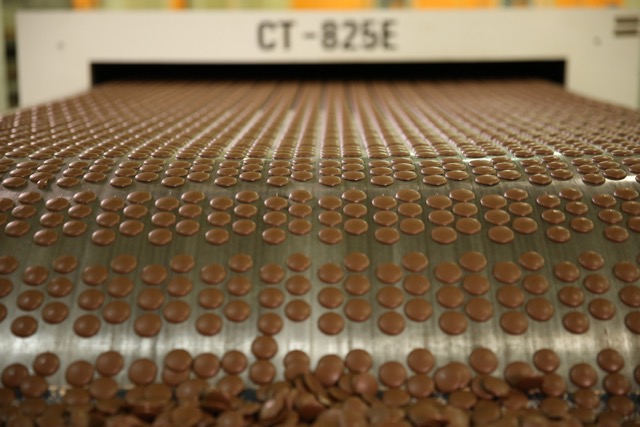 Among Cargill's North American plants, the Milwaukee location is the workhouse, producing millions of pounds of chocolate per month, from tankers of liquid chocolate to 10-ounce bags of chocolate chips. The Milwaukee plant is not only a manufacturing plant. It's also the North American operational headquarters, home to Cargill Cocoa & Chocolate's supply chain and planning team, research and development team, transportation and logistics, customer service and as some regional sales personnel.
"We are the one plant in North America that can produce everything," notes Stacy Robinson, facility manager at the Milwaukee plant. "And we are a workhorse, based on both the sheer volume we produce and the diversity of products we can create."
The Milwaukee plant employs 300 workers in a variety of roles in the cocoa refinery, molding and packaging floor, along with the onsite analytical and microbiological testing labs and product development lab. There is also an onsite team that deals strictly with food safety, quality and regulations.
From bean to bar
Each product begins with raw cocoa beans, which are harvested, fermented and dried in their country of origin before being shipped to Milwaukee. Most hail from Africa – namely the Ivory Coast, Cameroon and Ghana – countries in the very narrow region around the equator where cocoa beans can be grown. In fact, 70 percent of the world's cocoa is derived from those countries alone.
Once at the plant, beans are sorted, shells are removed and beans are subjected to a winnowing machine which cracks them into small pieces. Nibs are removed, roasted and blended before being ground into a paste.
Heat generated by the milling process melts the cocoa butter in the paste, producing chocolate liquor. The bitter liquor is then mixed with a variety of ingredients, including sugar, vanilla and milk. From there, the chocolate is further refined, in some case reaching a size of 20 microns or smaller (point of reference: powdered sugar measures in at 100 microns). From that point, the mixture undergoes a process called conching, during which it is churned at high temperatures for an extended period of time to further develop the flavor profiles desired by customers.
From there, chocolate is stored in large tanks. It might be shipped to customers as liquid chocolate or pumped into tempering units, which connect to molding machines that produce blocks, chips, chunks, rods and flakes.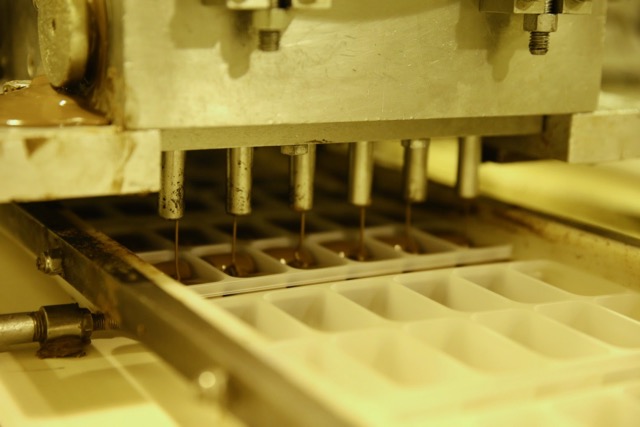 Like coffee, beans from different places exhibit distinctive characteristics. And these characteristics are harnessed to create a variety of flavor profiles.
"We roast single origin beans," says Robinson, "And then we blend the resulting liquor downstream to make a variety of products. We have hundreds of chocolate recipes, and our products are sold primarily to food-producing businesses as well as major grocery retailers where bags of chocolate chips and other retail products are available."

Innovation
Cargill Cocoa & Chocolate also aspires to create innovative products that sync with consumer buying trends.
"Our customers and end consumers are following the larger food trends that you see in the marketplace," says Elder. "People want their foods to deliver benefits beyond great taste such as organic and GMO-free."
Among trends Elder says are impacting the chocolate business are the desire for protein or fiber enrichment, chocolate made without dairy (or with alternative dairy products) as well as creating products with a reduced sugar content. The latter, he says, is driven not only by consumer demand, but also by strict labeling requirements which require companies to disclose any and all added sugars.
"We sell a product based on its sensory characteristics," he explains. "And maintaining that character in a product that's also improving the nutrition can be a challenge. It's easier to add things like fiber than it is to pull out the sugar, which has a profound impact on flavor."
There's also demand for premium products, with provenance and origin both playing a key role.
"People want their food to have a story," Elder says. "And so we aspire to meet their desire for that, as well as their desire for sustainability, organic products without gmo's, and those made with non-artificial ingredients."
Sustainability
"We do the right thing because it is the right thing," Elder says as he explains the Cargill Cocoa Promise, a commitment to sustainability launched in 2012 which aims to accelerate progress towards a transparent global cocoa supply chain, which supports farmers and their communities while creating more sustainable chocolate products.
"One of the opportunities that the scale of Cargill brings is being able to manage the complicated supply chain, tracing it from the origins of the beans to the products that enter consumers' hands," Elder goes on. "We work with 400,000 farmers, and the relationships we have with those farmers and the other parts of the front end of the supply chain are critical for us as a North American company. It's also the right thing for us to do, ethically."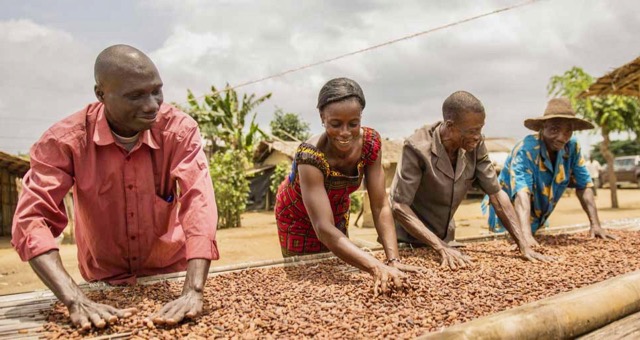 As a result, Cargill has committed to working with a variety of organizations -- from governments to farming cooperatives -- as well as directly with farmers to enhance their livelihoods and create self-sufficient communities.
Elder says that some of the questions they tackle through the Cargill Cocoa Promise include: How do we keep farmers growing cocoa trees versus alternate crops? How do we help them to reduce pesticides? How can we help them move toward organic when there is a consumer push for organic products?
"It's about more than helping farmers to grow more cocoa pods," he says. "It's about increasing their incomes, providing farmer education and sustaining their livelihoods, improving their quality of life. And that includes initiatives that empower women, educate children and decrease child labor. It's also about tackling emerging issues like deforestation."
The scope of the Cargill Promise focus on attainable, measurable goals. In fact, according to Elder, Cargill has a goal of doubling the number of cocoa beans sourced from sustainable farms to 80% by the year 2022.
"If we can help to make these communities more viable, it's not only good for them, it supports our business downstream," he says.
Giving back locally
And despite Cargill's global footprint, the company is remarkably tuned in to its local communities.
"The dedication to the community and giving back is really deeply embedded in the organization," says Elder, who recently moved to the Milwaukee plant from Amsterdam.
Robinson says one of the reasons she's been with the company for nearly 20 years is based in part on Cargill's commitment to supporting local causes, which plays out through employee-driven councils that provide support for local charitable and civic organizations and programs such as food relief agencies, school and youth programs, and local environmental projects.
"Our site here is part of the Cargill Cares program," she says. "Through it, employees volunteer at local organizations, including Feeding America and Hunger Task Force. And company funds are actually allocated to be donated to employee-chosen organizations. It's been one of the coolest things about joining the Cargill team."
Lori is an avid cook whose accrual of condiments and spices is rivaled only by her cookbook collection. Her passion for the culinary industry was birthed while balancing A&W root beer mugs as a teenage carhop, fed by insatiable curiosity and fueled by the people whose stories entwine with each and every dish. She's had the privilege of chronicling these tales via numerous media, including OnMilwaukee and in her book "Milwaukee Food." Her work has garnered journalism awards from entities including the Milwaukee Press Club.
When she's not eating, photographing food, writing or recording the FoodCrush podcast, you'll find Lori seeking out adventures with her husband Paul, traveling, cooking, reading, learning, snuggling with her cats and looking for ways to make a difference.