Made in Milwaukee is new series about the businesses that sell to the world but call Milwaukee home. Presented by House of Harley-Davidson, Milwaukee's locally owned Harley dealer, we're shining a spotlight on these iconic companies – their histories and their futures.
Year founded: 1987
CEO: Ralph Bruno, founder
Number of employees: 15
Location: 1120 S. Barclay St.
Anyone who has watched a Green Bay Packers game, in person or on television, has surely seen a Cheesehead hat. And, while the yellow foam wedges have become synonymous with Wisconsin's beloved football team, the genesis of the Cheesehead hat and the company that makes them, Foamation, Inc., was a Milwaukee Brewers baseball game at County Stadium three decades ago, as Ralph Bruno's self-deprecating response to an Illinois sports fan insult that had become common over the years.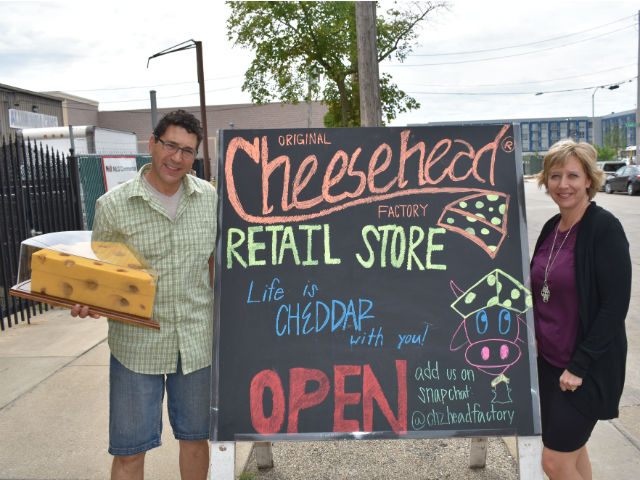 It was 1987, and a mid-20s Bruno was getting ready to go to a Brewers home game against the White Sox with a group of friends. He'd been hearing Chicago fans derogatorily refer to Milwaukeeans as "cheeseheads" and decided, lightheartedly, to do something about it – to embrace the name. Bruno was reupholstering his mother's couch at the time, and he took a knife to it, carving out a triangular shape and painting the thing yellow. After a few beers during the parking-lot tailgate, he went into the stadium, put the crude hat on his head and watched his buddies promptly scatter, as opposing fans pointed and called him a "cheesehead."
But then a funny thing happened: Girls started coming over to Bruno, intrigued, asking to try on the hat. Naturally, that not only brought back his friends, but also drew quite a bit of attention from other people nearby, which amazed Bruno and offered an early hint at the potential interest in the idea he would ultimately turn into a company.
The Cheesehead didn't take off right away, though. Bruno's background was in pattern making and mold making, but he didn't know anything about working with foam, so he grabbed a yellow pages, called a company in Waukesha and found a technician who said he could help.
"I put together a mold and went to this place, and they gave me a crash course on the foam side of things," Bruno says. "The next thing I know, I'm making Cheeseheads and eventually quitting my really nice-paying job. I was living at home at the time and my parents were thinking, what the heck is wrong with him? But I just continued down that path."
Because his dad – in addition to operating the family restaurant and working for the Milwaukee County Parks in the forestry division – parked cars at County Stadium, Bruno knew the venue pretty well. So he headed down there carrying a trash bag filled with the first Cheesehead hats and, without any sales or marketing experience, successfully convinced a Brewers salesman in the Sports Service department to sell them at the park on consignment.
"That's really what got things going," Bruno says in a conference room in his company's second-floor office, overlooking the production floor. After that, he visited all the nearby gift shops, cheese shops and sports memorabilia stores, pitching them on Cheeseheads, and "it just kept going word-of-mouth," Bruno says.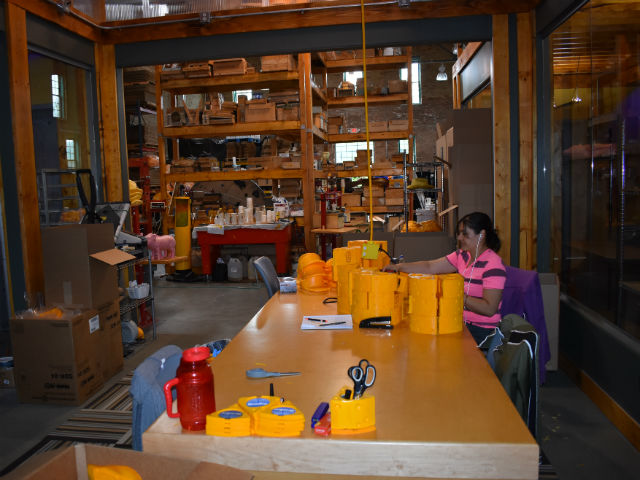 But over the next few years, the idea still hadn't really taken off. Even though Bruno was as much a diehard Packers fan as anyone in Wisconsin – his "family ritual" was watching Green Bay on Sundays and he owned a football used by Bart Starr in warmups and some autographed items – and even though the Cheesehead is now automatically associated with the Green and Gold, in the 1980s and early '90s the team was terrible and nobody much cared about his yellow foam hats.
"Then a little thing happened in the mid-'90s with the Super Bowl run," he says, "and that's when it went boom."
With Brett Favre leading the Packers to Super Bowl XXXI in New Orleans, fan excitement spiked, and Bruno decided to caravan down south to capitalize on it and try and sell some product – or at least get some exposure. After loading a donated tractor trailer with Cheesehead hats, purchasing a Hummer and "cheeserizing it," as he says, the group made stops at Packer-backer bars along the way – as well as in Metropolis, Illinois, where they "put a Cheesehead on Superman" – eventually arriving in Kiln, Mississippi, Favre's hometown, where they had "a hair-raising experience."
Heading for the Broke Spoke, a Kiln bar owned by Favre's brother, Bruno's group got off the interstate in rural farmland and started driving toward an area in the distant fields radiating bright light and loud noise. A State Trooper stopped them to ask what they were doing. "We said, 'We're bringing the Cheeseheads to the cheeseheads!' And she was like, 'I can't give you any protection; if you go down there, you're on your own,'" Bruno remembers. "We're like, 'Protection? They're waiting for us; we're part of the party!'"
What they saw when they arrived was 25,000 Packers fans jubilantly celebrating in a field outside the Broke Spoke. A local celebrity who'd been traveling in Bruno's caravan, Saint Vince – an iconic fan who wears Green Bay-pope regalia to Lambeau Field for games – hopped up in the trailer and formally blessed the Cheeseheads, to the crowd's delight. Then Bruno started selling $10 hats as fast as he could, remembering the spectacle as "crazy" and "really cool." Later, Bruno made some connections and even more sales at the Superdome, where Green Bay beat New England to win the Lombardi Trophy.
"That really put us on the map," he says.
Organically, the Cheesehead continued to grow in popularity, with wide receiver Robert Brooks once donning a cheese cowboy hat and the shameless gregariousness of Packers fans helping the admittedly kitschy headwear catch on. "After you've worn a Cheesehead, how else could you be any prouder than that? I mean, what else could you do?" Bruno says. "It would be hard to come up with something that would be even more shocking, and making more of a statement, that is still tasteful."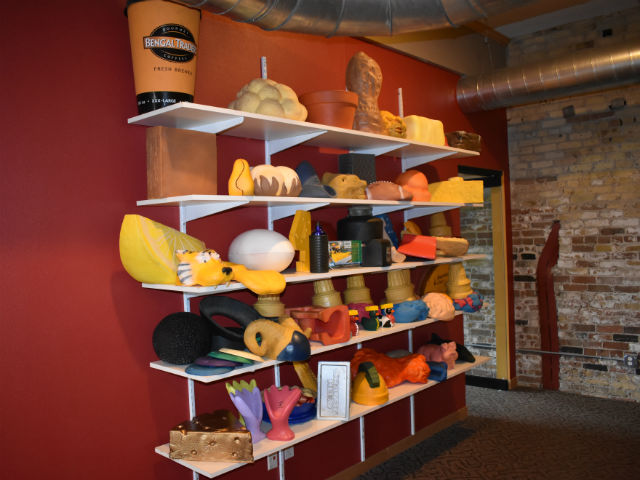 Gradually, and especially on TV, the yellow foam hat wedged its way into the public consciousness, soon becoming more well-known than the original Chicago slight for which it was named. "It was kind of like turning the insult into a badge; Cheesehead became more affectionate," Bruno says. "It actually turned something that was just a word into something physical, tangible, and you could really get it."
As sales increased, so did the company's needs. Foamation's first production facility was in Dousman, but moved to the Lincoln Warehouse on Milwaukee's near South Side in the late '90s, and spent several years there. After finally earning "enough credibility with a bank," Bruno says, he purchased an old truck terminal in St. Francis, which had the space and layout to accommodate Foamation's expanding manufacturing and shipping operations. It was selling products to all 50 states and more than 30 countries around the world – Packers fans, of course, are avid and everywhere – but Bruno and his wife Sue, who has multiple roles at the company, were looking to move.
"And the reason we looked to move was because, over the years, the fascination with the product and how the product is made – we would have people come in for interviews or cub scouts coming in to visit – and the process of how the Cheeseheads are made and the production, people were really interested in that," Bruno says. "So we started looking at giving tours."
They scouted different locations in Milwaukee, ultimately settling last July on a spot in Walker's Point – a "white box," as Bruno says, "but a really cool white box" that allows for Foamation's technical production, offices, shipping and, soon, its tours.
"We found here that there's a lot of development going on and uniqueness and a lot of energy," Bruno says, noting the location's proximity to area attractions like Summerfest, Miller Park and the Harley-Davidson Museum. "So, when people are visiting Milwaukee, it would be a great opportunity for us."
After rehabbing the building, installing Foamation's equipment and moving the remaining St. Francis elements of the company to the new location in January, "we're getting really close to the end here now," Bruno says. "The final production area, we're going to be putting the spit and polish on it and, hopefully, by the end of the year we'll really be humming along."
The next step is the tours. According to Maggie Carter, Foamation's marketing and digital media coordinator, there will be three types. The Swiss, the most basic and available for walk-ins, invites visitors to see the inner workings of the factory, as well as learn the basics of the operations and the company's history; the Cheddar, for which visitors are encouraged to call ahead to schedule a date and time, offers a complete behind-the-scenes tour of the manufacturing warehouse and just a little bit more than the Swiss; and then there's the Holey Cow, which is by appointment only and will be available in July, presenting the full tour and providing a make-and-take service for tour-goers to create and then bring home a foamy creation of their own.
"It'll be really unique because our production team has spent a lot of time perfecting the process, and it will be fun to see people trying for the first time, to see that it's not actually just putting some foam stuff together – it's more intricate and their's isn't going to come out perfect necessarily," Carter says. "It takes practice. And then you get to take home this thing that is yours but is not going to look like the products that we make."
The method to making the foam that goes into the Cheeseheads is relatively simple, Carter says. It starts with a two-part chemical mix of polyurethane and a reacting agent, which is then put into a more complex, four-step process: mix the chemicals, pour the liquid, press the mold shut and remove the final product.
Bruno thinks of Foamation as a family business – besides Sue, one of his three children works on the production floor for a college summer job, the family dog Murphy is always hanging around and many of his employees have been with him for years – and says the company is trying to do many things at once, "while maintaining our sanity."
Besides the Cheesehead hats for which it is known, Foamation makes myriad different products, including wearables and items for other state sports teams. It has also gotten into new areas, such as UV printing and custom manufacturing foam pieces for various Wisconsin companies, as well as some exciting ventures it never expected.
"We're very small and everybody here does wear a lot of hats, no pun intended," Bruno says. "We're pretty unique in a lot of ways; we have a lot going on for the company that we are.
"But we're also not super serious around here. How could you be?"
Born in Milwaukee but a product of Shorewood High School (go 'Hounds!) and Northwestern University (go 'Cats!), Jimmy never knew the schoolboy bliss of cheering for a winning football, basketball or baseball team. So he ditched being a fan in order to cover sports professionally - occasionally objectively, always passionately. He's lived in Chicago, New York and Dallas, but now resides again in his beloved Brew City and is an ardent attacker of the notorious Milwaukee Inferiority Complex.
After interning at print publications like Birds and Blooms (official motto: "America's #1 backyard birding and gardening magazine!"), Sports Illustrated (unofficial motto: "Subscribe and save up to 90% off the cover price!") and The Dallas Morning News (a newspaper!), Jimmy worked for web outlets like CBSSports.com, where he was a Packers beat reporter, and FOX Sports Wisconsin, where he managed digital content. He's a proponent and frequent user of em dashes, parenthetical asides, descriptive appositives and, really, anything that makes his sentences longer and more needlessly complex.
Jimmy appreciates references to late '90s Brewers and Bucks players and is the curator of the unofficial John Jaha Hall of Fame. He also enjoys running, biking and soccer, but isn't too annoying about them. He writes about sports - both mainstream and unconventional - and non-sports, including history, music, food, art and even golf (just kidding!), and welcomes reader suggestions for off-the-beaten-path story ideas.