This is the fourth in a five-part series introducing some of Wisconsin's most influential African American leaders in business, civil service, nonprofit service and education. They are presented in no particular order. Read part one here, part two here, and part three here.
Sheriff David Clarke
David Clarke, Milwaukee County's sheriff, leads a major law enforcement agency at a time of tension and hostility between police and communities of color. As an African American serving in that position, he draws the limelight – and doesn't shy away from it. His 36-plus years as a law enforcement professional began in 1978 at the Milwaukee Police Department, where he served 24 years and acquired a broad range of experience. He's been elected Sheriff four times, increasing his margin of victory with each election.
He's not afraid to dish out some unabashed criticism of people like Al Sharpton, President Obama and former Attorney General Eric Holder, nor is he afraid to call out what he considers "race politics." Those qualities, along with his strident position in favor of gun rights, have earned him stripes among conservatives on a national scale. If he were ever to set his eyes on a position beyond his native Milwaukee, he'd almost surely find a place in the national conservative movement.
John W. Daniels Jr.
John W. Daniels Jr. is a nationally-known real estate and business expert who got his start with his sister Valerie, opening a single Burger King in 1984. He now boasts an impressive client list of corporate household names. He is so respected as an attorney that he was named chairman emeritus of law firm Quarles & Brady. He remains a strategic business advisor to many of the firm's largest clients, a repeatedly-honored champion of diversity and inclusion, a much-sought-after thought leader on multiple topics, a widely recognized pillar of the community, an active agent of organizational and civic change, and an advocate for high-quality education and access to it. He also was recognized as one of "the 50 most influential diverse attorneys in America." Simply put, this man is a legend – and has been a mentor to many of the others on this list.
Annette Miller
Annette Miller is a former Madison mayoral aide and was instrumental in the creation of the City of Madison Department of Civil Rights. A co-founder of the Madison Network of Black Professionals, she helped lead the creation of a magazine to promote diversity and recruit diverse talent to the Madison area. She served as board chair for the Urban League of Greater Madison, helping lead a $4.1 million capital campaign and later chaired the economic development committee for the Justified Anger Coalition.
Now Annette is the Emerging Markets and Community Development Director at Madison Gas and Electric. If there is anything dealing with diversity and inclusion in the Madison area over the last decade, she has probably had her hands in it.
Mahlon Mitchell
Mahlon Mitchell burst onto the state political scene as the Democratic nominee to unseat Lt. Gov. Rebecca Kleefisch in the 2012 election to recall Gov. Scott Walker. At that time, the state learned what firefighters in Madison already knew – he'll fight for workers as hard as he'll fight to save a burning home. He was the first African American president of the Professional Firefighters of Wisconsin, as well as the youngest; he was just 33 when he took over in 2011. There was talk in the early days of the recall that he should run for the top spot and challenge Walker for the governorship; that kind of political aspiration still seems plausible for this rising star.
Dorothy Buckhanan-Wilson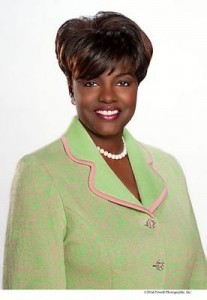 Dorothy Buckhanan-Wilson is the International President of Alpha Kappa Alpha Sorority, the oldest Greek-letter organization established in America by African American college women, established in 1908 (shout out to the Deltas, Zetas and Sigmas. We have nothing but love for you!). Dorothy oversees 10 regional directors, 986 local chapters and more than 283,000 members. She brings to the job a wealth of experience in business and non-profits, most recently as Senior Vice President at Goodwill Industries. She was also the first African American and one of the youngest women to become a brand manager at SC Johnson.