This is the third in a five-part series from Madison365 highlighting Wisconsin residents of Latino heritage who have accomplished great things in business, education, government, media and the nonprofit sector. Click here to read part 1 and part 2.
Para leer en español, haga clic aquí.
Lucio Fuentez
Lucio Fuentez founded Comunidad de Amigos in 1975 primarily to serve migrant farm workers in Sheboygan County. He remains executive director of the organization, which is now known as Partners for Community Development and which now provides a wide array of community services in six counties across East Central Wisconsin. He serves as a trustee on the Lakeshore Technical College District Board, chairman of the Sheboygan Civil Service Commission and treasurer of the Amigos Scholarship Fund.
Luis and Lupita Montoto
Luis and Lupita Montoto provide the 411 on pretty much everything in Madison on La Movida 1480 AM, a Spanish-language radio station that continues to be a vital resource for the local Latino community. The energy of the husband-and-wife duo, who have innumerable connections in Dane County's Latino community, are what keep La Movida thriving. La Movida's goals are not only to entertain and inform but to make the community stronger. Originally starting out on just weekends 15 years ago, La Movida went 24/7 in 2002 and never looked back. The mark that they leave on the community goes well beyond radio; they host numerous events around town, including their very own annual Hispanic Heritage Luncheon.
Gerardo H. (Jerry) Gonzalez
Gerardo H. (Jerry) Gonzalez of Waukesha is the co-founder of the largest minority-owned law firms in the nation, and one of the largest minority-owned businesses of any kind in Wisconsin. The firm – Gonzalez, Saggio & Harlan – books annual revenue of more than $30 million and employs nearly 200 people. He also co-founded the National Association of Minority and Women Owned Law Firms (NAMWOLF).
At the recommendation of the White House, Gonzalez served on the Federal Home Loan Bank of Chicago Board of Directors. Gonzalez was appointed to high-level committees by two different governors: the Committee on Judicial Elections under Tommy Thompson and Scott Walker's Judicial Selection Committee. He also helped design a think tank to work on increasing racial and ethnic diversity among Wisconsin judges.
Teresa Tellez-Giron
Teresa Tellez-Giron has been a bilingual bicultural social services specialist for Dane County Human Services for almost 25 years. She has also played important roles in the Latino Support Network of Dane County (LaSup) and the Latino Children and Families Council, of which she is the co-founder. Through these organizations, Latino health and human service professionals come together to collaborate on events and projects designed to uplift the health and social well-being of the Latino community. Tellez-Giron is also a frequent speaker and facilitator for local and state-wide racial justice training programs.
Rebeca Lopez
Rebeca Lopez was named to the prestigious 40 Under 40 list from the Business Journal of Milwaukee for 2015. A humble woman, she describes herself as a "working wife and mother." However, her Rolodex is a "Who's Who" of the Latino community statewide. She previously worked as Senator Russ Feingold's regional coordinator and later graduated magna cum laude from Marquette University Law School, where she served as business editor of the Marquette Law Review. She is now an attorney with Godfrey & Kahn focusing on immigration and employment law.
Jessie Rodriguez
Jessie Rodriguez serves in the state legislature representing the 21st Assembly District, which includes Franklin and portions of other suburbs to the south of Milwaukee. She came to Milwaukee from war-torn El Salvador by way of Massachusetts, graduating from Hamilton High School and Marquette University. She joined the Assembly in a special election in 2013 and has become a leading voice on education issues as Outreach Coordinator for Hispanics for School Choice.
Dr. Enrique Figueroa
Dr. Enrique Figueroa serves as director of UW-Milwaukee's Roberto Hernandez Center, which provides services for Latino students at UWM as well as the wider Latino population of southeastern Wisconsin. He is also assistant to the provost for Latino affairs. With a bachelor's degree from Fresno State, two master's degrees and a PhD from UC-Davis — all in horticulture, agricultural education or agricultural economics — he served President Bill Clinton as undersecretary in the Department of Agriculture and was responsible for a workforce of 15,000 and a $2 billion budget.
Gloria Reyes
Gloria Reyes, hailing from the east side of Madison, is deputy mayor for Public Safety, Civil Rights, and Community Services. The former Madison police detective is also the board president for the Dane County Chapter of the Latino Peace Officers Association. She volunteers for many organizations including the Wisconsin Association of Women Police and the Boys and Girls Club of Dane County. Reyes recently served as the president of the board of directors at Centro Hispano of Dane County where she oversaw the hiring of current Executive Director Karen Menendez Coller and the deepening of Centro's commitment to youth programs.
Pablo Sanchez
Pablo Sanchez is nearing his tenth anniversary as vice president of Park Bank, one of the few banks that remains truly local to Madison. A leading voice on consumer credit, he's served on the Governor's Council on Financial Literacy for many years. He also serves on the boards of directors of UW Hospital and Clinics Authority, Overture Center Foundation and Downtown Madison Incorporated.
Judge Juan Colas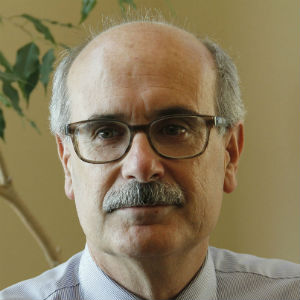 Judge Juan Colas came to America from Colombia with his family at the age of five and grew up speaking both Spanish and English. His language skills landed him a job as a court interpreter, which led to a career first as a public defender, then assistant attorney general prosecuting sexual predators and ultimately to the bench when Governor Jim Doyle appointed him as the state's first Hispanic judge in 2008. He's been re-elected twice.