This article is in partnership with Milwaukee Improv.
Opening a new venue in the midst of an unprecedented period in world history is no joke – unless you're the Milwaukee Improv and joking around is the whole point. After a few fakeouts – the venue originally planned to open in the famously uneventful month of March 2020 – the new comedy club lit up its stage for the first time on Aug. 20, 2021, in the middle of The Corners of Brookfield. One year and several high-profile bookings later, the joke hasn't gotten old with Brew City comedy fans both hardcore and casual, with the venue celebrating an impressive 365 days of laughs – with more to come – this weekend.
"It's been amazing," said Milwaukee Improv general manager Jayk Burczyk. "Interestingly, when we opened, we had high expectations – I think sometimes maybe a little bit too high – but we started well. Things were good, but over the last year, the word's gotten out that we're here and we've seen the crowds expand incredibly."
A key part of building that buzz: booking buzzy acts. And in its freshman year, the Milwaukee Improv's brought in an impressive lineup of acts on par with larger, more senior establishments – including Michael Che of "SNL" Weekend Update fame and the late Bob Saget, one of the highlights of this first year according to Burczyk. One imagines this weekend will end up as a memorable highlight as well for Improv – not only because of the trio of gigs from notable 2018 "America's Got Talent" finalist Samuel J. Comroe across the weekend, but because of the achievement it marks: one year in the books.
And what better time to finally drop by than this high-spirited celebratory weekend? So that's exactly what I did, spinning by Improv for a night of laughs and learning about this new chuckle chamber in the middle of The Corners. Here are my five takeaways from a night at the Improv – beyond just "my rib cage still hurts from all the laughing."
1. Not your stereotypical comedy club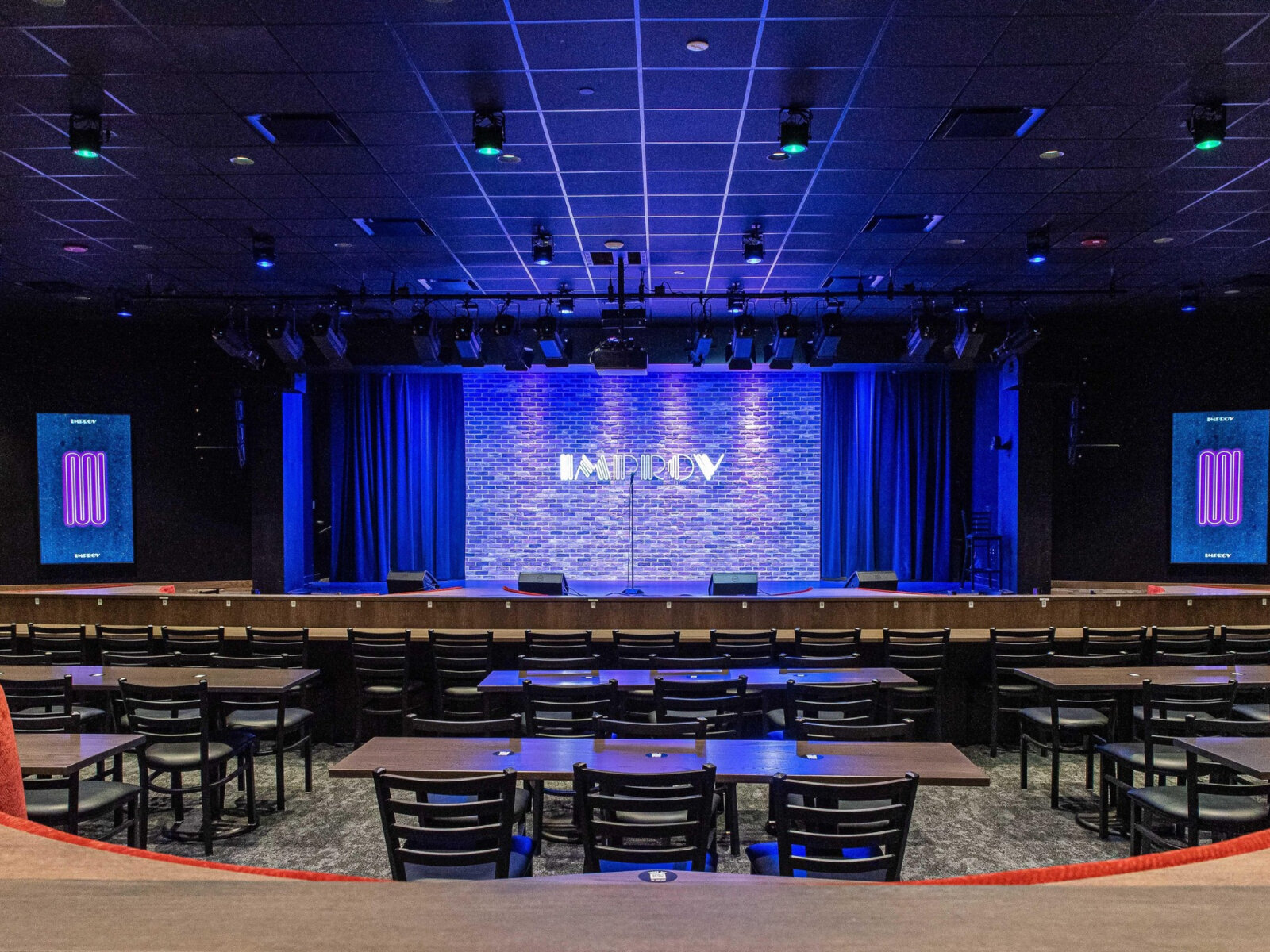 Quick: Imagine a comedy club. Probably dark and dingy, right? Maybe the smell of decades of cigarette smoke, spilled beer and sweaty open mics hanging over the space. Mysteriously sticky floors that haven't seen a mop since several presidents ago. In general, a place to laugh in ... then quickly leave.
The reality of the Milwaukee Improv, though, is far different from what you might be imagining. Stepping in (pro-tip: park in the lower covered lot as the upper floor requires an elevator ride and a little more exploring than you might want), the venue has several of beloved comedy club trademarks – a brick wall stage backdrop, an intimate main stage setting – with none of the detriments, still maintaining that new club smell a year into its existence.
A part of that, according to marketing and events manager Aly Mitchell, is that the Improv space is completely new. While most venues are renovations of closed theaters or spots, the Milwaukee Improv got to start with a clean, blank slate. The result is clean, cozy and full of character – as well as potential. The lobby, for instance, features a bar area that the venue looks forward to utilizing more often during the winter months, offering a comfortable place for audience members to hang out and relax before a show while avoiding the very unfunny Wisconsin weather outside. Most Improv locations elsewhere don't have this bonus gathering space – because most other Improv locations don't have to deal with our kind of weather forecasts (think: West Coast).
The lobby space comes decorated with some regional-specific decor – a cheesehead here, a George Carlin record there – along with art of famous comedians old and new. Most are from the legendary history of the Improv – started in 1963 in New York City, expanding and serving as a starting line and workshopping spot for comics like Richard Pryor, Jay Leno, Gilbert Gottfried, Robin Williams and many more for decades – while the Milwaukee location builds its own legacy, one just 365 days in. But all the photos of laugh legends assures anyone coming in that, even if the spot itself is just a year old, they're in seasosned and confident hands.
In addition to its main room – which holds 300 people, perfect for famous comics workshopping material or up-and-coming funny people prepping their leap to stardom – the Milwaukee Improv also has a bonus space in the back called The Lab. Modelled after a similar room at the Improv at Melrose in California, the space is typically used for the club's Thursday night open mic sessions, private parties and other special events. What it makes it special to Milwaukee, though, is the side wall can open up and become a part of the main room, allowing the Improv to expand its featured space and sell even more seats to popular performances.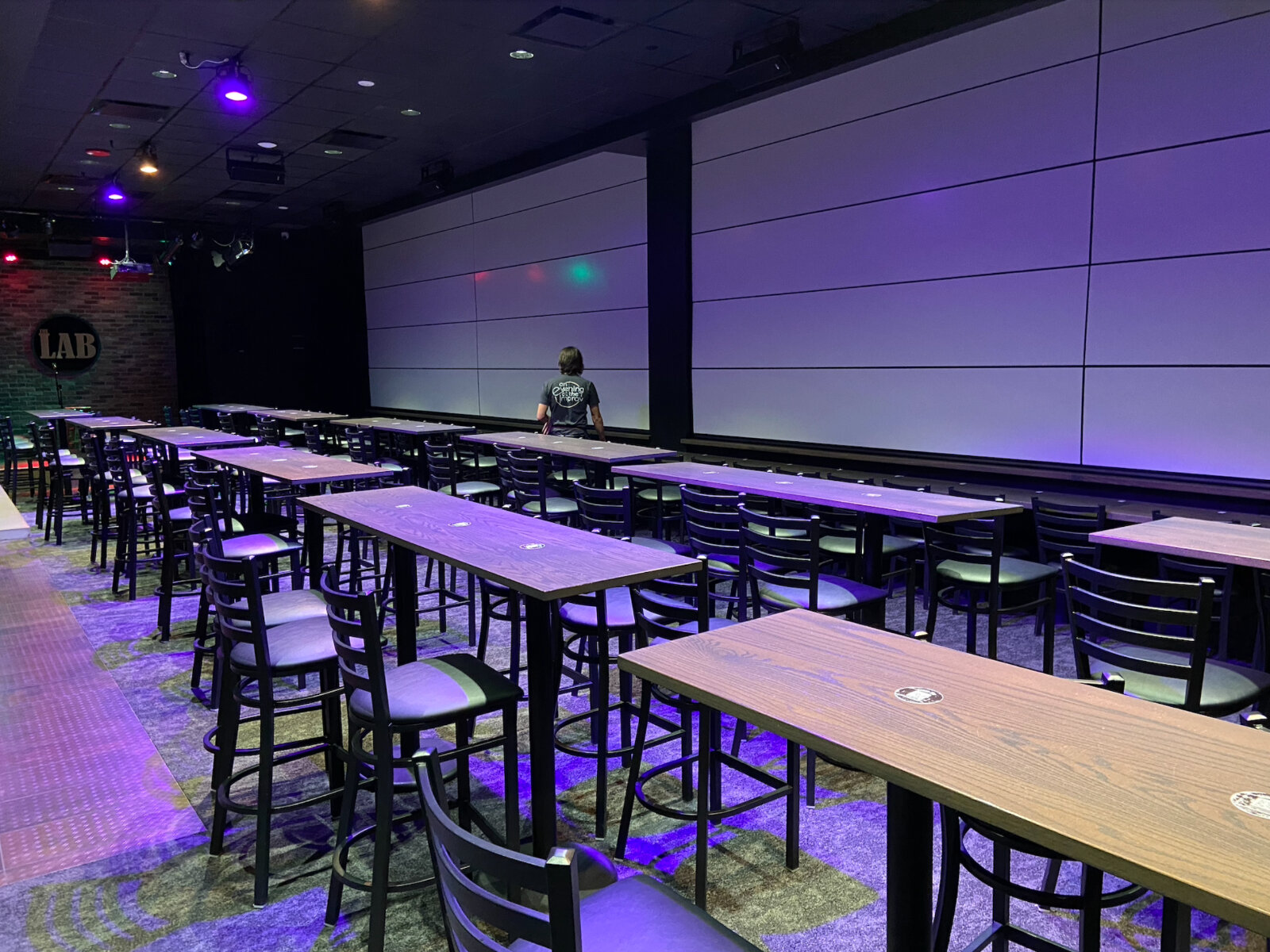 In general, the space is much cleaner and comfortable than one might expect from comedy clubs' reputations. Sitting down, the space is intimate but not claustrophobic, getting that good contagious electricity in the room without making you feel like you're in the lap of the stranger seated next to you. Basically, it provided ideal conditions for laughing – all the audience needed on Friday night was jokes. And on that front, the venue delivered ...
2. Comroe killed it
I admit I didn't know much about Samuel J. Comroe before Friday night, the first of his trio of anniversary shows at the Improv. I'd seen some of his work from his "America's Got Talent" run in 2018 – but as Comroe himself joked during his set, things drastically change when you lose to a magician on national television, so perhaps that wasn't the best preview of what to expect Friday night.
Number one thing I learned from his set: He's a very, very funny man. The second – and perhaps most important – thing I learned? Don't wear shorts to his shows. He will notice – and he will judge.
Indeed, Comroe came out hot Friday night, lambasting the crowd – in particular one side of the venue he nicknamed "the congregation" for their subdued reactions – and even the Milwaukee Improv itself. (Comroe must've licked his chops when he saw the club sits below a Wahlburgers – and not because he was hungry.) But the jabs were satisfyingly, scathingly sharp – even the familiar notes about Wisconsin weather – and the cackling crowd was happily game.
That was a particularly good thing considering much of Comroe's set was spent on crowdwork, playing with the audience and even doing a comic Q&A at one point. Some comedy fans might look down on crowdwork – especially in cases when the audience doesn't play along well – but Comroe excelled at it Friday night, delivering rapidfire jokes at a blistering pace and making the most out of even the lamest, slowest interactions. Some crowdwork can feel laborious; Comroe's quips and rants – hitting on the aforementioned shorts, wedding proposal critiques, sharing notes with a fellow audience member with Tourettes and a guy whose watch all-too-loudly reminded him to take a pill – were like a sprint, complete with feeling out of breathe by the end from all the guffaws. Comroe impresively kept up that unrelenting energy when he pivoted out of his crowdwork and transitioned into his more seemingly prepared bits, talking about his life with Tourettes and fatherhood.
In the end, it was a performance more than worthy of Improv's special day – in part because, thanks to Comroe's expert crowdwork, it was a special show that couldn't be replicated, that had its own unique moments and punchlines for audiences to chuckle about long after returning home, and that even resulted in a very solid T-shirt idea. (If Comroe has "bad knees, good throat" merch at his table, we swear it's not what you think it's about ... ) And hopefully Saturday and Sunday's crowds have a similarly dissimilar, unpredictably electric night. And hopefully they wear pants rather than shorts.
3. A strong supporting cast
Comroe may have been the night's spotlight comedian, but he was far from the only star hitting the stage on Friday night.
Serving as the night's host, local comedian Carly Malison got the venue's trilogy of anniversary shows off on the right foot with a funny set breaking down why her recent engagement came to a close and making everyone think about salad in an exciting new NSFW light. The pratfalls of modern dating and relationships isn't exactly unique stand-up material, but in her brief time at the mic, Malison found some fresh and surprising angles that scored solid laughs.
Fellow Milwaukee comedian Ton Johnson then took the stage as the night's opening act, hot off recently winning Madison's Funniest Comic competition earlier this summer. Judging by his room-warming set on Friday night, the audiences and judges in Madison chose correctly as Johnson slyly made fun of his choice to stop smoking weed and growing old, then not-so-slyly made fun of his sister and nephew – hilariously making sure the cameras recorded all the jabs for the internet too. With his low-key delivery making for some high-volume laughs throughout the set, Johnson could easily be headlining comedy shows rather than opening sooner than later.
4. The food was no laughing matter
While Milwaukee Improv served up a delicious three-course comedy meal on stage, I also indulged myself in actual dinner at the anniversary show. After all, Improv doesn't just offer standard cheap bar food but a full menu of heightened pub grub – from pizza to burgers to classic apps and more – created by Improv executive chef Geno Fontanoza.
I went the apps route, ordering the Buffalo cauliflower (because I was pretending to be healthy) as well as the loaded fries (because I'm bad at playing pretend), with both making ideal snacks during the show. The Buffalo cauliflower in particular was a highlight, the sauce not just Buffalo in name only but actually delivering that signature tangy kick that required a refreshing beer on standby. I also made eyes at the mason jar dessert options – available in key lime pie, salted caramel brownie and strawberry shortcake – but unfortunately I ended up being too distracted by laughing and hiding the fact that I was wearing shorts from Comroe to place an order. Oh darn, I guess I'll just have to go back ...
Best of all, my meal was followed by two hours of near-constant belly laughs, so by night's end, I felt like I'd done an ab exercise and worked all of the food and drink off. Milwaukee Improv: an entertainment venue AND a fitness facility! (Let's just ignore the mason jar desserts here.)
5. What's next for Improv?
In comedy, you always have to move on to the next joke, to constantly tinker and develop new material. And it's no different for comedy venues themselves. So while the Milwaukee Improv is enjoying looking back this weekend and celebrating the past year, it's also already looking forward to year two.
"I'm so excited for people to actually have an association with the brand," Mitchell noted. "That was one of our big challenges opening up. I mean, the closest Improv club is Schaumburg. So it's something new that people haven't had."
In addition to growing that connection with Milwaukee, Mitchell and Burczyk talked about looking forward to making the most out of their space in year two – from making full use of the lobby bar and gathering space, to hosting more events in The Lab. Plus, in addition to being ideal for comedy shows – especially those up-and-coming comedy performers born from YouTube and TikTok, whose stage acts incorporate a lot of sound and media in their shows – the main room's impressive sound design would work well for live music performances.
Right now, though, the Milwaukee Improv's emphasis is indeed comedy – with the impressive upcoming schedule to prove it, lining up names like Frank Caliendo, Godfrey, Vine comedy star Nick Colletti, Jon Lovitz, Shawn Wayans, Bill Bellamy and Dave Attell through the end of the year. Already there's much to look forward to with Milwaukee Improv's sophomore set – so much so "the congregation" from Friday night might even laugh and cheer.
As much as it is a gigantic cliché to say that one has always had a passion for film, Matt Mueller has always had a passion for film. Whether it was bringing in the latest movie reviews for his first grade show-and-tell or writing film reviews for the St. Norbert College Times as a high school student, Matt is way too obsessed with movies for his own good.
When he's not writing about the latest blockbuster or talking much too glowingly about "Piranha 3D," Matt can probably be found watching literally any sport (minus cricket) or working at - get this - a local movie theater. Or watching a movie. Yeah, he's probably watching a movie.