Malkia Stampley started performing at a young age, singing with her large family of teachers, artists and musicians at Milwaukee-based festivals and events. She went on to receive formal training at Marquette University, Skylight Music Theater and Milwaukee Repertory Theater.
After living in New York and Chicago, where she landed a plethora of voice-overs, commercials and short films, Stampley returned to Milwaukee with her husband and children and co-founded Bronzeville Arts Ensemble and, among other projects, served as the director for "Black Nativity" for the past three seasons.
"Black Nativity," written by Langston Hughes, is a collaboration between Black Arts MKE and the Marcus Center for the Performing Arts. It runs Dec. 6-16 at the Wilson Theater at Vogel Hall. Tickets and more information are available here.
Stampley also has recently embarked on a television career, with roles in NBC's "Chicago P.D.," Showtime's "Shameless" and "The Chi." She recently finished filming the second season of "The Chi."
Stampley is busy as a working actor, director, advocate, mother and wife, but she manages to prioritize a mission throughout it all: to increase the diversity in the Milwaukee theater scene and beyond.
"My life's mission is to advocate for diversity in theater," she says. "I need to continue to find more creative ways to make it possible for people of color to be a part of the theater."
OnMilwaukee recently met up with Stampley for coffee and conversation at the Colectivo in Walker's Point.
OnMilwaukee: Did you grow up in Milwaukee?
Malkia Stampley: Yes, I was born and raised here. I lived most of my childhood in the 53206 area, 10th and Keefe. My mom was a teacher and an organist and my dad was a pastor. I grew up in my day's church and I was in the choir. We were a singing family. There were six kids – I'm number five – basically a ready-made choir. We sang around town at festivals and events. We were a spiritual choir, not really Christian – a cappella with some gospel, kind of like Sweet Honey In The Rock. We were more about empowerment than anything else.
Where did you go to high school?
I went to Whitefish Bay High School. I was part of the Chapter 220 program, which no longer exists. I was in a small group of people of color who were bused to the school. The school was a seven-minute drive from our house, but it was still a completely different world.
I was involved in theater during high school, but I didn't realize I wanted to study it in college until the summer after I graduated. I was planning to go to college in the South, to study something else, but then I had an epiphany that I needed acting to be my career. So with some help I got into Marquette's theater program.
Was your goal to be a stage actor, a television / film actor or both?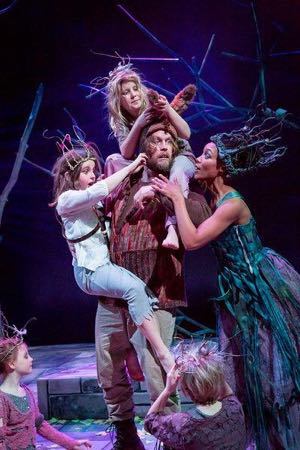 At the time, I was focused exclusively on stage acting. Being on television or in films didn't seem like a possibility. There was "Cosby Show," and "A Different World" around me when I was a kid, but it never occurred to me that I could do that. But I found my place on the stage and for a while I thought theater people were different from TV and film people, that I couldn't do both.
What did you do after Marquette?
I got a residency at the Skylight, and it was really great. A great way to learn, to be involved in the community and to earn a salary. From there I was part of a dance company. I moved to Chicago and New York, I did a lot more stage acting. I met my husband – who is also an actor – and we decided to move back to Milwaukee to be closer to family. It's easier here for us, especially because we have three kids.
So after being away from Milwaukee for a while, what was the return like for you?
When I first came back, I immediately felt the lack of diversity in the theater here. My husband and I had late-night discussions about the state of black theater in Milwaukee. It wasn't good, and so we asked ourselves what Milwaukee needed and, most importantly, what we were gonna do about it. Within a week I was on the phone, talking to my talented Milwaukee friends and saying, "we need to do something about this." And that's when we started the Bronzeville Art Ensemble. It's been around for five years now and I am still a member.
When you started directing "Black Nativity" in 2016, was this your directorial debut?
It was my debut as a director for a full production.
What makes the show such a great fit for you?
Oh my gosh, it brings everything together for me: theater, spirituality, advocacy and supporting local talent – primarily actors of color. The theater scene here can be a little elitist and not always welcoming to everyone. I love to help people who have never been able, or knew how to, break through "the wall" and to be able to do so through "Black Nativity."
How would you describe "Black Nativity?" Is it the story from the Bible?
It is, but I make it relevant to today. I don't get stuck in the historical part of it. I'm all about the heart of the story. The struggle that I believe Mary went through being young and pregnant, and traveling by foot to a new city with a husband who wants to protect her, but is struggling too. And then there's the hope, there's always the hope with an unborn child, and I believe in hope and we need it everywhere.
The nativity story is a timeless story that surpasses religion and culture. It's a story that can take place anywhere. I always tell my cast that I imagine there is a 15-year-old girl pregnant somewhere who is not getting the support she needs – or maybe she is – and her child could be the next Barack Obama or Nelson Mandela, but we will never know if we can't "see" her, if we don't focus on her.
Do you call yourself an activist?
An advocate who's not afraid to speak up and then do something if I see something wrong. My life's mission is to advocate for diversity in theater. Growing up in Milwaukee's central city and going to Whitefish Bay, I had unique exposure to the theater that I got because of the connections I made through the well-connected staff at Whitefish Bay. But that's not everyone's journey. It's not as easy to just flow into the theater community here, especially for people living in the central city, so I need to find more creative ways to make it possible for people of color to be a part of the theater.
I'm currently directing "Five Guys Named Moe" at The Skylight and I was determined to bring more people of color not only on the stage, but behind the scenes. I was determined to find a black, female lighting designer, and I had to import one from Chicago, but I did. I am determined to invite new people to my table.
How did you land the roles on the Showtime shows, "Shameless" and "The Chi?"
Two years ago I connected with an agent in Chicago, and from that I got an
interview which led to another interview … and my number came up. I got the parts. We just wrapped the second season of "The Chi." It was very exciting for me because the first season was incredible, and to come back for a second season and get to further create my character has been so great.
I read that you are a vegan. Is that true?
I am. It's been almost six years. I've been a vegetarian for 18 years. My dad has been vegan since 1980 or '81. It was weird to me as a kid. I grew up going to the Outpost when it was on Holton and Keefe. I grew up scooping the dry beans out of barrels. I remember when soy milk used to be brown, and I remember seeing what we called "hippies" shopping there. My dad was definitely part of that scene with the dashikis and the beads and the big hair.
So what's in store for you in 2019?
It's an interesting time. I feel like I'm in transition. I love doing "Black Nativity" and "Five Guys Named Moe," so I hope to do more directing and, eventually, producing. I also really love doing television and being part of "The Chi." I could also see myself transitioning slowly into arts administration. I really like collaborating and bringing different people together. I don't know what this all looks like yet, so for now I'll just keep going.
Molly Snyder grew up on Milwaukee's East Side and today, she lives in the Walker's Point neighborhood with her partner and two sons.
As a full time senior writer, editorial manager and self-described experience junkie, Molly has written thousands of articles about Milwaukee (and a few about New Orleans, Detroit, Indianapolis, Boston and various vacation spots in Wisconsin) that range in subject from where to get the best cup of coffee to an in-depth profile on the survivors of the iconic Norman apartment building that burned down in the '90s.
She also once got a colonic just to report on it, but that's enough on that.
Always told she had a "radio voice," Molly found herself as a regular contributor on FM102, 97WMYX and 1130WISN with her childhood radio favorite, Gene Mueller.
Molly's poetry, essays and articles appeared in many publications including USA Today, The Writer, The Sun Magazine and more. She has a collection of poetry, "Topless," and is slowly writing a memoir.
In 2009, Molly won a Milwaukee Press Club Award. She served as the Narrator / writer-in-residence at the Pfister Hotel from 2013-2014. She is also a story slam-winning storyteller who has performed with The Moth, Ex Fabula and Risk!
When she's not writing, interviewing or mom-ing, Molly teaches tarot card classes, gardens, sits in bars drinking Miller products and dreams of being in a punk band again.