FM 106.1 afternoon radio host Quinn is a native New Yorker – though not the New York you're probably thinking of. And thank the heavens for that, according to her.
"Everyone when I came here, they're like, 'Oh, you're from New York? That's so cool,' and I'm like, 'No, no, no, no, no. I'm from upstate and to the west.' I've never lived in the city, and I never want to," Quinn said. "It's a completely different ball game. No offense to New York City, but it's just gross."
Luckily for Quinn, instead of out east, her next stop after 10 years in Buffalo and Albany radio would blow her west – or, rather, Midwest, bringing her to Milwaukee, a bit of a brethren city to her hometown of Buffalo.
Both are considered small-market cities famed for their bar food and frosty weather, both have long-suffering sports fan bases (almost half a century since a championship for Milwaukee, while it's been … never for Buffalo) and both are known for knowing how to party before a football game – though, in Buffalo, maybe a little too much.
Upon her first visit, Milwaukee felt like home for Quinn – and now it is home, as she's recently made the official move from Flour City to Cream City this spring to serve as assistant program director and music director at FM 106.1, in addition to her afternoon hosting duties. In this edition of Milwaukee Talks, we chatted with Quinn about the transition to Milwaukee, cheese curds versus Buffalo wings, the state of country music and being a Bills fan in Packerland.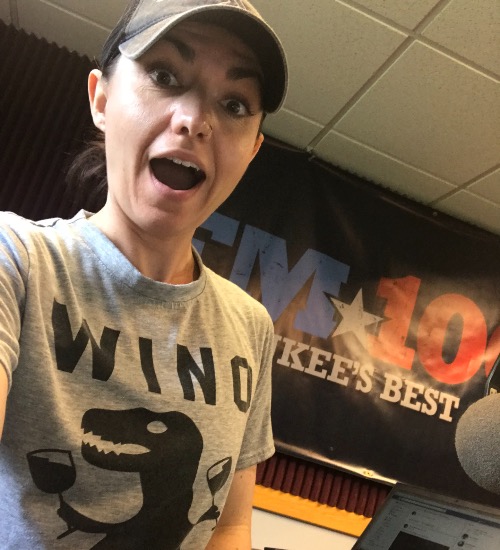 OnMilwaukee: So you're originally from Buffalo?
Quinn: Originally, but I moved here from Albany, so I've always been a New Yorker. It's the best; it's kind of like here!
How so – other than the weather?
Well, the weather. (laughs) It's kind of blue collar-ish, and then you've got all the sports teams and being by the water. It's very laidback and people are nice. That's why I really enjoy being here, and that's why I ended up moving here – because it reminded me so much of Buffalo.
I went there maybe a decade ago, and we loved it out there – but unfortunately I didn't like Buffalo wings at the time, so I felt like a real poser.
I'm a bigger poser than you: I'm from there, and I don't really like wings. I don't really like meat with bones in it, and I don't like when they're, like, sloppy.
I was going to ask Buffalo wings or cheese curds, but it sounds like that's already been answered.
I really like fried cheese curds. They have to be fried. I mean, I'll eat wings, but I'm just a bad Buffalonian that I don't love them. Sometimes I'll have a craving for them, like football season, but besides that, I'm like, "Eh."
What are some of your favorite Milwaukee places you've discovered so far?
I really love Café Centraal; I love their brunch. We just went to Honeypie the other day, and their brunch was phenomenal. I'm a big brunch person. (laughs) Sweet Diner, we had brunch there one day, and that was bomb. We just had drinks at Café Benelux, and I love that rooftop. They had a kombucha beer, and it was really good. I'm all about the kombucha. I also heard that there's a Bills bar, maybe in Walker's Point. I gotta find that …
Interesting, I didn't know we had a Bills bar here.
I guess! I was at the airport randomly, and I had a Bills t-shirt. And I saw a guy with a Bills hat. We made eye contact, and I was like, "Where are you from?!" And he's like, "I live here. Have you been to the Bills bar?" I was like, "TELL ME MORE."
When I came here to visit, I took a little shuttle over to The Wicked Hop. And I got out, and this guy had a Bills shirt on, so I go, "Yeah, go Bills!" And he gives me the dirtiest look, and I'm like, "I'm not making fun of you." So I start opening my jacket – he probably thought I was going to flash him – and reveal my Bills sweatshirt on, and he's like, "YEAH!" What are the odds that the first person I see getting off the shuttle is in Bills gear?
Has it been tough to be a Bills fan in Packer country?
Growing up, my family was always Bills fans – but number two was always the Packers. I'm an only child, so my parents were like, "Oh my god, you're leaving New York," and I was like, "Well, we could go to a Packers game and finally go to Lambeau." They immediately changed their tune. They were like, "This is great!" So the Bills are playing the Packers on Sept. 30, and I'm willing to sell a kidney to get four tickets.
And I love Aaron Rodgers. When him and Olivia Munn broke up, I, like, needed a day to get over it. I get way too invested in celebrity couples. Like Anna Faris and Chris Pratt, when they broke up? It was horrible. I was like, "Why would he do this to us?!" And then when Danica and Aaron got together, I was like, "No, that's not going to work for me."
When did you find your love of country music?
I remember one of my first concerts – I was probably 12 or 13 – was Shania Twain with my mom. And let's be honest, she is a goddess that woman. So that started it, and then I remember in high school I got a little more into it. One of my friends introduced me to Rascal Flatts, and I really liked them. I started listening to Brad Paisley, and then one summer, it was back to back to back country concerts. Kenny! Dierks! Keith!
Then I got into Top 40 radio, so I still liked it but I wasn't as much into it. Then I got into AC radio – still into country but it was just hanging out there. And then I was like, I need a change with radio, and country is so big right now that I was happy to hop back into it.
Who are your favorite country stars?
Hm. Well, all-time favorites are Shania and Carrie Underwood, because they're just powerhouses. But right now? Big Maren Morris fan. I really like Thomas Rhett. Old Dominion at Miller Park the other day just won me over. They were phenomenal. And Dierks is one of my all-time favorites. It's funny because I've seen Rascal Flatts in concert the most, which I like them – but I think it's just because they're always on tour. (laughs)
What is it about country music that you love – but also why it's so popular right now?
Personally, I think right now is one of the best times for country music because it's kind of anything goes, and I really like that. Sometimes you get into a genre where everything starts to sound the same, but right now, you've got the Sam Hunts of the world that are making it more poppy. Then you have Midland and Brothers Osborne, where they're that more hardcore country. And then you have the girls who are kind of doing they're own thing, like Carrie Underwood and Maren Morris going with Ludacris and Zedd and all the crossovers. That's why it's so popular right now because it kind of touches everyone.
There's always that debate, though, about pop country and whether it's too much or even country still.
I disagree. It's kind of like what rock's gone through recently, how rock's gone more that alt style and people are like, "Ugh, it's not Nirvana." Well, yeah, of course it's not Nirvana; it's 2018 last I checked. So right now it's just one of those transitions where people just have to get used to it. Look at Shania Twain when she started out, she was so scandalous in her little two-piece outfits. Everything changes – and I think people just don't like change sometimes. But it's good change.
There was a lot of talk as well about female artists having a hard time getting play and getting award nominations and such. Is that changing?
I hope so. I really hope so, because it is discouraging when you see Entertainer of the Year, and there's no female nominees. And it's, like, I don't know if you know, but there's this lady named Carrie Underwood? Or Miranda Lambert? I'm happy to see Maren Morris growing into her own. But more people should be talking about these female artists because they are such badasses – the Lauren Alainas and the Kelsea Ballerinis. There's a lot of up-and-comers who are going to start to change it. And hopefully we start to see that change sooner rather than later, fingers crossed, but right now it really is a dude's game unfortunately.
But that's why – and my boss can attest to this – I will stick up for the strong females. Like Lindsey Ell's "Criminal." I've been pushing for that song for so, so, so long, and we got it. Same with Carrie Underwood's new song. I really try to push the females a little more – obviously not just because they're female, but because they're good and female.
Is the Milwaukee audience different from other audiences you've worked with?
Not really. Everybody's been super nice, which has been great. In this market, listeners are more interactive, which is great too. Some markets you see that people are like, "Yeah, that's fine, you're on the radio." Here, I don't know if people are more into it or if they're just nicer here.
What's your favorite part of Milwaukee so far?
The beer. (Laughs) The beer is really good here. The food is really good here, and the people are really nice. There's always something to do, which I really like. Places that I will not name, there's not always things to do, whereas here we just had the Milwaukee Food Truck and Craft Beer Festival a while back, and now we've got Summerfest coming up. Then not too far from there is Country USA and Country Thunder.
There's just so much to do here – I think that's actually the number one, over the food and the beer. Because you can get food or beer anywhere, but getting those experiences is truly great here.
As much as it is a gigantic cliché to say that one has always had a passion for film, Matt Mueller has always had a passion for film. Whether it was bringing in the latest movie reviews for his first grade show-and-tell or writing film reviews for the St. Norbert College Times as a high school student, Matt is way too obsessed with movies for his own good.
When he's not writing about the latest blockbuster or talking much too glowingly about "Piranha 3D," Matt can probably be found watching literally any sport (minus cricket) or working at - get this - a local movie theater. Or watching a movie. Yeah, he's probably watching a movie.