Milwaukee music venue Shank Hall, 1434 N. Farwell Ave., will celebrate 25 years in business in November.
Owner Peter Jest – who is also a concert promoter responsible for bringing major talent to the city – was 25 years old when he first opened the East Side club. Now, at 50, Jest's been in the business for more than half of his life and consequently he has a vast and unique perspective on the Milwaukee music scene.
For this latest segment of Milwaukee Talks, OnMilwaukee.com sat down with Jest to hear about the best shows of the past 2 1/2 decades, the fire that almost destroyed the business, the role Spinal Tap played in it all and much more.
OnMilwaukee.com: When did Shank Hall open?
Peter Jest: During the weekend of Nov. 3, 1989. A local cover band, Java, played the Friday night, and then on Saturday, Semi-Twang played. Semi-Twang has become our anniversary band over the years and they'll play the 25th anniversary party on Saturday, Nov. 8.
OMC: What are the details of the 25th anniversary party?
PJ: Mike Benign Compulsion is going to open for Semi-Twang. Mike tested out the club before it opened 25 years ago. We have some other good bands that week – Chuck Prophet, Tommy Castro and a free show by Christopher's Project on Wednesday, Nov. 5.
Otherwise, nothing too grand. I'm not a grandiose guy but I want to remind people we're still out here, going strong. Sometimes people forget about the older venues. I like to remind people we were here before "The Simpsons," before "Law and Order," before some of the people in this club were born.
OMC: You have an extensive history of promoting Milwaukee shows. When did you start promoting?
PJ: I started booking shows 32 years ago at UWM (University of Wisconsin-Milwaukee) under Alternative Concert Group. We booked Iggy Pop, Jane's Addiction, Warren Zevon – all the big shows – in the ballroom at UWM. But after seven years at UWM with 23 credits and 1 .8 grade point average – I was taking bowling and weather map classes just to stay there to do concerts – I knew I was eventually going to hear, "We appreciate the shows, but…."
I was also booking shows at Century Hall – but then that burned down – and at the Avalon, The Modjeska, Odd Rock, Toad. And then I heard the old Teddy's was available (now Shank Hall).
Teddy's was a historic locale for bands, but when the drinking age changed to 21, they panicked and closed. The place was rented out as a comedy club, which closed on New Year's Eve 1988.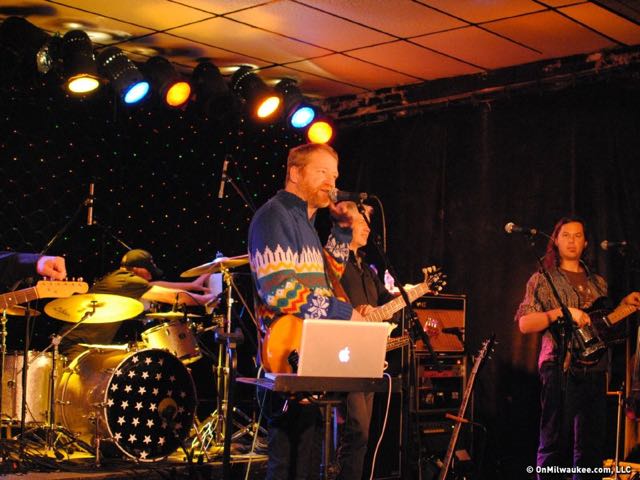 Camper Van Beethoven in 2012.
I had wanted to have a home base for a while and since Teddy's had been one of the historic clubs in Milwaukee, I knew it was the perfect spot. I put together two partners, they fell through, found another partner, borrowed $10,000 from my parents and opened Shank Hall on a shoestring in November of '89.
OMC: How did you come up with the name?
PJ: It's from "This Is Spinal Tap." In the film, Spinal Tap played in Milwaukee at a then-fictitious club named Shank Hall. I booked the Tap at the UWM Ballroom on July 11, 1984, and I promised the band if I ever opened a club in Milwaukee it would be named Shank Hall. I didn't want to call it Pete's Bar anyway.
OMC: This is probably a good time to ask about the Stonehenge statue over the stage.
PJ: Yes. When I was at UWM, when the Spinal Tap movie came out, the band was going to Boston, Chicago, San Francisco and L.A. I called or wrote a letter – sometimes I sent telegrams back then for offers – and said, "Hey, I noticed you got a day out between Chicago and San Francisco. Michael McKean was Lenny in "Laverne & Shirley" so he has a Milwaukee connection. If you play in Milwaukee at the UWM Ballroom, I'll rename it Shank Hall for the night." And they did it. They came. And the student art department built that stonehenge for the show and that's a remaining piece.
It's become our trademark. People sometimes ask why we have that pi sign above the stage.
OMC: 25 years ago, what other venues were you competing with?
PJ: The Odd Rock closed one month after we opened and Toad closed about eight months later. There was also the Boardwalk – which later became The Globe – and the Celebrity Club did shows, too. Buckley's, Vnuk's. Later, there was Thai Joe's. So many. In 25 years, more than 50 places closed that had been doing music. I don't feel joy in that, but I do feel I must be doing something right.
OMC: A few years after opening there was a fire at Shank Hall, right?
PJ: There was a fire on Sept. 10, 1992. The club didn't burn down, but it was damaged by fire – mostly the roof, the carpeting, the furniture. Back in the day, you could smoke in here, and a guest of the band The Drovers must have dropped a lit cigarette in between the cushions of the couch backstage.
The night of the fire, I got out of here at 2 a.m. I was working for Cellar Door at the time and the next day we had U2 at Camp Randall on the Lemon Tour. So after I dropped a waitress off, I went home, went to bed and around 5 a.m. and the gas station guy called me (from the gas station located across Farwell from Shank Hall). He said, "Peter, your club's burning down."
I lived right around the corner at the time and there was already smoke in my apartment from the fire. I came running out and the fire trucks were already here. It was quite a mess. So we got all of the beer out of the cooler and started drinking it on the sidewalk because it was going to go bad anyway. And then I had to leave for Madison to work the U2 show.
Thankfully, no one got hurt, I had really good insurance, really good landlords and everyone said, "Let's rebuild it." And so we did and reopened in December of that year with Trip Shakespeare.
OMC: How did you change the space when you remodeled after the fire?
PJ: There used to be a Plexiglas wall between the bar and the seating / stage area. But it melted in the fire, and we decided not to replace it. This really opened up the room. We also put in another exit door and a handicap-equipped bathroom – there used to be a side bar there instead. We were then able to raise our capacity from 180 to 240 to, eventually, 300.
We put in the (front) windows in the summer of 1999 after we got a facade grant from the city.OMC: When did you start hanging the autographed photographs of the musicians covering the walls?

PJ: After the fire. There used to be stained glass windows but they were destroyed. And so we started collecting and framing the photos of the musicians who came through, but we haven't had a new one in five years because everything is digital now. No one sends you photos anymore. But it's OK, I guess. We kind of ran out of space anyway.

OMC: What kinds of bands are ideal for Shank Hall?

OMC: First of all, we only do 21-and-over shows now. We used to do all ages shows – Wild Kingdom and Little Blue Crunchy Things – but every kid in the city came here to smoke and then they'd linger outside or hang out at the gas station and this location is just not conducive to having 200 kids hanging outside.
Howard Jones doing an acoustic set at Shank in 2007.

We book indie music, classic, rock, jazz – anything – but not really harder punk rock, hip-hop or heavy metal. It's an adult / older crowd here for the most part – that's our forte. There are other venues in the city with different niches.

OMC: What are three of the most epic Shank Hall shows?

PJ: Let me give you 10 and then we can sort it out. Warren Zevon had such memorable shows here. He was a character. I booked him at UWM and he played here at least three maybe four times.

John Paul Jones from Led Zeppelin was really like, wow, to hear in here. It was amazing, memorable. I think he came in 1998, when (Jimmy) Page and (Robert) Plant went out and forgot about him and he went out on his own.

The Violent Femmes, of course, in the '90s, had some great shows, as did Wild Kingdom and Semi-Twang. The Spinal Tap press conference here was really fun.

Alanis Morissette sticks out, too. It was before she got big, but I knew she was going to. It was a $5 show and really special.

So many others: No Doubt, Smashing Pumpkins, Goo Goo Dolls, Jewel, Sarah McLachlan. Michael Hedges was great. He played here a couple of times. John Entwistle from The Who was interesting – he was sorta drunk from the time he got here – and Ray Manzarek from The Doors, Mick Taylor from The Stones.

Roy Harper sang Pink Floyd's "Have A Cigar" here. Do you know that story? (The English folksinger) Roy was recording in the studio and Gilmore and Water were recording next door but couldn't get the vocals right, so he went over and sang it for the record, even though he wasn't a member of Floyd.

OMC: How much do you hang out with the bands?

PJ: Not much. I'm pretty quiet. I give people their space. I'm here to promote them. But, here (at Shank), at the end of the night, I'm here and sometimes talk to the bands after the fans are gone. Or, if we're friends, I'll stop back before the show and ask if they need anything.

OMC: What are the rules backstage?

PJ: Nothing illegal. You can't bring anyone in who's under 21. You can't smoke anything. It's pretty simple.

OMC: What is your philosophy about booking local music?

PJ: This venue is great for a CD release or a special show. If you can draw 50 people, play somewhere smaller, but at the same time, if you're packing a place, you should be playing here.

I think bands should play at all different venues, but I usually suggest to have a show once a month. It's tough to get your friends to come out every weekend.

OMC: How has your industry changed the most in the past 25 years?

PJ: The competition is different. There are fewer clubs, but there is so much more free music now. Festivals, free music series in parks. We have to compete with non-profits like the Pabst Foundation and Potawatomi – it isn't as crucial that they profit from shows.

Of course social media has changed things a lot. It's been good in some ways, but sometimes it stops people from supporting a band. If you like a band, you have to support it. You can't "Facebook like" a band and help them. People write "I wish I could be there" and well, you can. Come down. Pay a few dollars. See a show. This is how they make a living, this is how they continue to make music.

And I find cell phones at shows irritating. People are at a live show and they're watching it through a little screen. They paid $200 to watch a concert on their phone?

Audiences have changed, too. There's more and more yelling out, ruining it. I just think if you go to a show, you should hear it and see it and feel it. And don't sing to it unless the band asks you to.

OMC: What do you love about the business?

PJ: I love all of it. I love music and I can't play it so I enjoy being a part of it by helping to put on a show. I have a job where people leave happy. It's not like being a parking checker where you're constantly pissing people off. No offense to parking checkers – it's a job that has to be done –but they don't usually make people's day.

OMC: What makes Shank Hall a solid music venue?

PJ: We're not a bar. We're a place to see a band, talk to the band, have some drinks. There are no TVs or pool table here. It's about the music. And we have great sound, a great space – it's a straight shot to the stage no matter where you are - and it's clean. Steve Howe from Yes said once it was nice to play in a place that didn't smell like a bar.

We have a great staff. Everyone has been here between three and 20 years. I really trust them, and we have fun.

Someone once said if you love what you do, it's not work, and I agree with that. I work from home during the day and I handle all of the business and marketing operations, but at night, I come here, drink a few beers, count the money and go home.

OMC: You still promote shows for venues other than Shank Hall, right?

PJ: Yes, I've promoted shows under Alternative Concert Group for 32 years. Recently, I promoted Leonard Cohen and Nick Cave, among many others. This is how I can really make a living.

I could never sustain making a living (at Shank Hall). We're only open 14 days a month – that's like 80 hours a month when most places are open 80 hours a week. And there's still a lot of overhead. But I don't want to own a bar or serve food or have a pool table. We are a music venue.

OMC: Have you ever played in a band?

PJ: No, I don't have the God-given ability to play an instrument, but I always loved music. I used to listen to the radio all the time as a teenager – (W)QFM, (W)LPX – and I'd win lots of contests, so by the time I was 14, I had an amazing amount of records, especially Beatles records. And I would go to every concert I could. Alice Cooper one night and Bread the next. I saw Bob Marley, Queen. So many great shows.

OMC: Do you still go to a lot of shows?

PJ: Yeah. The last show I saw was Fleetwood Mac in Chicago – which was really good – and then I went to see Paul McCartney in Minneapolis. I saw The Stones the last time they were in Chicago. These days, I tend to see people you might not have the chance to see again.

OMC: Were you born and raised in Milwaukee?

PJ: Yes. I've lived here my entire life. I went to Milwaukee Lutheran before UWM. I still live on the East Side, now with my wife.

OMC: You just recently got married, right?

PJ: Yes, two years ago. My wife was a bartender here for 18 years, so we've known each other for a long time. She really loves music, too. She's a great singer and the choir director at her church and she enjoys going to concerts with me.

OMC: What's on deck for Shank Hall?

PJ: I'm taking it in five year increments. It's hard to believe it's been 25 years. I'm 50, that's half my life. I'm just happy to still be a part of the Milwaukee music scene.

Molly Snyder started writing and publishing her work at the age 10, when her community newspaper printed her poem, "The Unicorn." Since then, she's expanded beyond the subject of mythical creatures and written in many different mediums but, nearest and dearest to her heart, thousands of articles for OnMilwaukee.

Molly is a regular contributor to FOX6 News and numerous radio stations as well as the co-host of "Dandelions: A Podcast For Women." She's received five Milwaukee Press Club Awards, served as the Pfister Narrator and is the Wisconsin State Fair's Celebrity Cream Puff Eating Champion of 2019.