Though his name might now be known only to Milwaukeeans who were going to concerts and snatching up records in the 1970s, as well as deep-set music scenesters, Alan Dulberger has left deep marks on the city.
Born to Milwaukee appliance and retailing giant "King Carl" Dulberger, Alan, who now lives in Florida – splitting his time selling RVs, golfing and walking – not only opened the groundbreaking 1812 Overture chain of record stores here – which remain beloved memories to many – he also founded Daydream Productions, a concert promotion business that was responsible for hundreds of Milwaukee concerts at places as small as Humpin' Hannah's on Locust Street to as large as County Stadium.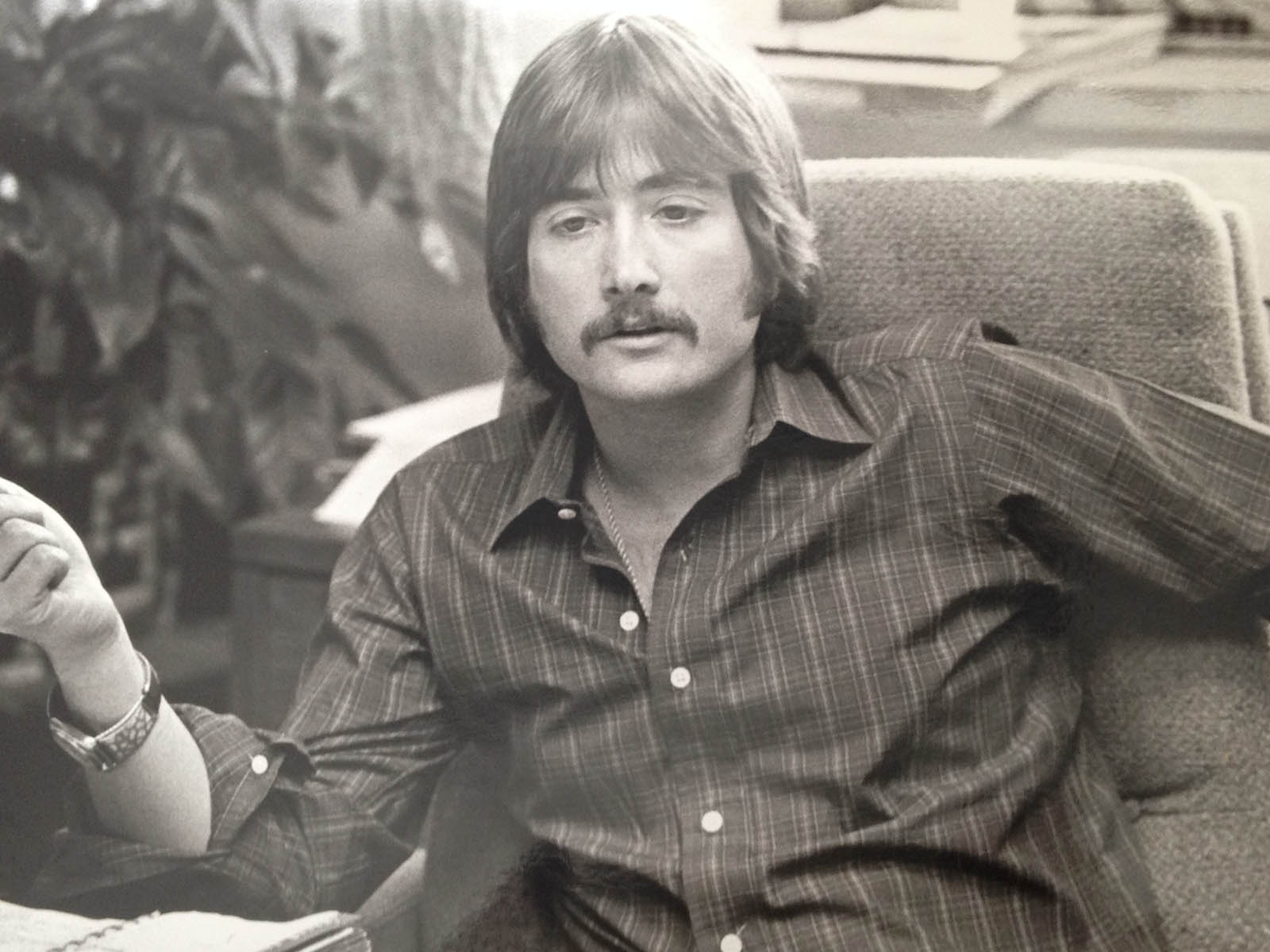 Dulberger and his partner Randy McElrath booked Black Sabbath at The Pabst Theater, The Eagles and Pink Floyd at County Stadium, Bruce Springsteen at the Uptown Theater, the New Barbarians at the Arena, Lou Reed at Hannah's and countless other shows, helping to launch the era of classic rock-era concert culture here.
And the shop and the concerts are still leaving their mark. While Dulberger is retired from the business, McElrath founded Stardate Productions, which was Milwaukee's premier concert promoter in the 1980s, and then went on to be an important figure at Live Nation. Although McElrath is now retired, his son still works at Live Nation.
One of Dulberger's record store hires, who later became Daydream's production manager, Bob Babisch, has been the head of entertainment at Summerfest for decades, booking all the festival's top-name concert talent.
As Dulberger wraps up work on his memoir – which he's writing with Milwaukee scribe Jim Cryns – I talked to him about his career in the record retailing business and the concert game, including booking the famous Bruce Springsteen bomb scare show at the Uptown Theater in 1975.
Enjoy this Milwaukee Talks with Alan Dulberger.
Alan Dulberger: The more you talk about it, the more you remember.
OnMilwaukee: Tell me about how you got into the music business.
It first started with 1812 Overture. That's the seed of my whole existence. What happened is that I opened up a small little record store at 1433 E. Brady St., in March 1970. That's before I even thought about really going in the concert business, I was in the record business. A 900-square-foot store.
But my influence started way back in the '50s, when my brother, Marc, who's a year older than me. We shared a bedroom in a house where my parents lived on Sherman Boulevard and Center Street.
My father was in the appliance and furniture business, King Carl American Appliance, he was the No. 1 independent store in Milwaukee at the time. My brother would turn on the radio at night and we could get Little Rock, Arkansas, and I remember WLS (from Chicago). And I was trying to sleep, at maybe 9 or 10 o'clock at night, and my brother's listening to (Bobby Darin's) "Splish Splash," and Buddy Holly, even before Buddy, Bill Haley and the Comets and early Chuck Berry stuff ... all this early stuff, rock and roll-type music. That's where I really got exposed to it, because after a while, instead of going to sleep, I was listening to the music with him.
I worked for my father until I was 16, 17 years old, and I was selling color television on the floor. I made lots of money back then. I was making $200, $300 a week in commission selling. And so I had a little money and a friend of mine, his name is Art Rapkin, he had a band called Bouncing Baby Artie. When I was like 16 years old, I moved from the West Side to Fox Point, and I went to Nicolet (High School) in ninth grade. And so I just came up with this idea with Art, that let's do a concert between the West Side, which we called the greasers, I was a greaser back then. And the East Siders were the kalleeges who were going to Nicolet.
I got some flyers out. I went and rented at Lake Park. I think it was 50 bucks, a little hall (the pavilion, now home to Lake Park Bistro and famed in the 1980s for gigs by Wild Kingdom) that held 200 people. And we put the posters out and told all our friends, we ended up selling out the concert. I think it was $3 a ticket back in the '60s. And we paid the band 125 bucks. By the time we were all done, I made, 100 bucks, 150 bucks.
That's how I really got started. So, that was in my blood. I said, "God, this seems like it's easy." And the reason I bring up my father is because my father was a promoter. He promoted ... if you buy a color television, you get a free pool table, you buy a washer and dryer, you get a free lawn mower.
He would give away premiums. And he was the biggest advertiser. He had three, four pages a week in the Milwaukee Journal back in the '50s and the '60s. Nobody did the advertising like he did. So, that was in my blood.
OnMilwaukee: So, you went to California after that?
When I went to University of Wisconsin-La Crosse, I was selling stereo equipment on the side and made some money. And a friend of mine lived in Boulder, Colorado, and I used to ski up north in Michigan and I went to visit him in Boulder. I ended up meeting a friend of mine who lived in Milwaukee and he lived in San Francisco and he lived in Mill Valley, which is north of Sausalito over the Golden Gate Bridge.
I went and visited him, and back then, we might smoked a little pot and this and that and stuff like that. But he took me to The Fillmore West, and so I saw The Grateful Dead, Santana, Joe Cocker, Leon Russell, Ike and Tina Turner Revue, Led Zeppelin, Rod Steward with Jeff Beck, B.B. King ... all those groups back then were baby acts, back in the late '60s. In San Francisco, they had a place called Fisherman's Wharf, which had a Tower Records.
I went into Tower Records because I saw Led Zeppelin at the Fillmore West. And it had boxes of records piled up and a sign, when you walk in, it says, "new English rock group Led Zeppelin." And it was like $1.99 cents or $2.99, and I bought it but I was walking around the store and I saw dozens and dozens and dozens of people buying records like candy.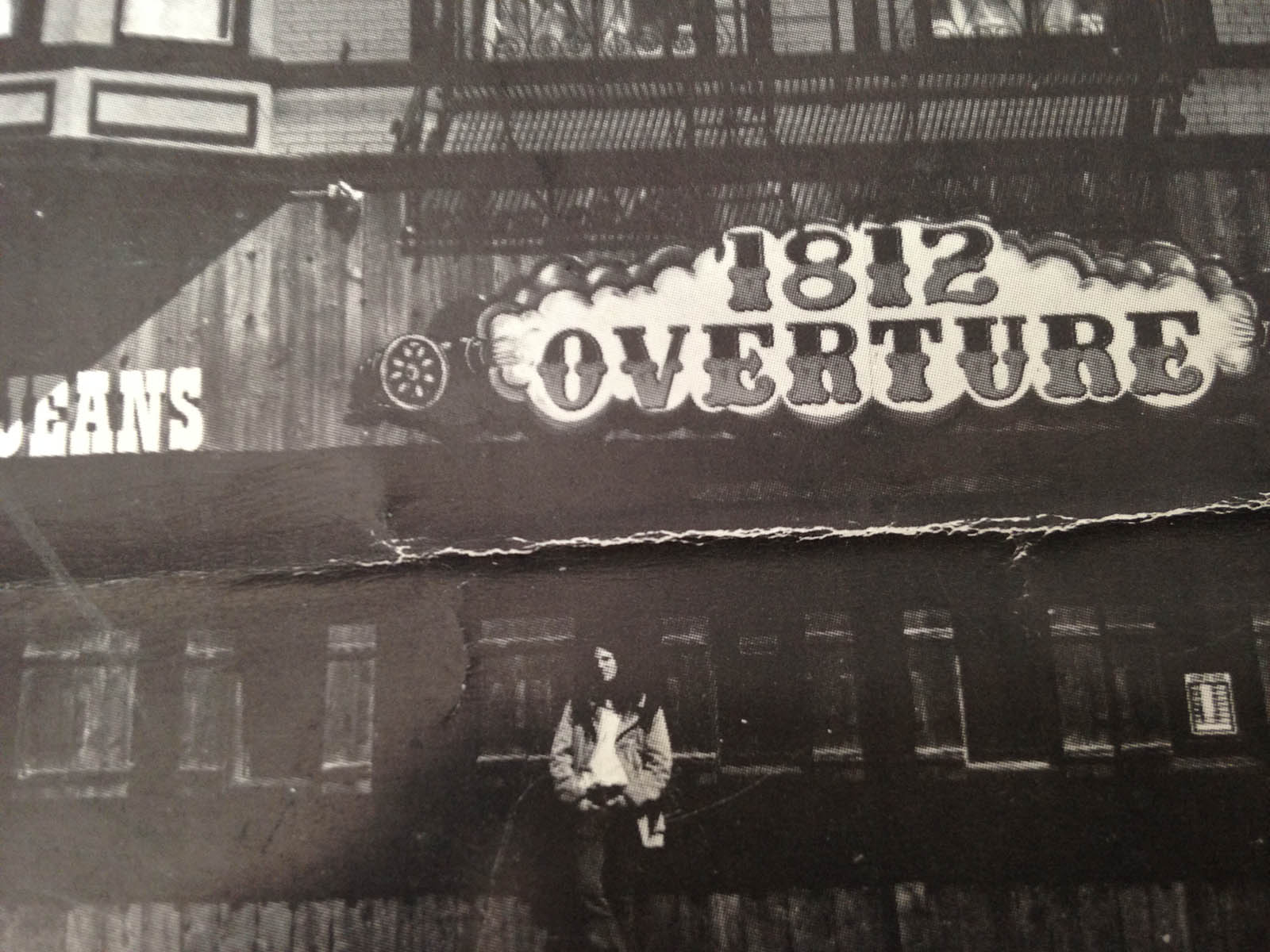 So I took this concept back to Milwaukee, where I was going to school. I transferred to UWM in Milwaukee and I just had this bug. I loved the music and I used to go to The Kinetic Playground in Chicago also for two years, and saw a lot of big rock groups there. I saw Pink Floyd there, The Ventures, Doobie Brothers back in the day, Beach Boys, Blood, Sweat & Tears, Chicago. We used to go twice a month.
So who was selling records in Milwaukee at the time when you opened up?
When I opened up, the only person, really, was the mother store of Milwaukee was Radio Doctors. They had small little ones but Radio Doctors was the only full-time, 100 percent libraries of rock, folk, blues, jazz, classical, they had everything. They were what they call full-line record stores.
I had $2,500 from selling stereo equipment at college and so forth and some commissions from my father selling TVs, and I was looking for a little record store. I said, "I can sell records." I mean, I sold color televisions for years in my father's business.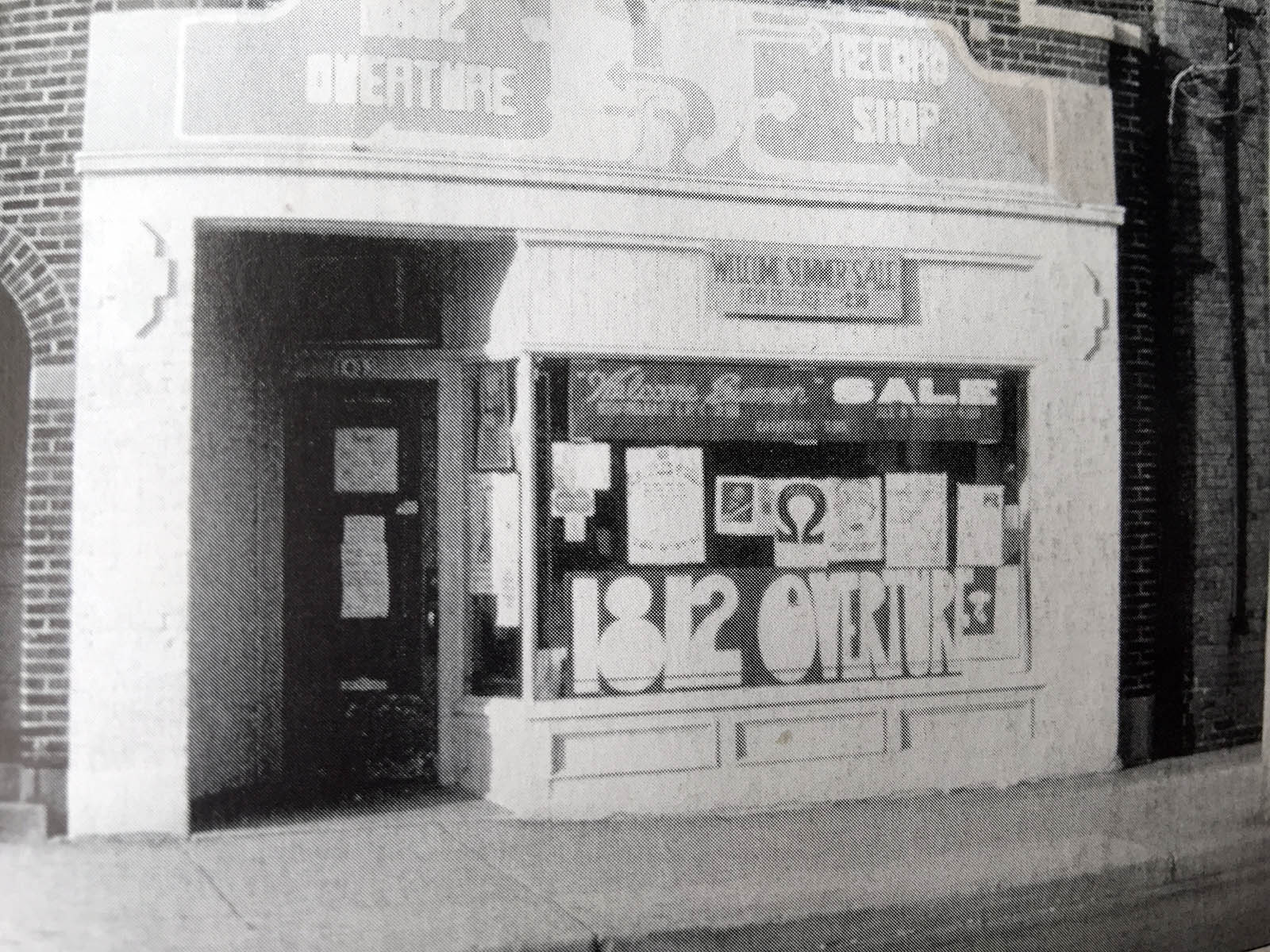 So I started looking around and we found this store an ex-Coney Island hot dog stand with only 900 square feet and is right on Brady Street. Brady Street at that time was very limited. They had some little grocery stores and they had some candle shops and hat shops and leather shops and stuff like that.
And they had local little grocery stores and taverns and stuff. But it wasn't built up, so the point is, the rent was cheap. I got my parents to help me with get the lease, I paid for the rent, and also they gave me $2,500 as a line of credit to buy from Radio Doctors.
Radio Doctors not only was a retail store, but they were called a one-stop. They would sell to little record stores and I was a little record store. So I got a line of credit and I got my initial inventory. And mostly at the time we specialized in rock, folk, blues, jazz. That was our gig, and new releases, the Hot 100 Billboard releases, that was it.
The record business got so big for me that I was thinking I'm going to sell 20, 30, 40 records a day. When I opened up, the first day, we sold 200.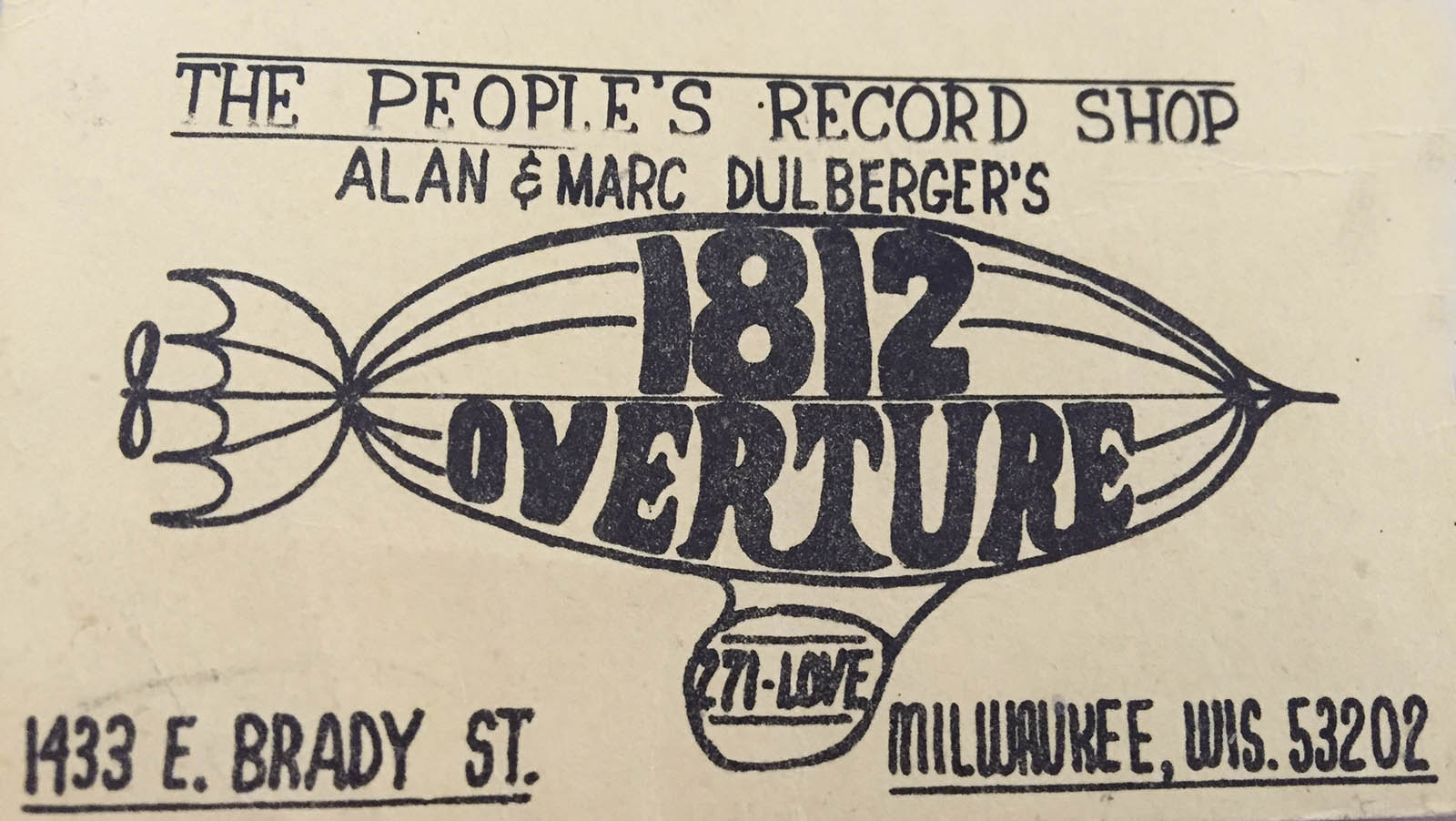 Amazing, right?
And then we opened up one store at a time over a 10-year period. And I had six record stores and I accumulated and tallied that I sold probably about 14 million records and 4 million cassettes in that 10-year period.
Can you tell me where the locations were?
The first one was on Brady street at 1433, and then we moved to the bigger store because the volume was too much that, we couldn't even let people in the store, there was too many people. So we moved to the ex-hardware store at 1234 E. Brady, which was a 4,000-square-foot store.
That gave me plenty of room to really do the job. So after that I met this guy, Joe Balestrieri who owned the Stone Toad, Humpin' Hannah's,and Odyssey. He (later) did Alpine Valley for a long time. He has The Rave at the big Eagles Club. He had discount blue jeans stores (called Wooden Nickel) and I ended up opening up a small little sub record store on Silver Spring in Wooden Nickel.
Then my third store was I moved from the Brady Street small store to the big hardware store on Brady Street, and he then opened up a small blue jean shop in my record store. That was really successful and he made money. I made money. I was selling 150, 200, 300 records a day. On a weekend, I would sell 1,500. It was totally insane. After that, I closed the Silver Spring store down and opened up a big store on 60th and Capitol Drive.
That was also a very successful store for me. Then the next store, about 1973, '74, I opened up on 27th Street, by Southgate Shopping Center, and then the next store, probably in the mid 1975, '76, I opened up on South 76th Street at Southridge. There were shopping strips right next door to the big mall. And then the next store, '78, I opened up at Northridge.
Then in 1979, I opened up at Westgate Shopping Center in Madison.
And then ultimately you were on North Avenue too, for a while, right? Where Beans & Barley is.
After about 19-let's say-77, even though the Brady scene was important. We actually took over the old Frenchy's (restaurant) store, which became Beans & Barley. And when I opened up that store, they subleased, opened a small little health food store, to help me pay the rent. I had a big store that was a big store, and that was probably '77, '78.
So was that the Brady street store moved to North Avenue?
Yeah. And that was a very symbolic time, because we were half a block from the Oriental Theatre, the Oriental Drug Store, Ma Fischer's restaurant, Hooligan's across the street. That was the hub, the real capital of the East Side, they called it.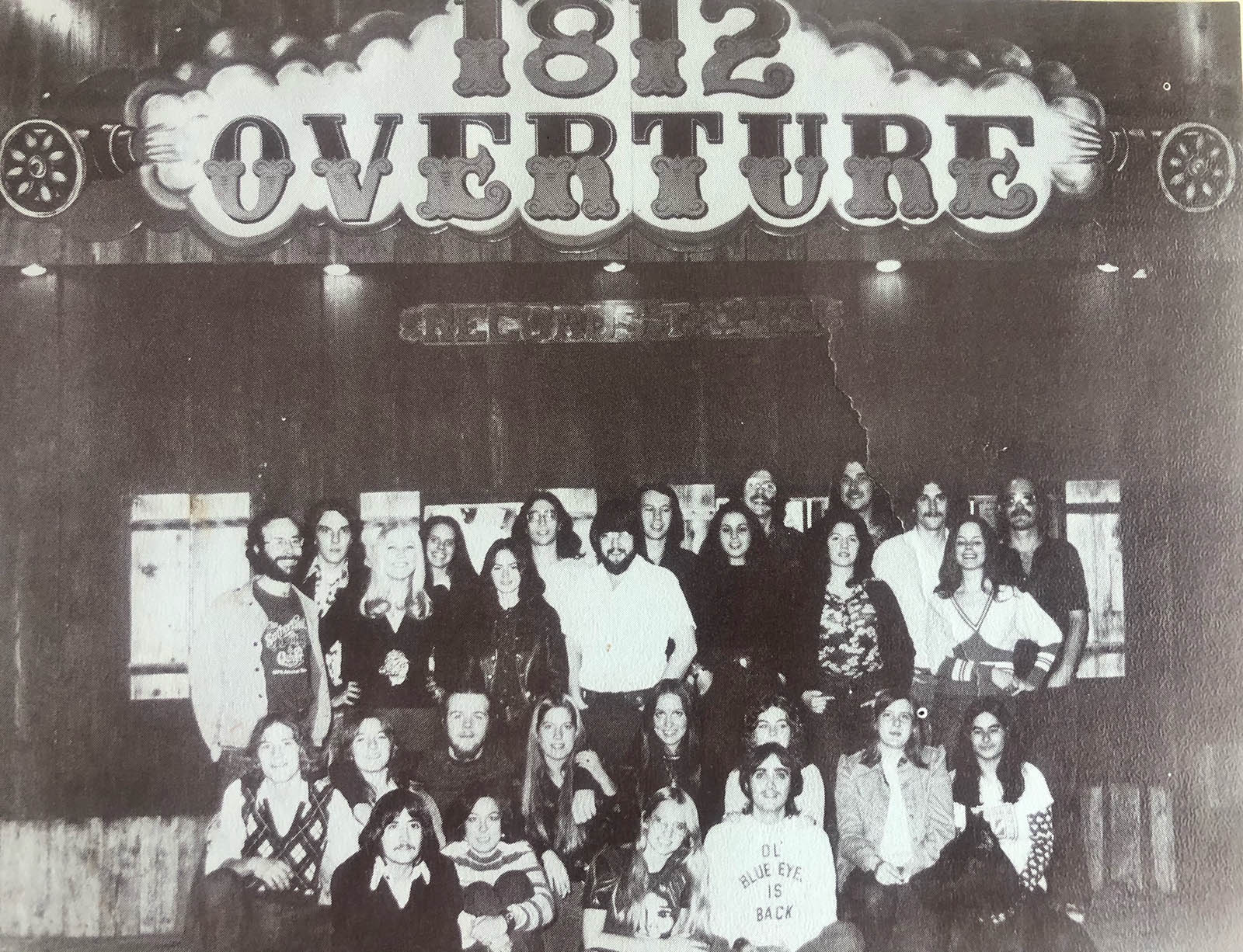 And this sort of gets you back to concerts, doesn't it?
Well, going back with how I got in the concert business is that, Randy McElrath was a DJ on WTOS radio at night, and then he got involved in the advertising. I think he went to the Bugle-American, and he was the sales manager. And he would call on me, when I just had one little store and we would sit and have coffee and talk about music. And he loved music, too.
We talked about everybody always going to Chicago, they would bypass Milwaukee. So we decided to try to do a concert. We first had a company called Rainy Day Productions (later Daydream). I think it was a cancellation of a Fleetwood Mac show with Black Sabbath, Fleetwood Mac canceled somewhere, and Black Sabbath had an open date, and we had two weeks to promote it.
We took the deal, sold out in advance at The Pabst Theater. There's an article that I just read the other day that the loudest concert in the The Pabst Theater's history and it's over 100 years old, was the Black Sabbath show. That was 1971 (March 15).
Randy and myself, we probably did 700, 800 concerts together from 1971 to 1978. We just had different philosophies, and we decided to part ways, and I opened up Landmark Productions, and he did Stardate Productions.
Then, I did an Eagles show in 1978 (Aug. 2). Randy and myself, we did seven outdoor shows prior to that, so I felt pretty confident that I would be successful. I did the Eagles with the Steve Miller Band and Pablo Cruise, I think it was. It was the Eagles with Joe Walsh.
At County Stadium, right?
Yeah, at County Stadium. Irving Azoff was the manager of the group. And he wanted the same money that I paid Pink Floyd and the Rolling Stones. We had 61,000 people, I know it might say different things in the newspaper, but officially we sold 61,000 seats for the Pink Floyd and Rolling Stones shows. But anyway, I guaranteed the Eagles the same amount of money on a sold out show.
But we only did like 39,000 people. So I lost $175,000.
Wow.
So, then I was going to cancel the show and I called up Irving Azoff, the manager, about four, five days before and said, "Irv, I'm going to cancel the show." Because I would've lost a lot less money. I would have lost maybe $40,000, $50,000 instead of $175,000. So he said, "no, don't worry. I'll make it up to you." Once the show was done, he would never even pick up my phone call. He lied to me. He told me he was going to give me Eagles dates in different cities to make up my loss, and he never did. That was the beginning of my demise.
And that affected the record store, right? Because of the money.
It affected the record store, because I took the money. I took a loan with my line of credit with the bank to pay the group off that had lost all this money. That's when the interest rates in 1979 were, 18, 19 percent,and I took a loan of $150,000, $175,000, that amount of money. So I was trying to pay it back.
Another year or two went by, another year and the record industry started to slow down and, MTV and all that stuff started to happen. And so I just couldn't meet the note to the bank on the loss of Landmark (Productions), and so we eventually had to close down.
But then didn't you buy back some of the stores?
We were trying to do a bankruptcy, a reorganization. Today it's common but back then, it was not that common. So all the record companies went along with the deal except for one. So I had to close down 1812, but I made a deal in the bankruptcy to buy three of the record stores back, which were called William Tell Overture.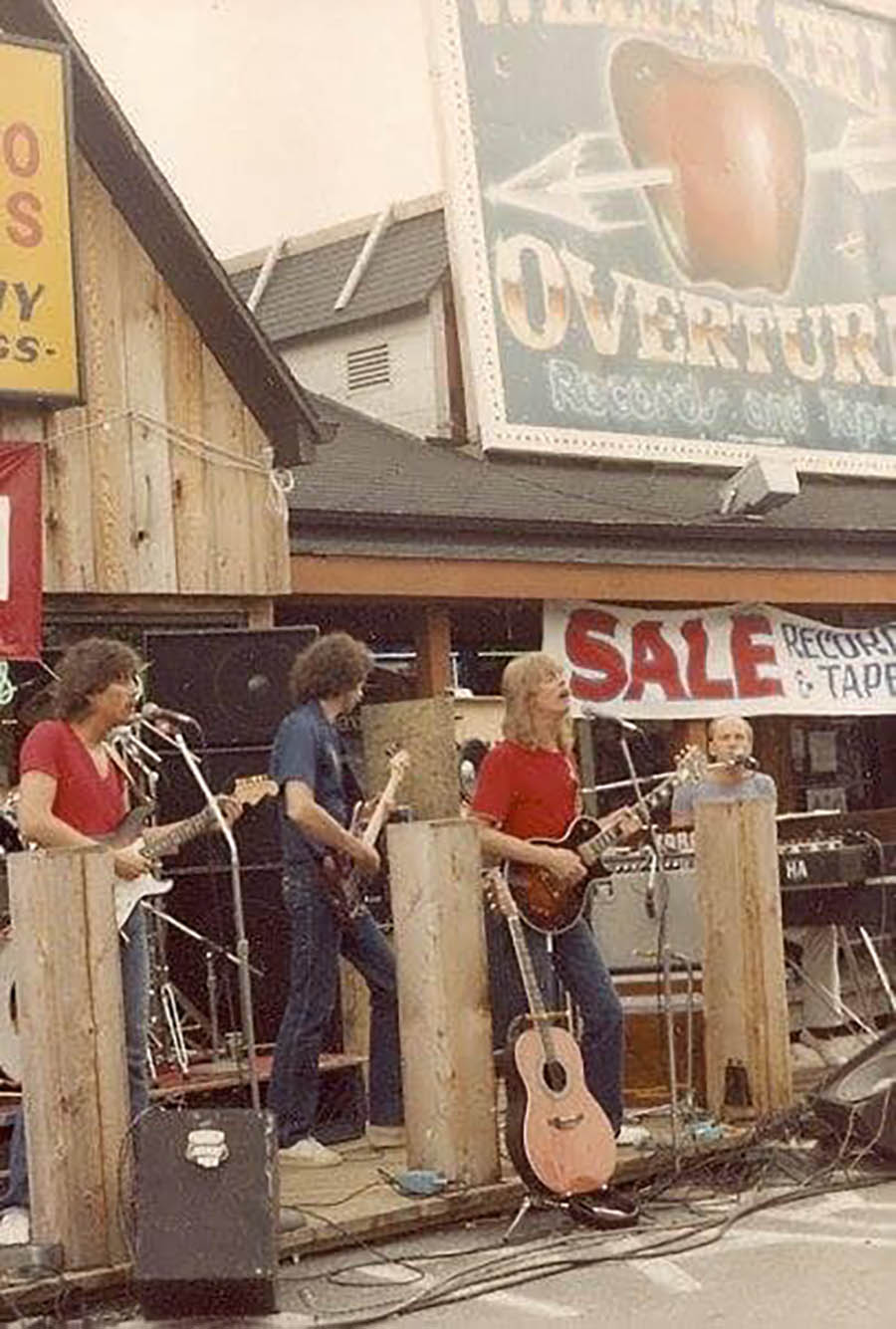 And which stores were those?
That was 60th and Capitol Drive, South 27th Street and the Frenchy's (North Avenue) store. That went on for two years and as it got worse in the record industry and the commitments and the payments I had, it ended up I had to close it down.
I want to go back to concerts just because I want talk about the Springsteen bomb scare show, which you did. Tell me a little bit about the show and what your thoughts were as this was going on.
Well, it's funny, just so you know this, we just interviewed Bob Reitman for the book. He was at the show, and the way it went down is that, the girl at the box office, somebody called in there and said that there's a bomb scare, and so she told the guy that was the manager of the Uptown Theater.
United Artists was the name of the (theater operators), and they had the Riverside Theater, the Oriental and the Uptown. That's why I did a bunch of shows at those three places.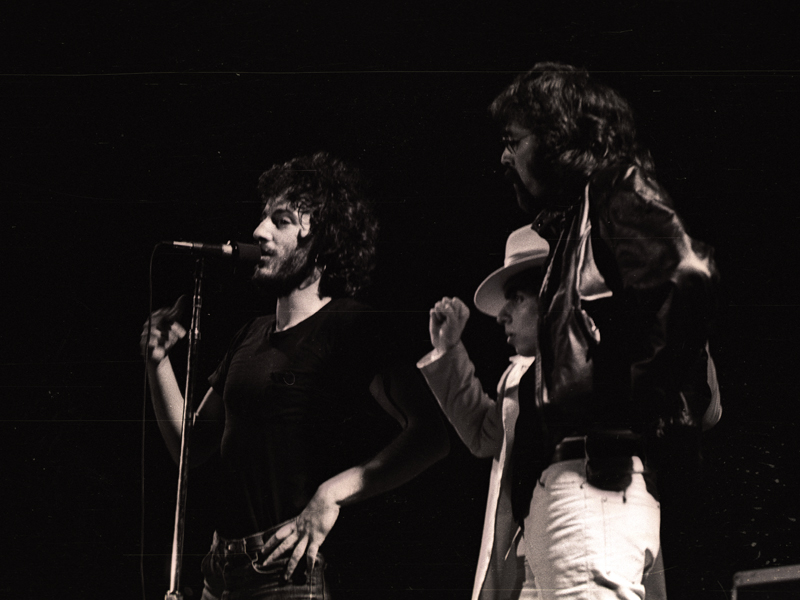 And I told him that there's a bomb scare, so we decided jointly with Randy to call the police department. The police department came in. Bob Reitman, didn't want to really emcee the show. That's his story, because that was one of the groups that he loved passionately himself. And so this guy, Alan Reed, we had a medical group of volunteer doctors and nurses that would do every show in case somebody OD'd or got sick from drugs or whatever.
So he was backstage with us. Bob Reitman's sitting right in the middle of the best seats in the house, because he was a Bruce Springsteen freak. And he heard about it. He wanted to see him so bad. He had a passion for that. Alan Reed said, "come over here."
Bob said, this is according to the interview on Sunday, he says, "No, I'm staying for the show. I'm not going on stage. I'm not doing any anything." So Alan Reed said, "there's an emergency." So Alan Reed got Bob backstage. I told Bob, I said, "Bob, there's a bomb scare. You're going to have to quietly, convince everybody to leave," which he did. And he said, come back at midnight and the show will go on.
So sure enough, everybody that was at that show, came back. I don't think there was anybody that didn't come back and there's probably more people that showed up because they were standing up dancing in the aisles and everything. And so that's what happened.
Springsteen and the band went back to the Pfister very famously, right?
Bruce Springsteen was a baby act, they called it, that was an upcoming group. To the talent agencies in New York and L.A., we were really called the resident promoters of Milwaukee and Wisconsin. And so they would say, "Al, we got a new group, in this particular case, it's Bruce Springsteen. He's going to be very hot. It's going to be very big, but we need you to take the chance and do the concert." And we did it at the Uptown Theatre. I think we paid like $3,000; we didn't pay him too much.
And what were you thinking while it was going on? We're you like, how the hell did I end up in this situation? When there's police combing through the theater and all this.
At the time that we did Bruce Springsteen, we probably had two, three years under our belt. No, I did not freak out, Randy didn't freak out. But just as an ounce of precaution, that God forbid, if there was like 5 percent chance that there was a bomb, you don't want to have that for the rest of your life, that people got hurt or killed. So we just were calm and cool about it. I stayed in the theater with the police department and the bomb squad, and I helped them search the aisles and everything, and they called it off. They called it a scare, a prank. And it just went on.
But Bob Reitman, three, four, five years ago, happened to be walking down the street somewhere in New York. And he happened to bump into Bruce Springsteen's entourage, walking down somewhere where a lot of the singers back then hung out.
And Bob Reitman from the show, knew Bruce Springsteen, but didn't see him in a long time. Bob's walking one way, Bruce Springsteen, walking with 20 people the other way, Bruce Springsteen looks back and says, "you're the DJ from the bomb scare in Milwaukee," so Bruce Springsteen to this day remembers that happening and so does Bob Reitman. Bob Reitman's an icon of radio for that time period. And he said that was the best concert that he's ever gone to in his life.
Well, it's funny because even now you can just post on a Bruce Springsteen page on Facebook, "are you loose?" And everybody knows that you're talking about the bomb scare show.
Yeah, it was an experience that helped give us a little bit more validity about being THE concert promoters of Milwaukee, that there was a bomb scare and Daydream Productions was the producer, and they had to cancel the show temporarily and it went back on, it was a smashing success, one of the best concerts that Bruce Springsteen ... That was a good accolade for us as promoters.
When the bomb scare happened, Columbia Records, with 1812 Overture and Radio Doctors because I was the promoter, I was more close to Bruce Springsteen with the record sales. And they were going to have a party, a cocktail party at The Pfister Hotel for Bruce Springsteen and his group. So, that was pre-planned already.
But since the bomb scare happened, they went to The Pfister Hotel and had the cocktail party with Columbia Records and then came back and did the show. Bob was telling me that Bruce Springsteen did not drink at that time, since then I heard he had some problems, but at that time he didn't drink. But I think that night, he and the group might have had a couple drinks. (Laughs)
Yeah, if you hear the tape of the show, it sounds like it, for sure. So tell me about the book.
Right now it's about 400 pages with the pictures. It's basically the story of how things started in Milwaukee. The seed to this whole thing is that the little teeny 1812 Overture record store, which is a 900-square-foot, little ex-Coney Island hot dog stand, that Alan Dulberger started in March of 1970, if it wasn't for that, maybe it would have happened anyway, maybe later, but Randy McElrath would've never been my partner.
There would have never been the Black Sabbath concert. There wouldn't have been Pink Floyd, at least for 8 or 10 years until after that, there wouldn't have been all these 800 concerts. There wouldn't have been Bob Babsich. Bob Babsich actually was a UWM student in theater, and I gave him a part-time job at 1812 overture. So maybe Bob Babsich wouldn't have happened?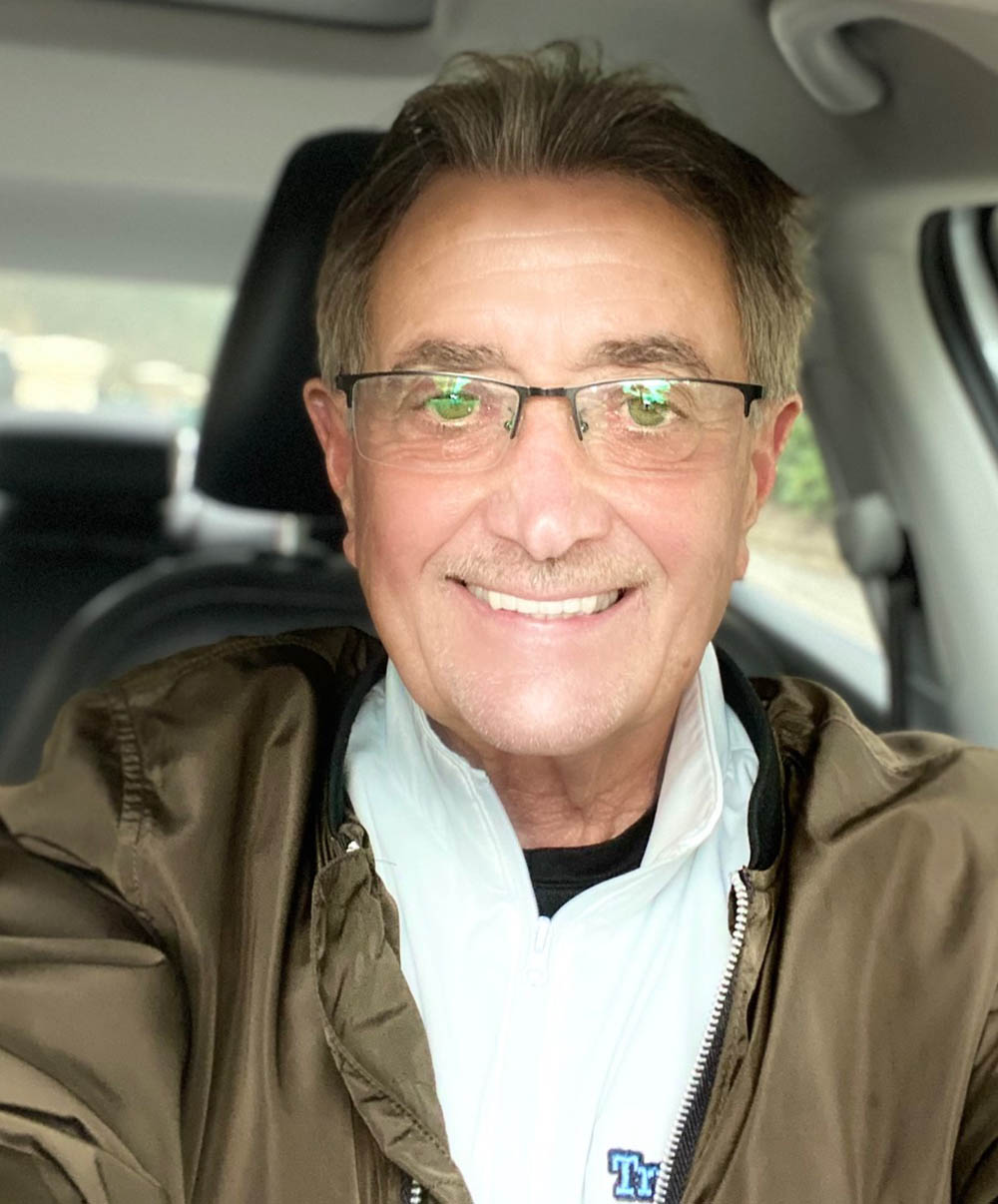 And then he became involved in the concerts too then, right? Was he production manager or stage manager?
He was my production manager at Daydream. And then he went on to work for Louis Friedman doing the Broadway Performing Arts Center. And then he did that for a while. And then he became the music director for Summerfest. He still is today, 70 years old.
But besides that, there's a lot of people that – because of this little teeny store that opened – influenced people's lives, a lot of things happened in Milwaukee that wouldn't have happened for a long time.
So, that's the basics of the story, and (also) what happened backstage at the concerts, how the record stores, the 1812 Overture developed, how because of 1812 developed, Mainstream Records developed, how the other record stores were coat-tail effects of the 1812 deal.
Same with the concerts, from doing three concerts a year in Milwaukee, we were doing three a week. We would do 200 concerts a year in Milwaukee.
When will the book be out.
We hope in about a month.
Thanks for taking the time to talk, Al.
Thank you.
Born in Brooklyn, N.Y., where he lived until he was 17, Bobby received his BA-Mass Communications from UWM in 1989 and has lived in Walker's Point, Bay View, Enderis Park, South Milwaukee and on the East Side.
He has published three non-fiction books in Italy – including one about an event in Milwaukee history, which was published in the U.S. in autumn 2010. Four more books, all about Milwaukee, have been published by The History Press.
With his most recent band, The Yell Leaders, Bobby released four LPs and had a songs featured in episodes of TV's "Party of Five" and "Dawson's Creek," and films in Japan, South America and the U.S. The Yell Leaders were named the best unsigned band in their region by VH-1 as part of its Rock Across America 1998 Tour. Most recently, the band contributed tracks to a UK vinyl/CD tribute to the Redskins and collaborated on a track with Italian novelist Enrico Remmert.
He's produced three installments of the "OMCD" series of local music compilations for OnMilwaukee.com and in 2007 produced a CD of Italian music and poetry.
In 2005, he was awarded the City of Asti's (Italy) Journalism Prize for his work focusing on that area. He has also won awards from the Milwaukee Press Club.
He can be heard weekly on 88Nine Radio Milwaukee talking about his "Urban Spelunking" series of stories.