If you've ever peeked inside the brewhouse at MobCraft, which typically is alive with activity, or looked at the seemingless endless parade of inventive brews being made there, you'd never guess that owner/founder Henry Schwartz would be seeking to add more.
But in 2020 Schwartz inked alternating proprietorship deals with two breweries – Rookery Brewing and Radix Fermentation – who will share the space, making it more productive than ever.
Government regulators define the term as, "an arrangement in which two or more people take turns using the physical premises of a brewery.
"Generally, the proprietor of an existing brewery, the 'host brewery,' agrees to rent space and equipment to a new 'tenant brewer.' Alternating brewery proprietorships allow existing breweries to use excess capacity and give new entrants to the beer business an opportunity to begin on a small scale, without investing in premises and equipment."
In this case, MobCraft is the host and, while excess capacity isn't something Schwartz is concerned about, creating opportunities definitely is.
"Our tanks are always full with our beer," he says. "It's how we started, so we're paying it forward. House of Brews (in Madison) let us launch out of their space, Brenner let us crash at his facility for six months before we opened our current location.
"So I guess it's just something that breweries do to help out other breweries. And since we got our start that way it feels right."
Radix and Rookery will each have their own brewing equipment – Rookery allows MobCraft to brew small batches on its system – and will keg and bottle on its own and/or make use of MobCraft's canning line.
Rookery Brewing Company
Rookery is owned by Kiel McGuinness – who started brewing about eight years ago and did an internship at 1840 Brewing and completed the Barley to Barrel program – and his wife Ashley.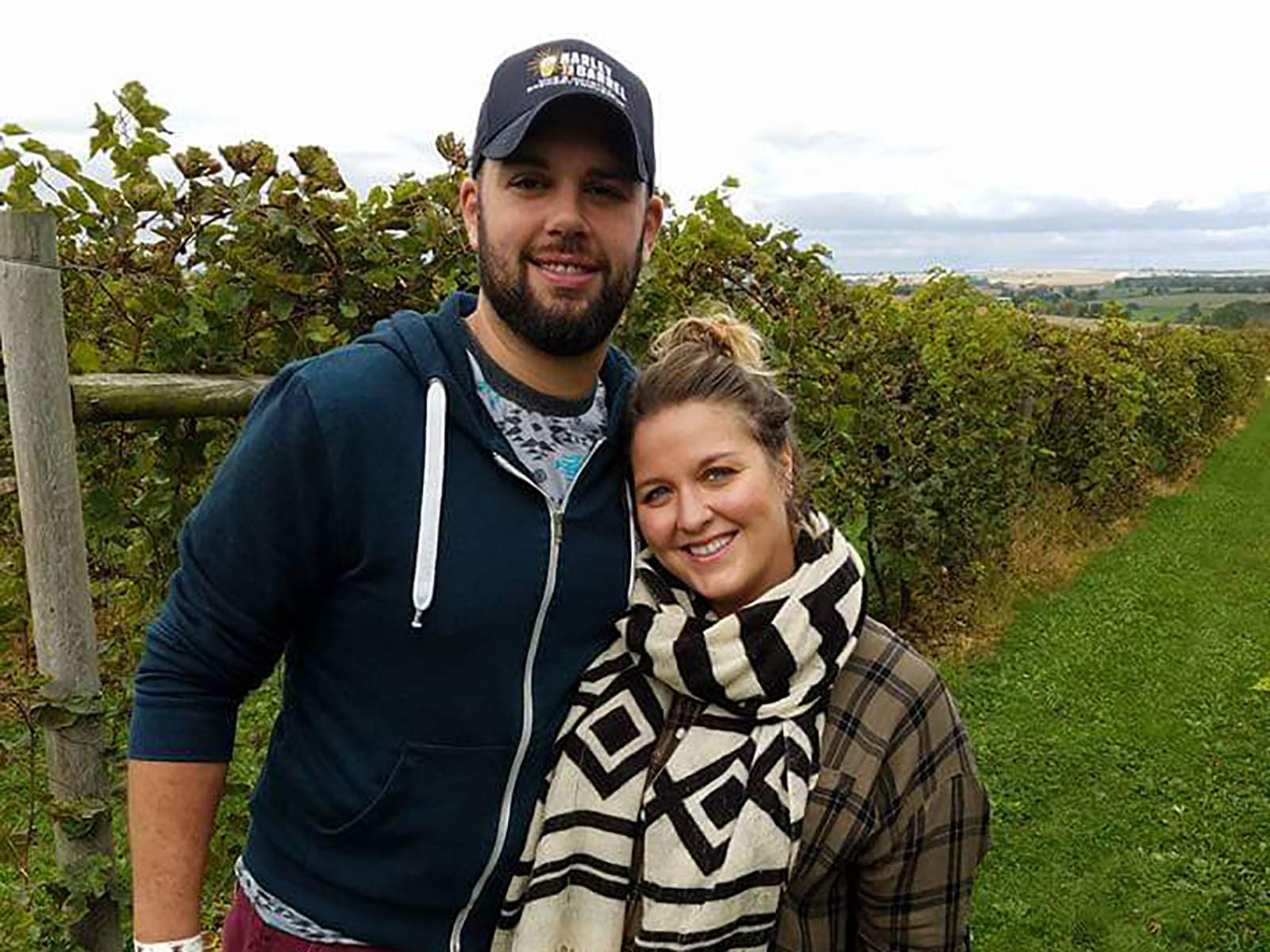 "My background is in art and I was doing a lot of galleries and shows around Milwaukee and the surrounding area," says McGuinness. "It came to a point were I wanted to create something for a full-time living so I took up brewing. The art was selling well, but it wasnt enough.
"I loved beer and the beer community so I started to brew farmhouse ales. I loved beers that were mix culture and realized at the time there wasnt a ton of farmhouse breweries in Wisconsin. This is when I started planning my brewery."
Like Schwartz's MobCraft, McGuinness sees the co-location as a way to get the brewery off the ground. Ultimately, they want to have their own place and have been scouting locations in the Oak Creek and Muskego areas.
"Our overall goal (is) of one day having a 'real' farmhouse brewery outside the city limits where we can produce a lot of our own ingredients we can add to our beers. Everything from hops to fruit to herbs.
"Right now we use our backyard as our Micro-Orchard where we have 10 fruit trees, many fruit bushes, and five types of hops growing. We are hoping within three-to-five years we can have the farm up and running with a taproom."
McGuinness says the plan is to brew a wide variety of beers, including IPAs, stouts and Belgians, but will focus on the farmhouse brews.
"A lot of them will be barrel aged," says McGuinness. "Beers like saisons, Biere de Gardes, Grisettes. We will have monthly releases at Mobcraft, but also releases with some of our friends at New Barons Brewing Co-Op and Draft and Vessel Tosa in the near future."
At the moment, while installing a new, larger brew system Rookery does a month release in the MobCraft taproom, as well as packaging some beer for retail at Ray's Wine & Spirits and Draft & Vessel in Wauwatosa.
One recent release was a double dry-hopped farmhouse ale called Migration, that used African Queen hops. It sold out at both retail stores in a few days, says McGuinness.
McGuinness says a mutual friend introduced him to Schwartz, leading to the arrangement.
"I met MobCraft through a friend of mine I meet while attending Barley to Barrel, Peter Schroeder," he recalls. "We were going to work as a partnership but he got the head brewing job at One Barrel (in Madison) and I continued to talk with MobCraft.
"I think eventually we will be able to piggy back off of MobCraft on economies (of scale, in purchasing inputs) but we're so small right now as a start up it's not yet there."
Radix Fermentation
Radix is owned by Adam and Kayla Thomas, who were always interested in opening a brewery, but were finally pushed to do so after a vacation.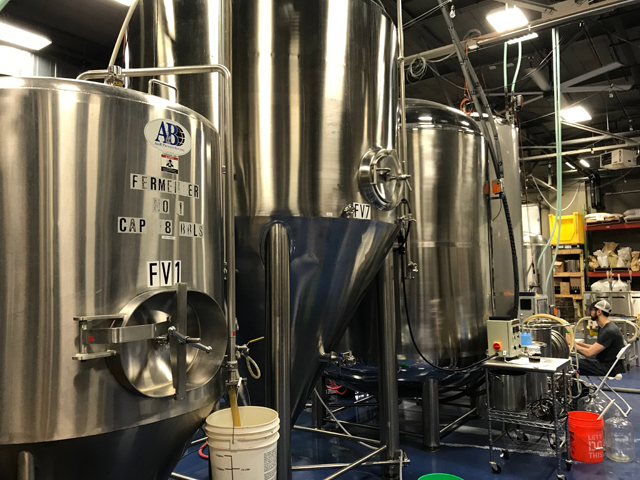 "Our vision became clear on a trip to Belgium that really opened our eyes to Belgian-style beer," says Adam Thomas. "The quality, simplicity and amazing flavors."
Though they were living in Reno, Nevada, they decided to work toward realizing their brewery dream and back home in Wisconsin, where their roots lie.
Hence the name Radix, which means root in Latin.
The return brought them to MobCraft.
"In 2016, we moved back to Milwaukee to help open MobCraft's new location on 5th Street," Thomas recalls. "During that time, a lot of ideas came and went as to how we would launch Radix. We landed on an alt prop with MobCraft as a great starting point."
Cutting his teeth with Tahoe Mountain Brewing Co. in Truckee, California, where he worked for three and a half years, Thomas actually started brewing at home with MobCraft's Schwartz in Madison even before that, and so did Kayla.
Thomas built a 40-gallon brewhouse using stainless steel maple syrup drums. It also includes a 90-galloon coolship that is used to cool beer overnight in open air.
"We brew at a very small scale which allows us to really focus on the beers we're producing," says Thomas. "So far we have released two beers in both bottles and kegs. We have partnered with our friends at New Barons for our bottle releases and actually have a collaboration in the works with them as well.
"We'll continue to produce small batches of spontaneous ale as we actively look for a place to call our own."
That place just might be in or around Cudahy, Thomas says.
"We plan to alt prop as long as it's feasible – it's a great option for our small brewery to start producing products without the need of large capital investment required to open a brewery – however, we are actively looking for our own spot.
"We live in Cudahy and would like to bolster the craft beer scene in our neighborhood but we are open to just about anything. Just as our beer is inspired by historic styles a nice historic building would be ideal."
Though Radix isn't selling its beer at MobCraft at the moment – "because I work so closely with the MobCraft Wild & Sour Program I didn't want to confuse consumers or take away from MobCraft's wild and sour sales in the taproom," Thomas says – MobCraft did include a Radix beer in a Sour Fest guest back.
In addition to focusing on its own Belgian-style brews, Radix is doing some other styles and is collaborating with other brewers.
"We have also produced a Sahti which is currently out in the market," says Thomas. "We've also just packaged a collaboration beer with New Barons that is a Grisette that was processed through our coolship. We are also working on a collaboration with Indeed Brewing Company.
"We typically brew 100 gallons at a time and we have several releases planned for the year."
Radix sells kegs and bottles at a number of area retailers, including both Draft & Vessel locations, Sugar Maple, Black Sheep MKE, The Fermentorium Barrel House in East Tosa, Ray's Wine & Spirits and Station No. 6.
They are also planning bottle releases at New Barons that may include events that allow the brewers the chance to educate drinkers on the styles and beers.
"It gives us an opportunity to explain our brand and educate people on our process of spontaneous fermentation," says Thomas.
"Right now Kayla and I both work full time for MobCraft and we plan to keep doing that. We have a solid relationship with Henry and (owner/founder) Andrew (Gierczak) and we are grateful that they let us moonlight brew."
Born in Brooklyn, N.Y., where he lived until he was 17, Bobby received his BA-Mass Communications from UWM in 1989 and has lived in Walker's Point, Bay View, Enderis Park, South Milwaukee and on the East Side.
He has published three non-fiction books in Italy – including one about an event in Milwaukee history, which was published in the U.S. in autumn 2010. Four more books, all about Milwaukee, have been published by The History Press.
With his most recent band, The Yell Leaders, Bobby released four LPs and had a songs featured in episodes of TV's "Party of Five" and "Dawson's Creek," and films in Japan, South America and the U.S. The Yell Leaders were named the best unsigned band in their region by VH-1 as part of its Rock Across America 1998 Tour. Most recently, the band contributed tracks to a UK vinyl/CD tribute to the Redskins and collaborated on a track with Italian novelist Enrico Remmert.
He's produced three installments of the "OMCD" series of local music compilations for OnMilwaukee.com and in 2007 produced a CD of Italian music and poetry.
In 2005, he was awarded the City of Asti's (Italy) Journalism Prize for his work focusing on that area. He has also won awards from the Milwaukee Press Club.
He can be heard weekly on 88Nine Radio Milwaukee talking about his "Urban Spelunking" series of stories.