In case the prospect of eating tacos upon tacos from more than a dozen vendors on the lakefront wasn't enough to get you hooting, hollering and out of your seat in excitement, Taco Fest – hosted on Saturday, Sept. 10 at Henry Maier Festival Park – will also serve up some wild live wrestling action with Mondo Lucha.
Hitting the mat at 2 p.m. and 6:45 p.m. during Taco Fest, Mondo Lucha is an unpredictable high-flying combination of live music, burlesque and – of course – wrestling featuring colorful characters with or without the costumes and luchador masks. Created in 2008, the uniquely energetic wrestling showcase has grown into a local fan favorite and cult fascination nationwide, scoring merits like the top spot on Wrestling News World's weird wrestling venues list thanks to its library show in 2017. (Guess the "be quiet in the library" rule was the first thing thrown out of the ring that night.) And each year, Mondo Lucha finds new evolutions and entertainments to its old-school athletic theatrics.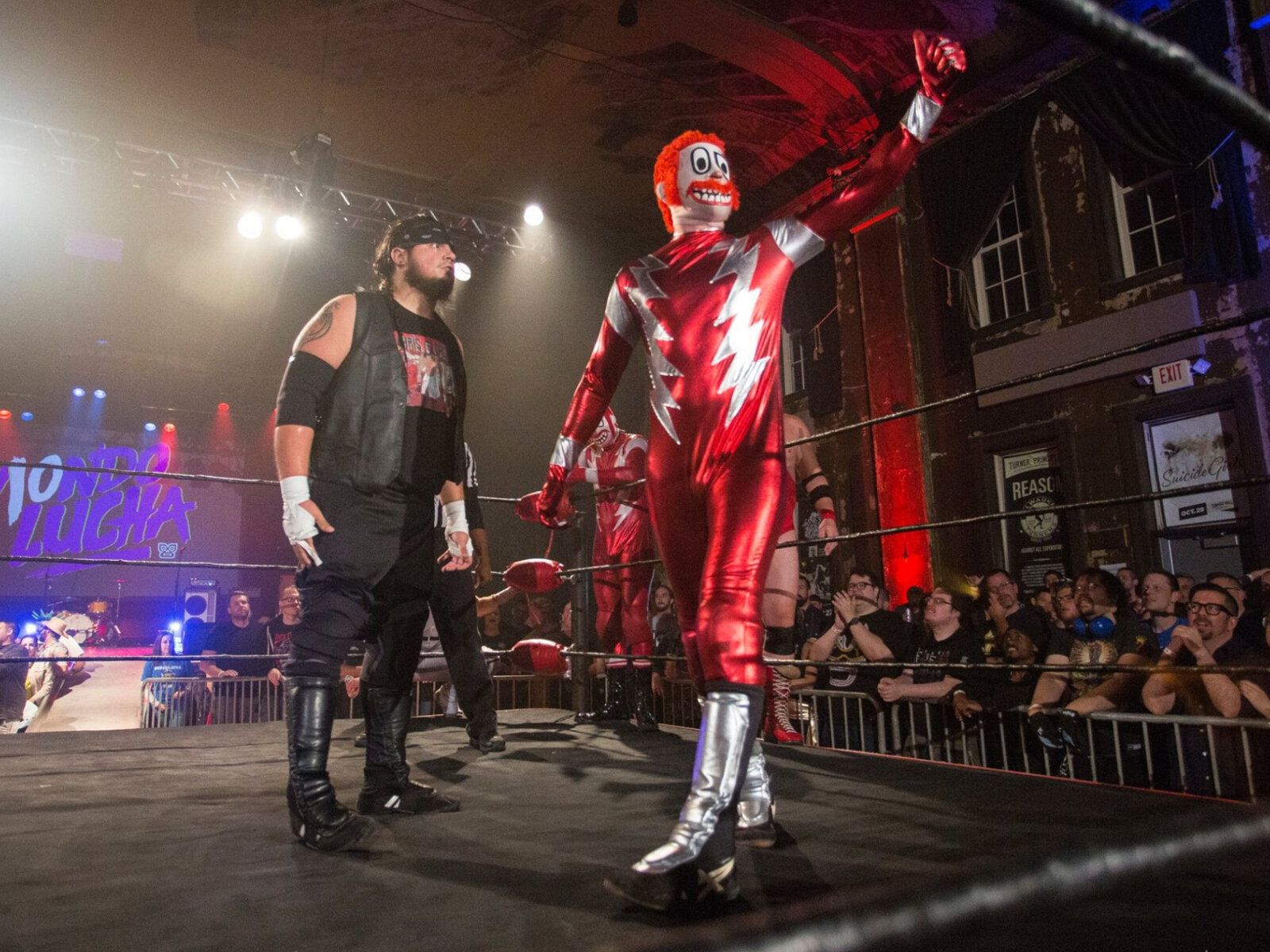 "Mondo Lucha has always been our love letter to Pro Wrestling – one of the true American odd art forms that have crossed any age, era or cultural divide for over 100 years," co-creator Andy Gorzalski told OnMilwaukee. "I think where we are now versus where we were when we started in 2008 here in Milwaukee is an elevation of production value as a show, and developing powerful characters that are Mondo Lucha originals. ... Our motivation and goal are to outdo ourselves every year, whether that is at Turner Hall or Taco Fest, and earn our spot as one of Milwaukee's can't-miss events. No pressure – but that's really where our motor comes from. We love being from Milwaukee, being homegrown and working harder to outdo nationally touring acts or shows."
For regulars and newbies alike, Taco Fest will serve as a unique showcase for Mondo Lucha.
"We don't do many of them, but we love doing the outdoor festival format shows," Gorzalski said. "Our show in general is not an off-the-rails affair, but a show like Taco Fest is excellent family fun and really has something for a crowd that will be aged 8 to 80. I know that sounds like a four quadrant Pixar movie-type answer, but these shows really do have a wide scope – with day-drinking bikers as well as kids walking away happy and with a huge smile on their faces.
"We love being at Taco Fest, and there are always a lot of high jinks, great storytelling and high-flying in the ring all day and night out there. If you've never seen pro wrestling in person, Mondo Lucha at Taco Fest is a great opportunity and huge surprise for many. It's funny how many people who may consider it a question mark – or a 'prove it to me' type thing – lose themselves and fall into cheering the good guys and yelling at the bad guys louder than seasoned vets and fans of wrestling. Making new converts is one of the most gratifying results that come out of doing this show."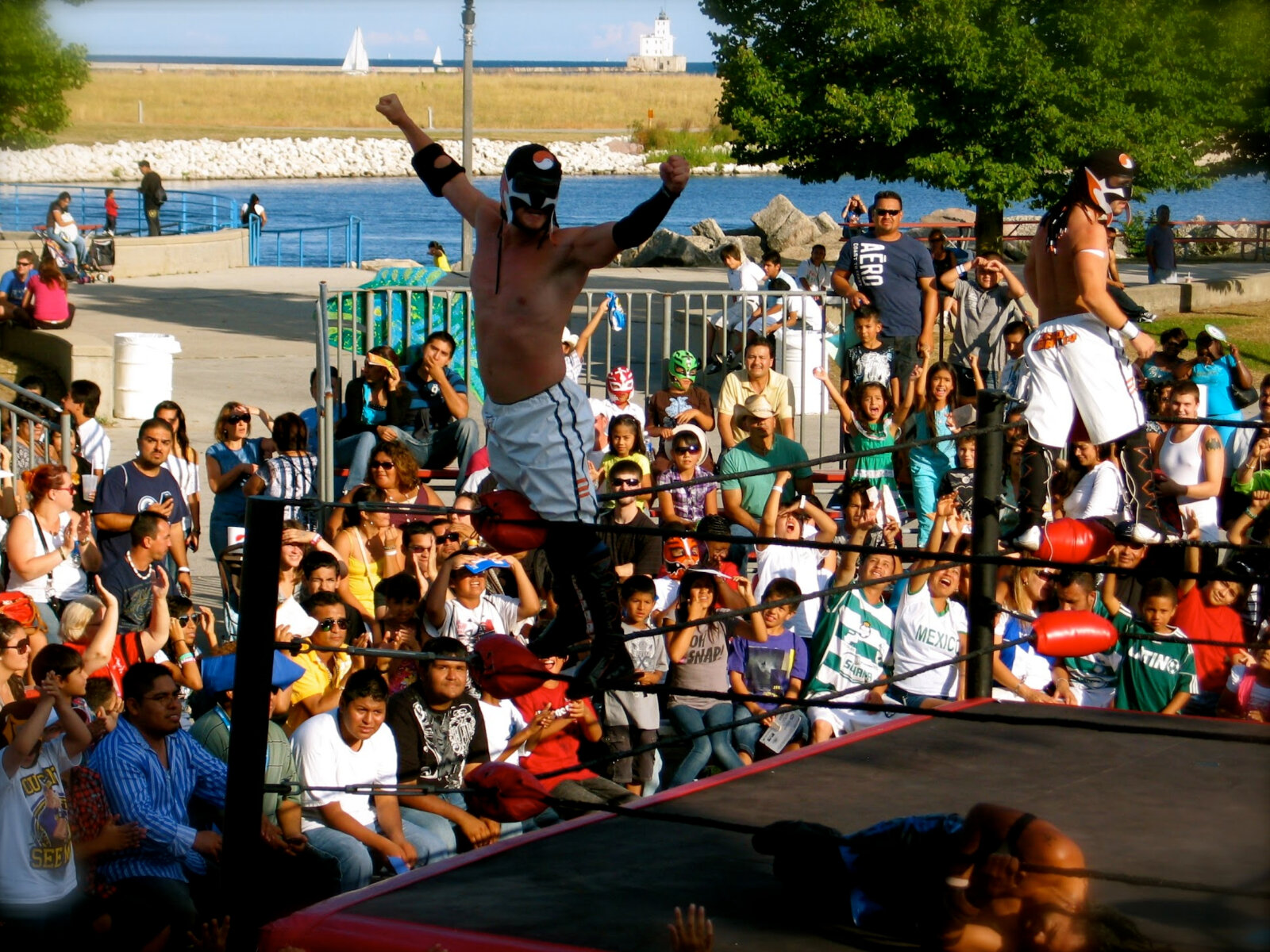 Mondo Lucha will serve as one of the many outstanding sides to the event's main course: tacos. So many tacos. Vendors such as Romero's Taco Truck, Ochoa's Mexican Grill, Taqueria Orenda, Taco Barrio and many more will set up shop at Henry Maier Festival Park, cooking up outstanding eats throughout the day's two sessions along with desserts and drinks from other participating food trucks and restaurants. For more information about Taco Fest's vendor lineup, as well as other special elements planned such as a chihuahua beauty pageant and yard games from Bars & Recreation, check out Milwaukee Taco Fest's website.
There, you can also find tickets for Taco Fest, currently on sale. General admission tickets for one of the day's two sessions (lunch runs from noon to 3 p.m., dinner goes from 5-8 p.m.) cost $25 and includes four taco tickets, while $50 VIP passes score attendees 10 taco tickets, a drink ticket and a bonus hour of taco tasting. For more information – and to buy tickets before they're gone – click here.
Look forward to seeing you all there – it should be a knockout, both in and out of the ring!
As much as it is a gigantic cliché to say that one has always had a passion for film, Matt Mueller has always had a passion for film. Whether it was bringing in the latest movie reviews for his first grade show-and-tell or writing film reviews for the St. Norbert College Times as a high school student, Matt is way too obsessed with movies for his own good.
When he's not writing about the latest blockbuster or talking much too glowingly about "Piranha 3D," Matt can probably be found watching literally any sport (minus cricket) or working at - get this - a local movie theater. Or watching a movie. Yeah, he's probably watching a movie.