At a time when bars were shuttered, their staffs laid off and their owners fretting over their futures, one local tavern made an investment in its future.
James Moran, who owns Moran's Pub, 912 Milwaukee Ave., an Irish- and soccer-themed bar in downtown South Milwaukee, renovated his place in late April and May.
"Shortly after bars and restaurants were closed for on-premise business, James began ripping out the walls to the studs and cream city brick," says South Milwaukee Mayor Erik Brooks.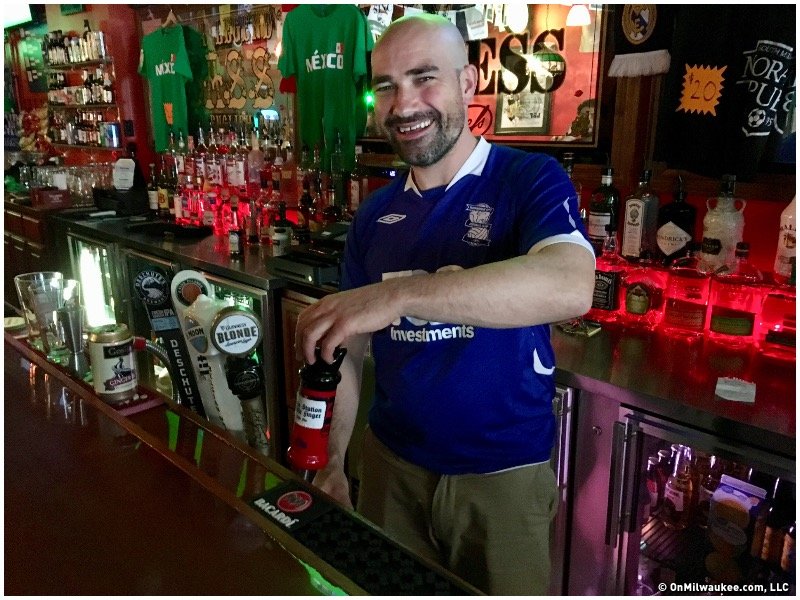 (PHOTO: Jimmy Carton)
"In addition to exposing the brick, he added new floors, new roof in the back room, new electrical, exterior brick restoration, new interior colors, new lights and new fans. The bar has been sanded, stained and varnished to resemble the building's look from the 1920s. Upcoming projects include facade improvements, the addition of a mural inside the building and launching a new website."
Moran says, "two days after shutting down, my brother-in-law decided we should remove one of the mirrors from the wall to see if we could break through the drywall to find out the condition of the brick that had been hidden."
And so it began.
The shutdown actually allowed the project to move forward, says Moran, who had been talking to contractors about scheduling some of the work before.
"The difficulty was finding a time when they could work around their (other) jobs and when I could afford to close," he says. "Unfortunately, due to the Covid-19, I had to close my doors on St. Patrick's Day, and just a week later all of the tradesmen I was talking to were temporarily unemployed and now had the time to help me out at the pub."
Now, says Moran, the pub will get back the large front windows out onto the sidewalk, the tin ceiling has been repaired and local artist Lauren Marvell will decorate the interior with quotes in Gaelic and English.
Moran's English father and American stepmother, who met in the Middle East, moved to Wisconsin in the 1980s and opened the bar as a traditional Irish pub in 1995. When they were ready to retire in 2012, they sold the place.
But the buyer pulled out at the 11th hour, and a few years later, James – who had worked at Moran's part-time while he attended MSOE – stepped in and took over.
Moran – who is from Birmingham, England, and grew up spending summers with family in Ireland – also launched the Milwaukee Soccer Development Group to, in the words of my former colleague Jimmy Carlton, "grow the game for underprivileged children and expand public spaces to play in his adopted city."
After a few years struggling to find his feet in the bar business, Moran introduced soccer and now the pub is one of the area's most rabid footie pubs.
The Moran's building was erected in 1907 for J.R. Grunder's real estate company, which kept offices in the Alhambra Theater building on 4th and Wisconsin in Downtown Milwaukee. Grunder was also active in South Milwaukee, which had been incorporated as a village in 1892.
While it was common for a developer to add his name and the construction date to the facade of a property, it wasn't as common to have that information etched above a window, as it is in this case.
Around the time the building was put up on the village's growing main street, Grunder was active in the South Milwaukee Advancement Association.
Among the earliest tenants of the retail space – which has an apartment on the second floor – was Hagendorff's bakery, confectionery, ice cream parlor and lunch room, around 1911-12.
By the early 1920s, it was home to the Yahnian & Hacherian Grand Pool Hall, on a block that had a number of billiards rooms and (before and after the Prohibition era) saloons.
Henry and Ruth Kies were running the pool parlor by 1925 and by 1929 had transformed it into a restaurant. When Prohibition ended in 1933, the Kies – who lived upstairs with their son Nicholas – began serving alcohol and, by 1939, the Kies ran the tavern while Grady's Cafe served food.
In 1942, Peter J. Matthews and his wife Stella had arrived upstairs with their three sons Warren, James and Robert. Peter ran the Bee Hive Tavern downstairs.
This arrangement endured for 27 years, until the death of the elder Matthews in 1969. It appears that after unsuccessfully trying to sell the place from 1960 to '64, Matthews had leased the bar to Sweet & Mert's – which advertised for go-go dancers in 1967 – for a few years.
Two photos of the Matthews family at the tavern. (PHOTOS: Courtesy of Robert Matthews)
The Matthews connection is an interesting one for Moran, who is of Irish heritage and whose pub reflects those roots.
Matthews was born in Ireland's County Armagh, where he attended high school before arriving in South Milwaukee in 1916. Matthews served in World War I and remained in the Army for a few years afterward, too, before returning to South Milwaukee, where he became active in the community.
He'd been a member of VFW, the yacht club, St. John's Catholic Church and Holy Name Society, and ran for alderman in the 1950s.
"I had no idea there was an Irish connection to the pub," says Moran.
After Matthews' death, Cudahy native Donald Gelinskey ran the Bee Hive for a time before leaving to take over the East Shore Resort on Little Green Lake in Markesan.
The space became home to the Country Inn tavern and, by 1980, Ed and Dean's Tavern.
Now, the Moran name has been on it almost as long as the Matthews were associated with the bar and, because the renovation and restoration celebrates the history of the place, it's only right that it should celebrate the Moran family, too.
"A new addition to the pub will be photos of my family," says Moran. "One includes my great-grandfather outside a military hospital during World War I after he was shot in the arm. There are also photos of him in a soccer uniform, and also of my grandad, born in Belfast, when he fought for the British army during World War II.
"These family photos will be a big focal point in the pub. I am currently working on collecting a lot more photos from my family in both Ireland and England."
The embrace of history while readying the pub for the future offers a nice glimmer of hope in a dark hour, notes Mayor Brooks.
"I am happy to see this new investment in our downtown," he tells me. "I know so many businesses are struggling right now, especially bars, and most are just trying to hang on through the pandemic.
"While I know many aren't in a position to do it, I'm glad to see James is putting money into his business now. It will make him that much stronger when he reopens, and that's good for our downtown, and our city."
Moran says he is concerned about the future of the pub.
"I am concerned about the restrictions that will be placed upon bars and restaurants and how difficult it will be to pay the bills with everything going on," he told me in early May.
"It will certainly take time and the pub will have to adapt once we reopen with the offerings of growlers, to-go cocktails and food from the small kitchen we will be opening this summer that will focus on sandwiches, soups and appetizers."
But, still, Moran – who has now reopened the bar – has faith in his community and his relationship with it.
"I am not a gambling man but I have certainly rolled the dice with this decision to move ahead at this moment in time," he says.
"I believe it's down to the brilliant support that the pub has received from the local community here in South Milwaukee, and believing in the direction that the city is heading toward, that makes it less of a risk, and that's why I want to invest in this community."
Born in Brooklyn, N.Y., where he lived until he was 17, Bobby received his BA-Mass Communications from UWM in 1989 and has lived in Walker's Point, Bay View, Enderis Park, South Milwaukee and on the East Side.
He has published three non-fiction books in Italy – including one about an event in Milwaukee history, which was published in the U.S. in autumn 2010. Four more books, all about Milwaukee, have been published by The History Press.
With his most recent band, The Yell Leaders, Bobby released four LPs and had a songs featured in episodes of TV's "Party of Five" and "Dawson's Creek," and films in Japan, South America and the U.S. The Yell Leaders were named the best unsigned band in their region by VH-1 as part of its Rock Across America 1998 Tour. Most recently, the band contributed tracks to a UK vinyl/CD tribute to the Redskins and collaborated on a track with Italian novelist Enrico Remmert.
He's produced three installments of the "OMCD" series of local music compilations for OnMilwaukee.com and in 2007 produced a CD of Italian music and poetry.
In 2005, he was awarded the City of Asti's (Italy) Journalism Prize for his work focusing on that area. He has also won awards from the Milwaukee Press Club.
He can be heard weekly on 88Nine Radio Milwaukee talking about his "Urban Spelunking" series of stories.