If you ask long-time Milwaukeeans to name a local mural, many will reminisce about the "Whaling Wall," a massive whale painting that adorned the Milwaukee County Courthouse Annex that was visible from I-43 southbound and demolished in 2006.
But even without the whale wall, Milwaukee remains a mural-iffic city featuring murals of all sizes in many different parts of the city. Some do a better job incorporating the architectural elements of the given space than others, but all of them are colorful and conspicuous.
Here are 17 Milwaukee murals.
1. "The Hummingbirds"

Located on the corner of 22nd Street and National Avenue, "The Hummingbirds" features a woman, a heart and, of course, hummingbirds. It was painted by Ramiro Sandoval Arguta who owns Rebel Ink, 3313 W. National Ave.
2. "Guitar"

This mammoth painting is located on the north side of G-Daddy's BBC, 2022 E. North Ave.
3. "Black Cowboys and Soldiers"
This mural, painted in 1993 by George Gist, is on the Steel Professional Welding building, 2000 N. 31st St. It honors African Americans' contributions to the United States' West and the fabled Buffalo Soldiers.
4. "Milwaukee Monster"
This mural was painted in 2011 by Alex and Chris Couto – aka "The Couto Brothers" – and was inspired by masks from many different cultures. It's located at the intersection of 1st Street and Pittsburgh Avenue.
5. "Orange Octopus"


Painted in 2012 by Fred Franczak, this guy's located at 2006 N. Farwell Ave. What's the difference between a squid and an octopus?
6. "Peacemakers"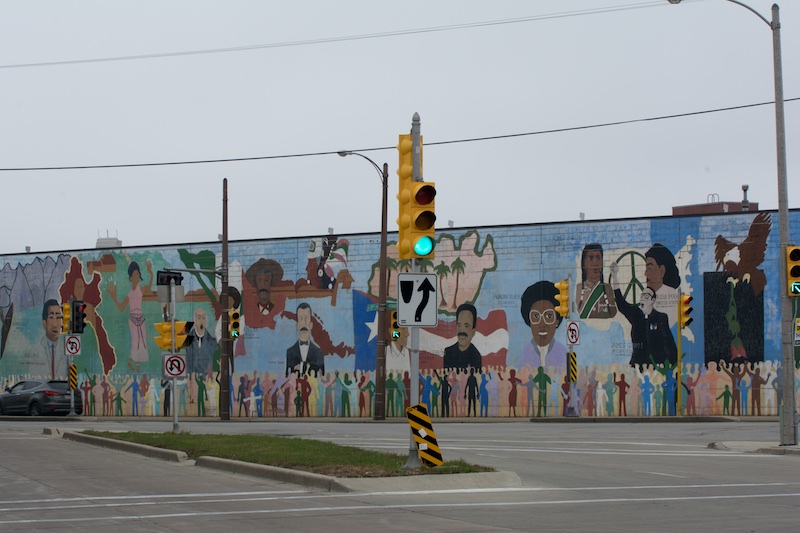 Located at the intersection of Mitchell Street, Kinnickinnic Avenue and First Street, this mural features the peacemakers Nelson Mandela, Shaka Zulu, Vang Pao (Hmong refugee community leader), Buddha, a Laotian dancer, Miguel Hidalgo, Adelita (Mexican revolutionary symbol), Jose Marti, Lolita Lebron, Pedroa Campos, Chief Joseph, Rosa Parks, Aurora Weier, Father James Groppi and more.
7. "Smiley Face"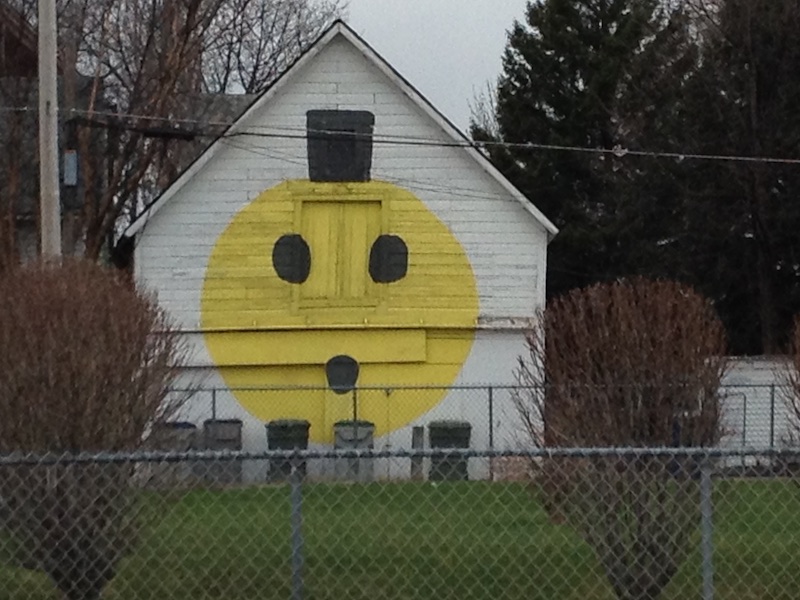 This mural is painted on a garage, facing Holton Street, in Riverwest / Harambee.
8. "Mural Of Peace"
This high-profile mural, painted by Renaldo Hernandez in 1993, is on the South Side of the Esperanza Unida International building, 611 W. National Ave.
9. "Jiminy Cricket"
Little is known about the origin of this mural, located on the West Side of a building on National Avenue and 7th Street (ish).
10. "Lincoln Center of the Arts"
This mural depicts children involved in artistic endeavors and covers the windows on the entire North Side of the Lincoln Center of the Arts, a Milwaukee public middle school located at 820 E. Knapp St.
11. "Bodhi Tree"
This garage door mural, painted by Jessica Laub, was part of the 2010 Art in the Alleys project that resulted in the adornment of a dozen or more Riverwest garages.
12. "Blending of Cultures"
This mural is painted on the Bruce Guadalupe Community School, 1028 S. 9th St. It was painted by Roberto Cisneros and Reynaldo Hernadez.
13. "Phoenix Rising"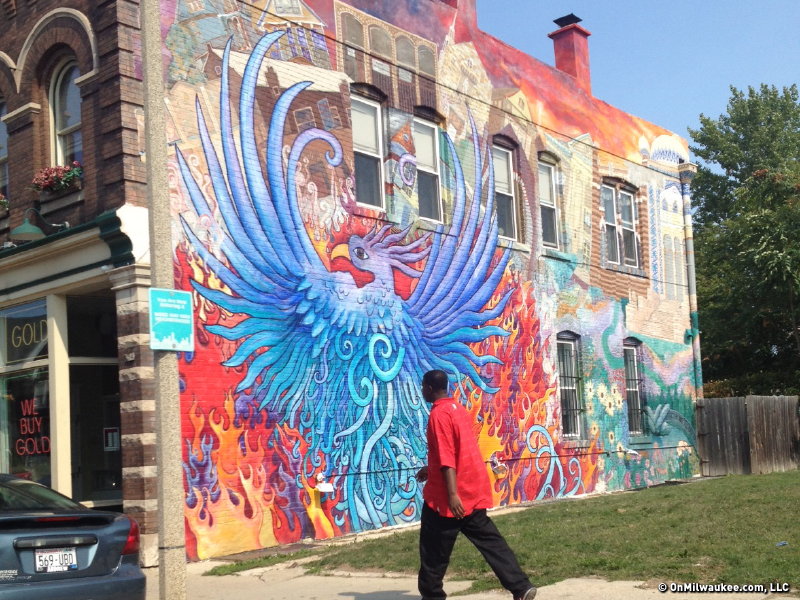 Painted in 1996 by artists Kate Madigan, Faythe Levine, Mary Aimes, Vicki Just, Isabella Gargiulo and her son, Josh. The building is located at 954-956 N. 27th St. in the SOHI neighborhood.
14. "Aztec Calendar"
Aztec Calendar was painted in 2010 by Ben Stark, Fred Kaems and Natalio Lopez III on a building, 3420 W. Vliet St. It is 20 feet in size and represents Mexican culture as well as a reminder of the city's segregation problem.
15. "Hope"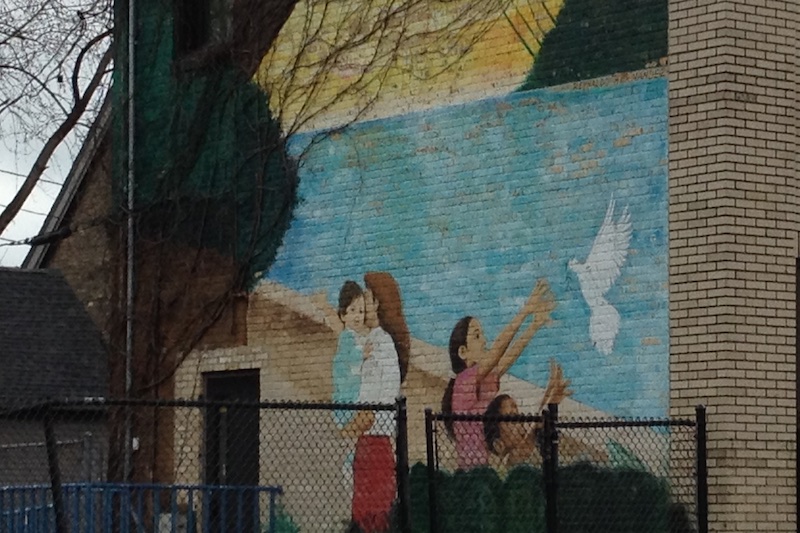 This mural is in a private park on Center and Holton Streets. Are the kids catching or releasing the white bird?
16. "Choose A Positive Thought"
This mural was painted in 2013 on the Mercantile Building in the Historic Third Ward, 220 E. Buffalo St. Ken Hanson, his team at Hanson Dodge Creative and the folks at Lululemon, a primary tenant in the building, conceptualized and created the message. Fred Zabel painted the mural.
17. "The Grand Theater"
This mural on the east side of the old Grand Theater building looks so much like an office building and the Milwaukee skyline that many passersby do not even realize it's a painting. It was created in 1981 by Richard Haas and depicts the Pabst Building which was demolished when the mural was being painted.
Molly Snyder grew up on Milwaukee's East Side and today, she lives in the Walker's Point neighborhood with her partner and two sons.
As a full time senior writer, editorial manager and self-described experience junkie, Molly has written thousands of articles about Milwaukee (and a few about New Orleans, Detroit, Indianapolis, Boston and various vacation spots in Wisconsin) that range in subject from where to get the best cup of coffee to an in-depth profile on the survivors of the iconic Norman apartment building that burned down in the '90s.
She also once got a colonic just to report on it, but that's enough on that.
Always told she had a "radio voice," Molly found herself as a regular contributor on FM102, 97WMYX and 1130WISN with her childhood radio favorite, Gene Mueller.
Molly's poetry, essays and articles appeared in many publications including USA Today, The Writer, The Sun Magazine and more. She has a collection of poetry, "Topless," and is slowly writing a memoir.
In 2009, Molly won a Milwaukee Press Club Award. She served as the Narrator / writer-in-residence at the Pfister Hotel from 2013-2014. She is also a story slam-winning storyteller who has performed with The Moth, Ex Fabula and Risk!
When she's not writing, interviewing or mom-ing, Molly teaches tarot card classes, gardens, sits in bars drinking Miller products and dreams of being in a punk band again.