Summer is in full swing and so is our need to hit up the hottest patios in the city. There's no time like patio time in summertime - especially when it's Miller Time!
When Natty Oaks Pub & Grill opened six years ago it was important to owner John Roots that guests had plenty of options both indoors and out. Thus, he created extensive food and drink menus as well as an array of seating inside the well-kept building and two outside seating areas.
"It's a busy corner, but one of our patios is set back so people can enjoy a chill atmosphere in the middle of the city," says Roots. "There's very little noise except the periodic Harley Davidson cruising by."
The "Natio," a play on the name Natty Oaks and the word "patio," is a covered area attached to the building with comfortable, new furniture, fire pits and strings of classic patio lights. The second spot is called the "pawtio" and is, aptly, dog friendly.
The pawtio features a large grassy area next to the building with picnic tables, horseshoe and bags games along with a massive chair – made out of oak, of course – for pups and their caregivers to take photos.
"I love dogs but right now my life is too busy to have one myself, so I really enjoy getting to meet all the dogs here," says Roots, who also owns Cleveland Pub & Grill in Pewaukee.
"Natty Oaks" is also a play on words because the pub is on the corner of National and Oklahoma Avenues. "We're really into puns around here, I guess," says Roots.
The name is also derived from a fictitious woman named Natalie "Natty" Oaks who came to Wisconsin from Ireland, fell in love with the Packers and Brewers, and never left.
The food offerings include burgers and sandwiches, wings, Friday Fish Fry, pizza and new-menu-item mac 'n' cheese. Natty Oaks hosts brunch every Saturday and Sunday from 9 a.m. to 1 p.m. with all the classics including omelettes, skillets, pancakes and house specialties like Rumchata French Toast and pretzel-style Rumchata French toast.
"You gotta try it to believe it. It's awesome," says Roots.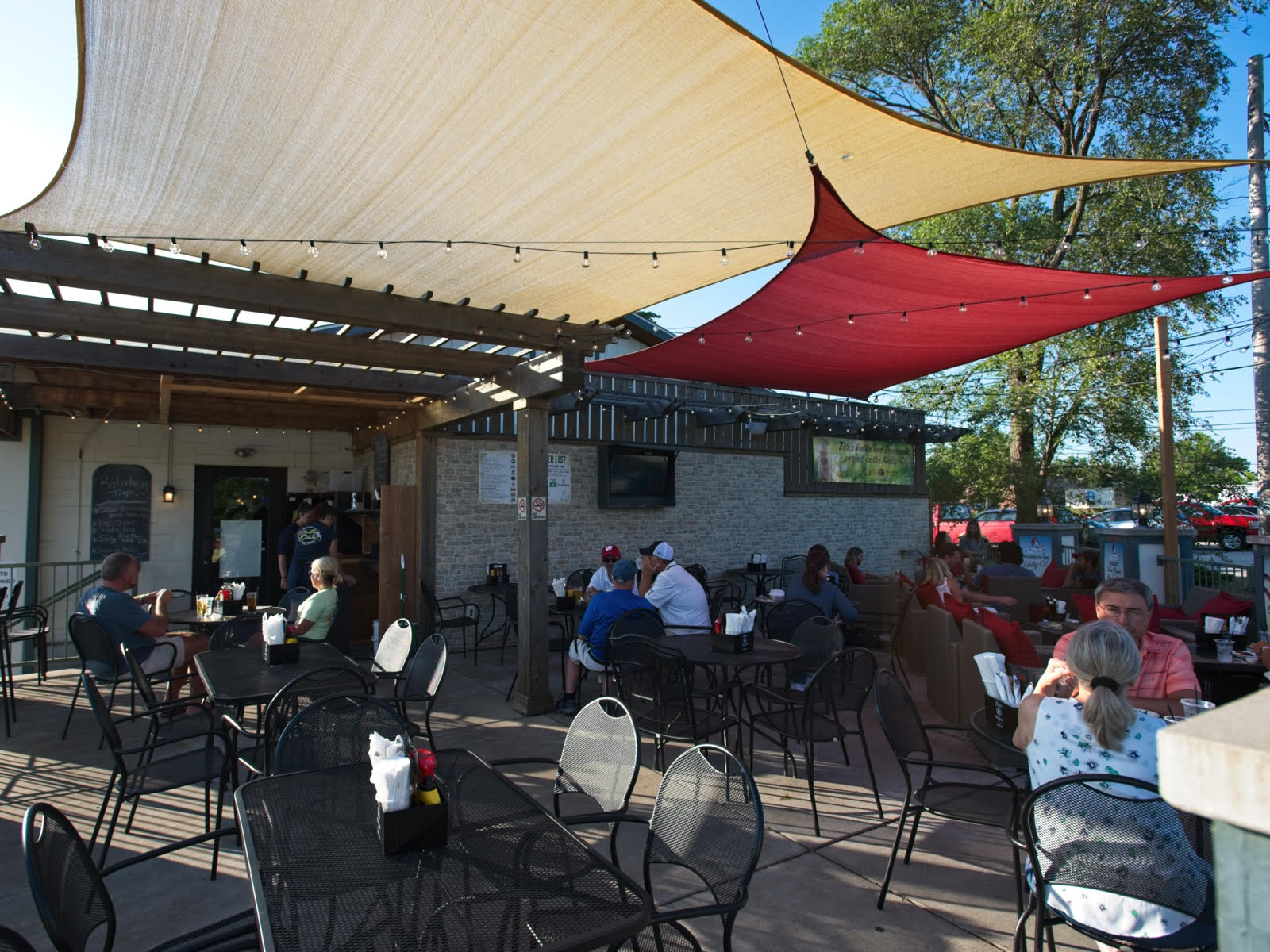 During the winter holidays, Roots works at Brookfield Square as Santa Claus. He is a graduate of the Charles W. Howard Santa School – the oldest "Santa school" in the world – located in Midland, Mich. and is already growing out his beard (which he dyes white in November) for the Christmas season.
"As of July 1 I start growing it out again," says Roots, who is only in his 40s and has a reddish-brown beard.
There are 10 taps at the bar, five of which rotate regularly. "We have all the usuals and craft beers," says Roots. "And we introduce a new beer about every other day."
Natty Oaks has a live music license, so down the road Roots says he may offer entertainment. The city of West Allis – particularly Mayor Dan Devine – was extremely supportive of his goals for the venture, particularly the patios, for which Roots is extremely appreciative.
"When we approached him with this idea, he was immediately supportive," says Roots. "The entire Common Council was immediately on board and consider this one of the 'entryways' to West Allis."
Natty Oaks Pub & Grill is open every day and serves weekend brunch (9 a.m. to 1 p.m.), lunch, dinner and late-night eats (10 p.m. to 1 a.m.).
On Saturday July 21, Natty Oaks hosts a baby shower for fallen Milwaukee Police Officer Matthew Rittner's wife, Caroline, who is pregnant with their daughter. Go to the Facebook page for more info.
Molly Snyder grew up on Milwaukee's East Side and today, she lives in the Walker's Point neighborhood with her partner and two sons.
As a full time senior writer, editorial manager and self-described experience junkie, Molly has written thousands of articles about Milwaukee (and a few about New Orleans, Detroit, Indianapolis, Boston and various vacation spots in Wisconsin) that range in subject from where to get the best cup of coffee to an in-depth profile on the survivors of the iconic Norman apartment building that burned down in the '90s.
She also once got a colonic just to report on it, but that's enough on that.
Always told she had a "radio voice," Molly found herself as a regular contributor on FM102, 97WMYX and 1130WISN with her childhood radio favorite, Gene Mueller.
Molly's poetry, essays and articles appeared in many publications including USA Today, The Writer, The Sun Magazine and more. She has a collection of poetry, "Topless," and is slowly writing a memoir.
In 2009, Molly won a Milwaukee Press Club Award. She served as the Narrator / writer-in-residence at the Pfister Hotel from 2013-2014. She is also a story slam-winning storyteller who has performed with The Moth, Ex Fabula and Risk!
When she's not writing, interviewing or mom-ing, Molly teaches tarot card classes, gardens, sits in bars drinking Miller products and dreams of being in a punk band again.