It's March Madness season, which means one of your coworkers has almost certainly goaded you into throwing $10 into the office pool and filling out a bracket – despite the fact that you've watched exactly seven seconds of college basketball this year. Now it's crunch time, and you've got to start making some picks – and, for the first time since 1998, there isn't even a Wisconsin team in the tournament this year that you can just lazily pick to run through the bracket. What to do?
Some people pick by their favorite colors. Some people throw darts or pick names out of a hat. And some people go by those highfalutin statistics like "wins" or "losses." But we here believe in picking your bracket by using the best science the sport has to offer: mascots, whether that's just the team name or the actual student in a suit running around giving everyone high fives.
So let's quick fill out the first round of our bracket before the games tip off this afternoon. You're welcome in advance; feel free to send 20 percent of any winnings to matt@staff.onmilwaukee.com.
South
1 Virginia Cavaliers vs. 16 UMBC Retrievers
This matchup seems pretty straightforward at first. One is a big, happy dog that loves to play fetch; the other is a dude with a sword. But what kind of person dares hit a dog with a sword?! The only people in recorded history who've challenged a dog to a sword fight without getting tarred and feathered in public were extras on the "Musketeer"-themed episode of "Wishbone." Damned if you do and damned if you don't, Virginia.
In case you need more convincing, two words: Air Bud. Ain't no rule says a dog can't play basketball!
WINNER: UMBC Retrievers
8 Creighton Bluejays vs. 9 Kansas State Wildcats
The wildcat is the mascot of choice for universities with no imagination. It's like getting somebody a gift card for Christmas. So even while the lack of a space in "Bluejays" upsets the AP style book in my brain, Creighton's majestic bird flies high over just another wildcat.
WINNER: Creighton Bluejays
5 Kentucky Wildcats vs. 12 Davidson Wildcats
More wildcats?! College is supposed to be a time of experimentation and discovery! How did these schools turn a team name with "wild" right there in the name synonymous with boredom? We'll have to settle this battle of the bland with the actual mascots. Kentucky has three official mascots, but Blue – a literal wildcat – doesn't attend games because he's too shy and Scratch, according to Wikipedia, "wears his hat backwards, drinks Pepsi and loves to party." I hate him. Unfortunately Davidson's Mr. Cat is disqualified for removing his head last season, committing a cardinal sin of mascotdom.
WINNER: Kentucky Wildcats

4 Arizona Wildcats vs. 13 Buffalo Bulls
HOW IS THIS HAPPENING!? At least this time I can nuke a wildcat team off the bracket thanks to the Buffalo ... Bulls? Well they're not even trying either. They should've gone full ridiculous and named themselves the Buffalo Buffalo. Still better than damn wildcats.
(PHOTO: Flickr/Chad Cooper)
WINNER: Buffalo Bulls
6 Miami (Florida) Hurricanes vs. 11 Loyola (Chicago) Ramblers
Loyola's figurehead may now be a dog, but back in the day, the school took its Ramblers name literally for its mascot with Bo the happy, disheveled hobo. Unsurprisingly the school decided maybe comparing its players to bums wasn't exactly inspiring confidence, so Bo found a permanent home on the dusty shelves of the Loyola athletic department's archive. But you know what can unfortunately cause somebody to lose their home? A natural disaster – like, say, a hurricane.
WINNER: Miami (Florida) Hurricanes
3 Tennessee Volunteers vs. 14 Wright State Raiders
We need to have a meeting to settle some of these team name shenanigans. Call it the Mascot-utional Convention. Item number one: Making it law that only one team can be the wildcats. Item number two: Agreeing on what a raider is. Is it a cowboy, like with Texas Tech? Is it a Mad Max cosplayer like the former NFL team from Oakland? Or is it a dog, like with Wright State.
Tennessee's mascot, ironically enough, is also a dog – one that's seen things. Back in the '50s, Smokey II: Electric Boogaloo survived not only a dognapping but a fight with the Baylor bear. He probably walked to school uphill both ways in the rain too. They just don't make mascots like they used to.
WINNER: Tennessee Volunteers
7 Nevada Wolf Pack vs. 10 Texas Longhorns
Has Liam Neeson ever made a movie where he has to battle of wild herd of longhorn cattle? I THINK NOT (and nobody pitch it to him either, because honestly, for the right price these days, I think he might do it).
WINNER: Nevada Wolfpack
2 Cincinnati Bearcats vs. 15 Georgia State Panthers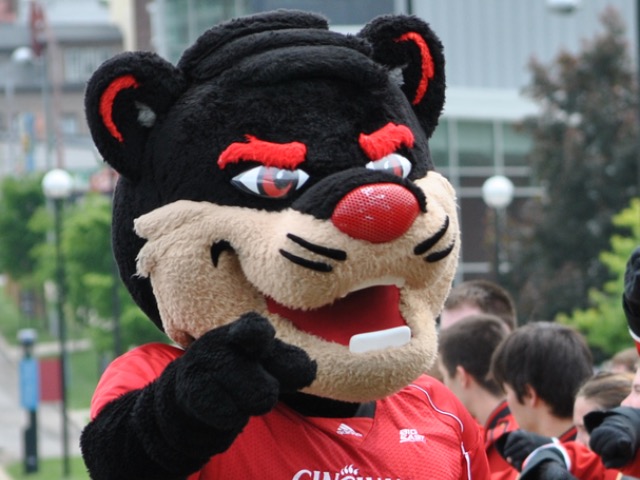 (PHOTO: WikiCommons/Bearcat2011)
See, why are all these schools picking the wildcat for their mascot when Bearcats are right there. It's a bear AND a cat! That's two fierce clawed animals for the price of one! Meanwhile, Georgia State just has a panther – and back in the '00s, he looked like the villain of animated Disney movie the world's forgotten. Pretty sure he was in "Oliver and Company."
WINNER: Cincinnati Bearcats
West
1 Xavier Musketeers vs. 16 Texas Southern Tigers
Tigers is only slightly more interesting than wildcats, and while they have deadly claws, musketeers excel at the trifecta: muskets, swordplay and famous literary friendship.
WINNER: Xavier Musketeers
8 Missouri Tigers vs. 9 Florida State Seminoles
According to most theories, the name for the Seminole tribe comes from the Spanish word for runaways – not because they're cowards, but because they escaped Spanish missions to uphold their beliefs. They're also apparently the only tribe in America to have never signed a peace treaty with the U.S. government, so they're clearly not easily intimidated. No, not of some pesky tigers either.
WINNER: Florida State Seminoles
5 Ohio State Buckeyes vs. 12 South Dakota State Jackrabbits
Jackrabbits can leap 10 feet in a single bound and run at 40 miles per hour. A buckeye, on the other hand, is a big nut.
(PHOTO: Flickr/MGoBlog)
Don't want to get too crazy, but I think this is the rare mascot fight a hare could actually win.
WINNER: South Dakota State Jackrabbits
4 Gonzaga Bulldogs vs. 13 UNC-Greensboro Spartans
Gonzaga should drop the boring Bulldogs mascot and just go with their real nickname: the Zags. Meanwhile, have you even SEEN "300"?! They kicked a guy down a bottomless pit! How do you even make one of those? Anyways, everything in that movie seemed historically accurate.
WINNER: UNC-Greensboro Spartans
6 Houston Cougars vs. 11 San Diego State Aztecs
When they weren't developing early markets, poetry, schools, recording-keeping methods and remarkable architecture – oh, and also sacrificing about 20,000 people a year – the Aztecs also invented a game called Ullamaliztli, which was basically soccer but with a heavy rubber ball. And also you couldn't use the freaking ground. So I think they'll be able to handle basketball.
WINNER: San Diego State Aztecs
3 Michigan Wolverines vs. 14 Montana Grizzlies
Naturally you would think the larger grizzly bear would win this fight, but Monte the mascot looks like a lost "Duck Dynasty" cast member in costume form while its logo looks like he's about to yell at some kids about staying away from drugs.
WINNER: Michigan Wolverines
7 Texas A&M Aggies vs. 10 Providence Friars
An Aggie is just a student at an agricultural school, but thankfully, Texas A&M's mascot isn't just a sleep-deprived kid with a keg of Natty Light cramming for an exam. It's a delightful little doggy! Look how happy he is! Meanwhile Providence has WHAT THE HECK IS THAT!?
Never OK. pic.twitter.com/mshiwwadMj — Matt Norlander (@MattNorlander) March 9, 2018
Though I do prefer my mascots not to look Skeletor's sociopathic cousin screaming you to eternal damnation, I have to give the edge to Providence and Friar Dom since those are the eyes of someone who's definitely taken a life.
WINNER: Providence Friars
2 North Carolina Tar Heels vs. 15 Lipscomb Bisons
A "Tar Heel" may be someone who works in a lowly trade, but UNC's mascot is actually the world's grumpiest ram. Maybe that sweater is itchy. Anyways, he looks like he's in a mood to wreck something, whereas Lipscomb's logo looks like he wandered in from some Saturday morning Christian cartoon show.
WINNER: North Carolina Tar Heels
East
1 Villanova Wildcats vs. 16 Radford Highlanders
How does Radford – a name that sounds like the most pompous rich kid – have such an awesome mascot? The freaking Highlanders! I mean look at ... oh wait, I expected some Christopher Lambert-looking dude with a sword yelling, "There can only be one!" Not Scottish Billy Mays. Huh, well, that's disappointing ... though not as disappointing as another team called Wildcats.
WINNER: Radford Highlanders
8 Virginia Tech Hokies vs. 9 Alabama Crimson Tide
A Hokie basically a fancy word for a turkey, and while I find them exceptionally delicious, I have to pick Alabama, whose mascot is an elephant (classic, native Alabama animal, of course) who only has to sit on a hokie and flatten that bird into a cold cut.
WINNER: Alabama Crimson Tide
5 West Virginia Mountaineers vs. 12 Murray State Racers
Fittingly for a team from the home of the Kentucky Derby, Murray State's mascot is a horse. But the West Virginia Mountaineer reminds me of Leonardo DiCaprio in "The Revenant," and while I've tried to forget most of that 150-minute grunt-a-thon, I do remember it ending poorly for Leo's horse.
WINNER: West Virginia Mountaineers
4 Wichita State Shockers vs. 13 Marshall Thundering Herd
Wichita State versus Marshall: It's electric! Or not actually. Marshall's mascot is more about the sound of a marching herd rather than, I don't know, a bunch of buffalo made of lightning. Meanwhile, Shockers sounds like it should be a bundle of kinetic electricity, but instead it represents students who used to harvest wheat for some extra cash – and its mascot looks like Donald Trump and a box of Frosted Mini Wheats had a baby, and that baby got cast as a villain in "Grease: The Musical." I WAS PROMISED COOL ELECTRO-POWERS.
I give the edge to Wichita State, though, because at least their mascot never looked like this. I know times were tough during the Great Depression, but that's literally a rock with people legs.
WINNER: Wichita State Shockers
6 Florida Gators vs. 11 St. Bonaventure Bonnies
Well, this is just lazy. You can't just shorten your saint's name and call it a mascot. That's not how words work. That's like the St. Matthew Matties or the St. Mary Marries or the St. Agnes Aggies. (OK, that one works.) Plus, the Bonnies sounds like I'm about to do battle with a team of middle-aged book club members.
WINNER: Florida Gators
3 Texas Tech Red Raiders vs. 14 Stephen F. Austin Lumberjacks
I mean, look at these f*cking hipsters. Stephen F. Austin's mascot is just giving the most ripped beard bro on campus an angry axe that looks like it should be on a package of Sour Punch Straws. But that's still better than the poor Texas Tech Red Raiders, whose mascot looks like he got outwitted by Bugs Bunny yet again.
Plus, Stephen F. Austin's fight song is SO much better.
WINNER: Stephen F. Austin Lumberjacks.
7 Arkansas Razorbacks vs. 10 Butler Bulldogs
I repeat from last year: It's a pig with razors on its back – like if Mother Nature ran amok in a Gillette factory! The running chainsaw wins again! (Editor's note: The author has still learned nothing about nature.)
WINNER: Arkansas Razorbacks
2 Purdue Boilermakers vs. 15 Cal State Fullerton Titans
I'll take a band of hardened warriors with sweet elephants over Purdue Pete, who looks a suppository with a face that screams, "I just found out where you're about to put me."
(PHOTO: Flickr/Tom Britt)
WINNER: Cal State Fullerton Titans
Midwest
1 Kansas Jayhawks vs. 16 Pennsylvania Quakers
Not sure why you'd name your team after a group of notoriously peaceful people, one that also goes by the Religious Society of Friends. Admirable in the real world, less so in athletic competition. They do make a mean oatmeal, though. Still, I'll go with the Kansas Fighting Toucan Sams.
WINNER: Kansas Jayhawks
8 Seton Hall Pirates vs. 9 NC State Wolfpack
Wolves are capable swimmers, so even if this battle took place on the high seas, NC State would have a chance. There's just one problem: NC State's mascot, Mr. Wuf, is married. He's settled down and domesticated. He has a wife and family to think about before waging war with some pirates, who have no such commitments to worry about save for a deep abiding love for rum.
WINNER: Seton Hall Pirates
5 Clemson Tigers vs. 12 New Mexico State Aggies
New Mexico State tried to dress up its team name by making its mascot the cowpoke-looking "Pistol Pete," but in his real life form, he looks like a kid who found his dad's old Village People costume – complete with a fake mustache. Sorry, NMSU, but your mascot is still an agriculture student, and in a battle against a bunch of angry tigers, I'm sad to say your future in that field is probably limited to getting turned into fertilizer.
WINNER: Clemson Tigers
4 Auburn Tigers vs. 13 Charleston Cougars
(PHOTO: College of Charleston Facebook/Auburn Tigers Facebook)
A tiger and a cougar seem fairly even-matched. But even though Charleston's mascot, Clyde, looks like he's going to sell me cereal, at least he wears pants. HAVE SOME DECENCY, AUBIE!
WINNER: Charleston Cougars
6 TCU Horned Frogs vs. 11 Syracuse Orange
Somebody compared TCU's mascot to the sexy fish monster from "The Shape of Water," and now I'll never be able to take them seriously. It was already taking up all my maturity not to call them the Horny Frogs. That being said, still better than the Orangemen, which sounds like it might be some kind of racist slur, but is actually just dumb.
WINNER: TCU Horned Frogs
3 Michigan State Spartans vs. 14 Bucknell Bison
Once again using the historical documentary "300" as evidence, those ripped Spartans were able to take out a bunch of charging Persian rhinos, so I think they should be fine up against some cud-chewing buffalo.
WINNER: Michigan State Spartans
7 Rhode Island Rams vs. 10 Oklahoma Sooners
The Sooners are named after the Land Rush of 1889 and some other boring American history that you definitely slept through in high school social studies. Meanwhile, a ram is a big angry sheep who runs into stuff with his concussion-proof skull. Seems like a much better use of one's brain than learning stuff.
WINNER: Rhode Island Rams
2 Duke Blue Devils vs. 15 Iona Gaels
My disappointment over a Gael being just a Gaelic person and not some almighty windstorm is easily cured by looking at Iona's logo.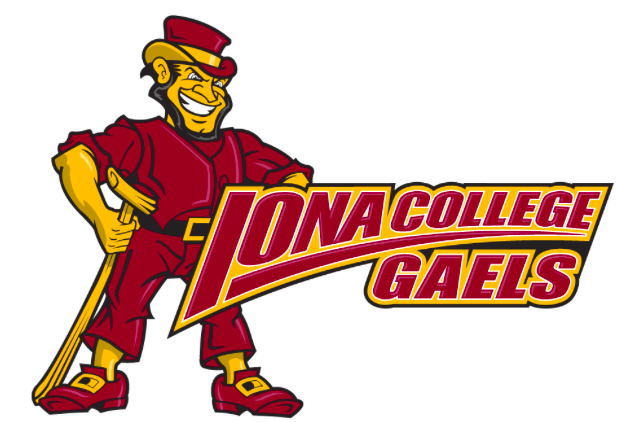 I don't know whose idea it was to use Jack Nicholson from "The Shining" as inspiration for a sports team mascot, but I AM HERE FOR IT. But even evil Irish Jack Torrance can't compete with SATAN HIMSELF, the Duke Blue Grayson Allens Devils.
WINNER: Duke Blue Devils
As much as it is a gigantic cliché to say that one has always had a passion for film, Matt Mueller has always had a passion for film. Whether it was bringing in the latest movie reviews for his first grade show-and-tell or writing film reviews for the St. Norbert College Times as a high school student, Matt is way too obsessed with movies for his own good.
When he's not writing about the latest blockbuster or talking much too glowingly about "Piranha 3D," Matt can probably be found watching literally any sport (minus cricket) or working at - get this - a local movie theater. Or watching a movie. Yeah, he's probably watching a movie.