After years working his way up to head brewer at Indeed Brewing in 2020, Patrick Nickelson moved on this summer after eight years at Indeed, taking a job in the world of cannabis.
Nickelson had moved to Brew City from Minneapolis to help open the company's Walker's Point innovation brewery and taproom in 2019.
"(Cannabis) is an emerging industry and they are lucky as hell to have his creative mind and energy," says Indeed's Director of Experiences, Ryan Bandy. "We were lucky to work with him for so long!
"He started washing kegs in Minneapolis, where worked his way up to assistant brewer and then brewer. He helped open the Milwaukee brewery and was head brewer there for about three years."
But Nickelson left the Milwaukee brewhouse in good hands, as Jenny Engel and Dana La Vake, the new lead brewer and brewer, respectively, have – like Nickelson – worked their way through the ranks at Indeed to their current positions.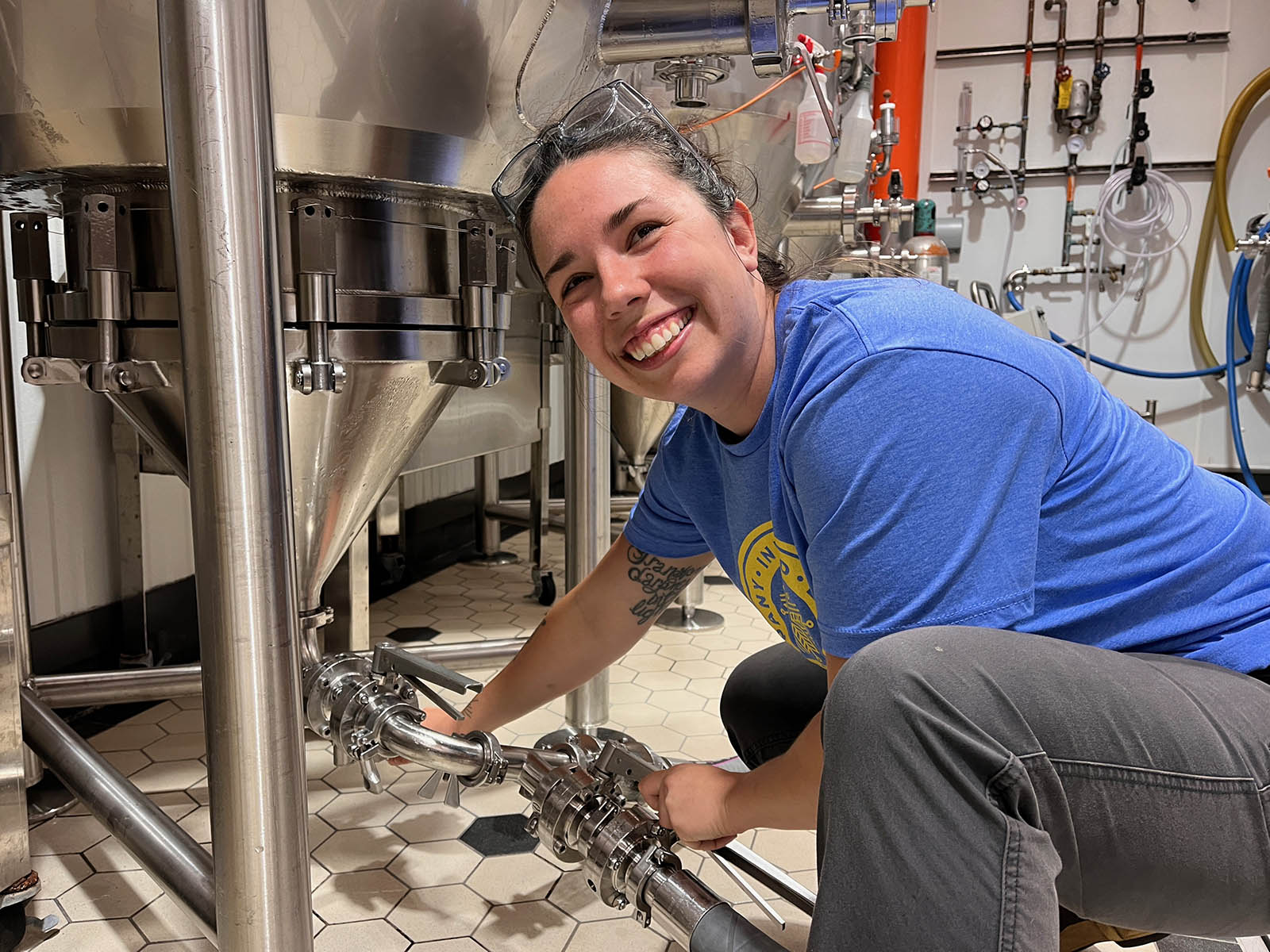 "He had been the brewery manager for the last year, working more on managing, facilities and production management, with Jenny and Dana taking over the day-to-day beer making," says Bandy.
"He's a hell of a guy, his work at Indeed is an example of what we're after for anyone working with us, and we're super excited for him to take on a new challenge. I've always said that I'll vote for him when he runs for president."
Fortunately, as Bandy points out, Engel and La Vake have been able to keep the brewery running thanks to their hands-on experience. And, he adds, some duties at Indeed have shifted a bit to make the transition work as well as possible.
"What is super exciting about the transition is to have Jenny and Dana take their next steps as brewers," says Bandy. "It's not unlike Patrick's journey, and we'd be lucky to work with Jenny and Dana for as long as we did with Patrick!
"Some of the facilities and production management has been spread out between our taproom GM as well as our director of beer up in Minneapolis, so Jenny and Dana can focus on the beer."
Engel, who moved to Milwaukee from Elgin, Illinois, in 2012 to attend UWM, where she received her BFA in painting and drawing in 2015, moved into the Indeed brewhouse in August 2020 after having tended bar in the taproom and at other breweries.
Originally from Wisconsin Rapids, La Vake joined the brew team in May 2021 after having worked as a bartender, brand ambassador and founder of Milwaukee's weekly cribbage tournament at Indeed. Before that, she'd done packaging work in other Wisconsin breweries.
An all-women brewhouse may not be all that common (yet!), but it definitely feels like a sign that the world of craft beer is changing for the better.
We had a chance to ask Engel and La Vake some questions, so we wanted to know about their paths to the brewhouse, their favorite beers and more.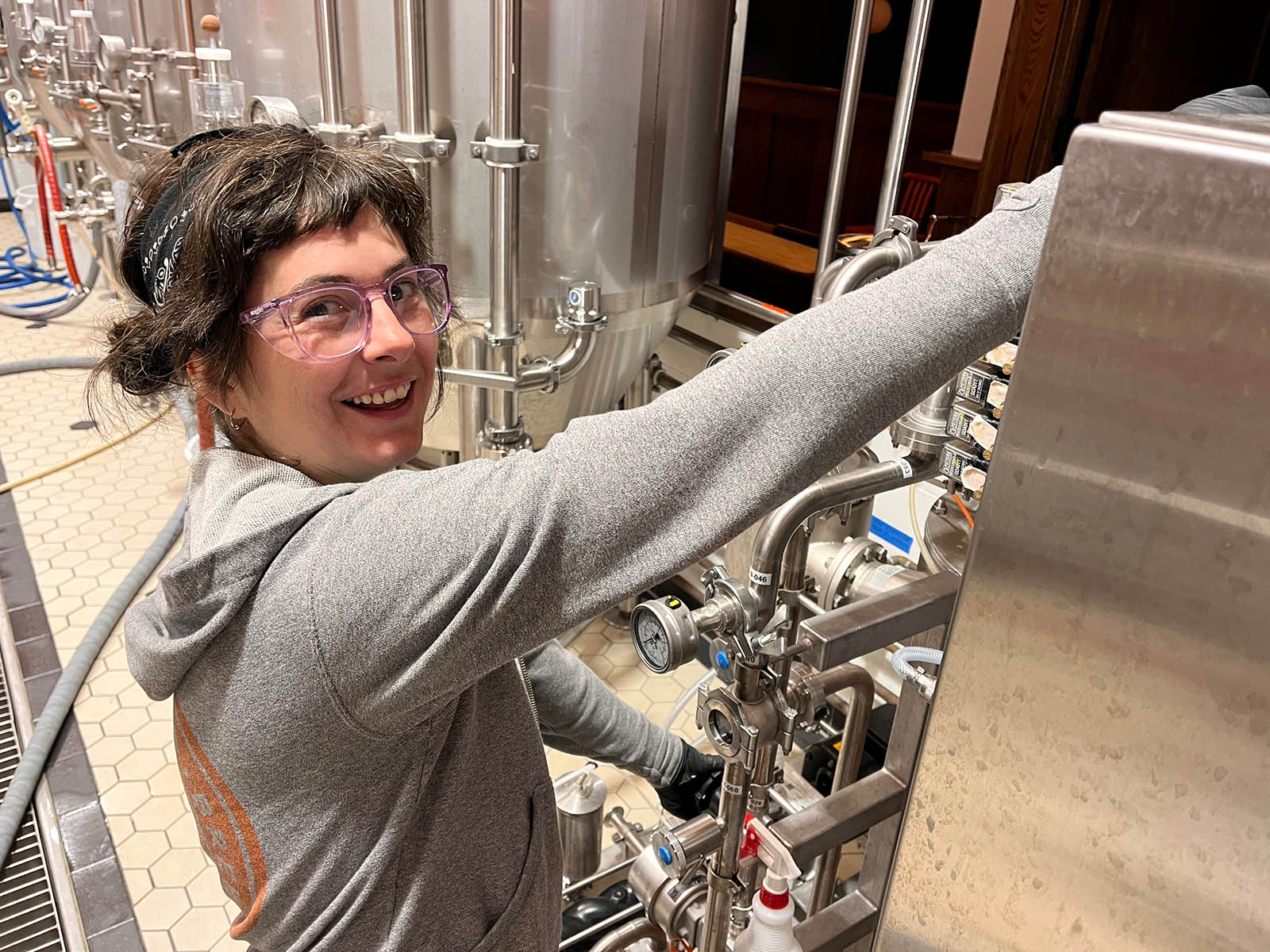 OnMilwaukee: How did you come to your current role at Indeed? What was your path?
Jenny Engel: I've been working at Indeed for a little over three years. I started early pandemic times, beginning in late may/early June 2020 as a beer-tender. I started in August 2020 on the production side. The brewing side of things sparked my curiosity at the previous brewery I worked at, GoodCity Brewing.
Processes in general are interesting to me, so learning the process of how to make something I enjoy to consume just came naturally.
Dana La Vake: I've been doing production work at Indeed for over 2 years now. I started as a beertender in May 2021, and I've also done some brand ambassador work for the brewery, as well. I also started Indeed's weekly cribbage tournament!
I started at Indeed with the intention of eventually moving to production. I had worked in packaging at other breweries, including Karben4 in Madison and at MKE Brewing Company, and wanted to dive deeper into the actual creation of beer. Out of all the places I've worked, Indeed is by far the best fit for me culturally.
I think you guys now make up what might be the only all-women brewhouse in Milwaukee. That seems long overdue. Does it feel like the brewing world is finally changing?
Jenny Engel: It's definitely cool to acknowledge that but I feel like there's still a long way to go before I could feel good about saying it's changing. The brewing industry is one of the last places that have an almost apprentice-like structure which is beneficial because you can really grow a career from curiosity.
However, that also gives that power to the people that are operating within it to decide who this knowledge is passed along to. I'm very thankful to the person that took my interest seriously and acknowledged the lack of equality and diversity in the brewing industry. There needs to be a lot more of that before we'll see more consistent and impactful change.
Dana La Vake: It feels like the brewing world is changing, but unfortunately I think it's changing very slowly. Milwaukee tends to be more progressive so it's easier for a structure like ours to occur but it's still extremely rare.
I don't think I can think of a single brewery that has more than one or two women on the production or packaging staff and that can make breaking into this industry extremely intimidating. I would love to see that change.
Do you think women bring a different perspective to brewing, different ideas, etc. to the brewhouse?
Jenny Engel: I think each individual can bring a different perspective and approach to brewing. Someone's interests in a certain geographic region might lead to exploring that through ingredients. Or a nostalgic drink they grew up with could lead to an unexpected delicious beer!
I've met both men and women that scale anywhere from being really into nailing traditional styles to letting creativity run wild.
Dana La Vake: I think diversity in general is extremely important in every industry, especially creative ones. Not only because it creates a more comfortable environment for a larger group of people, but obviously ideas thought up by the same kind of people, for the same kind of people can be really boring.
What are your favorite beers to drink and your favorites to brew?
Jenny Engel: It depends on the day but Beer Run (pale ale) and Sailor's Delight (lager) are probably my favorites this summer. Looking forward to Tmavy our bohemian dark lager in the colder months. Im happy to brew them all!
Dana La Vake: I'm kind of a weirdo and like mixing beers together to drink. My current favorite is mixing the IPA I created, 530 IPA, with Strawberry Fields Kettle Sour. Unfortunately Strawberry Fields is seasonal so I'll have to come up with something else soon.
My favorite beer to brew would probably be the spruce tip black IPA we made last year. We made a sort of "tea" from the spruce tips and the wort and it smelled so good. It turned out amazing.
Of course there are flagships, etc., but do you have some freedom in terms of what you brew?
Jenny Engel: We do have a good bit of freedom to explore here, which is awesome. I just started diving into recipe writing about a year ago and I feel like there's always more to learn. But being the R&D facility allows us to test out ideas on a smaller scale and the flexibility to tweak recipes until we get them right.
Dana La Vake: With the new structure we have a lot of freedom to brew what we want. Obviously, we're still at the mercy of what's being sold in the taproom and by the sales team, but it's usually as simple as presenting our ideas to the leadership team in Minneapolis and creating the recipe.
Indeed Milwaukee is an R&D brewery so our focus is to make smaller batches of beers we could potentially do on a larger scale in Minneapolis so new and fun ideas are encouraged.
What will we see more of from Indeed in Milwaukee thanks to your presence in the brewhouse? Any new recipes, specials, etc.?
Jenny Engel: I'm still trying to figure that out myself. I have an appreciation for easy drinking lagers but I'm also intrigued by processes and taking what might seem like a wild idea and problem solving how to make it come to life.
Once the busyness of the summer passes, I think we'll have more time to really dive into what we want to explore more of here in Milwaukee.
Dana La Vake: I personally love doing flight nights where I will infuse four kegs of beer with things like coffee, hibiscus tea, fruit, etc. It's just a really fun way to present our beers in different ways.
We're also focusing on getting more of our Milwaukee-made beers into cans so people can take them to go.
What message or advice do you have for women who would like to get into brewing?
Jenny Engel: Speak up about your interest, a lot! And get your foot in the door in any capacity. You are just as capable as the next and the right person and place will support you. It might take a little longer but I do believe there are a bunch of supportive brewers in the Milwaukee community.
Dana La Vake: I'd say the biggest thing to remember is that imposter syndrome is real. Especially since some people believe women aren't strong enough, smart enough, not cut out for the job, whatever. Once you start to realize that almost no one is good at this job right at the start, it gets a lot easier. Just stick with it.
(NOTE: Indeed Brewing will host its weekly Indeed We Can fundraiser on Tuesday, Sept. 19 – TODAY!! – which this time benefits Girls Rock MKE! One hundred percent of taproom proceeds from 2 until 11 p.m. that will go to Girls Rock MKE, a non-profit organization that empowers girls, women and gender-expansive individuals through music education and performance. The Girls Rock team will be at the brewery to host games and give out prizes.)
Born in Brooklyn, N.Y., where he lived until he was 17, Bobby received his BA-Mass Communications from UWM in 1989 and has lived in Walker's Point, Bay View, Enderis Park, South Milwaukee and on the East Side.
He has published three non-fiction books in Italy – including one about an event in Milwaukee history, which was published in the U.S. in autumn 2010. Four more books, all about Milwaukee, have been published by The History Press.
With his most recent band, The Yell Leaders, Bobby released four LPs and had a songs featured in episodes of TV's "Party of Five" and "Dawson's Creek," and films in Japan, South America and the U.S. The Yell Leaders were named the best unsigned band in their region by VH-1 as part of its Rock Across America 1998 Tour. Most recently, the band contributed tracks to a UK vinyl/CD tribute to the Redskins and collaborated on a track with Italian novelist Enrico Remmert.
He's produced three installments of the "OMCD" series of local music compilations for OnMilwaukee.com and in 2007 produced a CD of Italian music and poetry.
In 2005, he was awarded the City of Asti's (Italy) Journalism Prize for his work focusing on that area. He has also won awards from the Milwaukee Press Club.
He can be heard weekly on 88Nine Radio Milwaukee talking about his "Urban Spelunking" series of stories.