A lot has changed for Nicole Koglin since our first Milwaukee Talks with her in 2010 and the follow up in 2011.
Now a mother of two young daughters, the former anchor and host at FOX6 is back on television after a brief time off – across the dial at CBS58 – although on-air duties are just part of her new duties.
Even though she thought she was out of TV for good, her former boss lured Koglin back this summer with a new role: a hybrid between reporting and strategic initiatives. For the first time in her career, the Milwaukee native is working "normal hours," and the excitement for this new challenge shows.
As her work-life balance begins to return, we caught up with a non-exhausted Koglin for coffee and a fresh Milwaukee Talks.
OnMilwaukee: Do you remember our first interview? It was at Comet, which no longer exists.
Nicole Koglin: I just remember eating so many pancakes because I was really pregnant.
Well, I don't remember all the off-the-record things we discussed, but at the time, I wouldn't have expected you to leave TV – especially for a whole year. You were definitely at the top of your game. What happened?
I loved my job there. I loved that entire thing. It was hard. I started in this business when I was straight out of college and then 20 years later, I have family and have kids. As fun as the mornings were, the reality is when I got home, by the time my daughter got off the bus, I was useless. I was just physically tired. To do that in your twenties, if I'm just dealing with it, or even if my husband's just dealing with it, is one thing. But it felt like I was taking some quality away from my kids, not being my best self. That was a really hard decision. I mean, I didn't come to that lightly. It was something years in the making, so it was hard.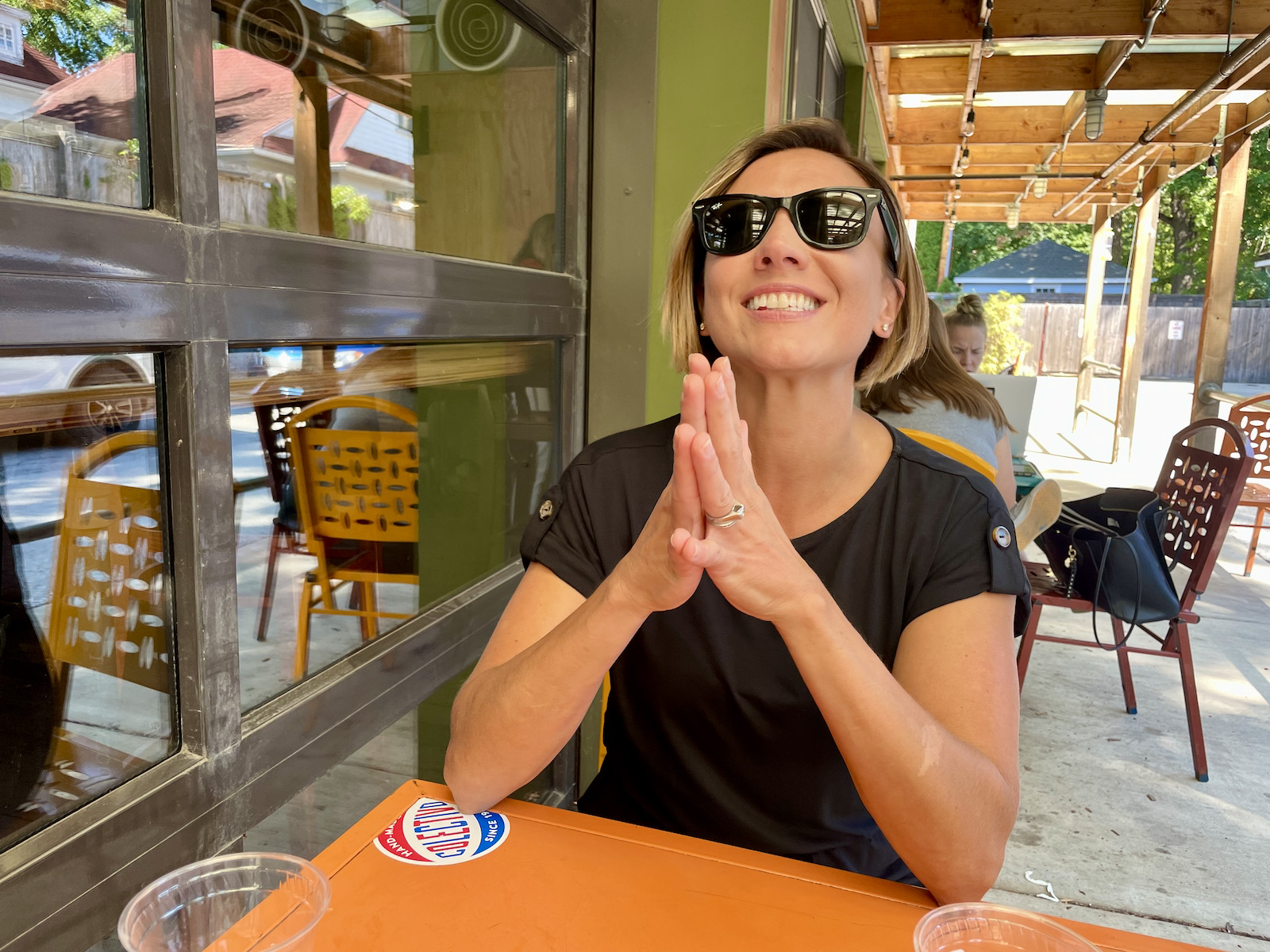 Did you think you were done with TV?
Yeah, I thought I was done. Television traditionally requires you to either work very early in the morning or very late at night, and I didn't want to do either of those.
But you weren't really retired?
That was definitely the wrong word to use. I think that's a better thing to say on TV than "she doesn't want to work in TV anymore." I was very much job hunting. I had always planned to look for full-time work. Just, I wanted it to work when my kids were in school.
So, how did you end up at CBS58?
My last day at FOX6 was at the end of July, 2020, and I was already applying for marcomm jobs and interviewing and the pandemic was happening. Number one, not a lot of people were hiring, so I couldn't get a job right away. Number two, it became real clear that with the uncertainty of school and just the uncertainty of the world, that home was going to be the best place that I should be for a few months to see if my kids were going to go to school or if I was going to have to teach them from home. We made that decision as a family that I would just hunker down in mom mode for a few months and see what came out following that.
Then, all of a sudden?
All of a sudden, one of my mentors at FOX6, Anne Brown, became the General Manager of CBS58. They announced I was leaving FOX6 before she made that announcement, so I didn't know that at the time. But she called me and just said, "What are you thinking? Are you really done?" And yes, yes, it was a very intentional decision on my part to leave news, but I got sucked back in by the perfect role and an awesome boss.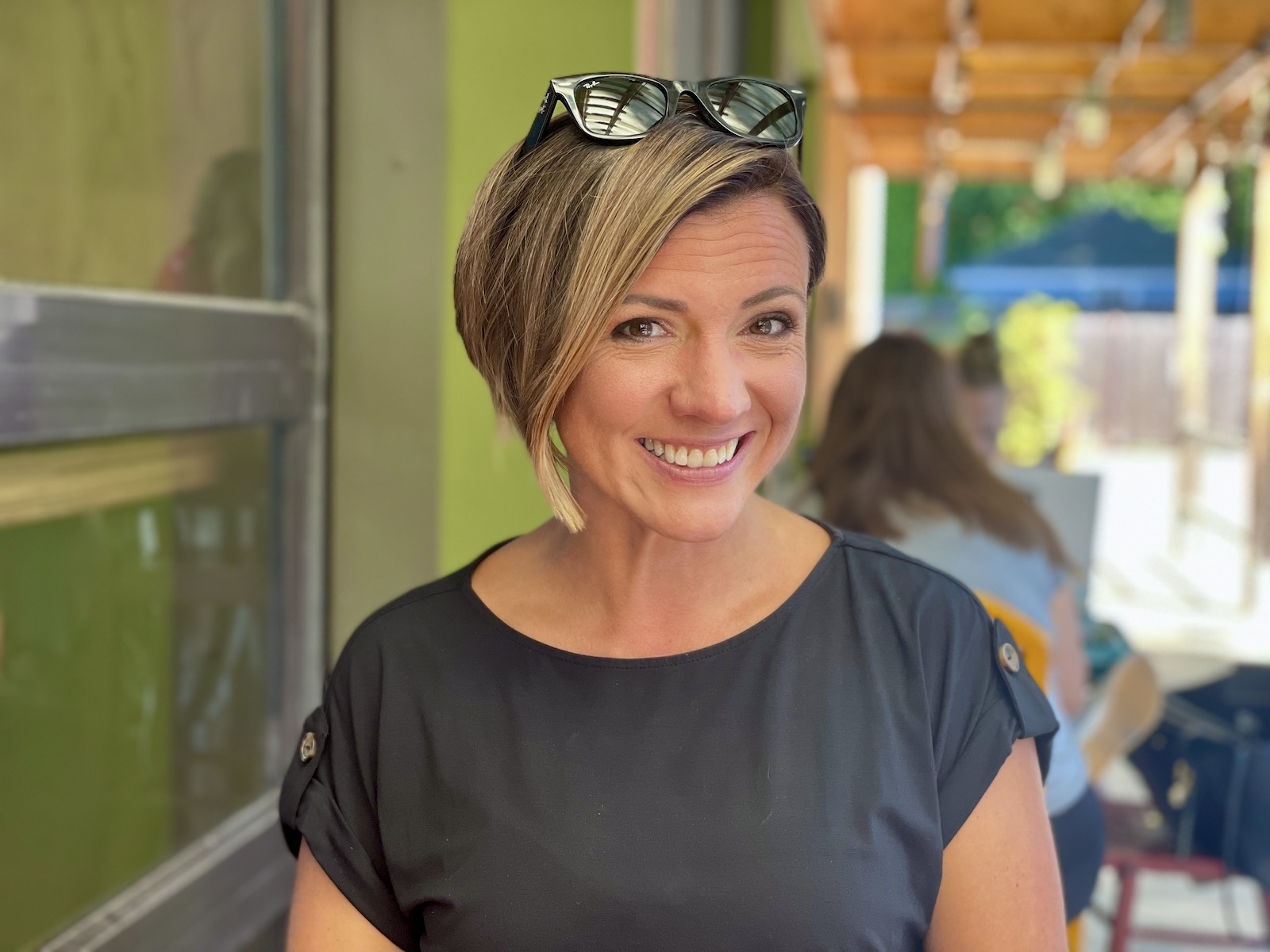 So, describe this new role, because people who are watching TV may think that you're back on on the air and that's it, but that's not really all that it is.
I get the best of both worlds with this role. My official title – I like it because it sounds fancy – is the Director of Strategic Initiatives. But it's a combination, and it's a role that Anne created for me because she knew me. It plays to my strengths on both parts. I get to be on TV and do the fun stuff, live at Summerfest or live at the State Fair, those types of things. But I also get to be more of the big picture, strategic planning that's happening on the other side of the camera, and that is a new part of the business for me to learn. That's what I'm most excited about, to get into these bigger, broader community projects that CBS is trying to establish in the community.
What are those projects?
The pandemic was kind of a time that everybody sort of took a moment and reassessed. CBS has used that step back, and I think we're all seeing right now that people are missing people. They want that connection. They want that community. This is a good time for 58 to really think about their role in the community here in Milwaukee, and how to be a positive force in the city.
Their branding, the new hometown station brand, is really about creating good in Milwaukee and celebrating Milwaukee. I'm going to get to be part of those bigger topics. Conversations that are about what can we do for the next five years, not just what's going on the news tonight at five.
In terms of the on-air stuff, it's different than what you've done in the past. This is not anchoring. This isn't a morning show. This is more like feature segments at-large sort of stuff?
Well, it's an evolving role, so stay tuned. We're still kind of working all those little things out, and it's not to say that I won't fill in anchor, but it will not be full-time anchoring, but you'll definitely see my face. Here and there I'll be appearing in different times, different newscasts depending on what's the season or what the project is. I will not be full-time anchoring, but you'll still see my mug.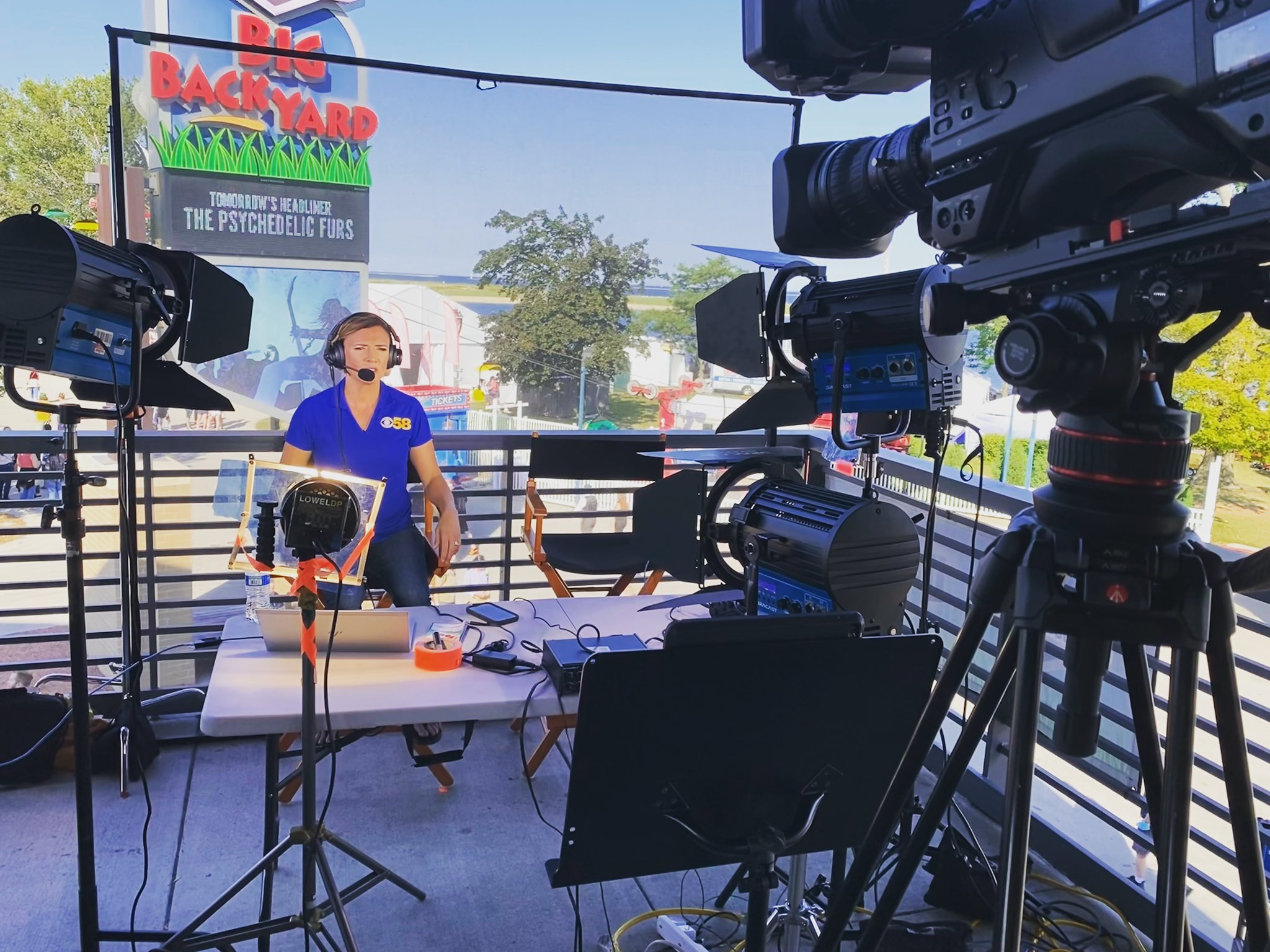 Will you be doing more features and less hard news?
Yeah, I think it's more of the community, let's say that. There's Summerfest, there's State Fair, but there's also bigger picture. I'm excited for in November, when CBS teams up with Hunger Task Force for a big food drive. I'm going to get to be there, live on air for that, but also I'm right now working with all the moving parts behind the teams to coordinate that day.
How much of a pivot is this for you in terms of what you're used to?
This role, again, was created for me and so they know exactly who I am. They know exactly what they're getting, and I'm grateful that they want me to put my hometown spin on everything. Whether it's a community project where we're trying to make Milwaukee a better place. Or, when I cover opening day of Summerfest, I grew up going to Summerfest, so I think that's very personality driven.
It's unique for someone to land in the market where they grew up, right?
After journalism school at Madison, I took the job farthest from home. I was bound to get out of here. I worked in Idaho at a CBS affiliate, actually, my first TV job. I was in Idaho for two years and I was in Missouri, and then when I came home here, I loved it here. I came back in 2004. My family's here. I never wanted to leave.
Is it nice to work for a boss you already know?
I've seen Anne in action for quite a few years, so I knew exactly what I was signing up for when I got to work for her. That was the game changer.
When the camera starts rolling and you're holding a microphone, do you feel like you're learning a new system at this new station?
Nope. That, to me, is very comfortable. I have always said this, that I've gotten to be always myself on air. That's true for my entire career here. I'm so lucky that people have embraced that for the most part. Off air, I'm learning all kinds of stuff and taking me out of my comfort zone, and I enjoy that, too.
What kind of feedback are you getting?
I've gotten a lot of positive feedback. Truthfully, it makes me emotional how sweet people were. I mean, I don't take for granted what we did, especially "Real Milwaukee," that was a special show. It was almost 10 years on the air. People always say, "Oh, you look like you're having so much fun," and we were. To connect with people, I think that we gave them a daily dose of something they needed. When we went away, they're genuinely happy to see me back, which I appreciate very, very much.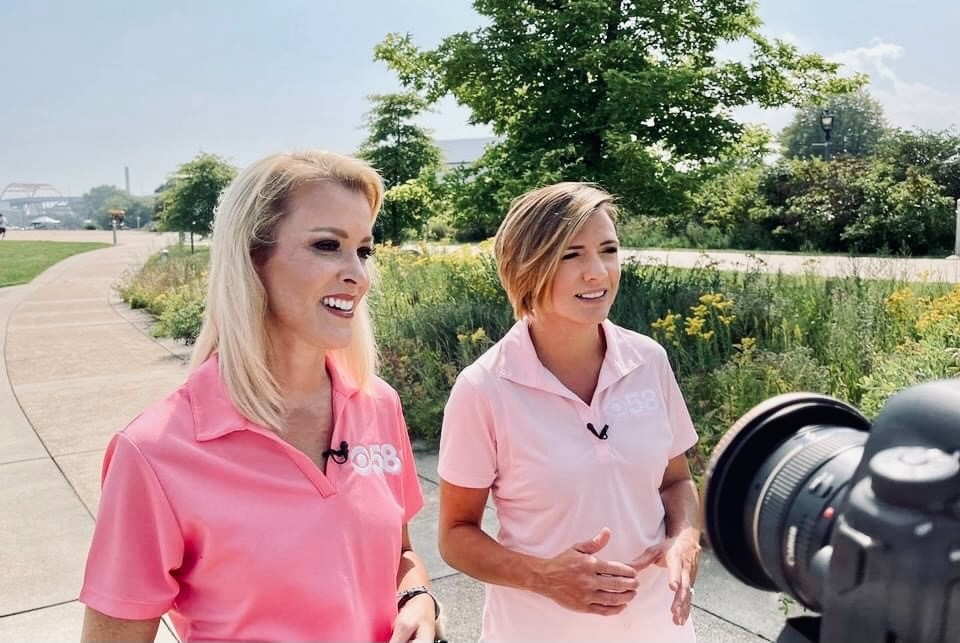 Can you feel an energy difference now that you're not working crazy morning hours?
Physically, I'm a different person. It's so true, and people never saw that on the air because I loved what I did. You get up in the morning and I was working with a great crew. We had a fun show, but that was getting the best of me for a while. Then I had nothing left to give my family afterwards. It was my husband that noticed it first. When I stopped working, about a month later last summer, my husband said, "You're like a different person," and I said, "Oh, I was that bad?"
So you feel like the work-life balance is coming into focus?
Totally, great, and that's what. You go through these shifts in life where there's different chapters and there's different seasons and now how are we going to make it all work? And that was the goal, and I can't believe that I'm getting the opportunity to do that in TV.
I've know Anne for a long time. She's a working mom, too. Is it nice to have a boss who gets that?
Yesterday my daughter had a dentist appointment and it was OK!
Is this job harder for women?
I don't know how to answer that because this role is new.
Well, I don't think it's a secret that TV news isn't super family friendly.
Right, it's a business, so getting a role that is like this seems like the huge jackpot for me.
What else is going on in your life outside of work now that you have some balance?
I started golfing.
Are you any good?
Nope. Golf is my midlife attempt to be OK with not being a perfectionist. I'm trying to embrace something I'm not good at, but is fun. I just feel more present for my kids and more excited to see them. I get to see them in the mornings. That sounds ridiculous, but to get to see your child before they go to school is something I never had.
How do you like working normal hours?
This was so funny. One of the conversations that I had with Anne prior to my first day was I said, "This is going to be a stupid question, but what time would I start? Because I've never had a normal day." The answer was, "Well, what time do your kids get on the bus? We'll work around that." That blew my mind. That's that's just not something you hear of in TV news, and so to work for someone who gets it and is going to work with your real life, that's huge.
Andy is the president, publisher and founder of OnMilwaukee. He returned to Milwaukee in 1996 after living on the East Coast for nine years, where he wrote for The Dallas Morning News Washington Bureau and worked in the White House Office of Communications. He was also Associate Editor of The GW Hatchet, his college newspaper at The George Washington University.
Before launching OnMilwaukee.com in 1998 at age 23, he worked in public relations for two Milwaukee firms, most of the time daydreaming about starting his own publication.
Hobbies include running when he finds the time, fixing the rust on his '75 MGB, mowing the lawn at his cottage in the Northwoods, and making an annual pilgrimage to Phoenix for Brewers Spring Training.