Thanks to Milwaukee County Parks, Milwaukee has a beach that attracts tourists and locals alike. It's free to use, clean (for the most part) and has some great amenities. Here are nine reasons to take a trip to Bradford Beach this weekend.
1. Sunbathing
A classic beach activity, sunbathing is a great way to get your vitamin D and a nice tan. Stretch out on a towel or beach chair and relax – maybe even take a nap by the waves. But be careful, remember to put on sunscreen or tanning oil so you don't get burned.
2. Tiki huts
There are three Tiki huts open daily 11 a.m. until close during the summer. The bar has a menu of drinks, as well as food and ice cream including bomb pops and drumsticks. The LED TVs will show the World Cup for the next month, and there will be food and drink specials to go with it. Try a pina colada or some tacos from Bradford Beach View.
3. Sand volleyball
Forty three sand volleyball courts are available, with more than 500 teams in Bradford's summer leagues that you can get involved with. Bring a group, a volleyball from home and bump, set, spike!
4. Cabana rentals
Stay cool in a cabana by renting one, along with two beach chairs. You'll also receive a drink bucket of your choice from the bar. Or choose the umbrella package, where you receive an umbrella and two beach chairs. Rentals are available from 11 a.m. until 8 p.m.
5. Northpoint
Northpoint Snack Bar is right next to the beach, serving up banana splits, shakes, malts, burgers and fries. Indoor restrooms are available there as well as at the beach house.
6. Hiking trail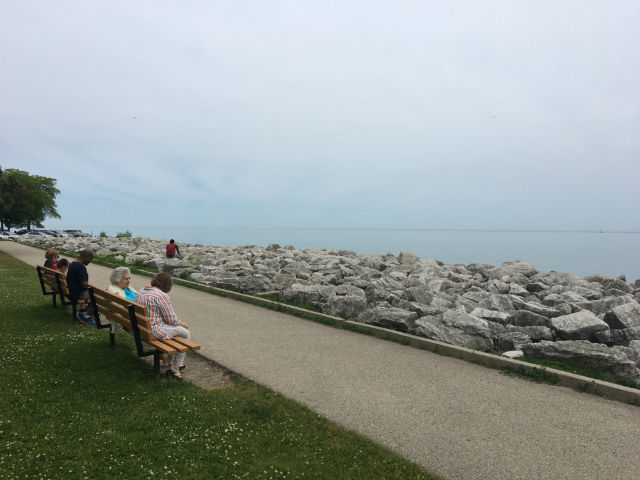 The trail is an approximately three mile long loop and paved. Bike, run, walk and bring your strollers full of children.
7. Outdoor workout equipment
If swimming, playing volleyball and Frisbee at the beach wasn't enough of a workout for you, you can use the equipment right next to the beach and work up even more of a sweat.
8. Kid-friendly
The beach is a place where you can let the kids run wild – and with all the sand, they have less of a chance of seriously hurting themselves.
9. Events
Bradford has a whole schedule of events coming up this summer, including a hot dog eating contest on July 3 and a Family Fun Day/Local Sand Sculptors day on August 18.
Full list of events:
June 16 – Obstacle Fun Run
June 23-24 – Beach Soccer Classic
July 3 – Hot Dog Eating Contest
July 21-22 –Milwaukee Air & Water Show
July 28 – Bradford Beach Country Jam Concert
Aug. 4 – JVA Volleyball Tournament
Aug. 18 – Family Fun Day & Local Sand Sculptors
Aug. 25 – Bradford Beach Volleyball open
Aug. 31-Sept. 1 – Harley-Davidson 115th Anniversary Beach Racing