Despite having a brewing tradition, Waukesha, for a city its size (population 71,365), is underserved by the world of craft beer.
But by the time you read this, a new team may already be brewing in a building that's got deep roots in Waukesha beer history, doubling the number of craft brewers in the 'Sha.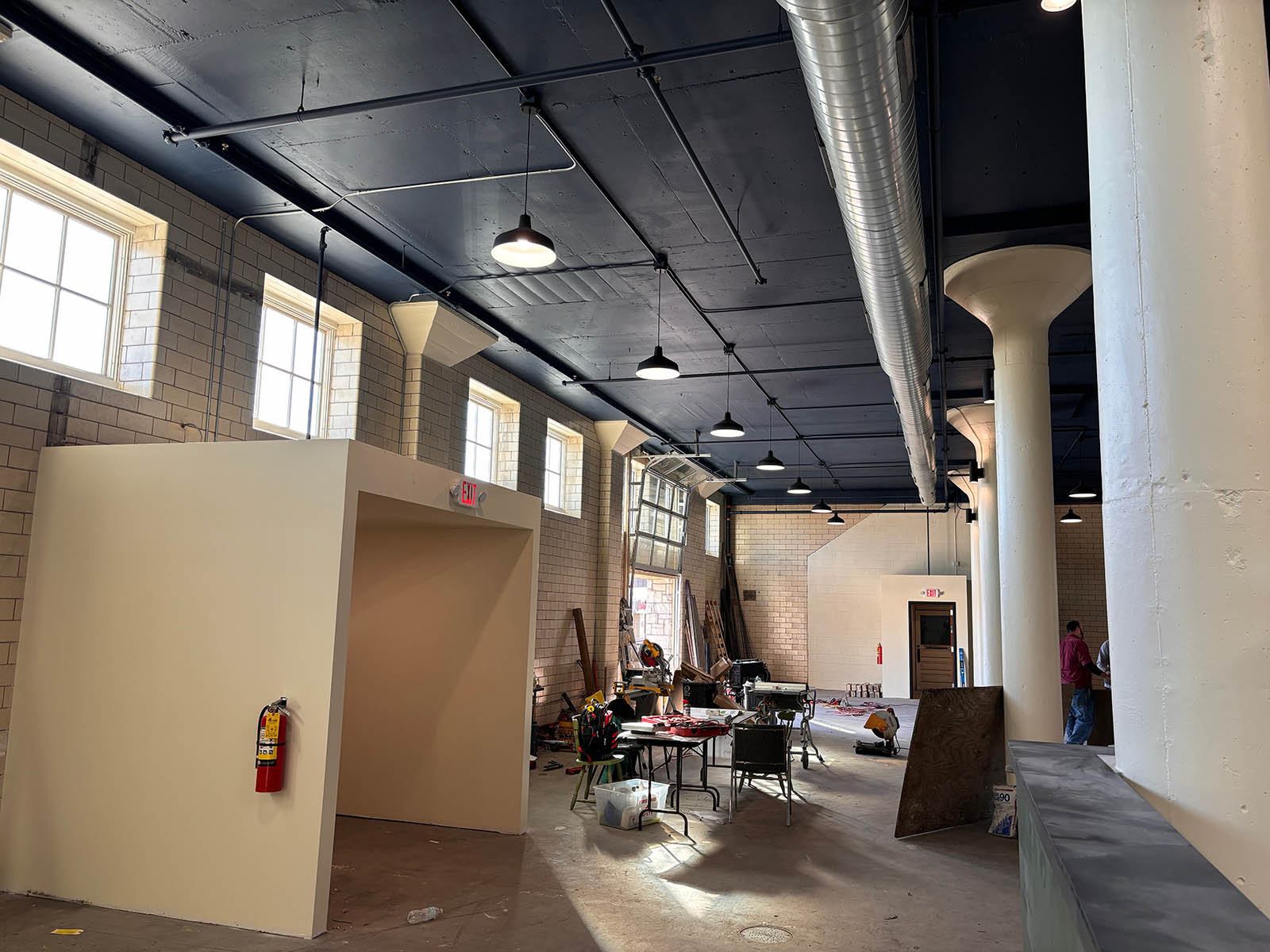 "It's been a three-year road," says Braden Hocking, who is partnering with his former Northern Brewer co-worker Ethan Boehm to launch North Pillar Brewing at 212 E. North St. in downtown Waukesha.
The space they're leasing is in a building that was once home to the Weber Brewing Co., founded in 1854.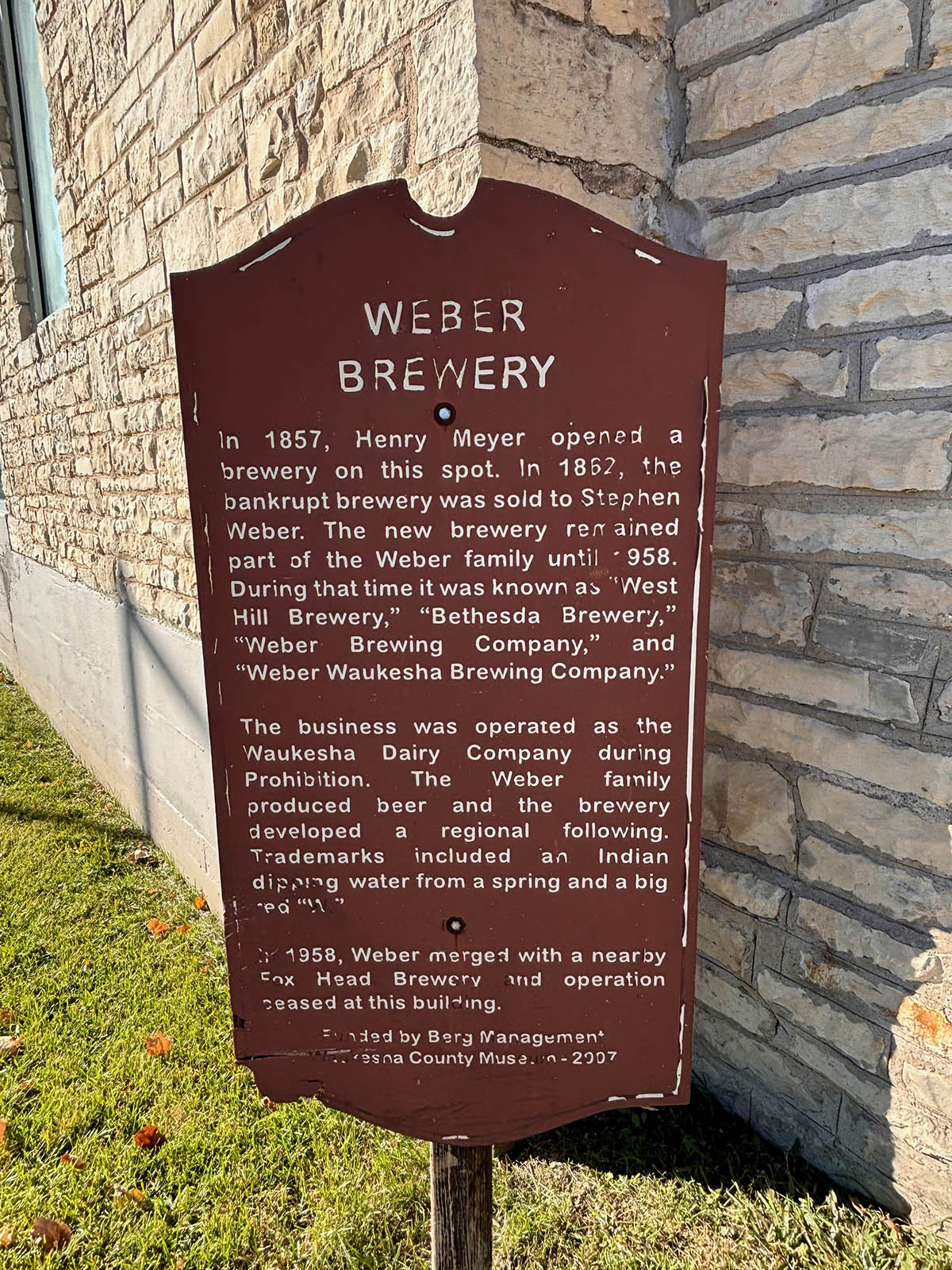 "There is a sense of excitement in Waukesha," about the project, says Hocking.
"We were kind of surprised how many people knew about the Weber Brewery that was here and that excitement too of like, 'oh man, I always thought that that would make such a cool brewery'," adds Boehm.
"So we're glad to know we're on the right track. They were right (about it being a cool place to open a brewery)."
Weber Brewing was founded in 1854, by Henry A. Meyer, as Meyer Brewing. But after just a few years of producing about 200 barrels a year, in 1862, Meyer's bankrupt brewery was sold to Stephen Weber at a sheriff's auction.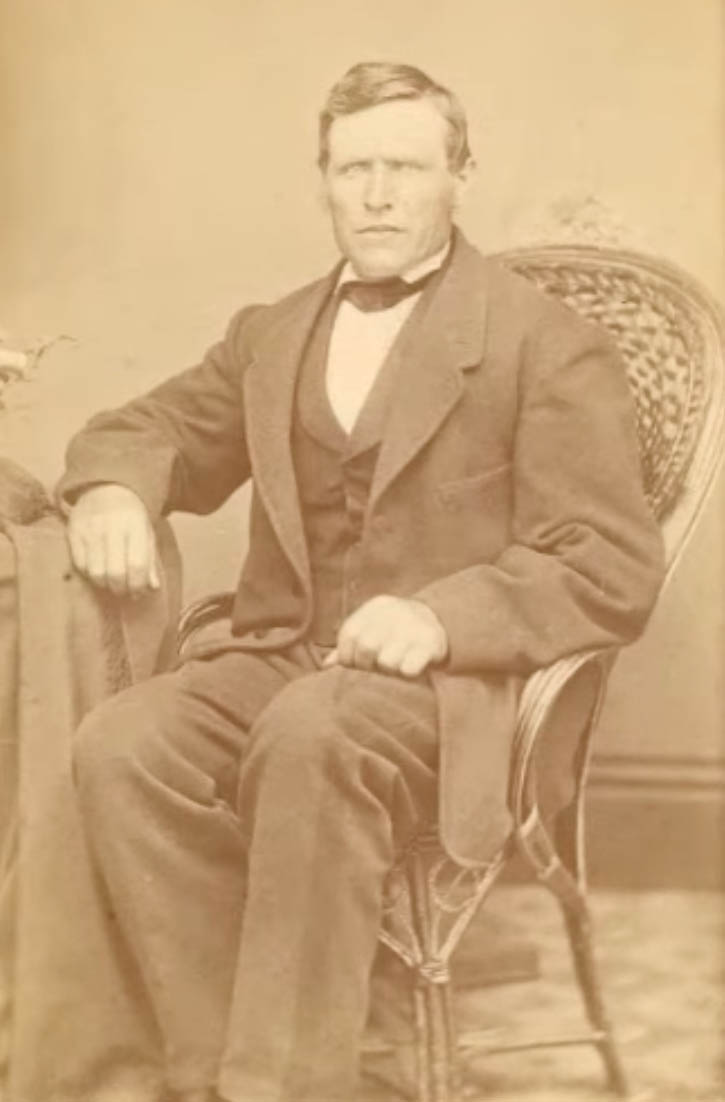 Weber learned how to brew a John Paul Stroebel's brewery at age 20 in Bavaria. where he was born in 1822.
In 1848, he married the boss' daughter Rosina Stroebel and just a few weeks later, they left for the U.S. where they met up with his friend John Beck in Brooklyn, according to a great, in-depth 2002 article on the brewery in Americana Breweriana Journal.
The three traveled to Wisconsin and according to the American Breweriana Journal article, Weber worked first as an engraver at the Milwaukee Sentinel, and within a few years had become a porter at Wehr & Foster's brewery on 13th and Cherry.
By then solo, George Wehr renamed the brewery West Hill in 1860. Two years later, he sold it to Weber and Beck, whose families were sharing a house.
That same year, Weber sold his share of that brewery to Beck (who in 1950 had become a brother-in-law after marrying Rosina's sister), moved to Waukesha and used the same name – West Hill Brewery – for his new venture. ("The History..." suggests, however, that Weber bought out not Meyer, but Peter Peffer and Christopher Nohl, but I found no other reference to this.)
Weber's wife died in 1868 and that same year was remarried, to Margaret Diebus.
Around the same time, Weber built a house next to the brewery, which in 1870 was producing 900 barrels of beer, with three employees, according to Doug Hoverson's encyclopedic book, "The Drink That Made Wisconsin Famous," which has a lengthy history of the brewery.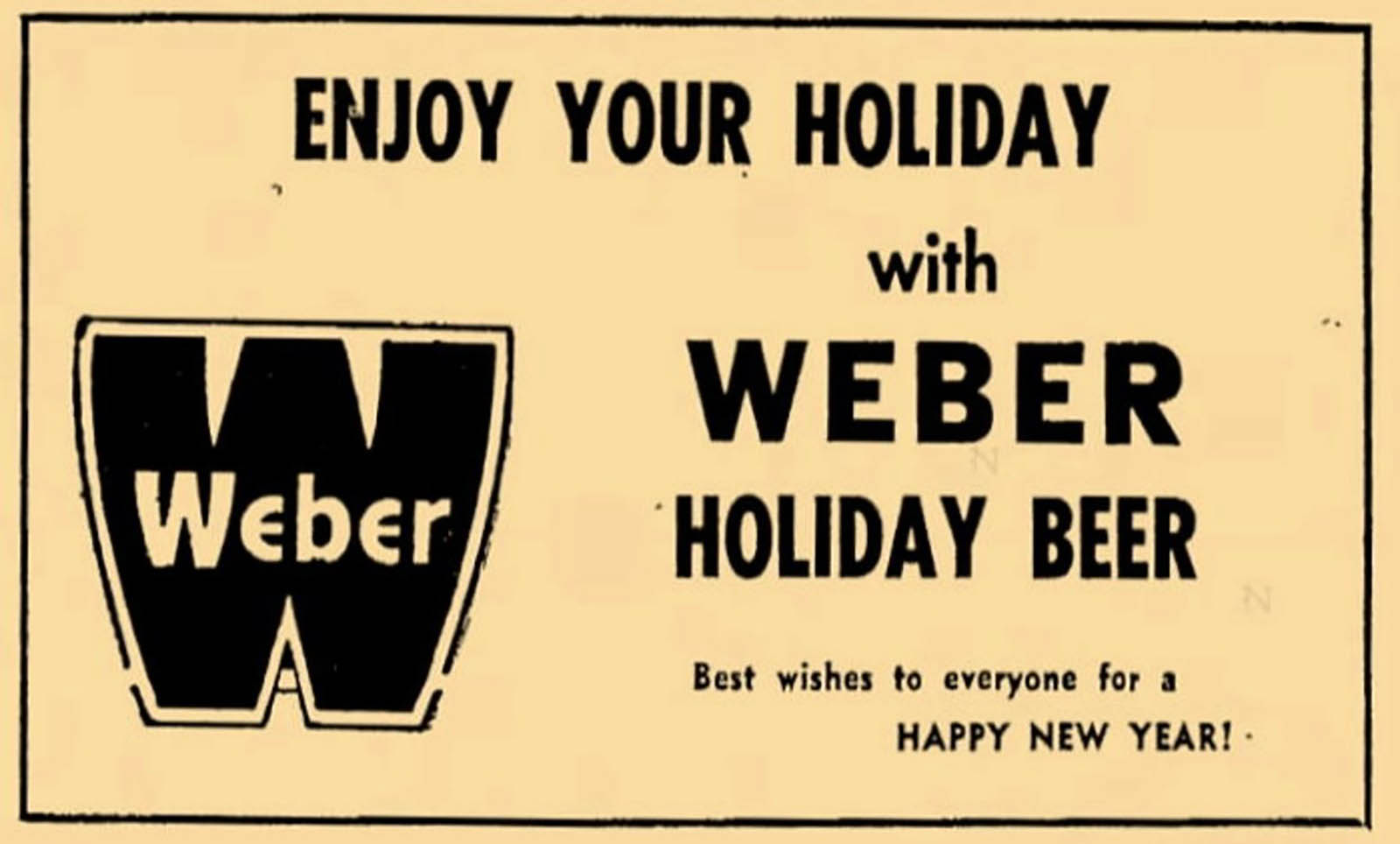 Just three years later, Weber tore down the old wood and stone brewery building and constructed a new facility – part of which is now the southern (left side) portion of the building that North Pillar will occupy – and boosted his capacity to more than 2,000 barrels a year.
'The new stone building measured 52' x56', with a large aging cellar extending into the hill behind the building," wrote John Schoenknecht, Bob Pirie and David Hapsos in the American Breweriana Journal. "It joined an existingthree-story icehouse, which had been enlarged in1870. The two-story building was constructed using the local cream-colored limestone. There were four rectangular windows on the first story, each capped by an arch of polished stone. Three doorways were capped with the same stone.
The upper story was balanced with a pair of rectangular windows flanked by two arched windows. A round window decorated the central peaked roofline. All the windows were decorated with polished, lighter limestone. The completed building closely resembled the original West Hill Brewery in Milwaukee. Weber had invested i nreal estate around Waukesha and sold some of his property to partially finance the new brewery."
According to Boehm and Hocking, there are a few remnants of brewing history in the old part of the building, mostly in the form of marks on the floor where the old tanks were located.
In 1878, Weber started bottling his beer. But just a year earlier, another big change took place as Weber's eldest son John Paul – who worked in the brewery – died and was replaced at work by his younger brother William.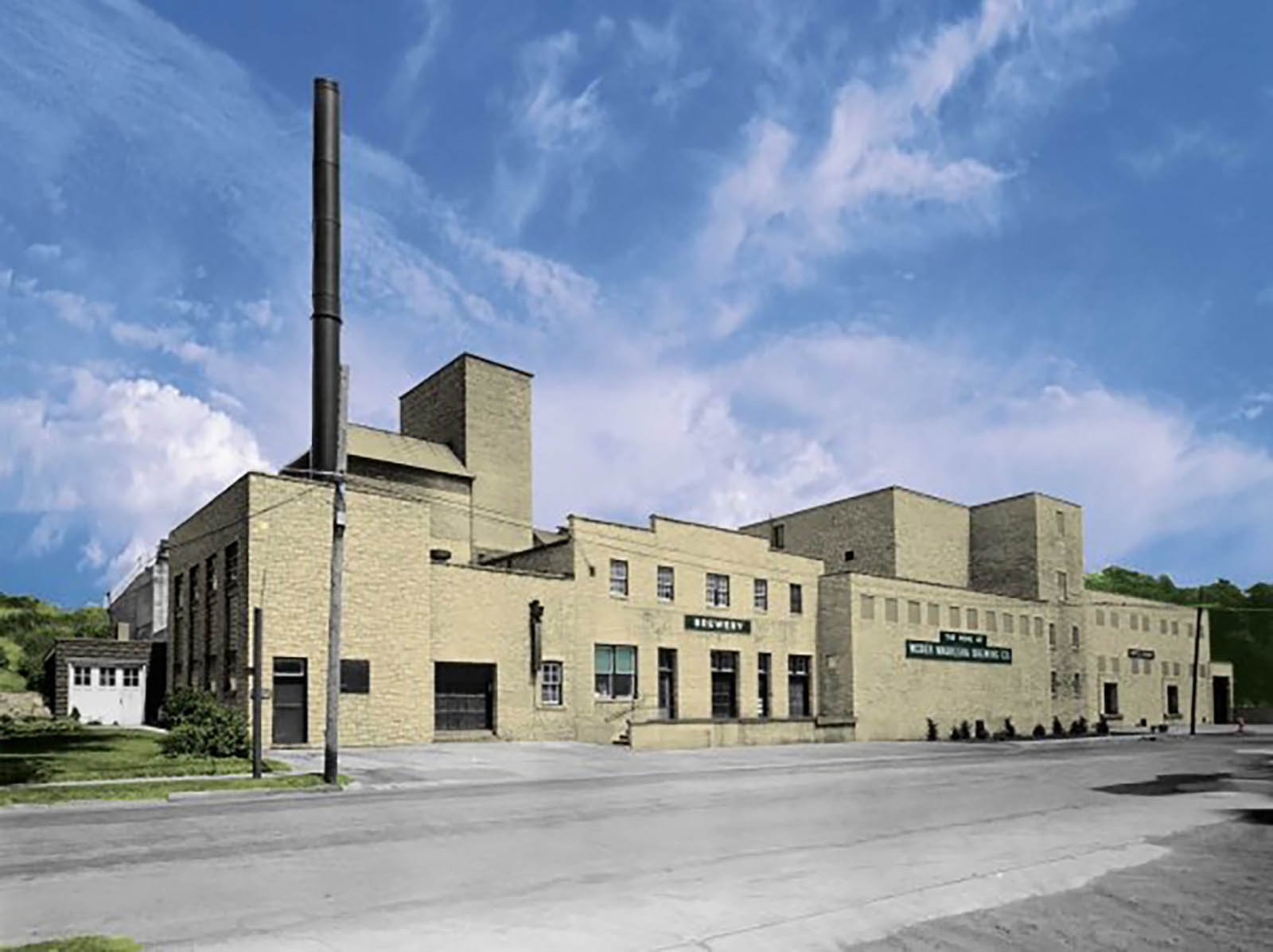 In 1881, Weber retired and gave the brewery to his son William and son-in-law John Land, a photographer who had arrived in Waukesha just a couple years earlier and married Barbara Weber.
Weber, wrote the Waukesha Freeman, "has grown old and rich in the brewery business and is willing to give the 'boys' a chance now. Waukesha beer is excelled by none."
The newspaper called West Hill Brewery, "one of most flourishing institutions here."
Perhaps seeking to put their stamp on the business, the boys renamed the brewery Bethesda a few months later and boosted capacity even further, to 3,000. However, within just a few years, the young Weber bought out Land and converted the brewery from horsepower, wood and coal power to steam.
Two years later, in 1889, Hoverson recounts, Bethesda made three beers on a regular basis – Standard, Pilsner and Export – as well as a seasonal bock.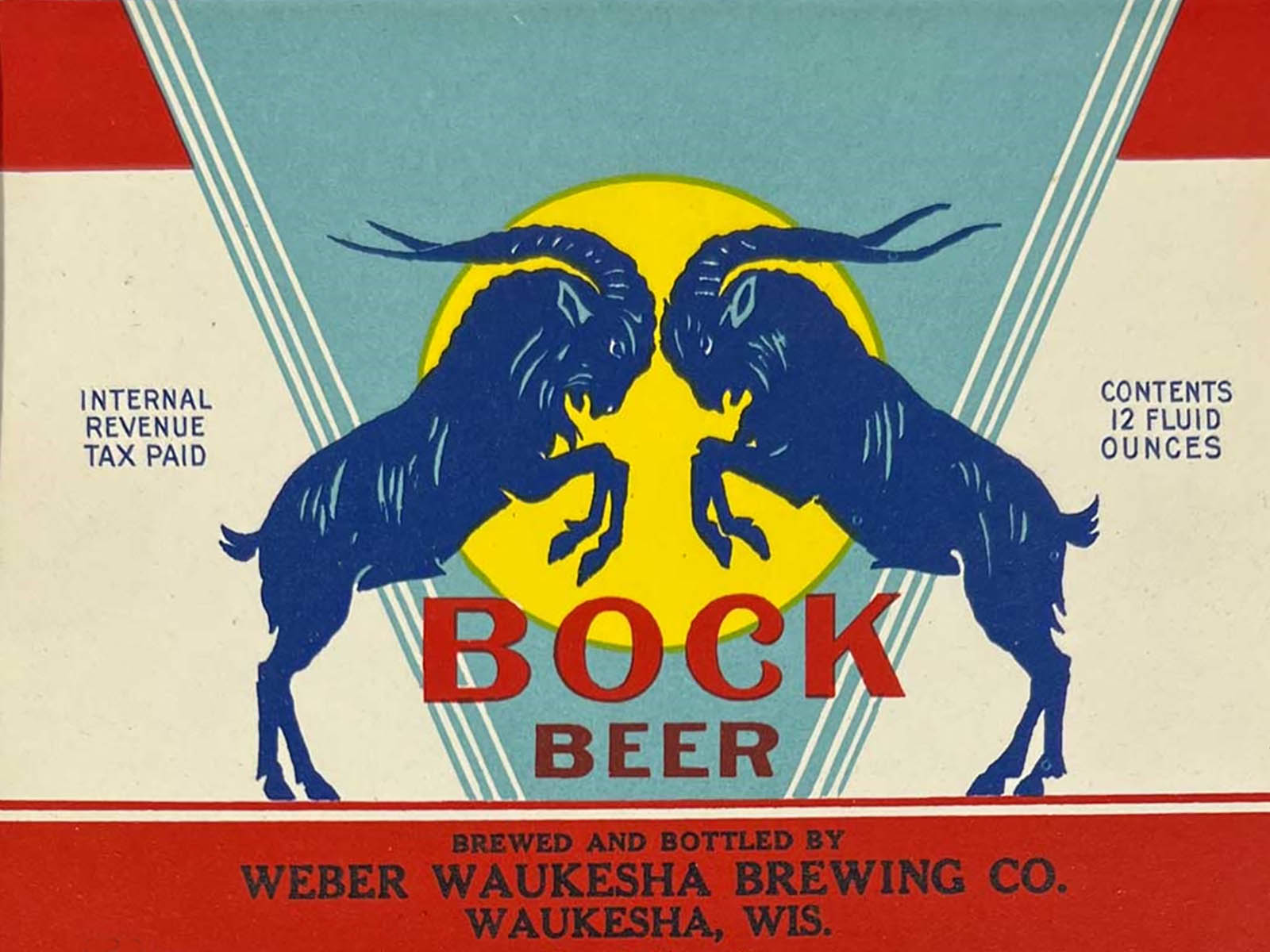 In 1897, William Weber caught pneumonia and died three years later. The following year his father Stephen died at the family home on North Street.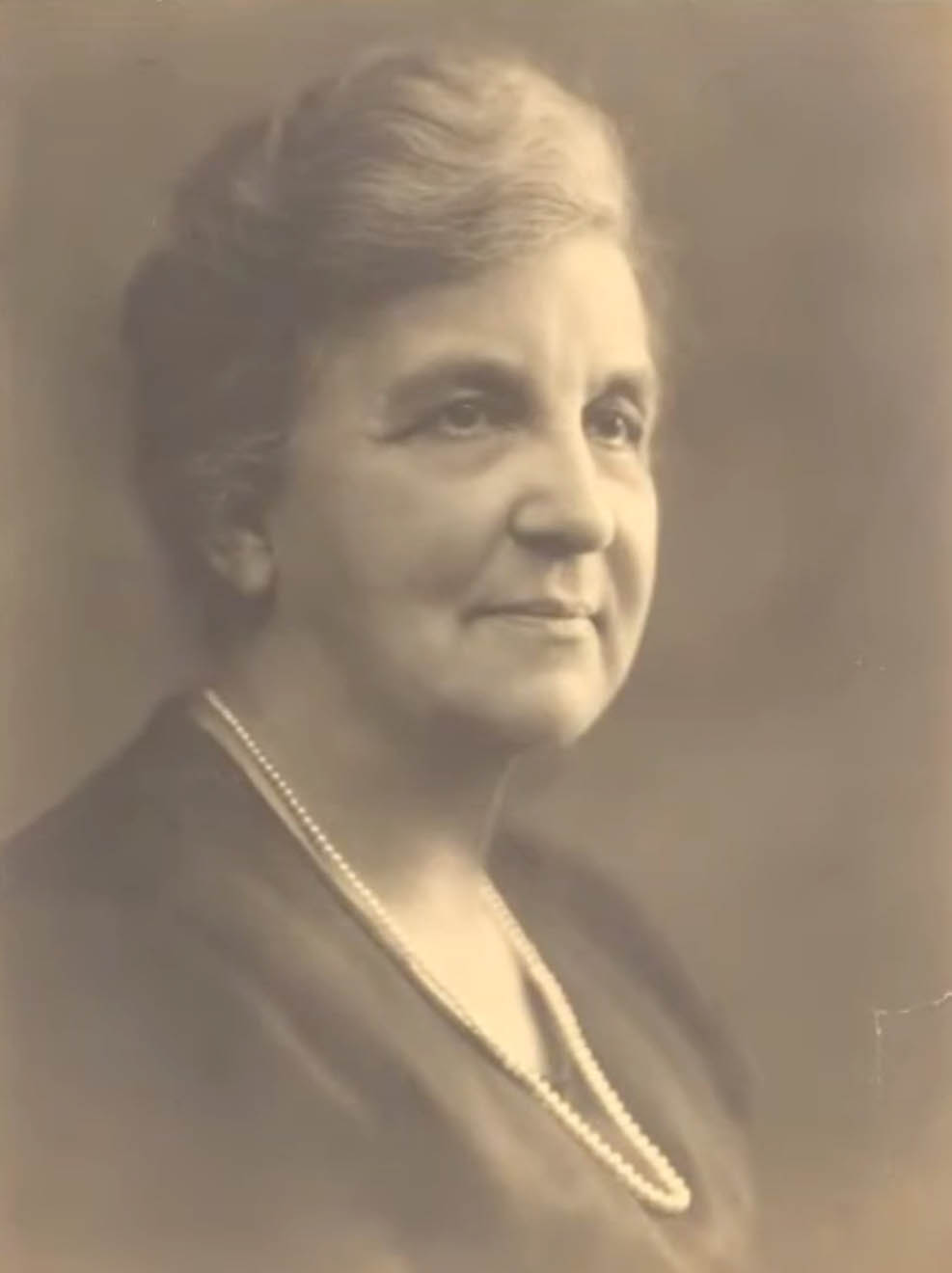 The brewery was left in the hands of William's widow Julia (nee Dick) and their two sons, Killian – who became brewmaster – and Stephen F., who ran the business side.
In 1912, the brothers were making two beers: Weber's Old Fashion Beer and Weber's Superb Beer, which continued until Prohibition descended at the dawn of 1920, at which point, they converted it to a dairy business with the help of local dairyman Howard T. Green, Hoverson notes.
Sensing the impending arrival of Repeal, the brewery was completely remodeled in 1933, with new stainless steel brew kettle that some say was the first of its type in the country, and new bottling equipment.
Former Hamm's brewer William Neumann was hired and in June 1934, the brewery was once again fired up, with 40 employees working to bring back Weber Old Fashion Beer.
After Julia's death in 1941 and Killian's in '42, Stephen became president and hired Andy Schnell from Schmidt Brewing as the new brewmaster and the Weber Brewery (it had gone through a number of name changes, all involving the name Weber since 1885) was producing 30,000 in 1942, leaping to a whopping 75,000 just six years later.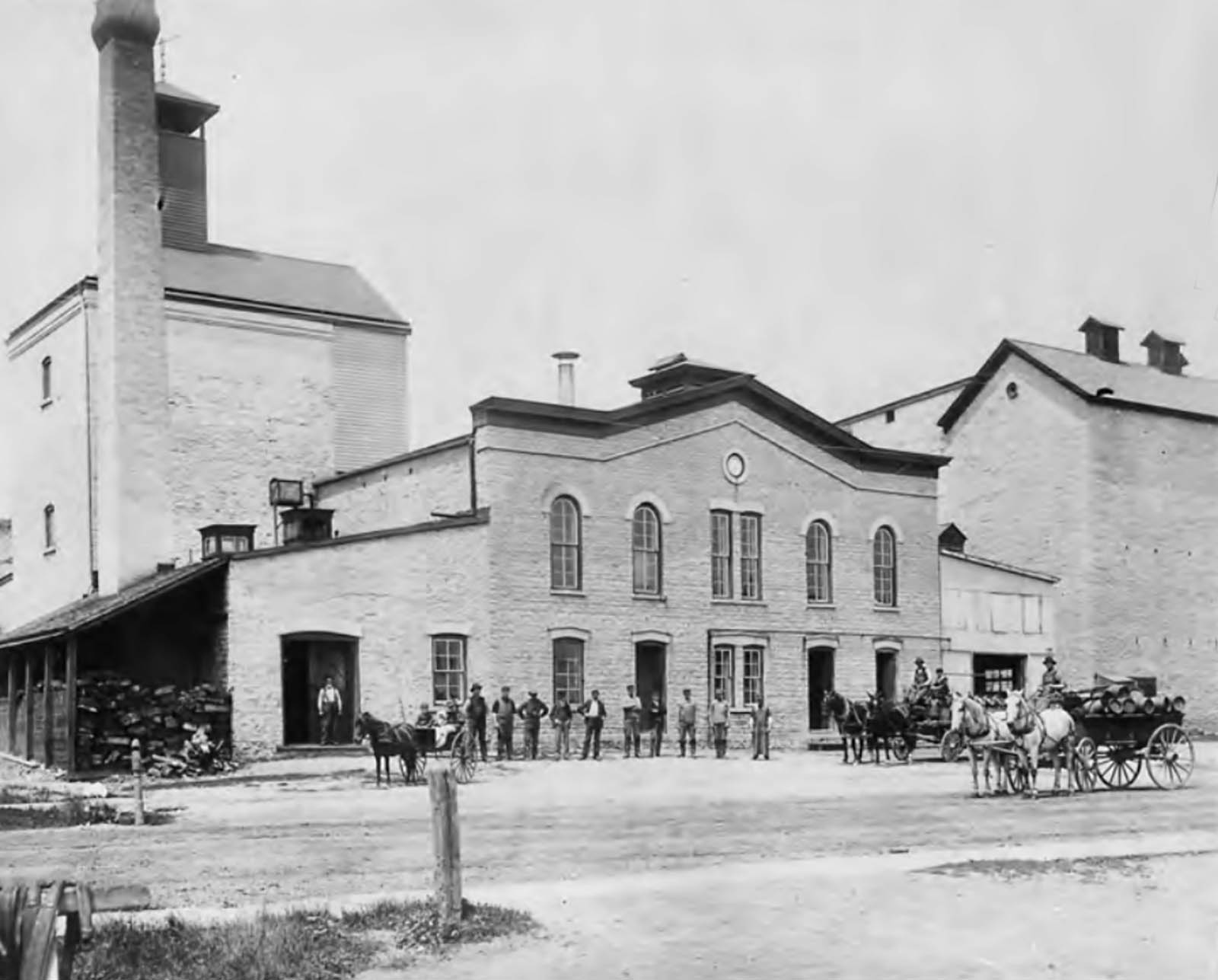 As Stephen's health waned in the early 1950s, so did production numbers and after his death in 1952, the brewery was sold to Elliott Johnson, who tried a number things – including buying contract-brewed beer and acquiring Burlington-baed Van Merritt Brewery and converting it to a soda-making facility – all of which tanked.
Still, by the mid-1950s, Hoverson says, Weber (since Repeal called Weber Waukesha Brewing Co.) was churning out 100,000 barrels a year. But that was small potatoes compared to Fox Head Brewing across town, which was making twice as much.
In 1957, Johnson's death after a heart attack, the changing of beer's flavor and a week-long strike combined to lead Weber to merge with Fox Head. By November 1958, all production had moved over to Fox Head and Weber was shuttered.
Since then, it has housed non-beer-related businesses, including recently, an auto body shop.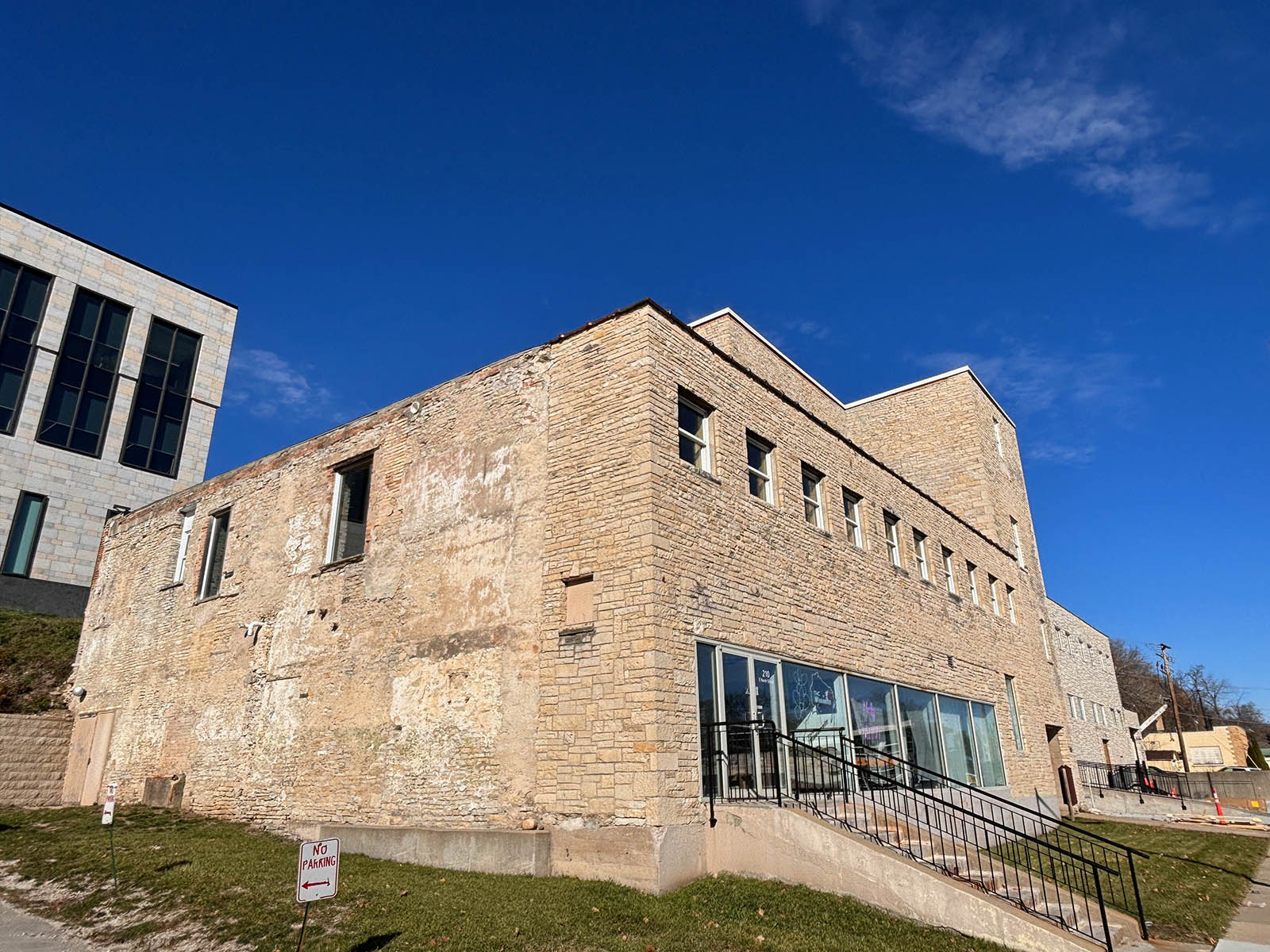 These days, the oldest section of the building houses a tattoo parlor and workshop space occupied by the building's owner, who also stores cars on the upper floor, according to the owners of North Pillar.
The brewery will occupy the northern end of the building, which is a 1946 bottling house addition, its interior clad in beautiful enameled block.
Though the taproom won't be ready for the public for a little while (they hope to open the doors before year's end, however), Boehm and Hocking are expecting to get occupancy and begin brewing on their seven-barrel system as early as this week.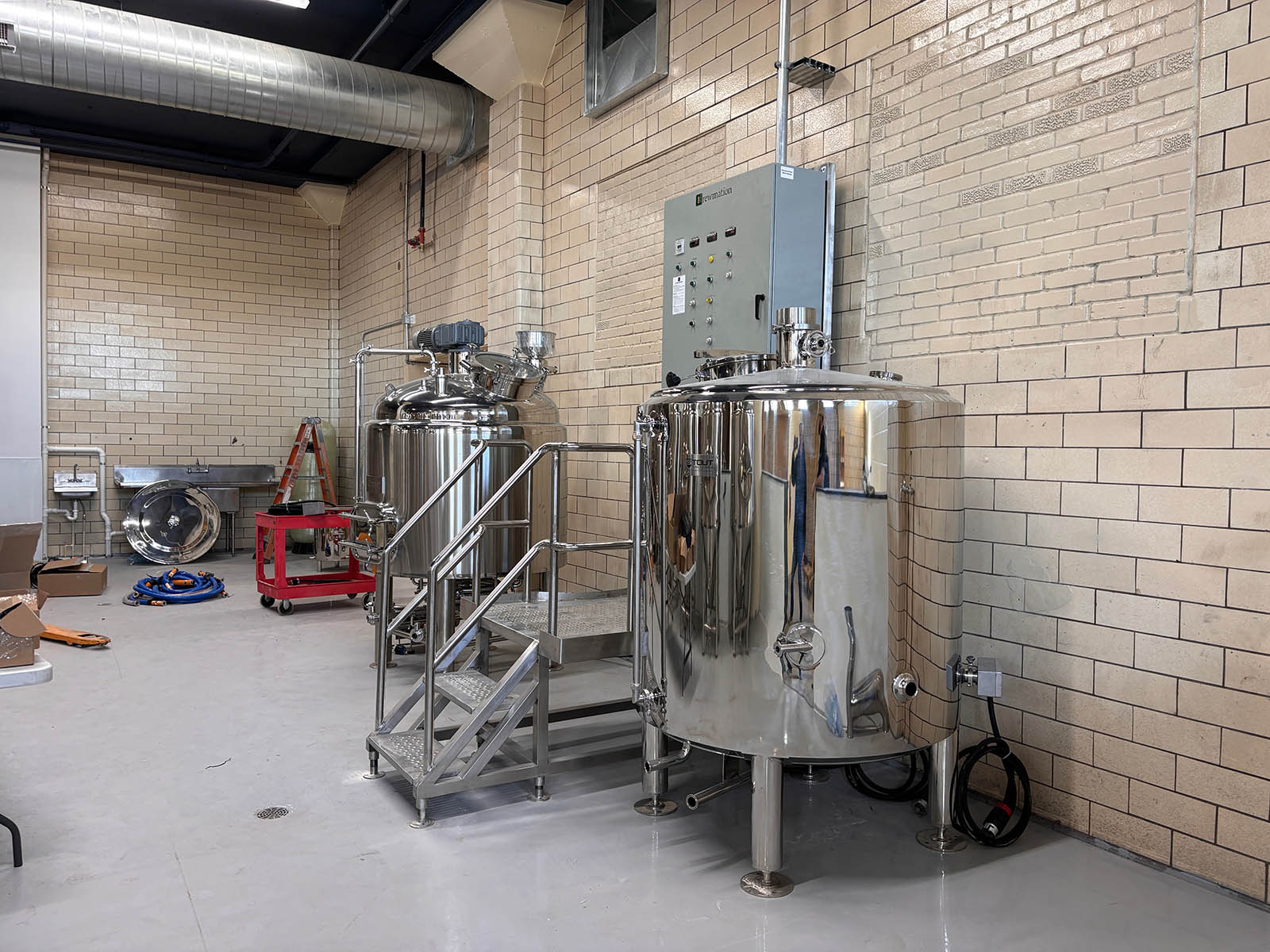 "As soon as we get that," Boehm says, "we're going to get some ingredients on site and we've got recipes on deck ready to go.
"We're not going to shy away from IPAs or bolder beers like that, but we want to also kind of keep the heritage of this place and maybe brew some older styles, and really kind of leave it up to the community, as well.
"We are in search of a Weber recipe and would love to do kind of a collaboration, if you will, with the brewery from 1850 and have that on tap. We think that'd be amazing."
When I visited last week, workers were still building out the space, which is large, with a high ceiling. It will have an occupancy limit of 299, but the duo plans to start out with 160 seats.
There's a bar in the center, table seating and space for a large projection area with picnic style tables off to the left, more seating in front, a games area and the brewhouse off to the right.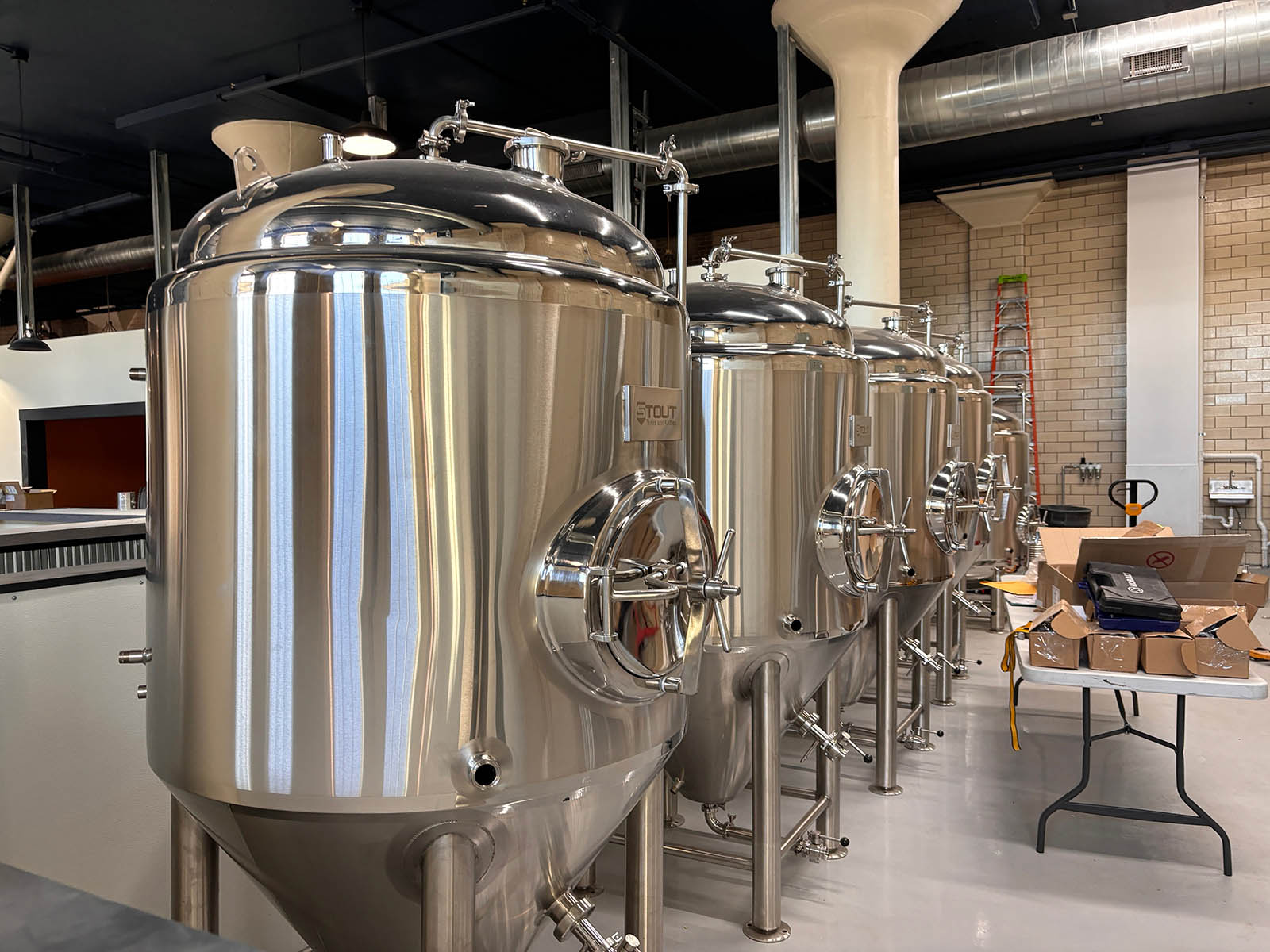 At the back, behind some new garage doors, is a space that can host events with the doors closed. It will be used for general seating and use, with the doors open, when not reserved for a special event.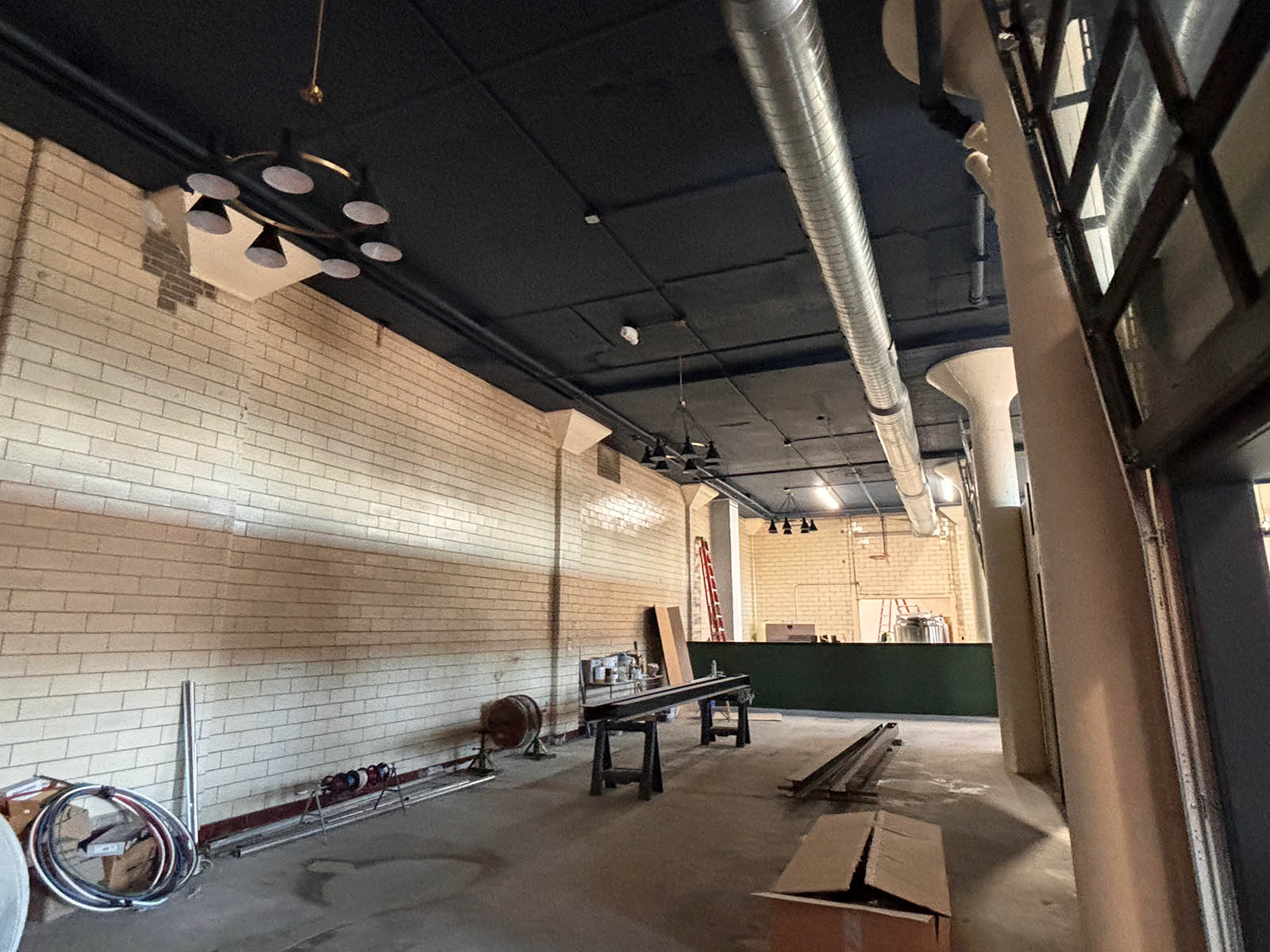 "It's just about 70 people and you'll have your own access to the bar, which is something we really worked around to have happen," Boehm says, "and couches, tabletop games, things like that will be the main focus, but we really wanted to have it as this dual purpose area."
Out front on what was formerly parking for the auto body shop in the building is a large space for a patio and for food trucks.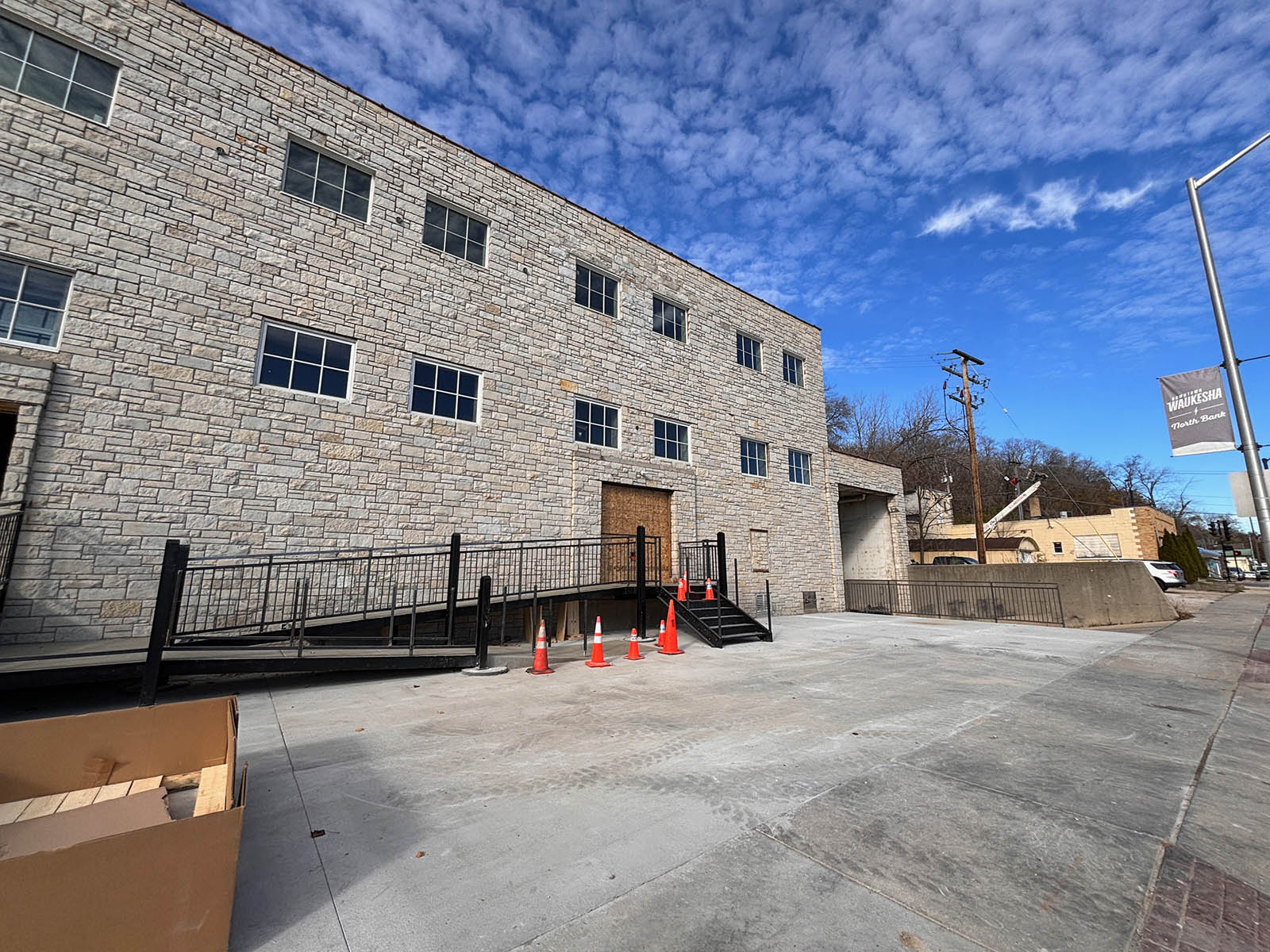 There is no kitchen for now in the plan, but in addition to the food trucks, there are a number of food options – including a Jimmy John's, Domino's and QDOBA – directly across the street.
"We're going to do snacks, too," Boehm says. "We'll have soft pretzels, frozen pizzas cooked at the bar, and cheese curds, beef sticks in the cooler, things like that."
The keg cooler is in the lower level, beneath the bar, and with plenty of space and 12-foot ceilings, there's room down there for North Pillar to expand its production in the future if necessary.
As for the name North Pillar, you'll understand as soon as you walk inside and see the large concrete posts that support the upper floor.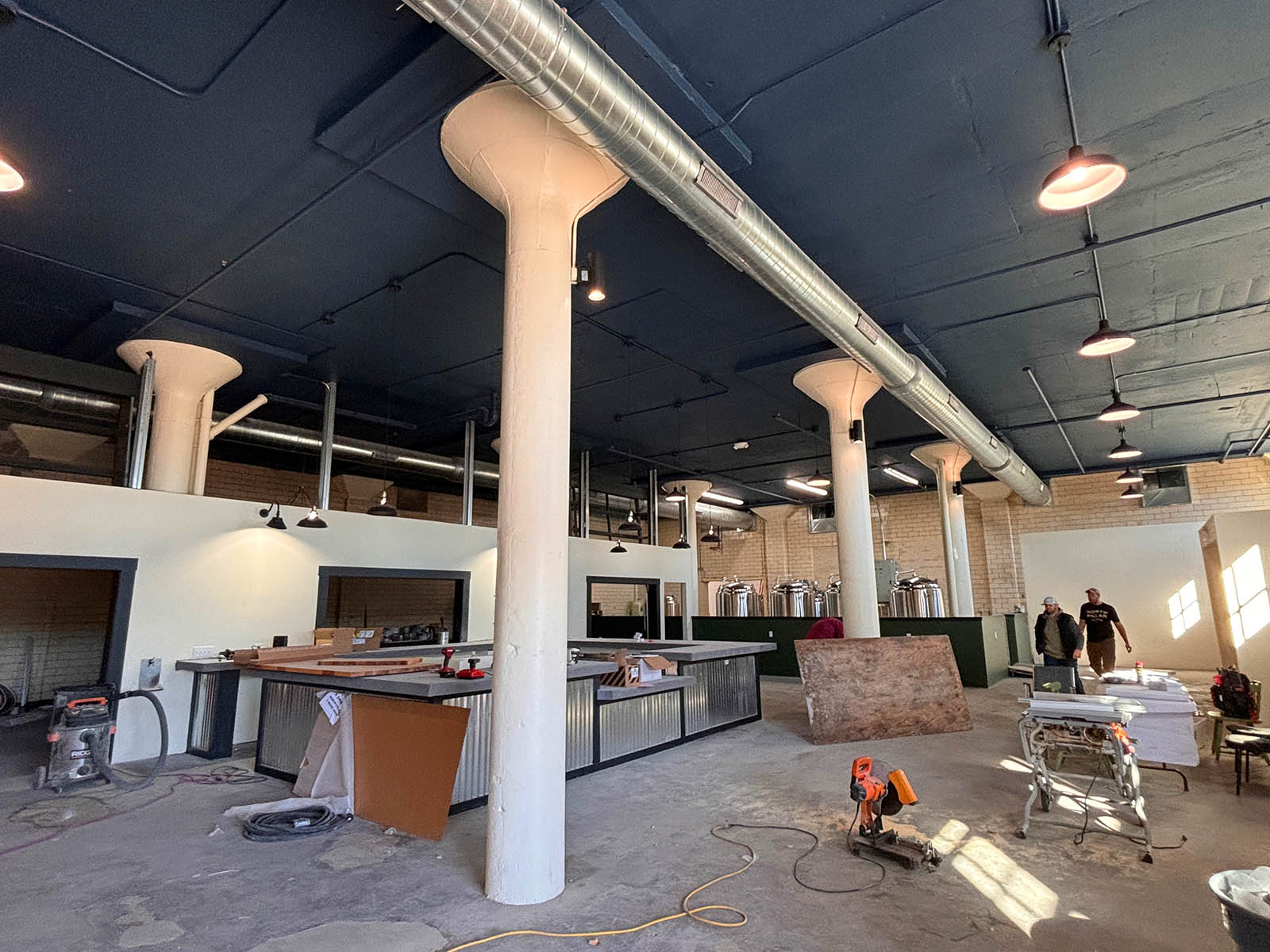 "When we first walked in, first thing we noticed were the pillars," says Boehm. "Bringing this back to what it was originally intended to be was what we kind of morphed our whole brand into once this (space) fell into our laps.
"We're on North Street and we've got these beautiful pillars that we're working around ... North Pillar."
Boehm and Hocking said they were wowed by the space and its history, but more than that, they're dedicated to Waukesha.
"We fell in love with downtown Waukesha," says Hocking. "It's got a lot of potential. There's really a lot of cool shops and restaurants and we were like, 'man, the brewery would do really well here.' We're both from Waukesha, so it's home to us."
"We want to make it fun and accommodating for everyone," adds Boehm. "It's such a big space that we can have a vibe to match anyone's taste."
Born in Brooklyn, N.Y., where he lived until he was 17, Bobby received his BA-Mass Communications from UWM in 1989 and has lived in Walker's Point, Bay View, Enderis Park, South Milwaukee and on the East Side.
He has published three non-fiction books in Italy – including one about an event in Milwaukee history, which was published in the U.S. in autumn 2010. Four more books, all about Milwaukee, have been published by The History Press.
With his most recent band, The Yell Leaders, Bobby released four LPs and had a songs featured in episodes of TV's "Party of Five" and "Dawson's Creek," and films in Japan, South America and the U.S. The Yell Leaders were named the best unsigned band in their region by VH-1 as part of its Rock Across America 1998 Tour. Most recently, the band contributed tracks to a UK vinyl/CD tribute to the Redskins and collaborated on a track with Italian novelist Enrico Remmert.
He's produced three installments of the "OMCD" series of local music compilations for OnMilwaukee.com and in 2007 produced a CD of Italian music and poetry.
In 2005, he was awarded the City of Asti's (Italy) Journalism Prize for his work focusing on that area. He has also won awards from the Milwaukee Press Club.
He can be heard weekly on 88Nine Radio Milwaukee talking about his "Urban Spelunking" series of stories.