When you're golfing in Wisconsin this summer, you might as well dress to the nines while you're playing nine.
That's what the three founders of Manitowoc's Old Fashioned Golf decided, anyway, while playing a round in 2020. They launched their business with Wisconsin-themed golf attire and two years in, are now watching their long game land on the green.
Scott Biely, Kyle Herzog and Joe Maretti named the company after Wisconsin's iconic cocktail. They say they focus on original styles with a familiar feel.
For example, they sell a green polo with gold states for the Packers fan, a similar one in red and white for Badgers fans, a camo-style shirt made up of many small Wisconsins and the newly launched "I-43" – a white polo that pays homage to Wisconsin's iconic license plate.
"Anyone can buy a Nike shirt or Under Armour shirt, but if you're from Wisconsin you'd much rather wear an I-43," says Maretti.
They also sell unique towels, hats and just launched women's polos, available online in time for Mother's Day.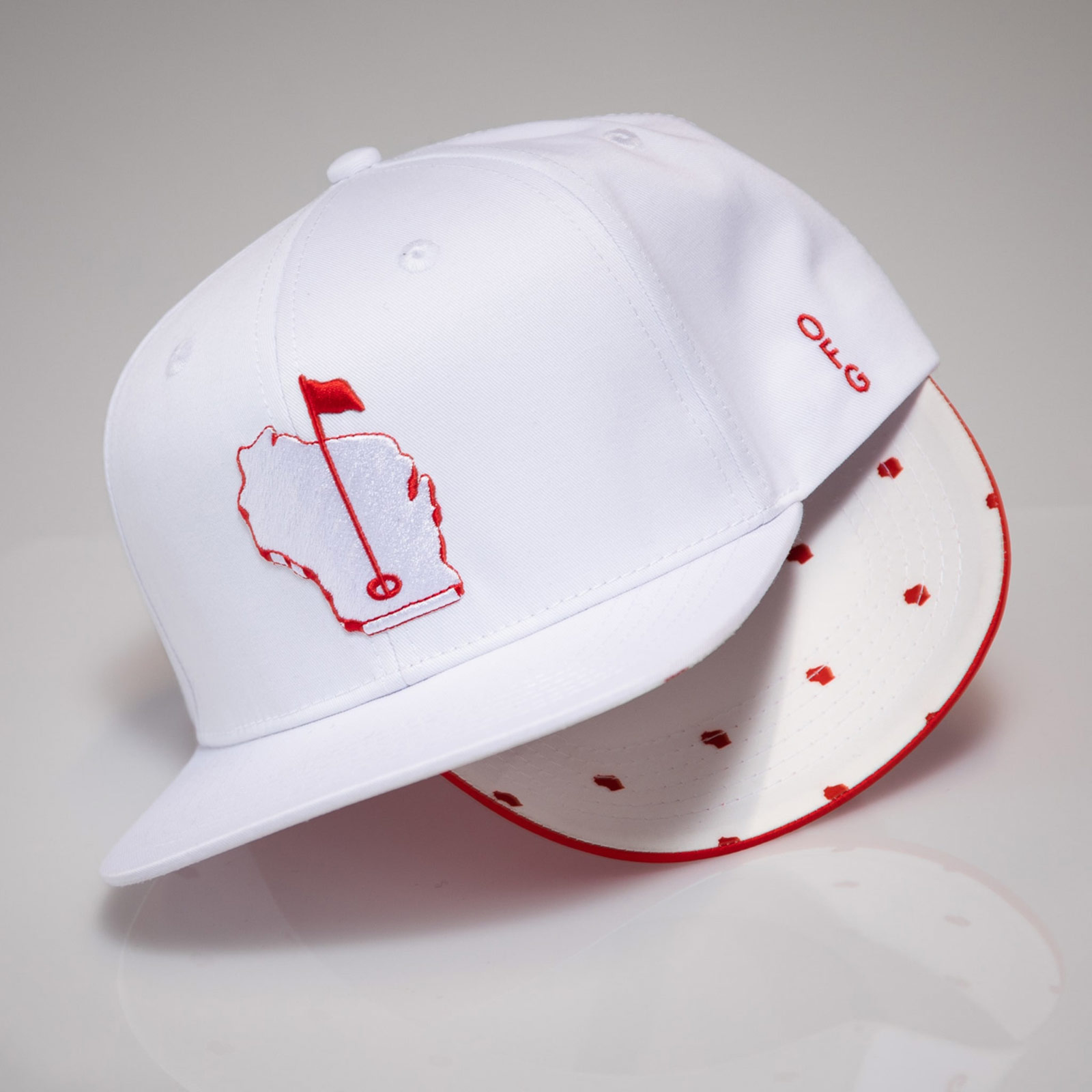 "People love clothing with Wisconsin on it, but we couldn't find golf gear that reflects that,'" says Herzog. "We kept waiting for a reason not to do this business, but we didn't find one. It snowballed from there."
These three buddies are the first to admit that they know nothing about the apparel business and hold full-time jobs outside the industry. Biely works in the beer business, Herzog is an engineer, and Maretti invests in real estate.
"The golf designs that I say won't work, always end up being our best sellers," Maretti says. "The joke is that if I don't like something, then that's what we'll do."
"When we started the freshwater polo, which is a mash up of the Great Lakes, Joe said, 'It's too busy, I don't think it's going to work,' and now we're going to sell out in a few days after just launching," says Biely.
Old Fashioned Golf launched with the goal of selling 100% of its products online but transitioned quickly after a few school districts inquired about custom polos for their golf teams. Now 85% of sales are custom orders with 15% being online.
Hamilton-Sussex is among the first school districts to purchase custom polos. Golf students in Ashwaubenon, De Pere and Manitowoc are also wearing them. Plus, Old Fashioned Golf is now creating unique apparel for Ashwaubenon's football team.
The shirts are comfortable -- made up of polyester and spandex with 50% UV protection. And some say the best part is the fun phrase inside the collar. The collar of the freshwater polo says "I don't think I saw a splash."
"The phrase came early on as a special surprise," Maretti says. "We don't tell anyone about it. We don't advertise it. Then all of a sudden they see it and it's like, oh what a nice surprise."
Ashwaubenon golf put their own original motto underneath the collar.
Biely, Herzog and Maretti are pinching themselves with how far they've come in less than two years.
"At first we thought we'll make a couple of polos with a goal of $10,000 in sales. Then it happened and exceeded it," Herzog says. "But rarely do we talk about the money side of it. Of course we have to pay the bills but it's been more about the pride you feel when someone wears it and says they like it."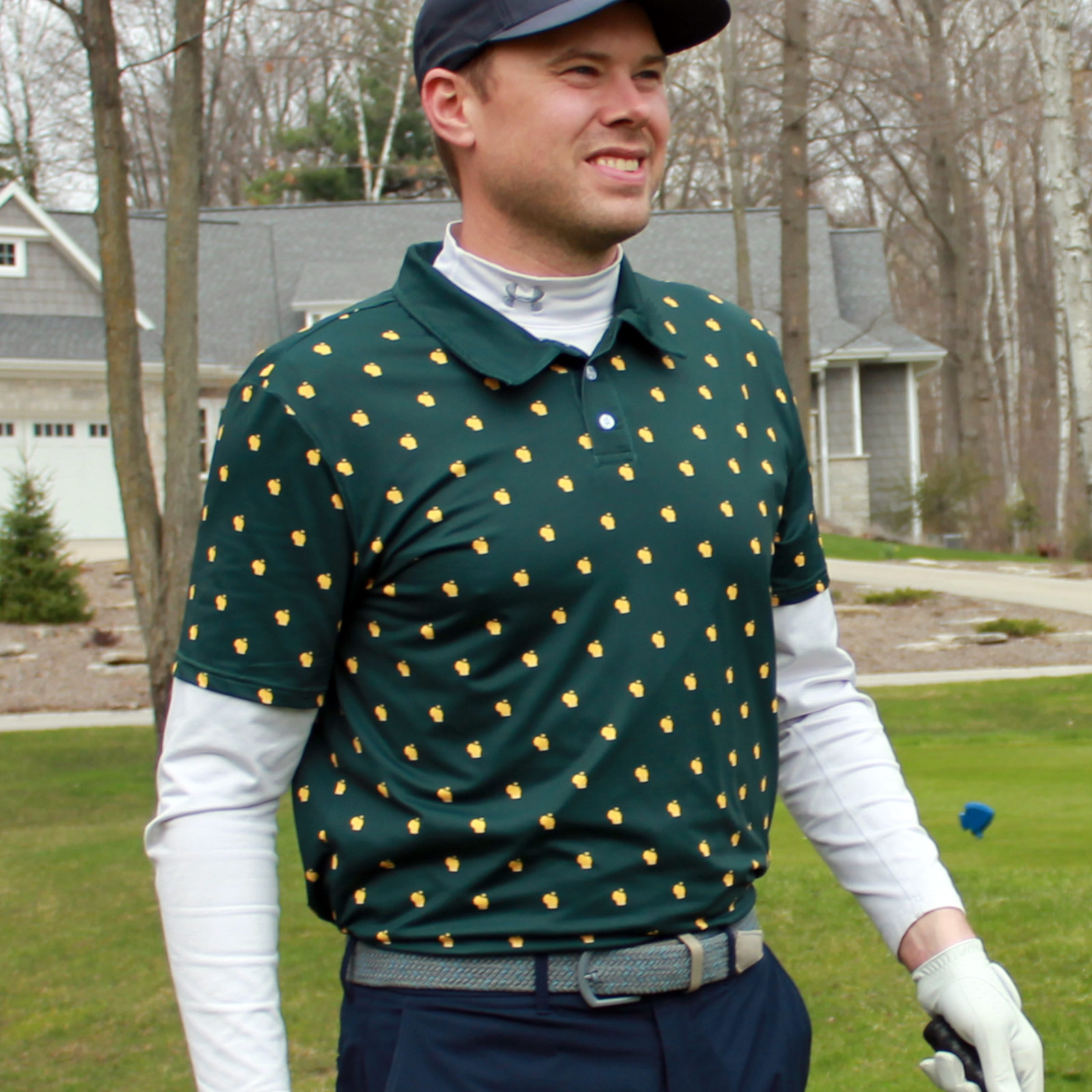 After all, these three love Wisconsin just as much as the rest of us.
"My family went to Florida for vacation," Biely said. "On our way home we stopped at the Culver's in Kenosha and someone held the door for me. I turned to my wife and said, 'We're back in Wisconsin.' You can instantly tell when you're in Wisconsin because the way people treat you is different."
Next up for Old Fashioned Golf is the creation of putter grips, head covers and apparel for cold weather golf.
Andy is the president, publisher and founder of OnMilwaukee. He returned to Milwaukee in 1996 after living on the East Coast for nine years, where he wrote for The Dallas Morning News Washington Bureau and worked in the White House Office of Communications. He was also Associate Editor of The GW Hatchet, his college newspaper at The George Washington University.
Before launching OnMilwaukee.com in 1998 at age 23, he worked in public relations for two Milwaukee firms, most of the time daydreaming about starting his own publication.
Hobbies include running when he finds the time, fixing the rust on his '75 MGB, mowing the lawn at his cottage in the Northwoods, and making an annual pilgrimage to Phoenix for Brewers Spring Training.