In this series, we'll be hiking the burger trail to find the latest, greatest and most delicious burgers in Milwaukee. Click here for an explanation of the criteria used to rate each burger. Where have we been? Check out the complete catalog of burger reviews here.
Bavette La Boucherie
330 E. Menomonee St.
(414) 273-3375
bavettelaboucherie.com
I feel like I gush a bit when I talk about the food at Bavette La Boucherie. But it's one of those restaurants that has put itself on the map with a menu of exceedingly well executed, flavorful dishes. As a result, it's one of a handful of spots that always make it onto my list of recommendations for out-of-town guests eating in our fair city for the very first time.
What began as a simple butcher shop and cafe has evolved into one of the best full-service restaurants in the city. And that evolution has been recognized on countless occasions, not the least of which is chef and owner Karen Bell's recent James Beard Foundation nomination. The restaurant's consistency and drive for excellence has also earned it a spot among an impressive slate of vendors for the new Mequon Public Market.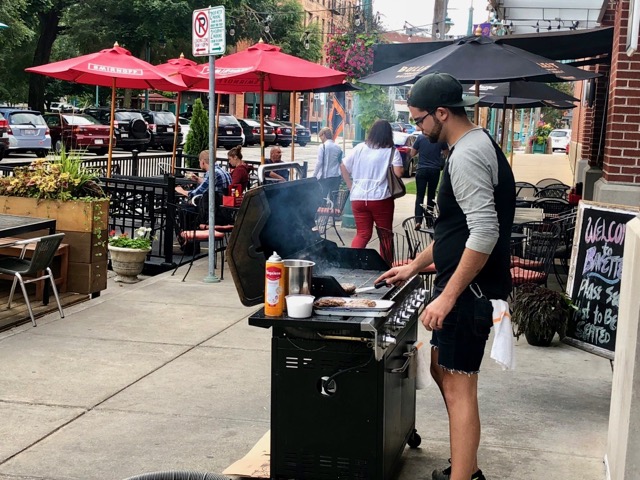 In turn, it's entirely unsurprising that the restaurant's Burger Night, which takes place on Wednesday evenings during the late spring, summer and autumn, is a popular attraction for folks in the Historic Third Ward and beyond. The burgers, which feature house-ground grassfed beef, are topped differently each week with inventive, seasonal ingredients. And they're served up with any number of fresh flavorful sides.
Last week's burger featured a half-pound grassfed beef patty topped with blue cheese, blueberry barbecue sauce and a corn, poblano, radish and cabbage slaw. It was served with a generous side of cucumber melon salad ($16).
Presentation: 10
This is one beautiful burger, from its glossy bakery-style bun to the thick, deeply caramelized grilled patty glistens just a bit, glossed on one side with a layer of melted blue cheese and a peek of barbecue sauce on the other. Meanwhile, you get a glimpse of the fresh, summery slaw, complete with pops of yellow sweet corn.
Bread/bun: 10
A well-appointed bun is a beautiful thing, and this was a great example of a bun done right. The glossy bakery roll provided sufficient heft to support the weighty burger. It offered a good amount of chew, but not so much that it became difficult to eat. And it was nicely toasted, providing both a barrier for sogginess and a bit of texture. Beyond that, it stayed out of the way, allowing the flavor of both the beefy burger and accompanying toppings to shine.
Burger: 10
Quality beef that's been treated and cooked well is the heart of any stellar burger. And this is, by far, one of the best patties I've encountered. Bavette is one of a handful of spots which grinds its own beef (being a butcher shop has its perks). And despite the fact that grassfed beef often lacks the fat content to produce a succulent burger, this loosely-packed, hand-pattied burger was plenty juicy. Its delicate seasoning served to underscore its intense meatiness. Combine those elements with the nice char and caramelization from the grill, and you get one seriously delicious half-pound burger.
Toppings: 10
A number of factors make the toppings on this burger stand out from the rest. The first is the balance of flavors, which were assertive and yet applied with a delicate hand. The blueberry barbecue sauce brought forward both sweet and savory notes that really popped against the sweetness of the fresh corn in the slaw, the latter of which was crisp and flavorful in its own right. It wasn't a burger that was overwhelmed with cheese, but the blue was beautifully melted over the burger, adding a subtle funk that took the umami flavor of the burger to a new level.
Value: 8
The price on these Wednesday night burgers ($16) is more than fair when you consider the quality of the ingredients, the level of expertise in preparation and the mindfully crafted flavor profile. It's a burger that truly defies categorization, taking a humble American staple and elevating it to a new level.
Total: 48/50
Is the Wednesday night Bavette burger the best in the city? It very well could be.
Bavette La Boucherie is open Tuesday through Saturday from 11 a.m. to 9 p.m. Burgers are served Wednesday evenings beginning at 5 p.m., weather permitting.
Lori Fredrich (Lo) is an eater, writer, wonderer, bon vivante, traveler, cook, gardener and girlwonder. Born and raised in the Milwaukee area, she has tried to leave many times, but seems to be drawn to this quirky city that smells of beer and alewives.
Some might say that she is a little obsessed with food. Lo would say she is A LOT obsessed with food. After all, she has been cooking, eating and enjoying food for decades and has no plans to retire anytime soon.
Lo's recipes and writing have been featured in a variety of publications including GO: Airtran Inflight Magazine, Cheese Connoisseur, Cooking Light, Edible Milwaukee, Milwaukee Magazine and the Milwaukee Journal Sentinel, as well as on the blog Go Bold with Butter, the web site Wisconsin Cheese Talk, and in the quarterly online magazine Grate. Pair. Share.