In this series, we'll be hiking the burger trail to find the latest, greatest and most delicious burgers in Milwaukee. Click here for an explanation of the criteria used to rate each burger. Where have we been? Check out the complete catalog of burger reviews here.
Boo Boo's Sandwiches
405 S. 2nd St.
(414) 885-1532
boo-boos.net
I'm truly enamoured of Boo Boo's, the no-frills sandwich shop run by Soup Bros. owner Richard Regner. Not only is the spot just as whimsical as its sibling soup shop, filled with whimsical knick knacks and brightly colored decor, but the counter service shop is serving up a menu of some of the city's most delicious sandwiches.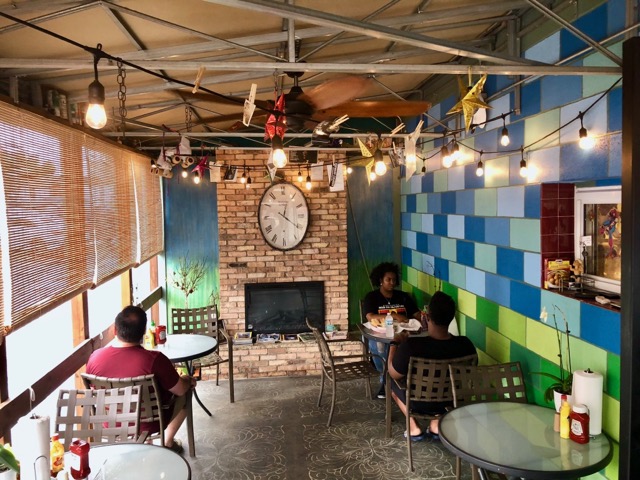 In fact, when I heard the shop had added a burger to its list, I knew I had to pay them a visit.
I have no idea if the Davido burger is named for the Nigerian singer, songwriter and record producer of the same name. But, if it is, it might be an apt moniker. After all, this is a burger which likely deserves just as unexpected a rise to fame as the musician.
The burger itself is $6.50, but there are options to fancy it up a bit. For instance, you can add pepper jack, Swiss, cheddar or American cheese for $0.75 or myriad vegetables, including lettuce, tomato or onions, for $0.50 each. I built mine with American cheese, fried onions, lettuce, tomato and pickles. I also added fries for an additional $3.50.
Presentation: 10
Beautiful. That's what I thought when they delivered this burger to my table. You could see the charred patty, the melted American cheese cascading over the side. The fried onions were glossy and browned, and the fresh colorful vegetables (lettuce, tomatoes and pickles) were neatly stacked below the glossy, seeded bun. Picture perfect, really. And it smelled fantastic.
Bread/bun: 8
I'll admit that what I really wanted to find was a housemade bun. After all, Boo Boo's makes the French bread for most of their sandwiches. But I couldn't fault them too much for the standard bakery bun they chose. After all, it was soft and glossy with the prerequisite sesame seeds studding its top. It was soft, but ultra crisp where its edges had touched the grill. Truly a good bun for the burger.
Burger: 9
The burger itself wasn't at all shabby either. It was visibly hand-pattied, with nicely irregular edges that grew crisp and caramelized on the grill. There was a nice char on the exterior, and the burger itself was well seasoned, hot and juicy.
The burger's only fault was in the inconsistency of the preparation. Boo Boo's does ask customers how they'd like their burgers cooked, so my dining partner and I both ordered ours medium-rare. In the end, one was a solid medium and the other cooked just a bit further. Under the circumstances, I had to deduct a point.
Toppings: 10
Topping were both high quality and generous. The cheese came nicely melted atop the burger, and there was a sufficient amount that it played a significant role in the flavor. The same went for the fried onions, which were delicious and sweet with just enough residual fat to give them glossiness and mouth-freel. Meanwhile, the vegetables were just what you'd want. The leaf lettuce was crisp and beautifully green. The tomatoes (two slices) were reasonably ripe and juicy. And the beautiful dill pickles were thick-cut and tasty enough to eat out of hand.
Value: 9
I gussied my burger up a bit with cheese, onions and vegetables, but even then, it came out at a whopping $8.50. It's a good deal for a nicely sized burger topped with fresh ingredients that are worth eating.
Total: 46/50
Damn, Boo Boo's, you make a fine burger.
Boo Boo's is open Monday through Wednesday from 11 a.m. to 6 p.m., Thursday and Friday from 11 a.m. to 8:30 p.m. and Saturday From 11 a.m. to 6 p.m.
Lori Fredrich (Lo) is an eater, writer, wonderer, bon vivante, traveler, cook, gardener and girlwonder. Born and raised in the Milwaukee area, she has tried to leave many times, but seems to be drawn to this quirky city that smells of beer and alewives.
Some might say that she is a little obsessed with food. Lo would say she is A LOT obsessed with food. After all, she has been cooking, eating and enjoying food for decades and has no plans to retire anytime soon.
Lo's recipes and writing have been featured in a variety of publications including GO: Airtran Inflight Magazine, Cheese Connoisseur, Cooking Light, Edible Milwaukee, Milwaukee Magazine and the Milwaukee Journal Sentinel, as well as on the blog Go Bold with Butter, the web site Wisconsin Cheese Talk, and in the quarterly online magazine Grate. Pair. Share.