In this series, we'll be hiking the burger trail to find the latest, greatest and most delicious burgers in Milwaukee. Click here for an explanation of the criteria used to rate each burger. Where have we been? Check out the complete catalog of burger reviews here.
Fred's
596 N. Pine St., Burlington
(262)-763 8370
freds-burgers.com

Located in a quaint section of downtown Burlington, Fred's is surrounded by little shops, bars, restaurants and the local movie theater. The location has been around for quite some time, formerly The Parkview before being purchased by the current owner in 1980.
The front of Fred's is much like the corner taverns of yore, though the decor is augmented with little touches that reflect Fred's passion for wood-working. It's the sort of spot where people gather for a drink after work. Thanks to the dining room added onto the back of the bar, it's also a good spot to go with the family. Just be aware you do have to go up to the bar counter to order.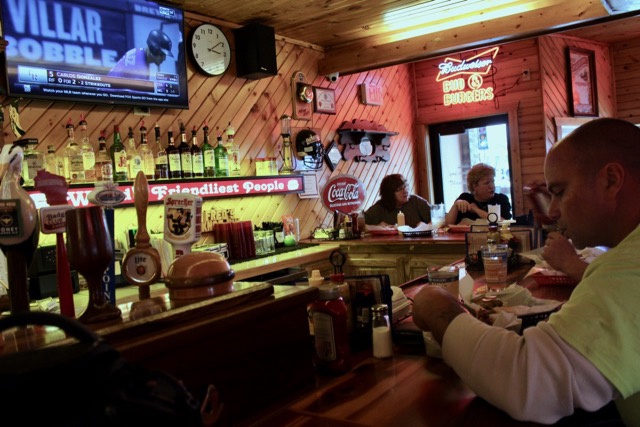 Fred's tagline, "World's Best Burgers," sets the bar pretty high. But we'd heard great things about their burgers, so we went in with realistic expectations and an empty stomach.
In keeping with what we'd heard – that Fred's burgers were the star of the show – we decided to keep things simple in an effort to really let that burger patty shine. That meant no frills when it came to toppings. Just a good old basic cheeseburger.
Fred's cheeseburger is $6.79. We ordered ours with Fred's famous melted cheddar cheese sauce … because it's "famous" for a reason, right?
Presentation: 7
It's a big fat burger in a cute little basket, gently flanked by a trill of thinly sliced pickles. Seriously. There's nothing special about the presentation at Fred's. But, even at first glance, this burger was begging to be eaten. And that's exactly what we did.
Bread/bun: 7
The bun was a solid one: an old school white roll that just about (but not quite) had the gumption to stand up to the incredibly juicy burger.
Burger: 9
You can (and should) get your burger cooked to order at Fred's. We ordered ours medium rare, and it came out on par. It was big and juicy (almost too much for the bun) and had a nice flavor, likely derived from Fred's "famous" seasoning blend, which is sprinkled atop their burgers. I'd go back again just to eat this again.
Toppings: 5
If given it all to do over again, I'm pretty sure I would've gone with Fred's Swiss Mushroom burger – not because the burger needed toppings, but because I'm a sucker for mushrooms. However, on this particular day, I was eager to test the power of Fred's World Famous patty. So, it seemed logical to go with his Fred's famous melted cheddar sauce as well. The sauce was fine, but nothing to write home about. It was very fortunate that the burger could speak entirely for itself.
Value: 8
Fred's gets points for a solid burger at a price tag that's well worth the cost. At $6.79, it's a deal. And it means you can afford a basket of onion rings or housemade chips to go alongside. It also means you can order that beer you've been looking forward to all day.
Total: 36/50
Take a drive down to Burlington, catch a movie and then stop over for a burger. But get your napkins ready. It's a juicy one.
Fred's is open daily from 10:30 a.m. to close.
Lori Fredrich (Lo) is an eater, writer, wonderer, bon vivante, traveler, cook, gardener and girlwonder. Born and raised in the Milwaukee area, she has tried to leave many times, but seems to be drawn to this quirky city that smells of beer and alewives.
Some might say that she is a little obsessed with food. Lo would say she is A LOT obsessed with food. After all, she has been cooking, eating and enjoying food for decades and has no plans to retire anytime soon.
Lo's recipes and writing have been featured in a variety of publications including GO: Airtran Inflight Magazine, Cheese Connoisseur, Cooking Light, Edible Milwaukee, Milwaukee Magazine and the Milwaukee Journal Sentinel, as well as on the blog Go Bold with Butter, the web site Wisconsin Cheese Talk, and in the quarterly online magazine Grate. Pair. Share.