My Burger Trail journey kicked off in January of 2017, and for over three years, I've dedicated time and energy to searching for the best, most well-executed burgers in the City of Milwaukee and beyond.
Along the way, I've put well over 100 burgers to the test, scoring each one on the basis of five categories: appearance, bun, burger, toppings and value. If you're curious, these 15 burgers gleaned the highest scores so far.
To earn top scores, the burgers were required to perform well in all categories (appearance, bun, burger, toppings and value). The best of the best showcased ingredients of exceptional quality, excellence in preparation, impressive flavor balance and (often) housemade ingredients that took them up a notch.
For the purpose of scoring, my aim is to be as objective as possible. What that means is – even if I subjectively love a particular burger (for its flavor profile, style or composition) – I'm bound to fairness, rather than my own particular preferences.
Top scores vs. personal favorites
Today, in honor of International Burger Day, I'm sharing a list of my personal favorite burgers. Some overlap the top scoring burger list; but there are also a number of outliers that didn't perform well enough in one area or another to achieve a sufficient score to make that list.
My top 10 list is relatively diverse in terms of both price point and style. Much like my list of high scoring burgers, many of these showcase expertise in technique or outstanding housemade ingredients. Others simply spark joy-filled flavor memories or nostalgia. But all, in my opinion, are truly delicious.
Here's my top 10 in reverse order. And yes, all but one are currently available for take-out or curbside pick-up.
10. Palomino
2491 S. Superior St., (414) 747-1007
palominobar.com
Overall Score: 44/50
[Read the full review]
The double brisket burger at Palomino is a great example of a classic diner-style burger that's been elevated with the use of exceptionally high quality ingredients. The freshly ground brisket is juicy and beefy, and it's topped with classic ingredients like umami-filled American cheese, an amazing "secret sauce," delicious pickles and raw onions. Ultimately, it has all the the flavors of a classic diner-style burger ... and then some.

9. Nite Owl Drive In
830 E. Layton Ave., (414) 483-2524
facebook.com/Nite-Owl
Overall score: 40/50
[Read the full review]
Value is everywhere at Nite Owl, and that includes their $4.50 cheeseburger. That's about 79 cents more than what you'd pay for a quarter pounder with cheese at McDonald's. What matters even more is that this burger blows McDonald's (and a lot of other places) flat out of the water.
It's worthwhile to note the Nite Owl is cash only; but if you've forgotten your 10-spot, there's an ATM at the gas station next door.
8. Crave Cafe
3592 N. Oakland Ave., (414) 204-8778
facebook.com/CRAVECafeMKE/
Overall score 45/50
[Read the full review]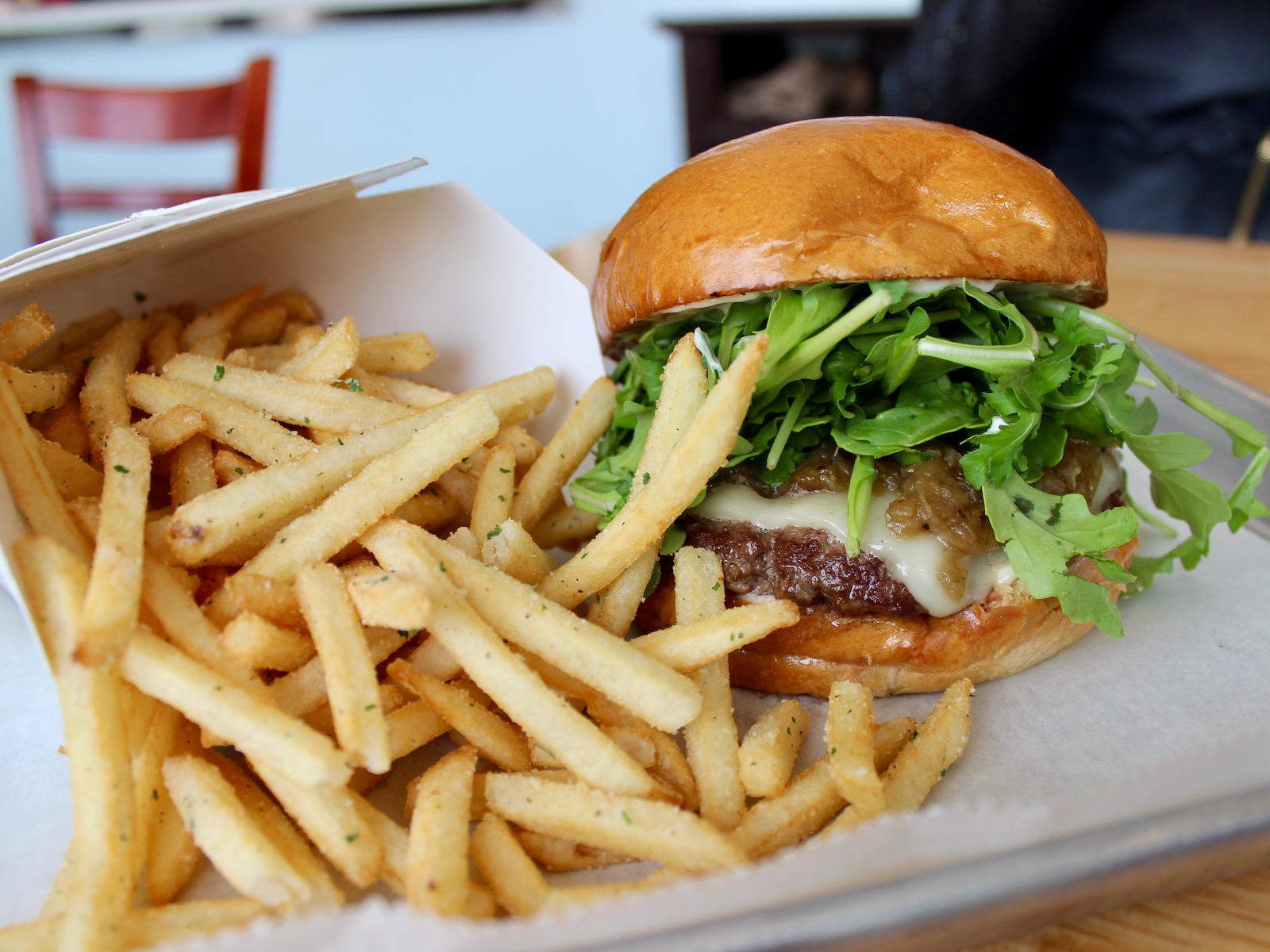 At Crave Cafe, it's all about the little details, from the ultra-crisp butter-toasted brioche bun to the juicy, well-seasoned burgers. My original review featured the signature burger (which surprised me in a variety of ways); but you can't really go wrong with their mushroom Swiss burger or the Korean BBQ Burger, which hits all the right notes with its combination of sweet, salty and funky flavors. If you're looking for a "crave-worthy" burger, you'll find it here.
7. Bass Bay Brewhouse
S79W15851 Aud Mar Dr., Muskego, (414) 377-9449
bassbaybrewhouse.com
Overall score 47/50
[Read the full review]
I'm understandably elated when I happen upon restaurants that take their burger patties seriously. This is definitely the case at Bass Bay, which uses a combination of brisket and chuck that's cubed, seasoned, ground and hand-pattied. There's a tell-tale irregularity about the burger's shape, which belies the fact that it's been handled by a human being. The meat is loosely packed enough that it retains both a healthy amount of fat and a tender texture. And, in this burger's case, it's well seasoned from the inside out.
6. Merriment Social
240 E. Pittsburgh Ave., (414) 645-0240
merrimentsocial.com
Overall score: 44/50
[Read the full review]
The burger I reviewed for this series has long since come off the menu at Merriment Social. But it's of no consequence. Every burger I've eaten there has been top notch. That includes the namesake Merriment Burger (pictured) which is decked out with American cheese, bacon, house pickles and social sauce. In fact, it's that very burger that won me over from day 1, with its juicy patty and absolutely perfect housemade Japanese milk bun.
5. The Diplomat
815 E. Brady St., (414) 800-5816
thediplomatmke.com
**Currently closed **
Overall score: 46/50
[Read the full review]
The Diplomac was among the delightful surprises I've encountered on the Burger Trail. From its perfect bun and tasty beef patties down to its housemade sauce and bun, it was a pleasure to eat. Even better, it conjured up all of my fondest classic burger memories while showcasing the magic of fresh, housemade ingredients.
It's a burger I think about fairly often, and it's one I've missed over the past two months. I have high hopes that The Diplomat will reopen in the days and weeks ahead. When that happens, I very much look forward to heading back to enjoy another stellar burger.
Definitely put it on your "must try" list.
4. Fontelle's Eatery
Zocalo Food Park, 636 S. 6th St.
facebook.com/fontelleseatery
Overall score: 44/50
[Read the full review]
While I'm often a "simple is better" gal when it comes to burgers, there are moments when I'm forced to make an exception. Such was the case with The Rising Sun, a burger that packed in flavor with toppings like gochujang, kimchi and a fried egg that – I swear – really made everything better (and that's not always the case in my book).
3. Oscar's Pub & Grill
1712 W. Pierce St., (414) 810-1820
oscarsonpierce.com
Overall score: 43/50
[Read the full review]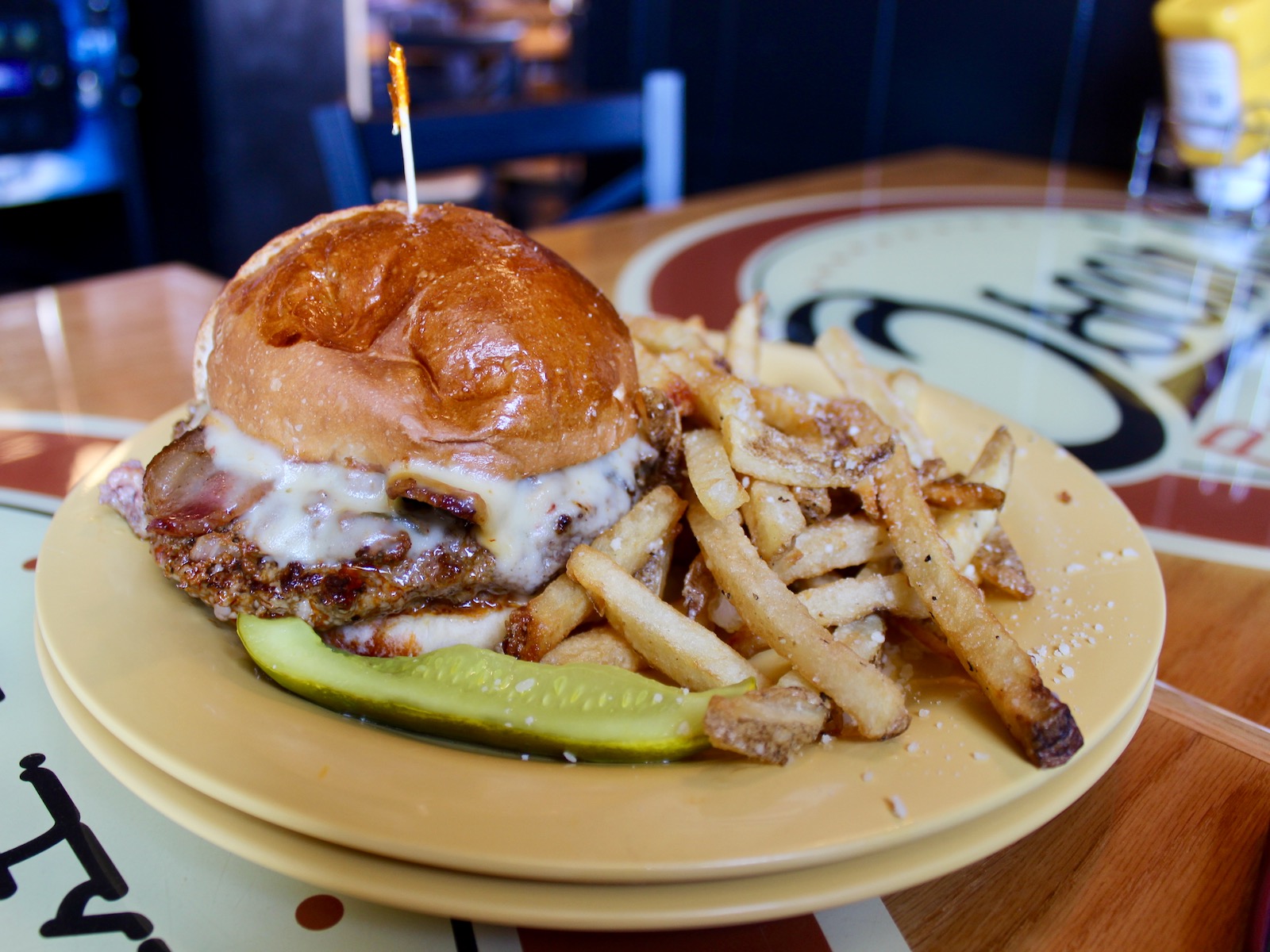 The Big O at Oscar's is among my tried-and-true go-to's. It's beefy and perfectly greasy with a generous amount of cheese. And the flavors of the toppings run the gamut from smokey and spicy to fresh and bright. If you haven't yet tried a burger from Oscar's, you'd be remiss not to put them on your list. And if you have, well, you know what I'm talking about.
2. Birch + Butcher
459 E. Pleasant St., (414) 323-7372
birchandbutcher.com
Overall score: 49/50
[Read the full review]
I love a good many things about Birch + Butcher, from their outstanding brunch dishes to the way they coax flavor from the humblest ingredients with the magic of live fire. Their burger (available at both happy hour and brunch) is no exception. In fact, it's exceptional in nearly every way – from its deep dark brioche bun and meaty beef patties to its unique combination of toppings, all of which serve to highlight the beautiful umami in the burger. It's just delicious. Oh – and those pork fat fried smoked potatoes? – I simply have no words.
1. Foxfire
Hawthorne Coffee Roasters, 4177 S. Howell Ave.
Zócalo Food Park, 636 S. 6th St.
foxfiremke.com
Overall score: 48/50
[Read the full review]
This burger made my "best of" list this year for a load of reasons. First, it showcases two exceptional four-ounce patties of freshly ground brisket each of which offers up both rich, full flavor and beautiful texture. Secondly, it showcases exactly how simple ingredients (a fluffy sweet bun, American cheese, thinly sliced onions and pickles) can be combined to create an ultra-solid burger with a flavor that far surpasses the sum of its parts.
When I bite into a burger like this, I get nostalgic. My mouth waters. And I find myself wondering if I've ever eaten something quite this good. There's a little bit of magic here ... in this simply delicious burger that's as rare and lovely as foxfire itself.
Lori Fredrich (Lo) is an eater, writer, wonderer, bon vivante, traveler, cook, gardener and girlwonder. Born and raised in the Milwaukee area, she has tried to leave many times, but seems to be drawn to this quirky city that smells of beer and alewives.
Some might say that she is a little obsessed with food. Lo would say she is A LOT obsessed with food. After all, she has been cooking, eating and enjoying food for decades and has no plans to retire anytime soon.
Lo's recipes and writing have been featured in a variety of publications including GO: Airtran Inflight Magazine, Cheese Connoisseur, Cooking Light, Edible Milwaukee, Milwaukee Magazine and the Milwaukee Journal Sentinel, as well as on the blog Go Bold with Butter, the web site Wisconsin Cheese Talk, and in the quarterly online magazine Grate. Pair. Share.