In this series, we'll be hiking the burger trail to find the latest, greatest and most delicious burgers in Milwaukee. Click here for an explanation of the criteria used to rate each burger. Where have we been? Check out the complete catalog of burger reviews here.
Swingin' Door Exchange
219 E. Michigan St.
(414) 276-8150
swingindoorexchange.com
Want history? You'll find it here. There's been a bar in the space which now houses the Swingin' Door Exchange since 1933. At that time, the bar was aptly called the Grain Exchange Tavern. In the 1960's, it became Bubin's Saloon. But in 1973, under the ownership of Michael Murphy, it became the Swingin' Door and remained so until 2010 when current owners -- K.C. Swan and Shelley Sincere -- took over the business and renamed it the Swingin' Door Exchange.
And that's part of the charm of this old-school "Saloon & Eatery," which still hearkens back to an era when stained glass windows and ornate wooden bars were the norm and hospitality was the name of the game.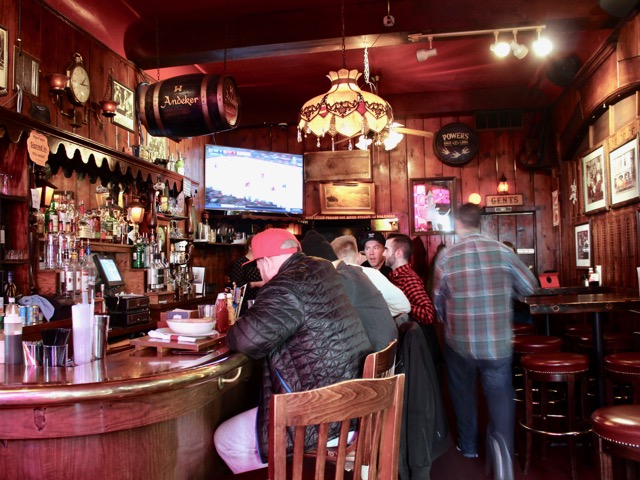 Although you can build your own burger at Swingin' Door, that's not really an option for me. After all, my job isn't to create a great burger and write about it; it's to let you know how successfully different venues are in creating burgers that are both mouth-wateringly delicious and worth their price tag. In that arena, Swinging Door has two creations: their patty melt and their Big KC Burger. And, although I love a good patty melt, alas ... this isn't the patty melt trail.
The Big KC -- which I'm assuming is named for Mr. Swan himself -- features a half-pound Black Angus burger topped with white cheddar cheese, grilled onions, shaved roast beef, bacon, pepper-jack cheese and mayonnaise on a sesame seed roll for $12.50.
Presentation: 8
I'll admit, the KC isn't a burger I probably would've ordered based on the menu description. Judge me as you will; but I was just "so-so" on the idea of topping a burger with roast beef (a good burger, after all, shouldn't need any more beef flavor). But, the look of this burger alone made me reevaluate. From its lovely bun to its neatly criss-crossed bacon strips, it was a mighty nice looking burger. And I found myself looking forward to diving in.
Bread/bun: 8
That Sciortino's roll is a good choice for this burger, which didn't need to be embellished with anything more than a solid, yeasty cradle. Its texture was pleasantly soft, with a bit of chew -- an aspect which reminded me (if vaguely) of the old school hard rolls my grandparents used to bring home on Sundays after church.
Burger: 9
Perfectly charred. Pleasantly salty. Tender. Meaty. It took me a bit to isolate the burger, which was nicely covered by melted cheese and a cloak of roast beef. But, those are all words I'd use to describe what lay beneath. It came to our table medium-rare, as ordered. And it was tasty enough to stand on its own: a very good thing, indeed, and one that boosted this burger's score swiftly to the top.
Toppings: 8
Again, this was such a nice surprise. The roast beef, though probably gilding the lily, did add a meaty component to the burger which I quite enjoyed. The bacon was crisp, giving the burger a nice texture, and the flavor from the onions came through… though, interestingly enough, I had a hard time finding the onions themselves. It could have been that they were buried under the cheese, which was melted nicely and strategically placed to keep the other toppings under control.
Value: 7
Priced at $12.50, the Swingin' Door burger is a fair deal. Not the cheapest, but also not the most I've paid for a burger (some of lesser quality). It's hefty and filling. And it's tasty to boot.
Total: 40/50
I'm giving this burger a nice big nod. I'd eat it again, and you probably should too. If you need to feel slightly more virtuous in your decision, order the spicy vermouth carrots (also good) on the side instead of fries.
Restaurant hours for Swinging Door are Monday through Friday from 11 a.m. to 10 p.m., Saturday from 10 a.m. to 10 p.m. and Sunday from 10 a.m. to 9 p.m.
Lori Fredrich (Lo) is an eater, writer, wonderer, bon vivante, traveler, cook, gardener and girlwonder. Born and raised in the Milwaukee area, she has tried to leave many times, but seems to be drawn to this quirky city that smells of beer and alewives.
Some might say that she is a little obsessed with food. Lo would say she is A LOT obsessed with food. After all, she has been cooking, eating and enjoying food for decades and has no plans to retire anytime soon.
Lo's recipes and writing have been featured in a variety of publications including GO: Airtran Inflight Magazine, Cheese Connoisseur, Cooking Light, Edible Milwaukee, Milwaukee Magazine and the Milwaukee Journal Sentinel, as well as on the blog Go Bold with Butter, the web site Wisconsin Cheese Talk, and in the quarterly online magazine Grate. Pair. Share.