In this series, we'll be hiking the burger trail to find the latest, greatest and most delicious burgers in Milwaukee. Click here for an explanation of the criteria used to rate each burger. Where have we been? Check out the complete catalog of burger reviews here.
Ted's Ice Cream & Restaurant
6204 W. North Ave.
(414) 258-5610
facebook.com/Teds-Ice-Cream-Restaurant
It's been 78 years since Ted and Ellen Gottwein opened their ice cream parlor on North Avenue. Originally, it was located at 6129 W. North Ave.; but in 1948, Ted moved his business to 6204 W. North Ave., where it has remained ever since.
The business has also remained in the family. In fact, Ted's owner Kevin Wadhams marks the third generation of family ownership for the shop, which still sports a vintage look and feel, complete with its two horseshoe-shaped counters, round stools and menu filled with simple, tasty items like egg sandwiches and grilled cheese for just $1.99.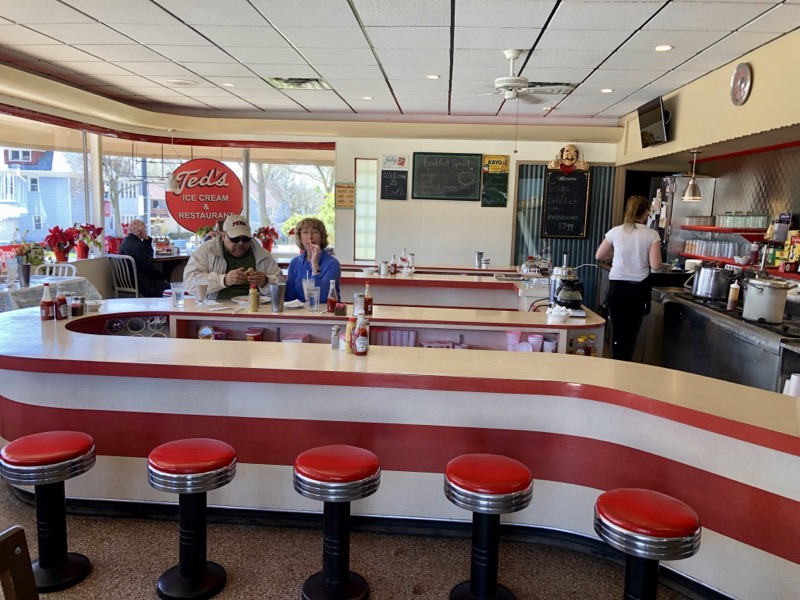 Of course there's a laundry list of other items from breakfast favorites to tuna melts, French dips and burgers. All are appropriately eaten with Ted's housemade ice cream, which can be made into old fashioned shakes, malts or sundaes.
The Boss Burger features a one-third pound certified Angus Beef custom blended patty char-broiled to your liking. Served on a garlic kaiser roll with French fries and your choice of soup or salad ($7.89). I ordered mine with American cheese and the works for an extra $0.50. Of course, I also got a hot fudge malt on the side ($4.89).
Presentation: 8
The char-grilled burger is a looker, split open on the plate. Its onions were steaming hot and the American cheese atop the burger was just starting to melt over the top of the char-grilled patty. It's made even prettier by the snatch of color from the lettuce, pickle and tomato … and of course that amazing retro tablecloth, which reminds you exactly where you are.
Bread/bun: 10
Quite often, there's not much to say about the bun that accompanies a burger. But, in this case, it plays a significant role. The Kaiser is soft, but sturdy, and it's toasted to an exceptional crispness on the inside. It's also seasoned with garlic, meaning it brings a bit more flavor to the table than you might expect.
Burger: 9
Ask for your burger mid-rare, and that's likely how it will come. On this trip, the burger was perfectly done; it had slightly crisp edges and an exterior seasoned lightly with salt. Meanwhile, its interior was pink and juicy, and – like any good diner burger – it was the perfect amount of greasy. That gave the bottom bun a run for its money, soaking it full of meaty goodness.
Toppings: 8
The toppings were basic, but fresh. There was enough cheese to cover a good amount of the burger, and the onions were beautifully fried. The lettuce was crisp, and there was just enough of it to offer some texture; meanwhile the tomato offered enough moisture that I could have foregone the condiments. But nearly every burger benefits from a bit of ketchup and mustard, in my experience.
Value: 9
The burger itself is a great deal. After all, it comes with fries and soup or salad for less than $8, and just slightly more with all the fixins. Pair that with the congenial old school vibe that pervades Ted's and you've got yourself a burger worth eating.
Total: 44/50
If you're craving a deliciously greasy diner burger, there's nothing quite like The Boss Burger at Ted's.
Ted's is open Monday through Thursday from 7 a.m. to 3 p.m., Friday from 7 a.m. to 8 p.m., Saturday from 7 a.m. to 2 p.m. and Sunday from 7 a.m. to 1 p.m.
Lori Fredrich (Lo) is an eater, writer, wonderer, bon vivante, traveler, cook, gardener and girlwonder. Born and raised in the Milwaukee area, she has tried to leave many times, but seems to be drawn to this quirky city that smells of beer and alewives.
Some might say that she is a little obsessed with food. Lo would say she is A LOT obsessed with food. After all, she has been cooking, eating and enjoying food for decades and has no plans to retire anytime soon.
Lo's recipes and writing have been featured in a variety of publications including GO: Airtran Inflight Magazine, Cheese Connoisseur, Cooking Light, Edible Milwaukee, Milwaukee Magazine and the Milwaukee Journal Sentinel, as well as on the blog Go Bold with Butter, the web site Wisconsin Cheese Talk, and in the quarterly online magazine Grate. Pair. Share.