In this series, we'll be hiking the burger trail to find the latest, greatest and most delicious burgers in Milwaukee. Click here for an explanation of the criteria used to rate each burger. Where have we been? Check out the complete catalog of burger reviews here.
The Diplomat
815 E. Brady St.
(414) 800-5816
thediplomatmke.com
If you've eaten at The Diplomat, you know to expect well-executed small plates and entrees in a restaurant with a warm, fun vibe. Head over for happy hour and you'll find the bar abuzz with folks of all ages chatting, drinking and nibbling on any number of the restaurant's small plates. Arrive later and take a seat in the dining room, and you'll be treated to something slightly more formal, yet equally relaxed.
And its chef and owner Dane Baldwin's deftness in creating new takes on classic dishes that makes the restaurant a pleasure every time. Take for instance, the "fish and chips." It's a highly snackable plate featuring ultra crisp housemade potato chips made with Kennebec potatoes and crisp-yet-creamy fritters made with salt cod. Simple. Delicious. But not at all ordinary.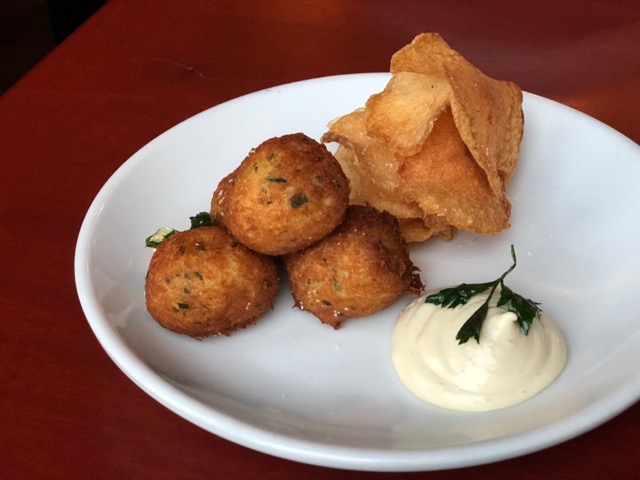 The same familiar comfort can be found in the restaurant's burger, which debuted as a happy hour only special and has since migrated to the main menu.
The Diplomac features prime beef patties, with tomato, lettuce, American cheese, "1000 Island" dressing, pickles and red onion. You can get it on its own for $12 or with fries (steakhouse style wedges) for $16.
Presentation: 9
This burger lets it all hang out – literally. The burger is stacked in layers that show up distinctly on the plate, from the crisped bun to the glossy summer tomato, ultra-thinly sliced red onion, the orange pop of American cheese and the sea green peeks of housemade pickles and shredded lettuce. Even better is the smell, which wafts up from the plate in a puff of nostalgic bliss.
Bread/bun: 10
If you're creating a classic burger, there's really only one bun that makes sense: a soft bakery bun with the sesame seeds on top. Take that bun and give it a good solid crisping on the grill and you get something that's pretty extraordinary. It's sweet and toasty with a nice pop of texture that's just perfect for supporting a burger like this one.
Burger: 10
These semi-thin, grilled patties are reminiscent of classic fast-food-style burgers, but they boast a ton more flavor. There's plenty of seasoning, along with a nice beefy pop. That accompanies a moderately packed patty with just enough greasiness and grilled flavor to cut through the noise and make a solid showing with every bite. It's delicious on its own, but it gets even better when paired with the classic balance of sweet, salty and savory toppings.
Toppings: 10
Forgive me for the earworm, but this burger immediately conjured that classic 1970's jingle advertising the McDonald's Big Mac: "Two all beef patties, special sauce, lettuce, cheese, pickles, onions on a sesame seed bun."
This burger has all of that. And yet, it's so much better. The tomato is garden ripe – sweet with just the slightest pop of acidity. The red onions are, well, red; they're also deliciously sweet and crisp, sliced thinly enough that they don't overpower the other flavors. The housemade sauce is tangy and creamy; it's also judiciously applied in a manner that offers the perfect amount of flavor. And then there's the ultra-crisp shredded lettuce, which eventually succumbs to the heat of the burger, rendering it soft and limp. Top that off with better-than-average pickles and you've got a truly balanced list of burger toppings that complement the beef without overwhelming it.
Value: 7
Can you get a Big Mac for less than $4? Sure. But why would you, when you can get an even better version for $12? This burger will conjure your fondest classic burger memories while showcasing the magic of fresh, housemade ingredients.
Total: 46/50
If a Big Mac and a Whopper had a baby – and that baby inherited all the good genes and then some – you'd end up with the Diplomac.
The Diplomat is open Monday through Saturday from 4 to 10 p.m., with Happy Hour all night on Mondays and Tuesday through Friday from 4 to 6 p.m.
Lori Fredrich (Lo) is an eater, writer, wonderer, bon vivante, traveler, cook, gardener and girlwonder. Born and raised in the Milwaukee area, she has tried to leave many times, but seems to be drawn to this quirky city that smells of beer and alewives.
Some might say that she is a little obsessed with food. Lo would say she is A LOT obsessed with food. After all, she has been cooking, eating and enjoying food for decades and has no plans to retire anytime soon.
Lo's recipes and writing have been featured in a variety of publications including GO: Airtran Inflight Magazine, Cheese Connoisseur, Cooking Light, Edible Milwaukee, Milwaukee Magazine and the Milwaukee Journal Sentinel, as well as on the blog Go Bold with Butter, the web site Wisconsin Cheese Talk, and in the quarterly online magazine Grate. Pair. Share.