In this series, we'll be hiking the burger trail to find the latest, greatest and most delicious burgers in Milwaukee. Click here for an explanation of the criteria used to rate each burger. Where have we been? Check out the complete catalog of burger reviews here.
The Stilt House
W62 N630 Washington Ave., Cedarburg
(262) 618-4889
stilthousegastrobar.com

If you're in the Cedarburg area and have a hankering for comfort food fare and, perhaps, a craft beer, The Stilt House is a good stop. This quaint historic bar and restaurant has a menu filled with appetizers, tacos, sandwiches and a few entrees (think meatloaf) along with an extensive craft beer list, many of which are on tap.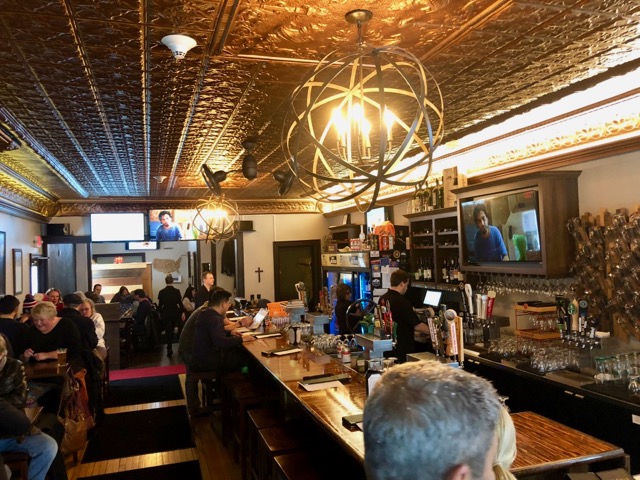 The interior at The Stilt House hearkens back to the public houses of old sporting dark wood high top tables, bar stools and details like a punched tin ceiling. The history of the venue is apparent in not only the decor, but also the Stilt House name, which was derived from a request made by former bar owner Nick Schuh in the early 1900s. As the story is told, Schuh contacted Cedarburg town officials and asked permission to add a second floor to his tavern. The request was denied, so instead he raised the building with stilts and added a first floor beneath.
On my latest trip it only seemed right to order the namesake StiltBurger, an Angus beef patty with portabella mushrooms, bacon, ale-braised onions, gouda and "bistro sauce" ($10.95). Fresh cut fries were an additional $2.95.
Pro tip: Be aware, if you're heading to Cedarburg on a weekend, the restaurant is likely to be pretty packed during prime times. So if you'd like to avoid the crowds (and a potential wait), try it out during off hours.
Presentation: 8
The Stilt House burger is a tasty looking one. Beneath a shiny pretzel roll, you'll glimpse browned ale-braised onions and crisp bacon along with a nice amount of well-melted Gouda.
Bread/bun: 10
Miller Baking pretzel buns are delicious; but they're not an apt choice for every burger. However, in this case, the bun is a great fit. The pretzel flavor works particularly well with the ale braised onions, giving the burger a nice "beer and pretzels" flavor.
Burger: 8
The burger was substantial. It came cooked to order (mid-rare) with visible grill marks and a pleasantly beefy flavor. It was juicy and particularly well seasoned. I enjoyed it almost as much on its own as I did in combination with the toppings.
Toppings: 9
In some ways, the toppings on the burger were the star. The cheese was flavorful and well melted, and the bacon offered a nice crisp texture along with a bit of smoke. The portabella mushrooms were chopped and well cooked, adding an earthy depth to the mix. The "bistro sauce" was tangy and slightly sweet. But it's the ale braised onions – with their sweet, beer-infused flavor – that really define the burger.
Value: 8
The StiltBurger is well-appointed with ingredients that not only complement one another, but also fit the context of the venue. At $10.95, it's more than fairly priced.
Total: 43/50
The StiltBurger is well built, satisfying, and it pulls together a nice combination of sweet, salty and umami flavor into every bite.
The Stilt House is open Sunday through Thursday from 11 a.m. to 10 p.m. and Friday and Saturday from 11 a.m. to 11 p.m.
Lori Fredrich (Lo) is an eater, writer, wonderer, bon vivante, traveler, cook, gardener and girlwonder. Born and raised in the Milwaukee area, she has tried to leave many times, but seems to be drawn to this quirky city that smells of beer and alewives.
Some might say that she is a little obsessed with food. Lo would say she is A LOT obsessed with food. After all, she has been cooking, eating and enjoying food for decades and has no plans to retire anytime soon.
Lo's recipes and writing have been featured in a variety of publications including GO: Airtran Inflight Magazine, Cheese Connoisseur, Cooking Light, Edible Milwaukee, Milwaukee Magazine and the Milwaukee Journal Sentinel, as well as on the blog Go Bold with Butter, the web site Wisconsin Cheese Talk, and in the quarterly online magazine Grate. Pair. Share.