In this series, we'll be hiking the burger trail to find the latest, greatest and most delicious burgers in Milwaukee. Click here for an explanation of the criteria used to rate each burger. Where have we been? Check out the complete catalog of burger reviews here.
Wilson's Restaurant & Ice Cream Parlor
9990 Water St. S, Ephraim
(920) 854-2041
wilsonsicecream.com
There's plenty to love about Door County, an honest to goodness slice of Norman Rockwell America sandwiched between the picturesque waters of Lake Michigan and Green Bay. And few spots capture that spirit more aptly than Wilson's Restaurant & Ice Cream Parlor, which serves up plentiful helpings of nostalgia right on a spoon.
Wilson's has been in operation for over a century, bringing ice cream and house-brewed draft root beer to eager beach-goers since 1906. And the venue remains true to its retro vibe, which includes an old school fountain counter where you can order up a phosphate, a jukebox playing classic rock 'n' roll and a menu filled with char-broiled burgers and plenty of ice cream (20-plus flavors) to go around.
Like so many businesses in Door County, Wilson's operates seasonally, from mid-May through mid-October, but it's a fair-weather favorite for five months out of the year. And there's still plenty of time to make a trek up to the Door, even if it's just a day trip to witness the gorgeous scenery or bumble from shop to shop.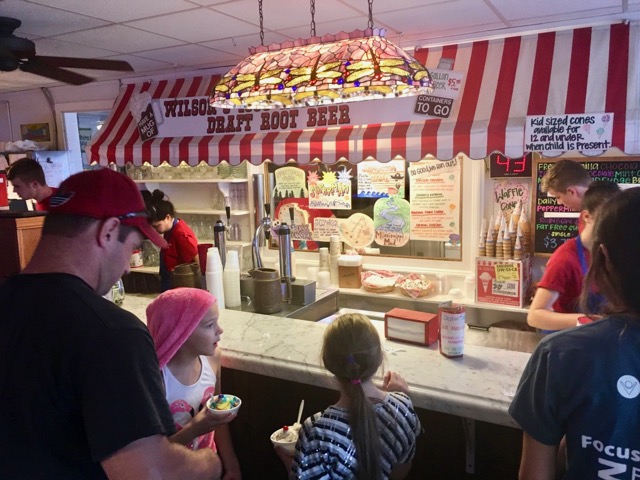 It was partly cloudy on our latest visit, but the restaurant was crowded, so we braved the scant drops of rain and ordered up the All American Cheeseburger featuring American cheese, tomato, onion and lettuce along with a side of fries ($8.45). We added a root beer frosty ($4.95) to the mix, since it was pretty tough to pass up a chance to taste their vanilla-heavy house brew.
One great thing about Wilson's is that it's surrounded by pretty little green spaces, complete with benches and picnic tables. So, if the restaurant is busy, it's fairly easy to grab a seat near the Bay to enjoy your meal or ice cream cone, which comes complete with a (surprise!) jelly bean stopper at the bottom.
Presentation: 6
Inside the restaurant, burgers are served up in lined red plastic baskets. In our case, the good looking cheeseburger was tucked neatly into a styrofoam container with a hearty portion of fries.
Bread/bun: 6
There's nothing more classic than a toasted sesame seed bun. And that's exactly what you get at Wilson's. It was soft and pliant, with a bit of crispness from the toasting.
Burger: 6
As for the burger, it was a thin diner-style burger that had been char-broiled until it was crisp around the edges. There wasn't much in terms of detectable seasonings on the burger, which was well-done, but not dry. It wasn't the sort of patty I'd relish on its own, but it did fairly well in combination with the toppings.
Toppings: 6
Fresh lettuce and tomato adorned the burger along with just enough thinly sliced red onion to give flavor without being overwhelming. The pickles were thick and juicy and provided a necessary salty element along with the nicely melted American cheese. I did find myself adding a bit of ketchup and mustard to add a bit more moisture and flavor.
Value: 6
In the end, Wilson's serves up a fine diner style burger. At under $9, you get plenty of fries and a healthy dose of nostalgia. If you play your cards right), you'll also get a beautiful view of Eagle Harbor. Priceless.
Total: 30/50
If it's old school you're looking for, then Wilson's Restaurant & Ice Cream Parlor in Door County is where it's at.
Wilson's hours are a bit variable, so it pays to check their web site before you visit. However, as a general rule, they're open Sunday through Thursday from 11 a.m. to 5 p.m. with longer hours (between 8-10 p.m., depending on the time of year) on Friday and Saturday nights.
Lori Fredrich (Lo) is an eater, writer, wonderer, bon vivante, traveler, cook, gardener and girlwonder. Born and raised in the Milwaukee area, she has tried to leave many times, but seems to be drawn to this quirky city that smells of beer and alewives.
Some might say that she is a little obsessed with food. Lo would say she is A LOT obsessed with food. After all, she has been cooking, eating and enjoying food for decades and has no plans to retire anytime soon.
Lo's recipes and writing have been featured in a variety of publications including GO: Airtran Inflight Magazine, Cheese Connoisseur, Cooking Light, Edible Milwaukee, Milwaukee Magazine and the Milwaukee Journal Sentinel, as well as on the blog Go Bold with Butter, the web site Wisconsin Cheese Talk, and in the quarterly online magazine Grate. Pair. Share.