MINNEAPOLIS – Minneapolis has always been for me a series of loosely connected vignettes:
Watching a Brewers/Twins games from nosebleed seats in the Metrodome.
Buying records at Electric Fetus and some other shops I couldn't name or locate now.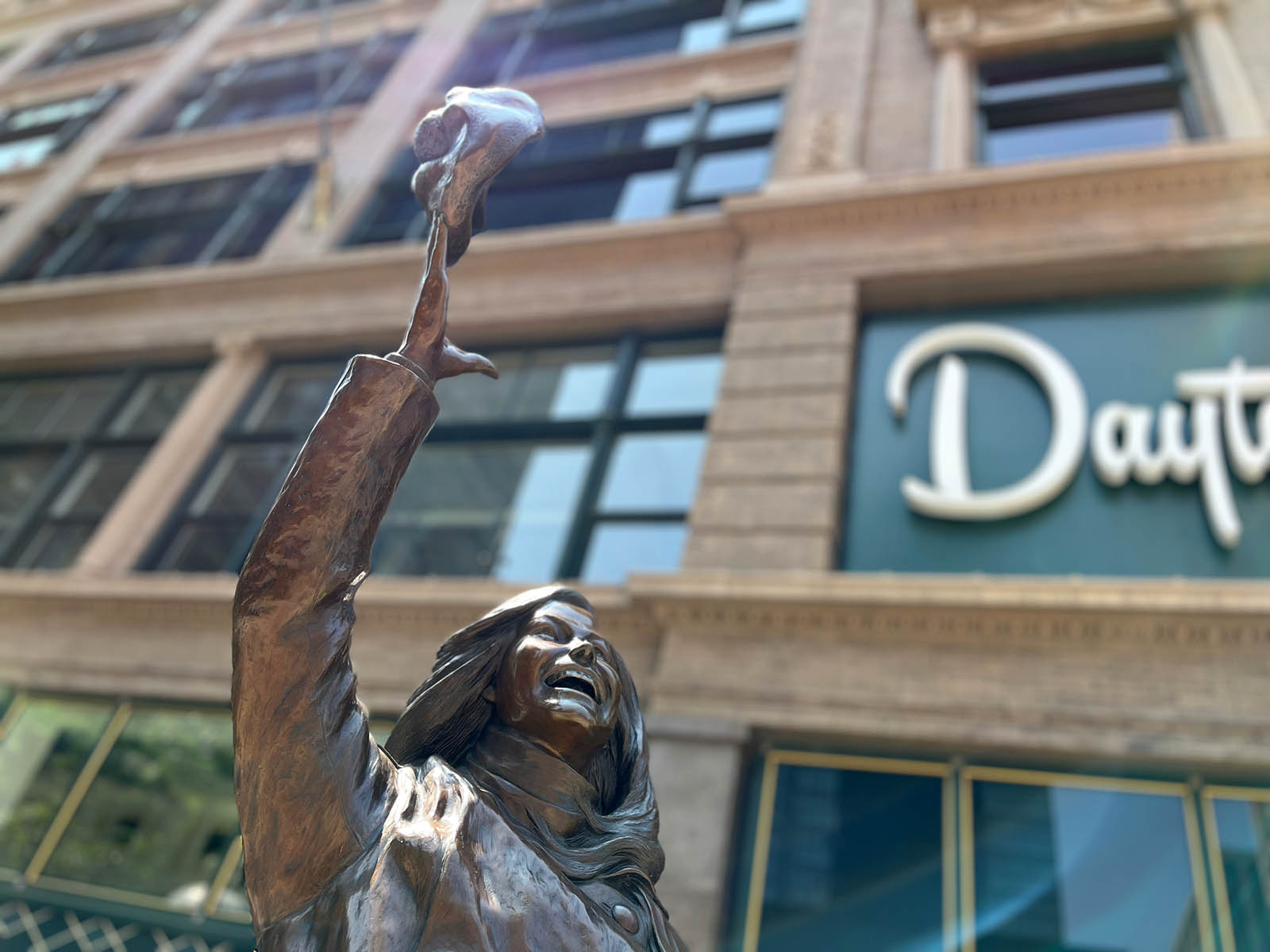 The contents of my nasal cavity freezing the second I stepped out of the car on my first visit one cold February in the second half of the 1980s.
Seeing The R&B Cadets at Macalaster College in nearby St. Paul with The Suburbs.
Waking up on Ramblin' Deano's sofa to find his cat glaring at me.
Bopping back and forth between the polka room and piano room at Nye's Polonaise Room.
Buying a beloved pair of green Doc Martens at the Mall of America ...
... and gigs – numerous gigs – at 7th Street Entry, at the 400 Bar, at the Fine Line, at the Uptown Bar & Cafe.
But, those are all memories more than two decades old, and with one very brief exception, I hadn't been to the Mill City in a long time, and I couldn't really connect the dots. This, despite knowing numerous Milwaukeeans who relocated there either temporarily or permanently over the years.
It was time – nay, long overdue – to get a much fuller picture.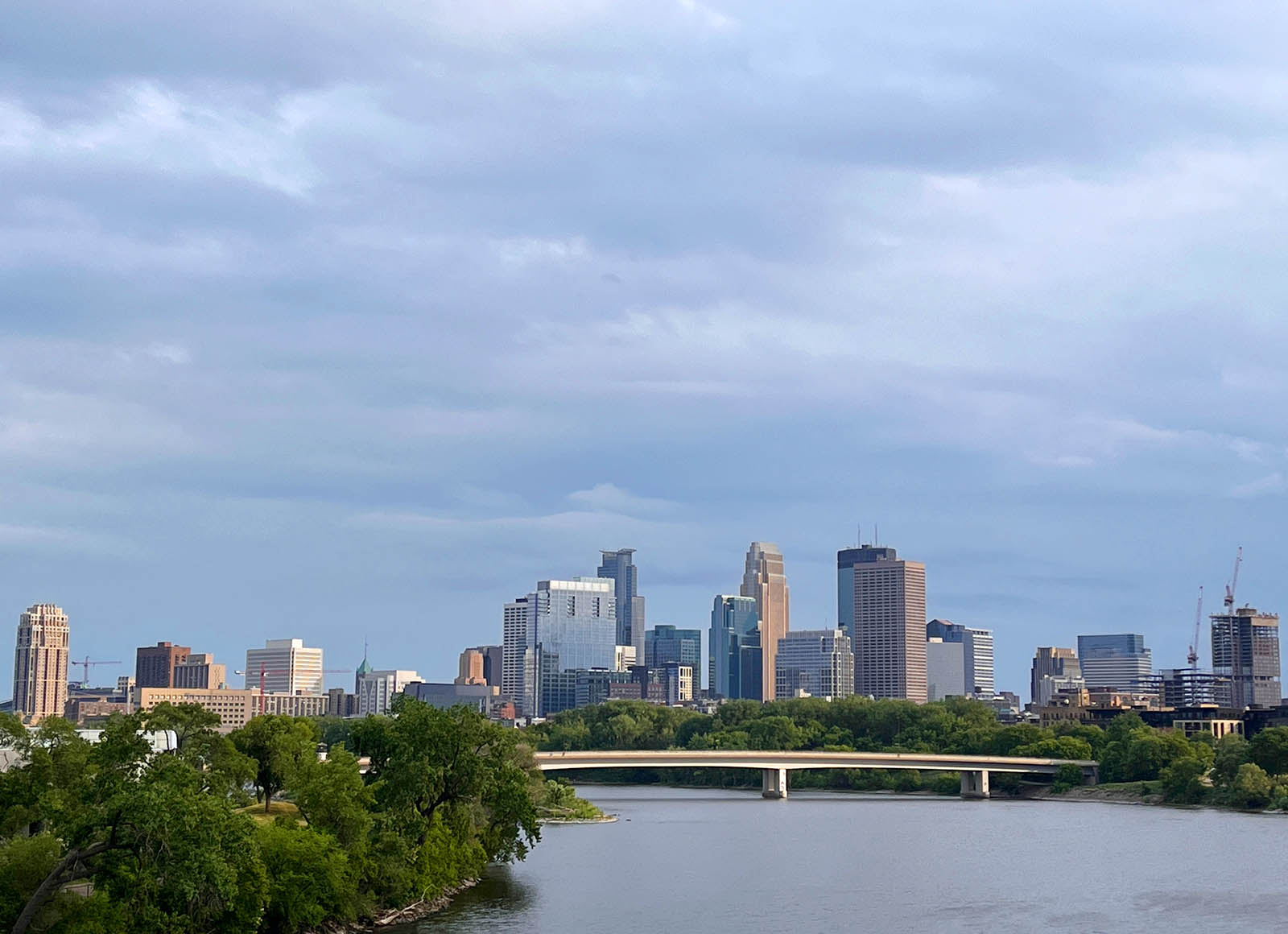 To – as the tourism slogan says– see what the fuss is about.
And so, I hopped a plane from MKE to MSP, rode the blue line light rail into downtown for four days of exploration, logging about 15 miles a day on foot (plus some light rail and rideshare mileage, too).
Here's a look at what I saw as I followed my passions and curiosities – architecture, history, beer, food, records – and hopefully you can use it as a foundation and inspiration for crafting an itinerary that suits your passions and curiosities.
Getting around
Minneapolis has an extensive bus rapid transit (BRT) system, like the one that recently launched in Milwaukee and is on the same ticketing system as the two routes of light rail that run between the Twins' Target Field in the happening North Loop neighborhood and Mall of America (blue line) and downtown St. Paul (green line). The blue line also has two stops at the airport, making it a quick and easy way to get downtown upon arrival.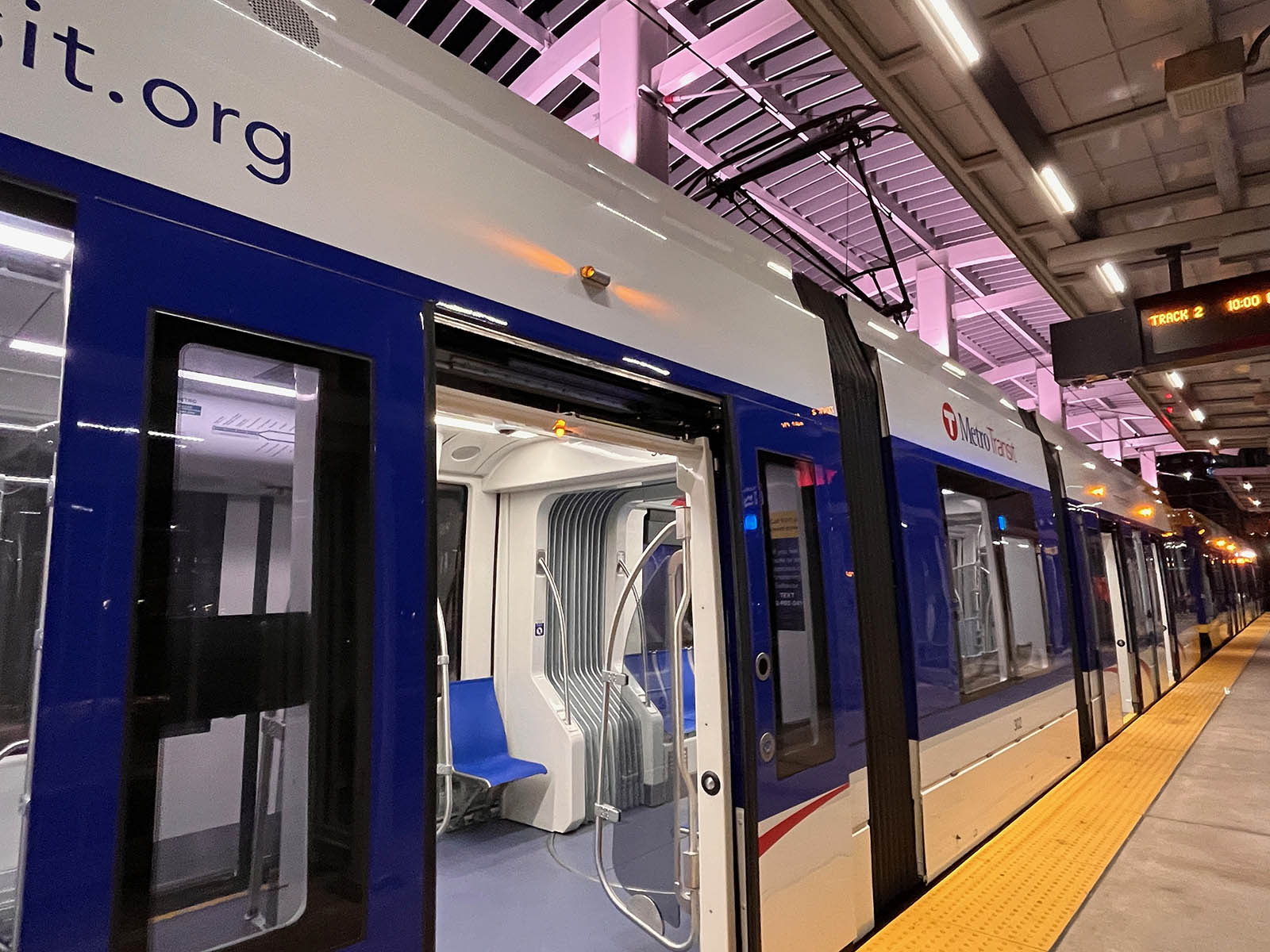 Tickets are $2 for a single ride and are good for two-and-a-half hours. A variety of passes is also available, including an unlimited-ride seven-day option for $24.
Of course, there are also rideshares, ubiquitous dockless scooters and my go-to: my feet. Minneapolis is an extremely walkable system and pretty much on a grid system, so pretty easy to navigate.
Where to stay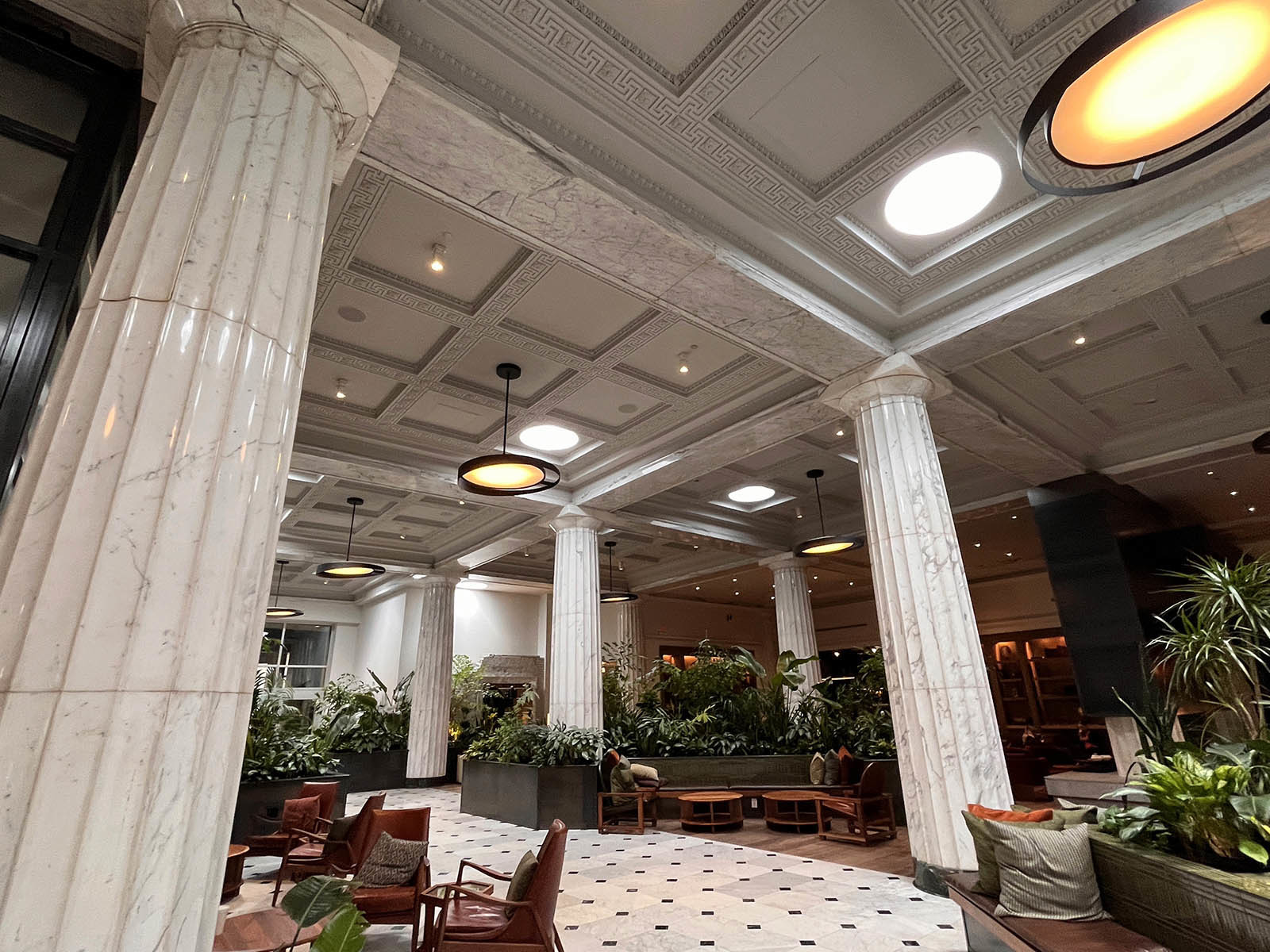 There are tons of great adaptive reuses that have transformed beautiful vintage buildings into modern hotels in Minneapolis, including the two at which I stayed – the Hotel Emery, an Autograph Collection hotel, and the Hyatt Centric Downtown Minneapolis in the former Minneapolis Athletic Club. You can read in-depth about those here and here.
Though I didn't check in, I did check out a bunch of others, including the Residence Inn and Renaissance, which occupy the old Milwaukee Road train station, which has kept its train shed out back and transformed it into event and other useful space.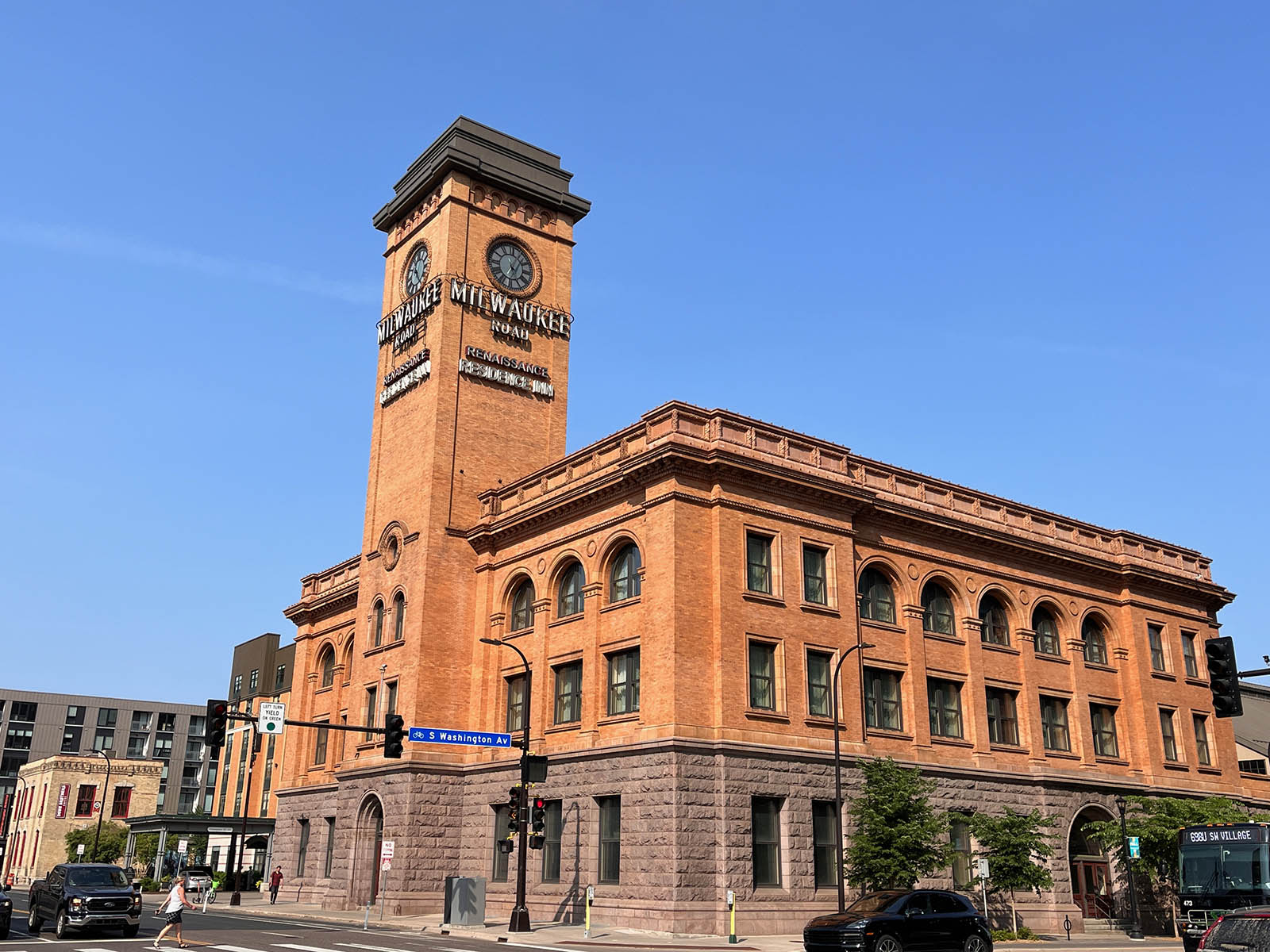 The Hewing occupies an 1890s former farm equipment showroom in the hip North Loop neighborhood and has a great rooftop cocktail bar with views of the downtown skyline, and similar in feel is the Canopy in the old Mill District, which was built at the turn of the 20th century as a factory for threshing machines.
One of my favorite buildings is the Westin, located in the 1942 former Farmers & Mechanics Bank, a Deco/Moderne stunner of a building with relief sculptures adorning the facade and a gorgeous atrium lobby.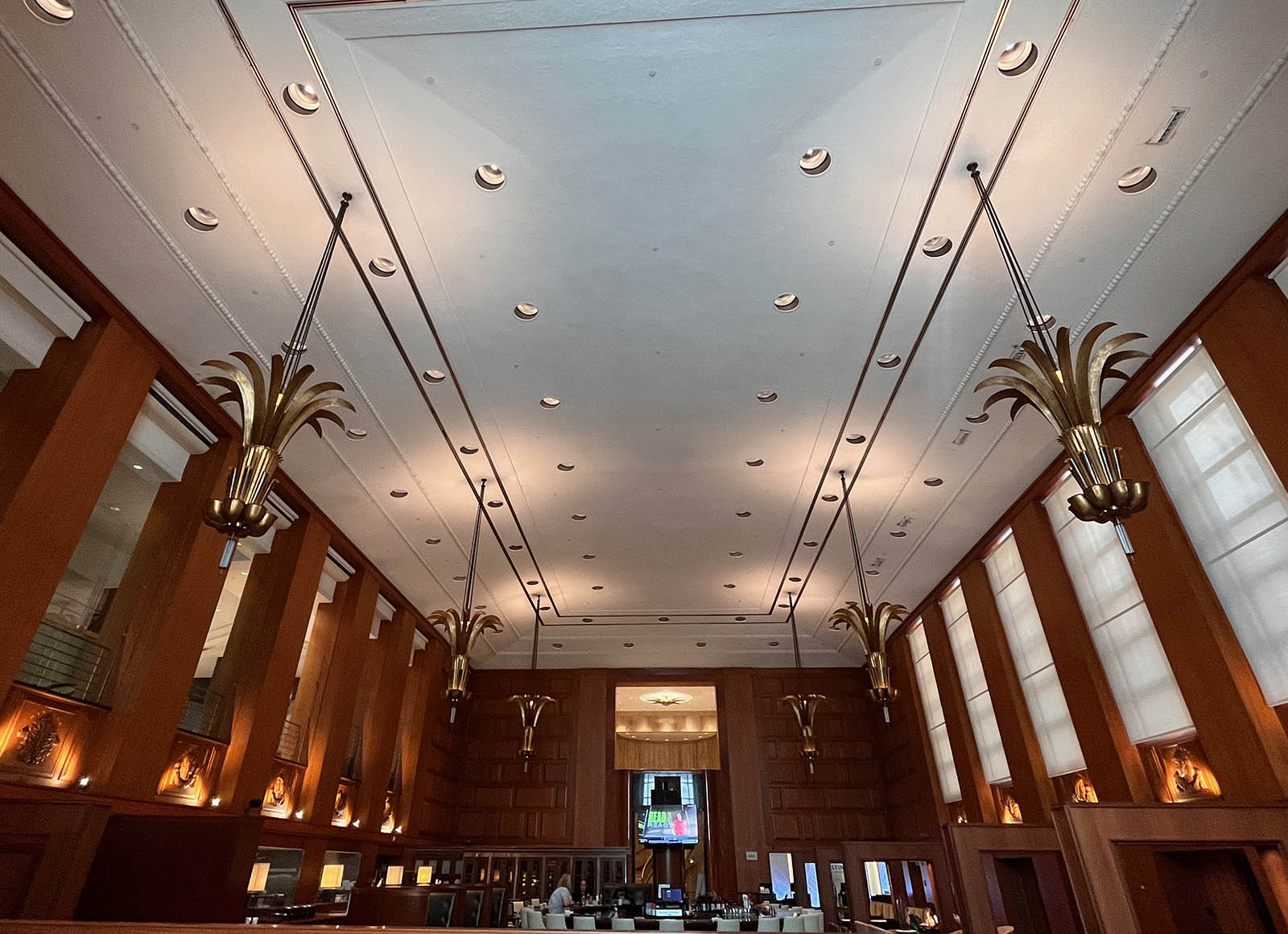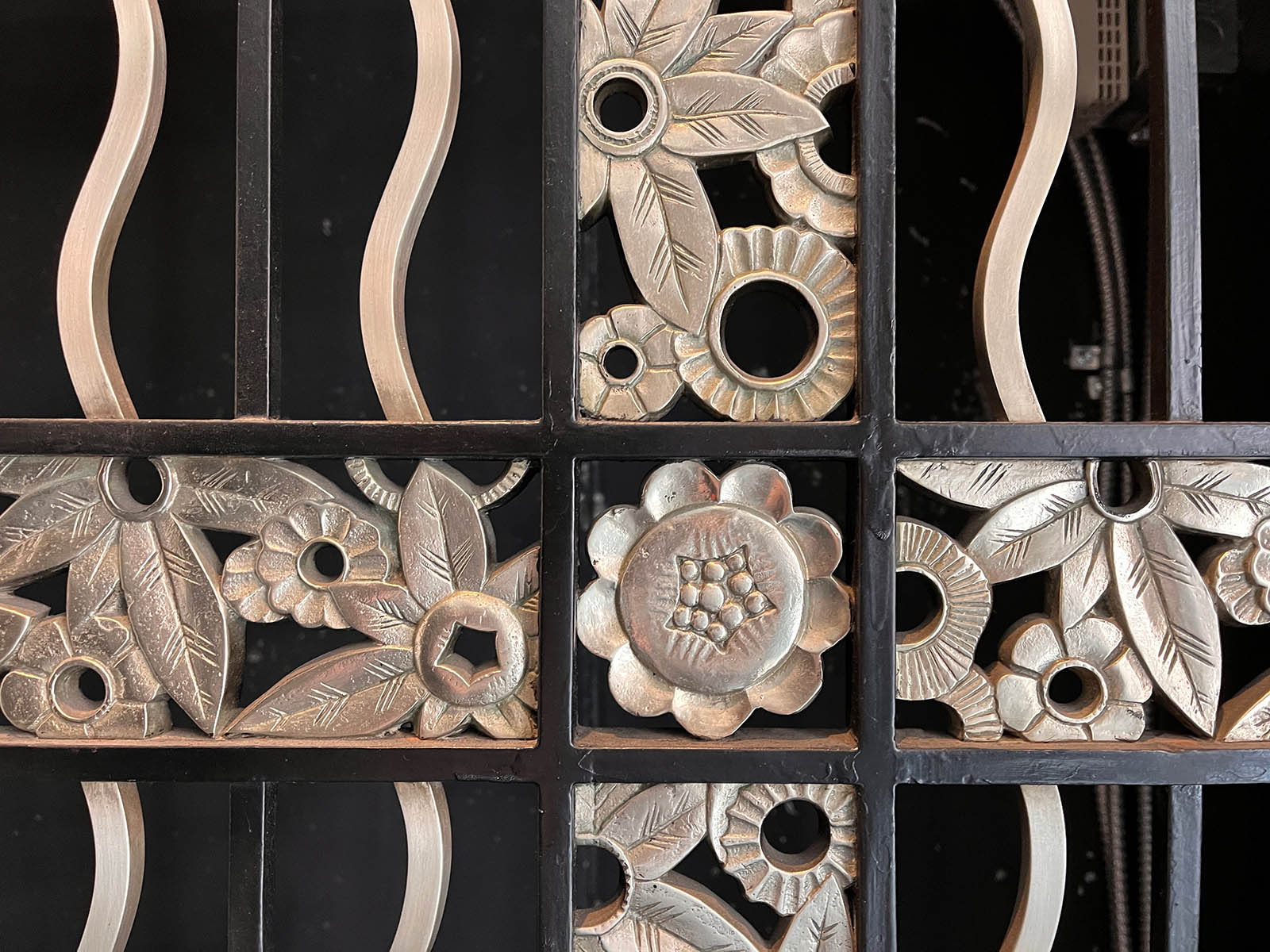 Just across the street is another Art Deco gem, the 26-story Holabird & Root-designed Rand Tower, with its lovely lobby detailing. Now a Marriott Tribute Portfolio hotel, the building is also home to the beloved Bar Rufus in the lobby and the hipper Miaou Miaou cocktail lounge and its adjacent Blondette restaurant.
Towering above them all in size is the W in the Foshay Tower, an ambitious 1920s tower – based on the Washington Monument – built by utilities magnate Wilbur Foshay. For decades, the building was the tallest in Minneapolis and for a while tallest west of the Mississippi River.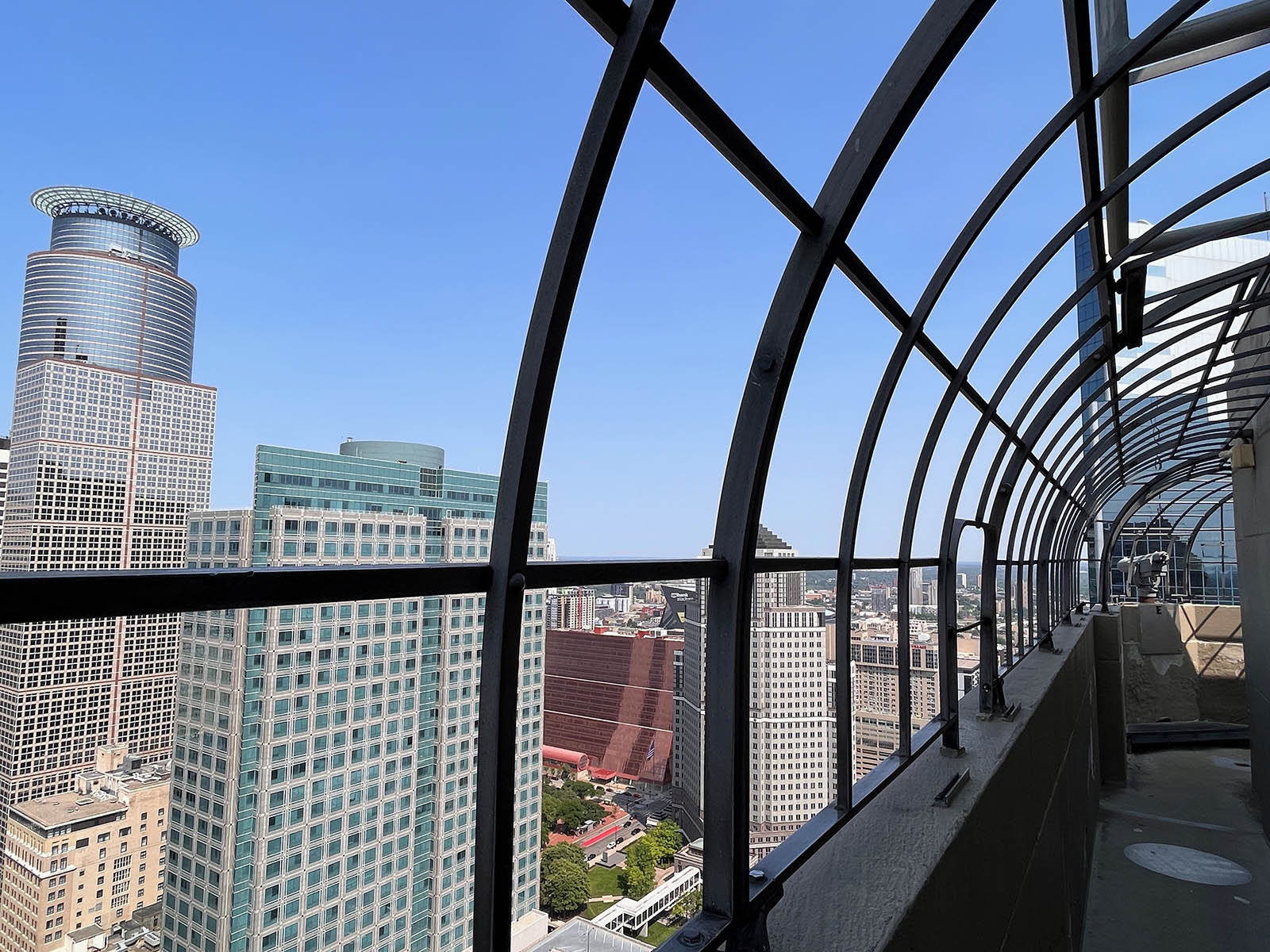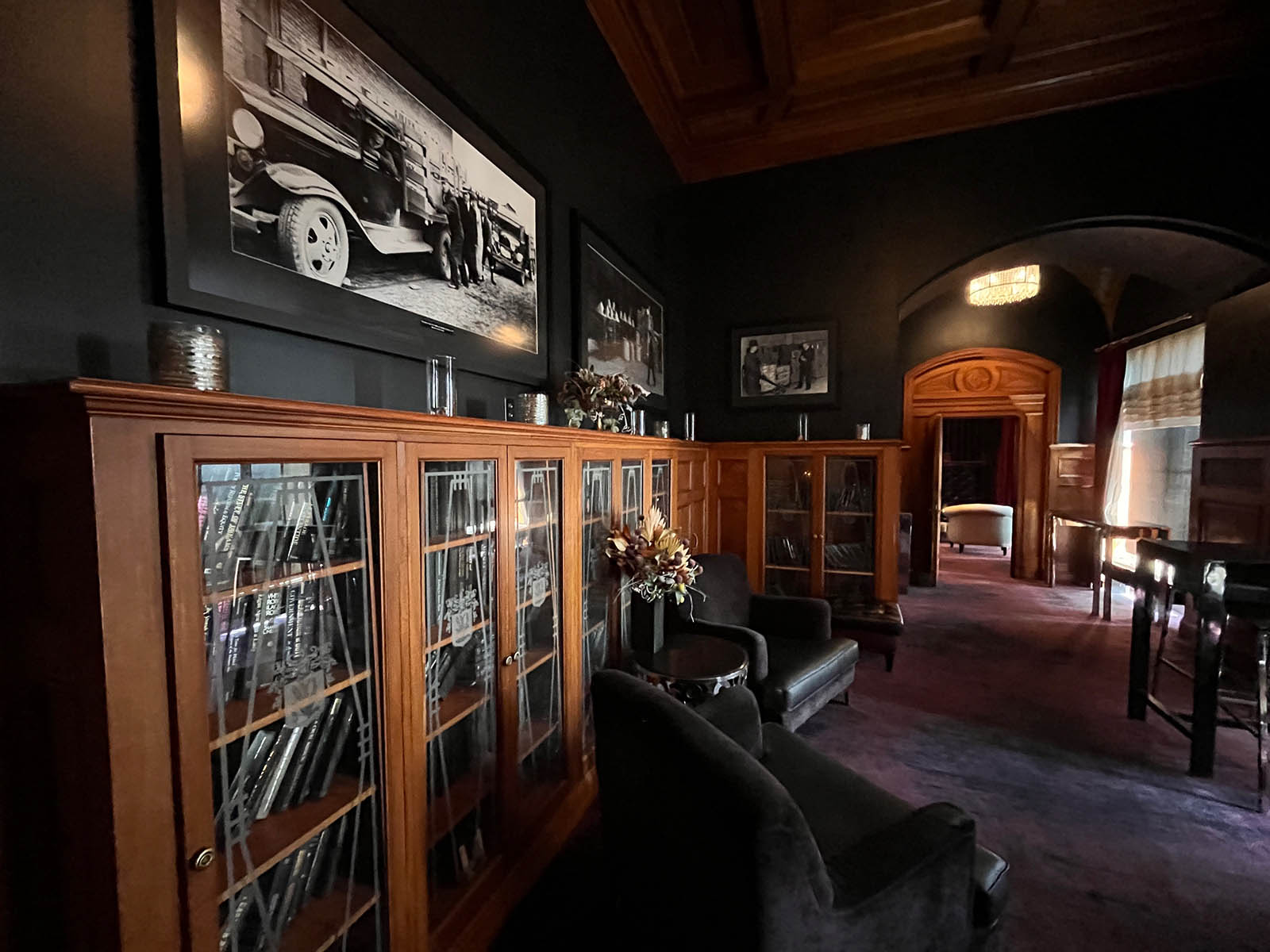 In addition to a gorgeous Art Deco lobby, there's an outdoor observation deck at the top and on the floor just below a museum that traces the story of the building and its interesting builder, whose former office – which has steps that led to a private apartment – is now a Prohibition-themed speakeasy called, well, Prohibition.
What to see & do
High on the list for any music fan – but especially Prince fans – will be his Paisley Park home and studio complex out in the 'burbs, but because I visited during the annual Prince birthday celebration, there were no public visits, so if you go, you'll have to let me know.
Instead, I focused – as I usually do – on art and architecture and fortunately Minneapolis has some great venues.
Of course there is the Minneapolis Institute of Art, which is the main art museum, with nearly 100,000 works from across 5,000 years of history. I found the post-Impressionist and Expressionist collections to be especially good and there are some real gems among older works, too, including Rembrandt's Lucrecia.
Although I just missed a big Botticelli exhibition I'd have loved to have seen, I did happen unexpectedly upon a gallery with Caravaggio's masterful Judith and Holofernes on loan from Rome and that alone made the entire trip up to Minneapolis worth it.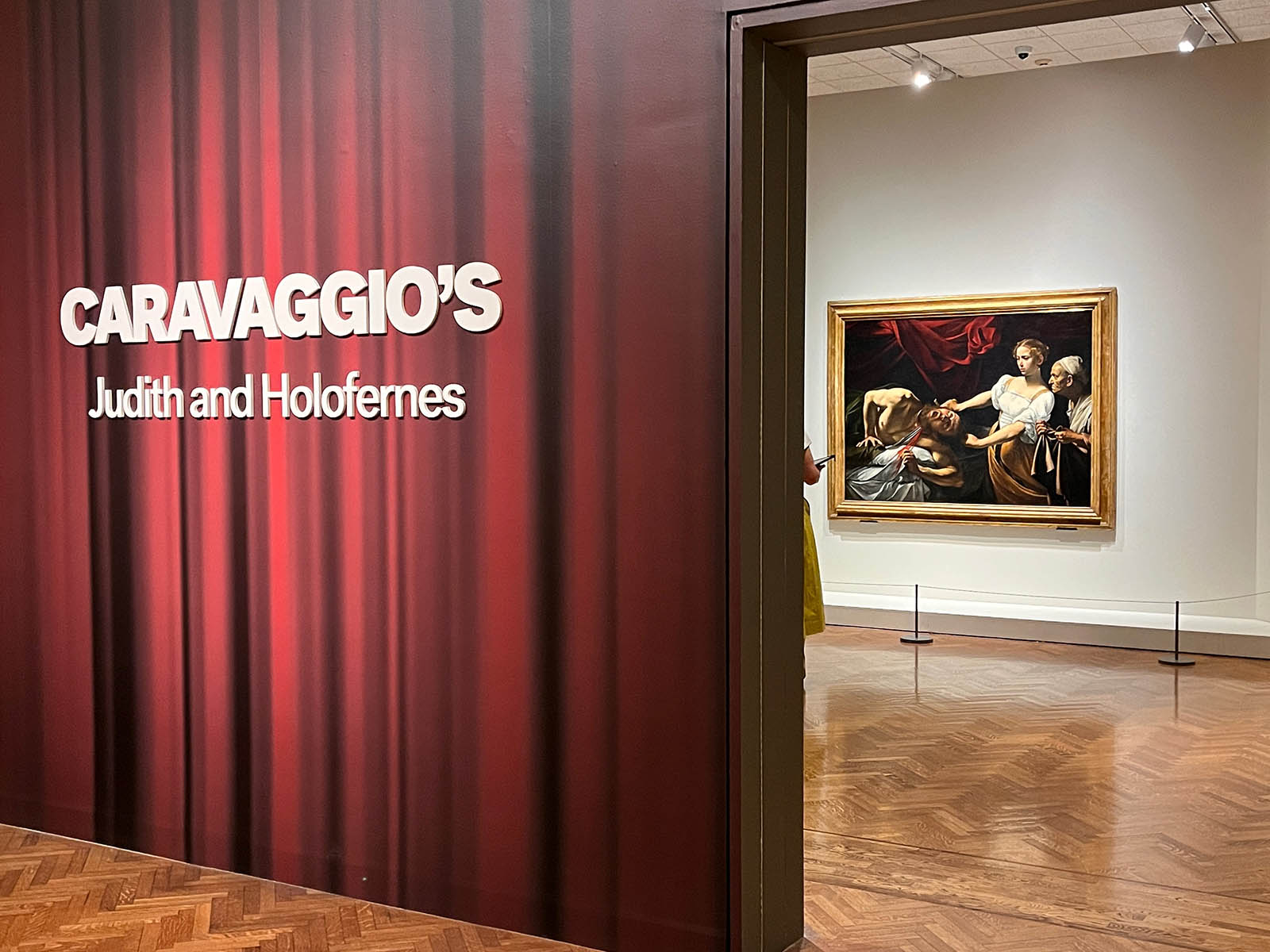 The McKim, Mead & White building itself is quite nice, with a lobby cafe in the Kenzo Tange addition that's perfect for recharging.
Not far away is the Walker Art Center, the city's contemporary art museum, which has a fine collection, and mini golf with a skyline view on the roof in summer! Just outside the doors is the outdoor sculpture garden, which is one of the gems of the city. It's home to the iconic Claes Oldenburg and Coosje van Bruggen "Spoonbridge and Cherry" that is by now one of the symbols of Minneapolis.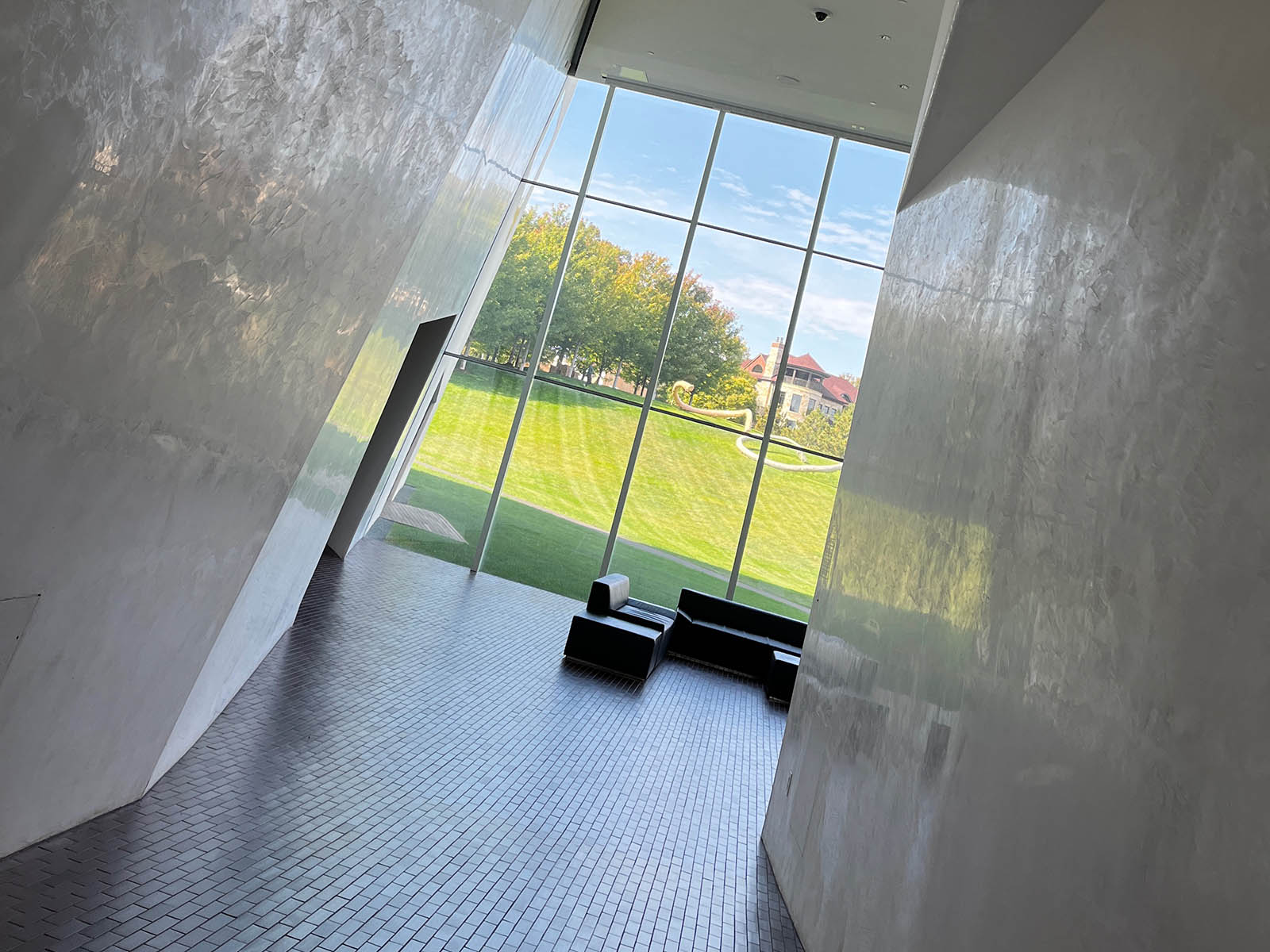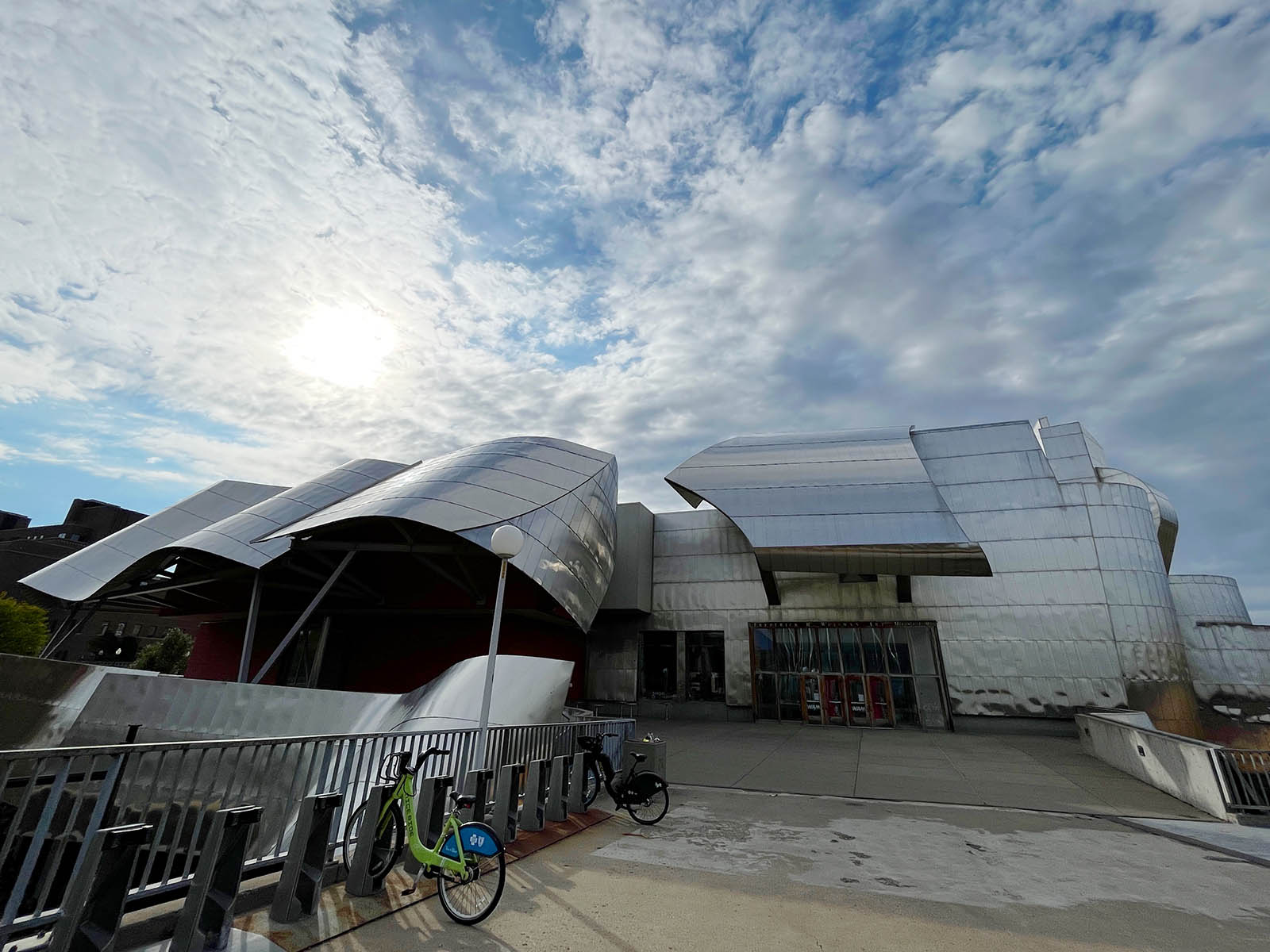 Head over toward the river and you'll find two gems of modern architecture and arts in Minneapolis.
On the west bank is Jean Nouvel's Guthrie Theater, home to many productions, but also worth a visit just to see the building. Take the elevator to the top to check out the Amber Box, which offers a solarized view over the riverfront and part of downtown.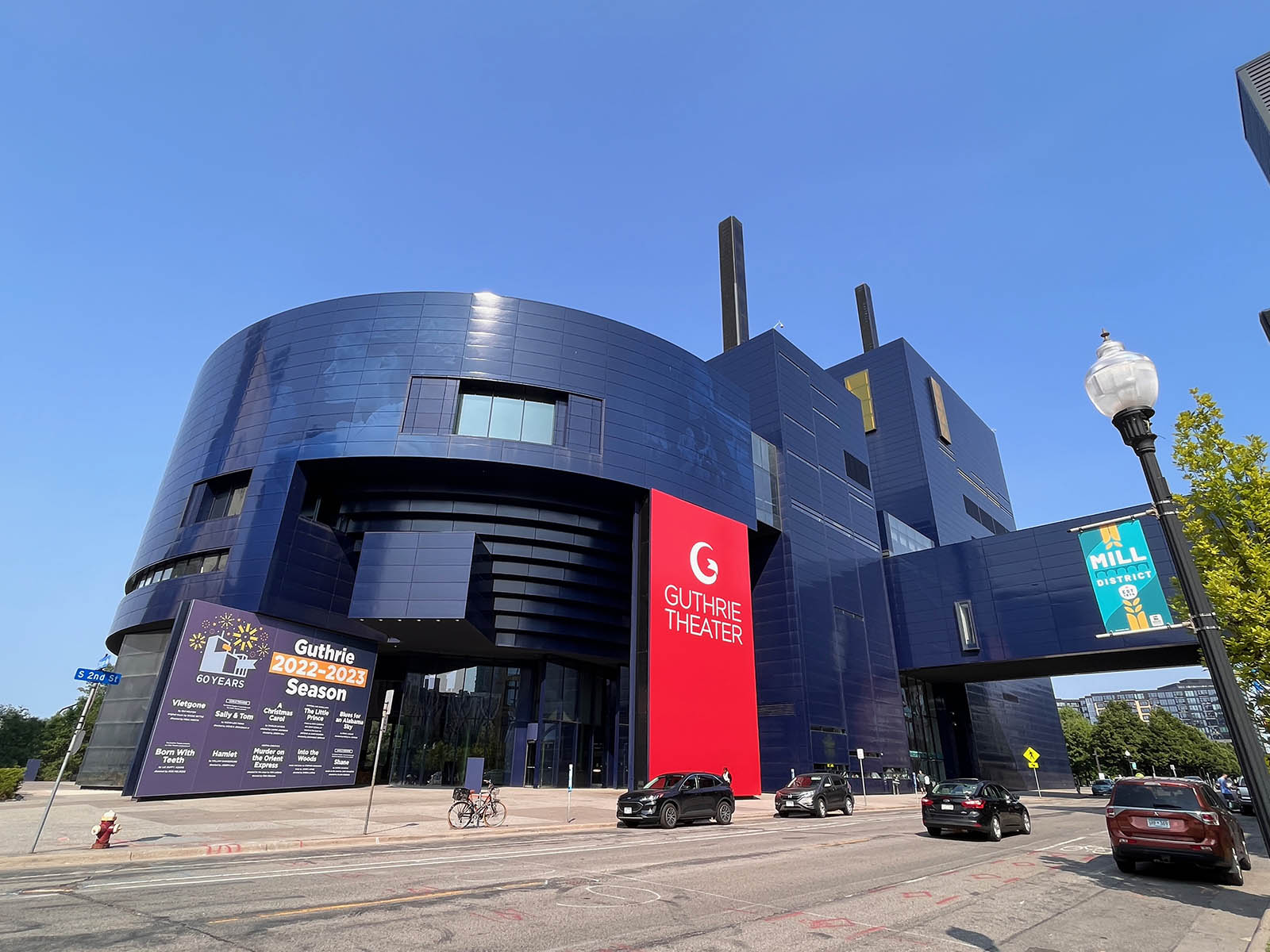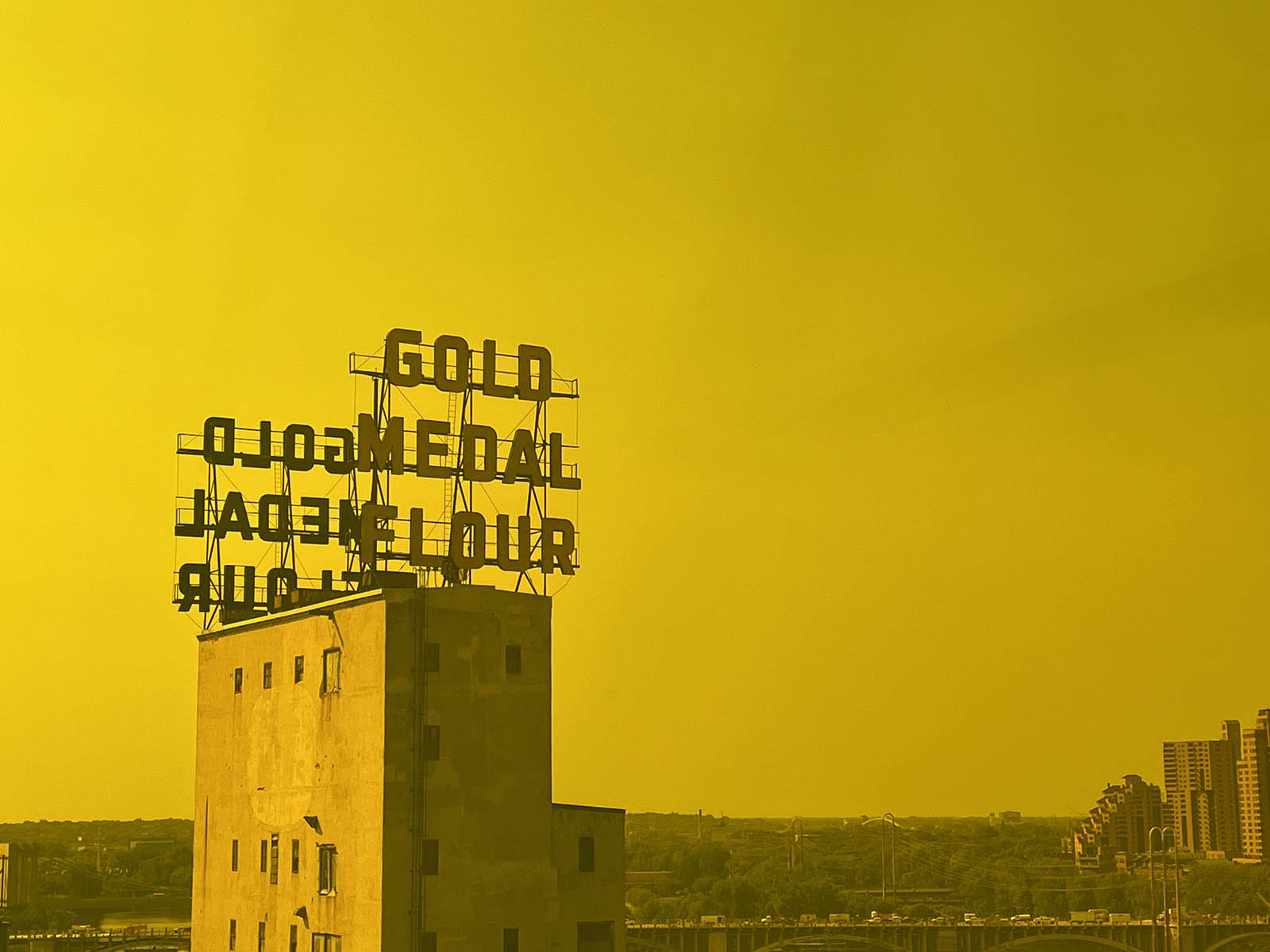 A few stories back down and you're at the cantilevered Endless Bridge, 178 feet long and 55 feet above the roadway below. In addition to great views of the Stone Arch Bridge and St. Anthony Falls, this one has an open-air area at the far end where you can relax while enjoying the view.
Be sure to make a stop on the fourth floor where there's a window that offers a fascinating view into the backstage area of the main theater.
On the east bank, on the campus of the University of Minnesota is the Weisman Art Museum, which houses contemporary galleries in a striking Frank Gehry-designed building.
While you're at the riverfront, don't miss the Mill City Museum, a history of (primarily wheat) milling in the city that's long been known as "Mill City," for its many flour mills.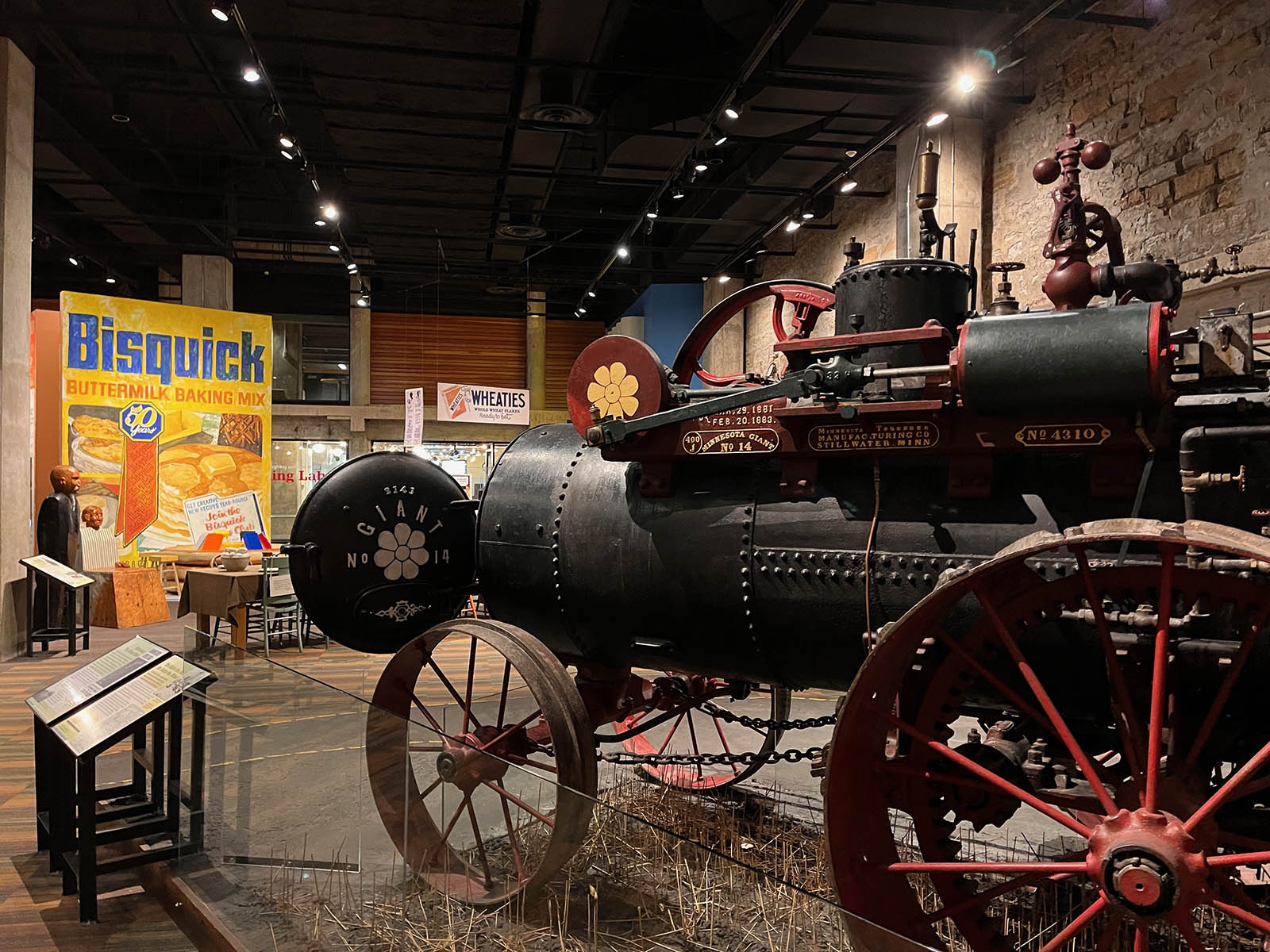 Located inside a what was once the world's largest flour mill and encompassing even a part that largely collapsed after a monumental fire in 1991, the museum is both a great adaptive reuse and unique approach to a museum.
After you check out the rather traditional, but well-designed, colorful and interesting exhibition space – be sure to stop in the baking lab for a sample and a chat about what they do there – join your elevator tour.
Take a seat inside a large freight elevator that takes you from floor to floor as a guide explains the history of this mill and milling in general in Minneapolis, explains the process of milling, talks about the workers and the dangers of mill work to them, and discusses why mills were almost constantly exploding and/or burning down.
This is definitely a stop you won't want to miss.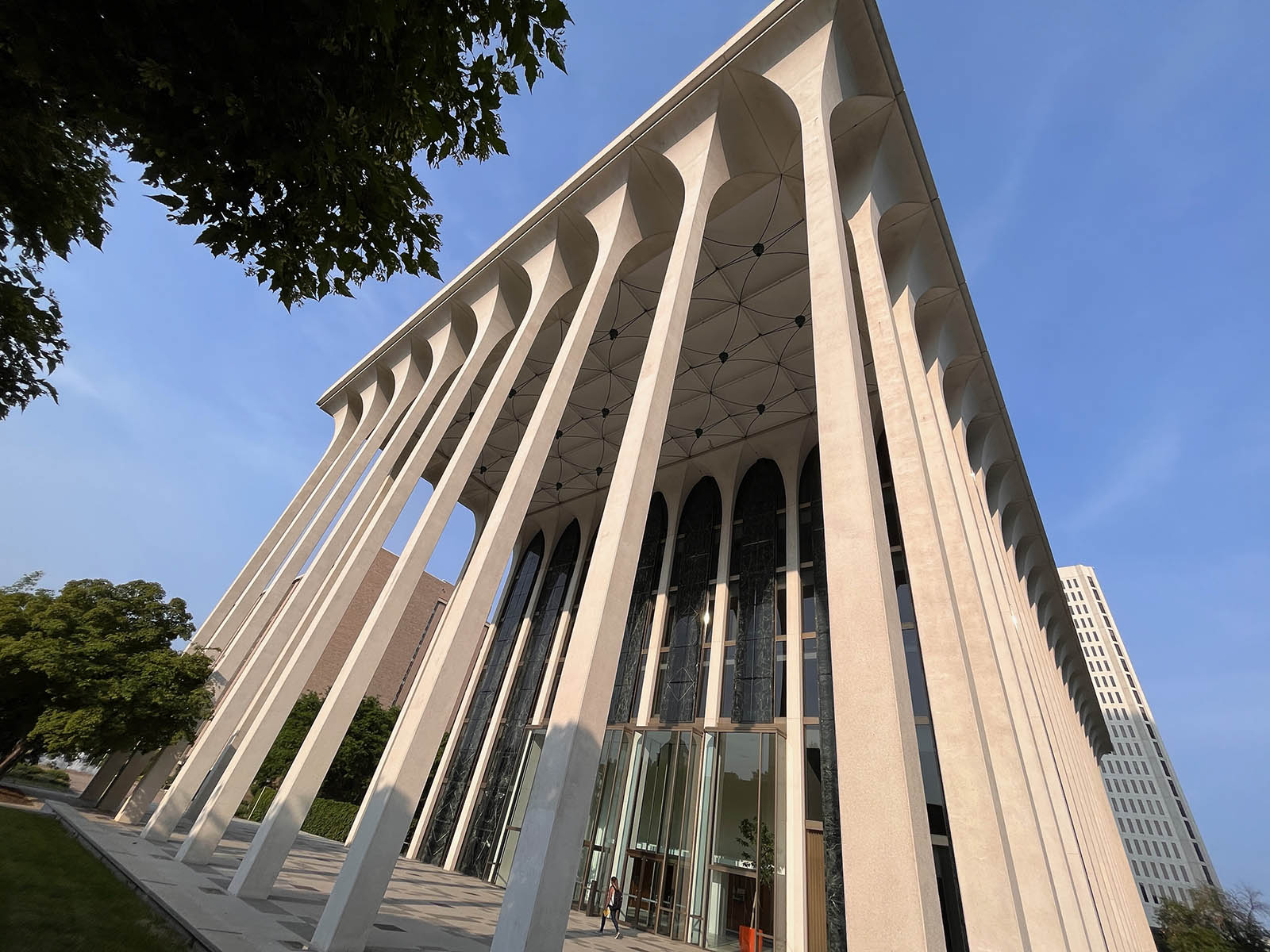 Architecture fans, in addition to the Guthrie and the vintage hotels I've already mentioned, I'd take a stroll past the 20 Washington Building drawn by Minoru Yamasaki – who also designed New York's World Trade Center towers – for Northwestern National Life, but now home to Voya Financial.
The stark white contemporary columned structure may conjure Calatrava, but it was built in 1966.
Stop in, too, at the central Hennepin County Library, with its soaring, light-filled atrium, designed by César Pelli, and just wander, and you'll see all sorts of gems, including the Romanesque Revival City Hall and much more.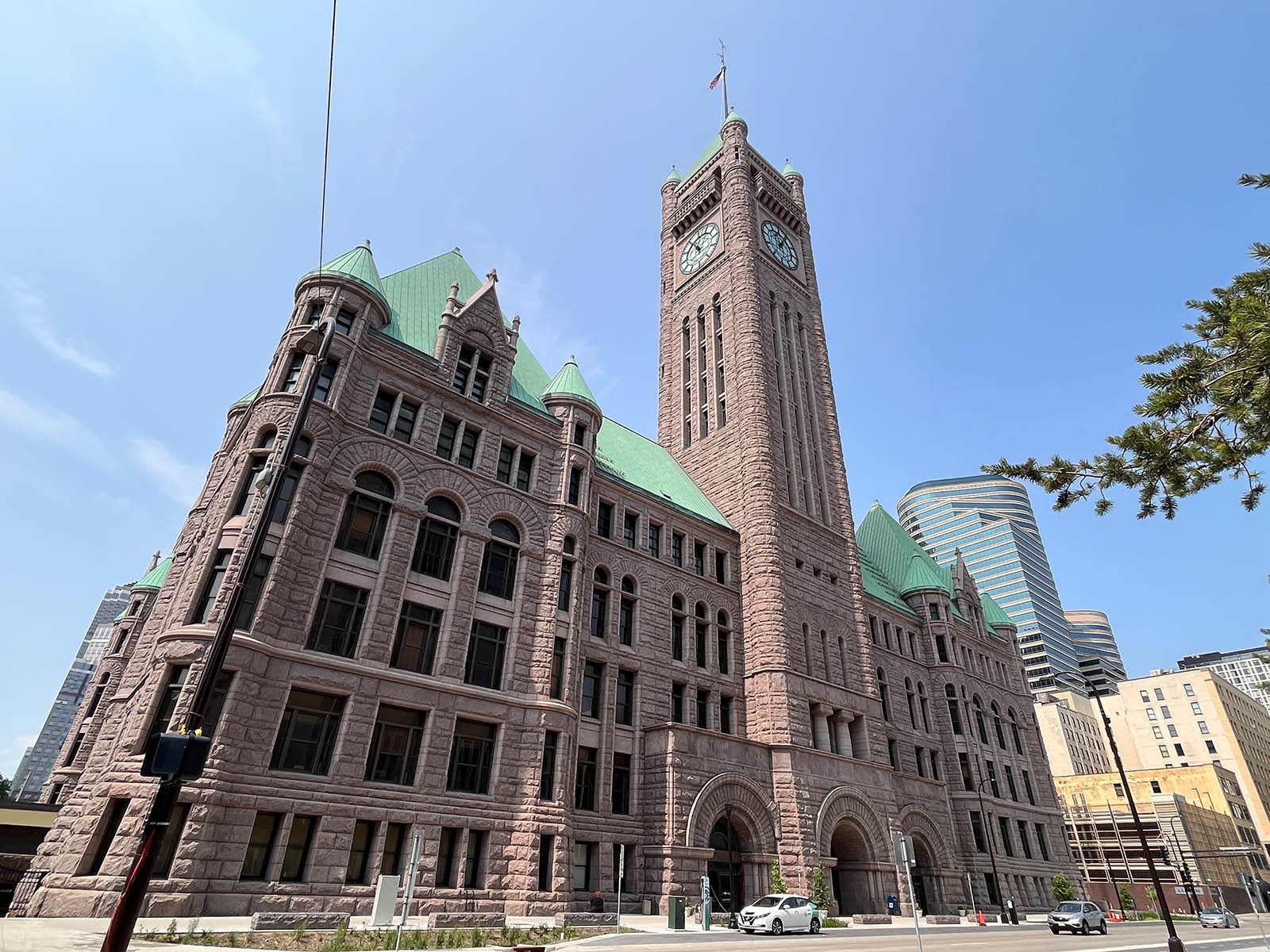 Head to the Seward neighborhood to enjoy the peaceful quiet of the Milwaukee Avenue Historic District, a pedestrianized stretch of two blocks lined on both sides with beautiful homes that were constructed 1884 and 1890 by real estate speculator William Ragan.
A bit to the west, in the Phillips West neighborhood, is the American Swedish Institute, in an altogether different scale of house, built for Swedish American newspaperman Swan Turnblad and his family.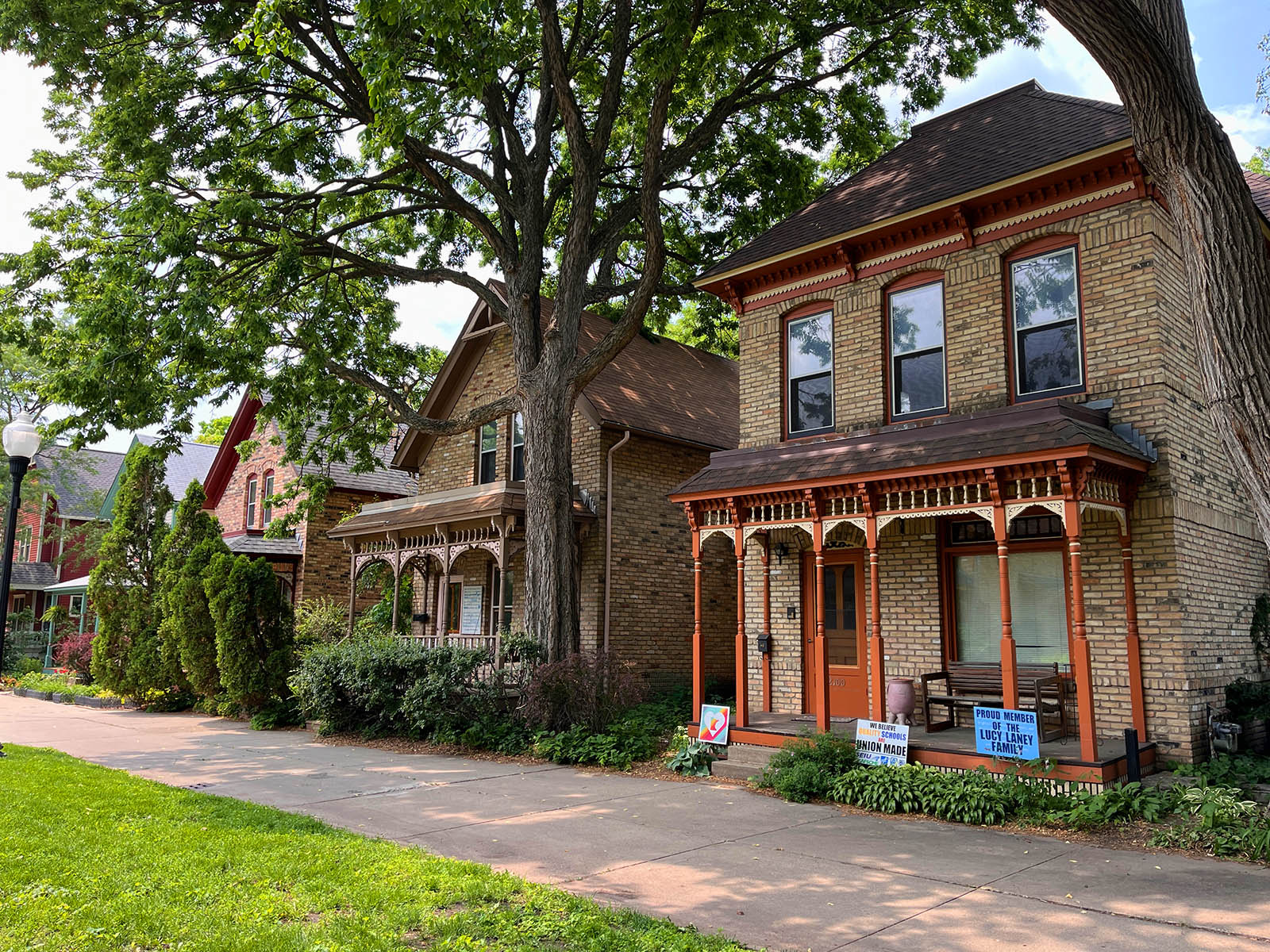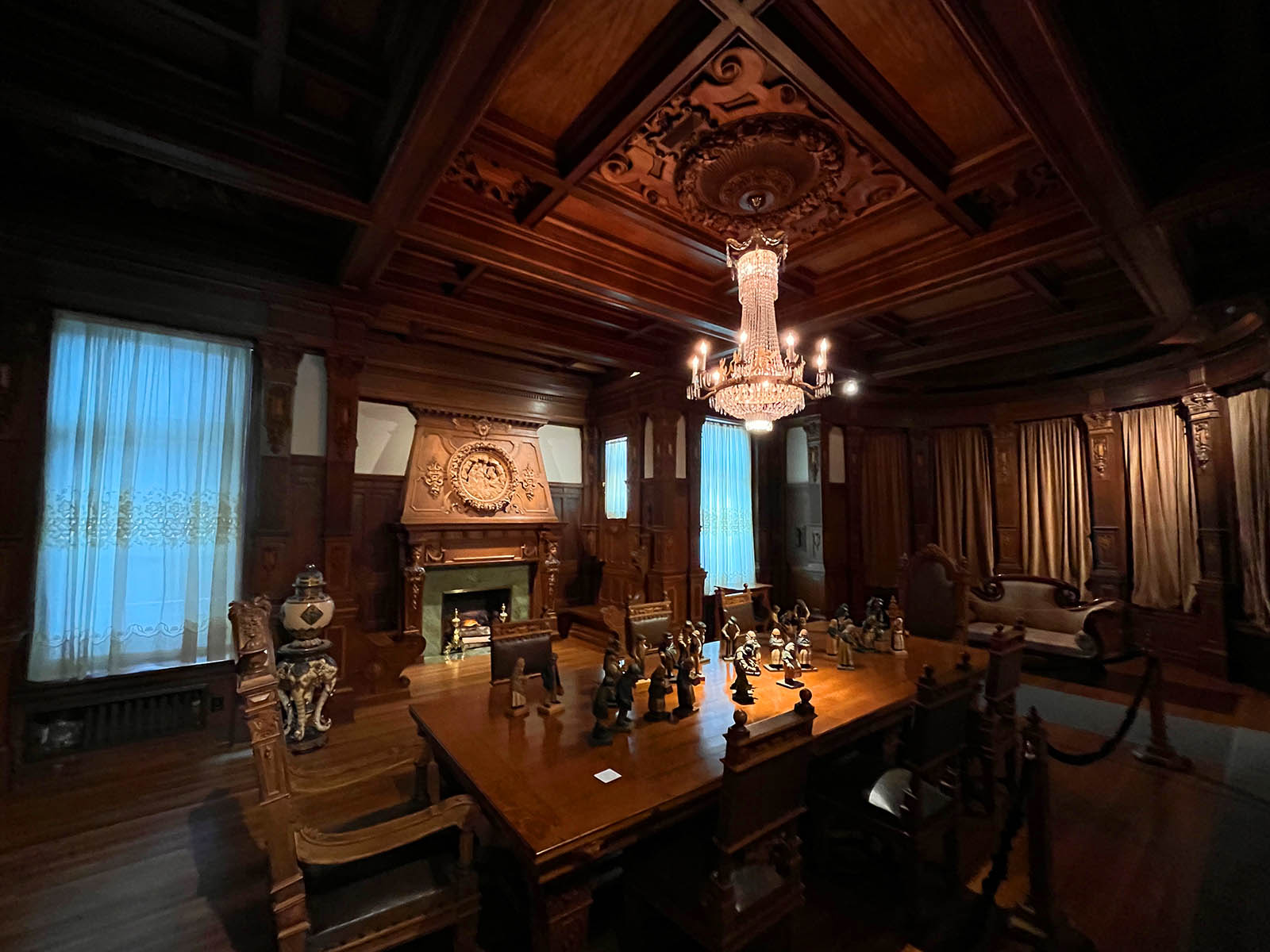 Extremely opulent and beautiful – it looks like a northern European castle plopped into a turn of the century American neighborhood – the home was donated in 1929 for the creation of the ASI, which maintains the house as a museum, cultural education and exhibition space. An attached modern addition houses the entrance, a gift shop and the wonderful FIKA Cafe, which specializes in New Nordic cuisine.
No visit would be complete without a peek around the interior of the Beaux Arts Basilica of St. Mary, which became the first basilica to be established in the United States, when in 1926 it was established as a minor basilica by Pope Pius XI.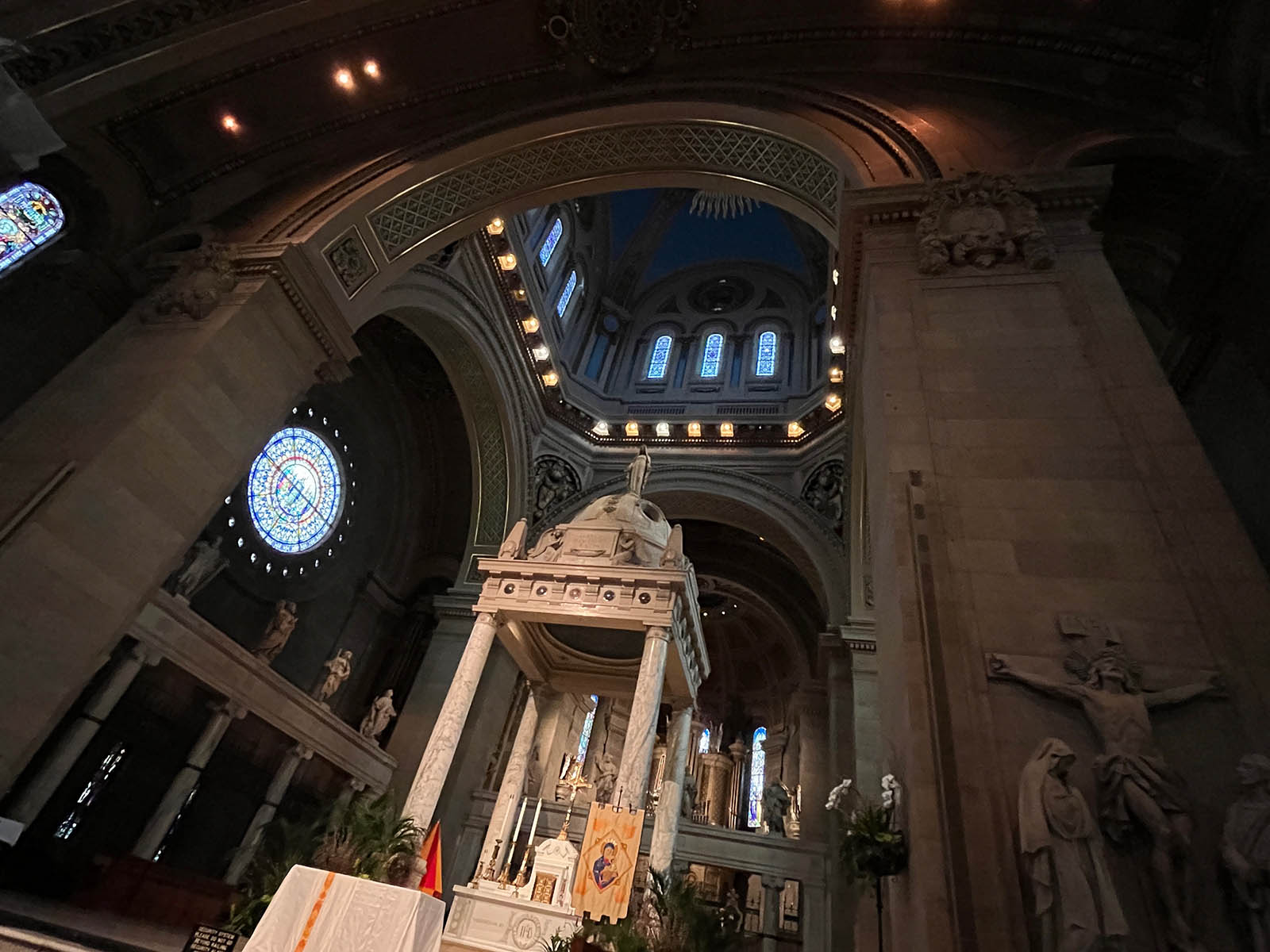 Erected between 1907 and 1914, it was designed by French-born architect Emmanuel Louis Masqueray, who also designed numerous buildings for the 1904 World's Fair in St. Louis.
Head toward the altar to check out the baldacchino and the interior of the dome directly above.
Shopping
You'll be able to tell instantly, that shopping is not near the top of my list when I travel, other than bookstores and record shops, of which I found a few.
For records – vinyl, CDs, etc. – two great stops are Electric Fetus, which opened in 1968, and Cheapo, which has locations in Blaine and St. Paul, too. Both are big and wide-ranging, covering every genre and Cheapo has an especially large selection of used records. Both offer related stuff like T-shirts, posters, etc.
There are others, too, like Roadrunner, Extreme Noise, Hymie's and Know Name, but I'll have to get to those on the next trip. You can read more about all of these and more here.
Meet Minneapolis has this useful list of bookstores worth checking out, but the most fun I had browsing for books was at Eat My Words, in the Northeast neighborhood, which in addition to being cosy and packed full of books in every category – with a nice selection of local interest titles – is right across the street from Young Joni pizza and Dangerous Man Brewing.
A 10-minute walk northeast will get you to the Northeast Arts District, where former industrial buildings now inhabited by artists studios – Casket Arts Building, Northrup King Building, Solar Arts Building and the slightly further afield California Building – are great places to explore and consider purchasing Minneapolis-made art.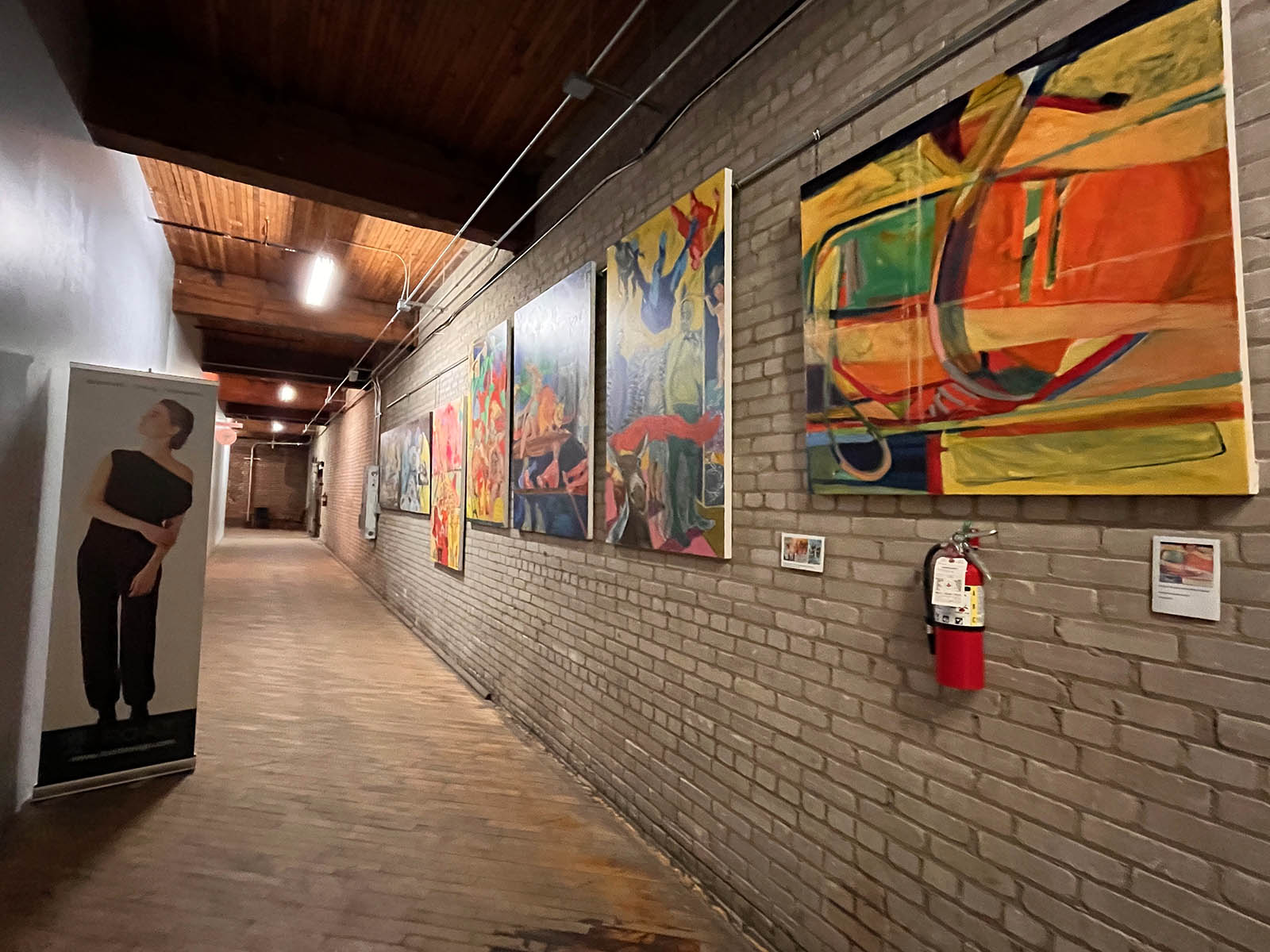 Between Casket Arts and Northrup King you'll find Architectural Antiques, a huge shop that is exactly what its name suggests. There are leaded glass windows, brass doorknobs and other hardware, 16-foot long century-old back bars, terra cotta ornament from old schoolhouses, chandeliers and other light fixtures, doors and on and on and on, all salvaged from old buildings that were being renovated or razed.
If it's more your style, you can reach the Mall of America – the biggest mall in the country, with 520 shops and restaurants in its 5.6 million square feet – by taking the blue line light rail.
Where to eat
Lots of great options all over town, of course, and two that came highly recommended to me didn't pan out. First, Paul Bartolotta raved about Spoon and Stable in North Loop, a restaurant helmed by James Beard Award-Winning Chef Gavin Kaysen, and Owamni, a riverfront "Sioux Chef" restaurant that had just reopened after a fire, both proved too popular for a walk-in like me.
But if you're the type to make advance reservations, I've heard great things about both of these places, especially the "modern Indigenous" Owamni, which prepares its dishes with seasonal, local ingredients as much as possible and focuses on foodstuffs that were here before the first contacts with Europeans.
I had a great torta and the tacos looked amazing at Vivir and Centro, two connected – by ownership and a common hallway – restaurants in Northeast, across the street from Indeed Brewing. While Centro felt more lunch and dinner, Vivir – which also has a food market and bakery – had some huevos options that gave it a brunchier vibe to me.
In the same neighborhood is Young Joni – one of the restaurants operated by James Beard award-winning chef Ann Kim – which makes great wood-fired pizzas. The cocktails and bartenders are also rave-worthy (see below).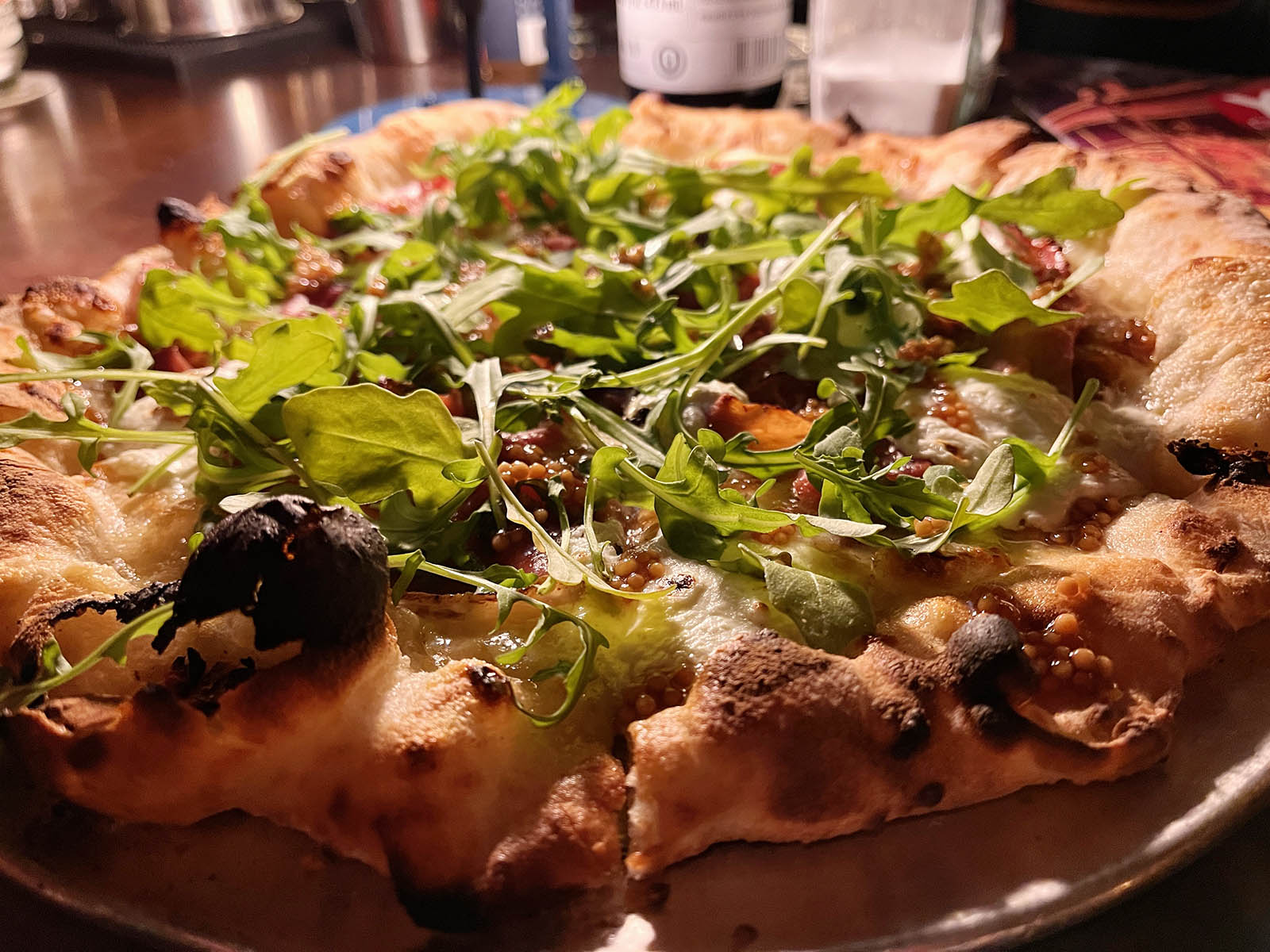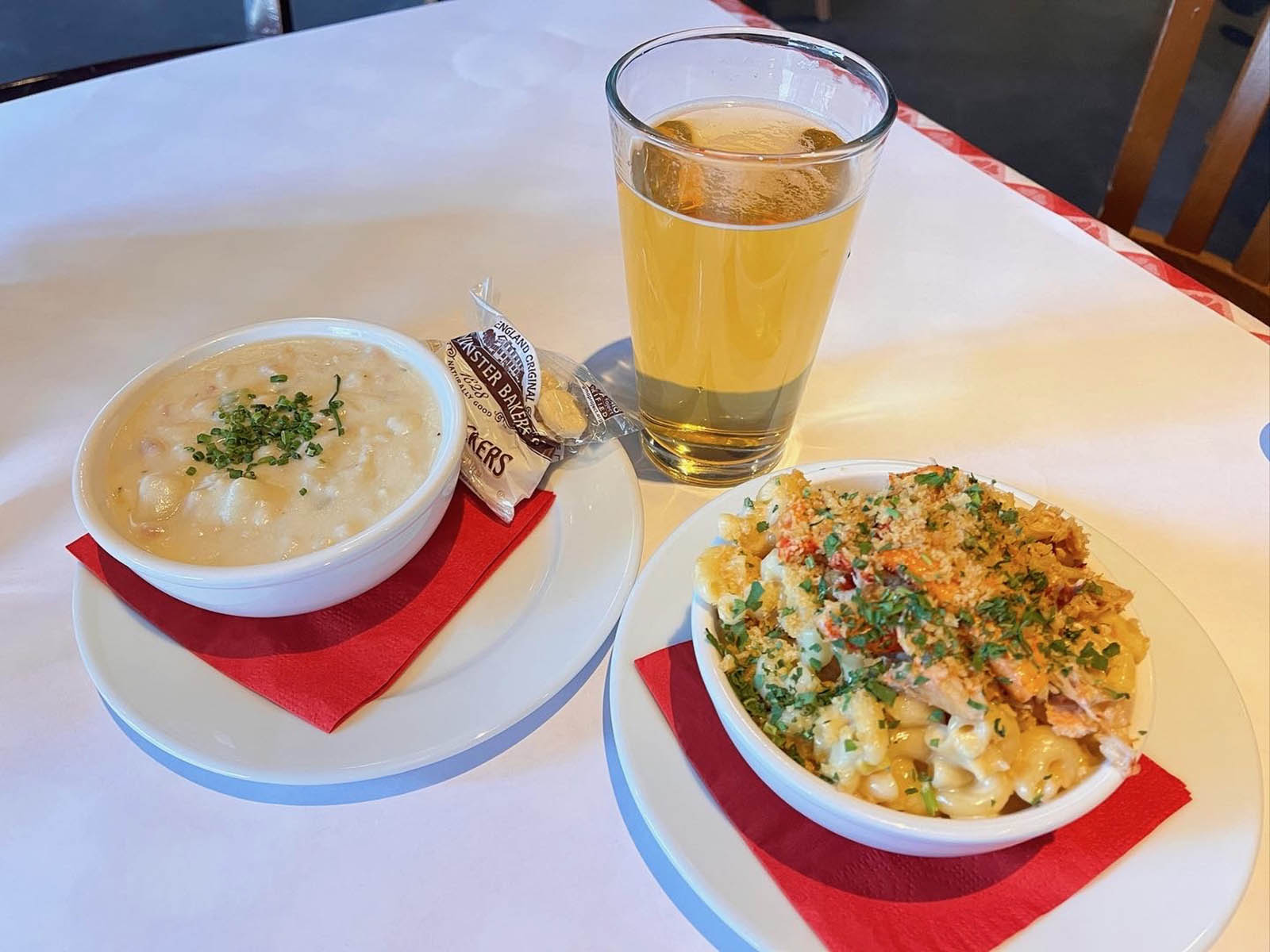 In North Loop, Smack Shack has had its lobster roll named the best in the country, but I can vouch that the oysters are fresh, the lobster mac 'n' cheese is gooey and great and the New England clam chowder rich and full of clams.
There's a nice variety of vibes, too, with table service in the bar, in a dining room in the back that feels more crab shack-y and also on a streetside patio.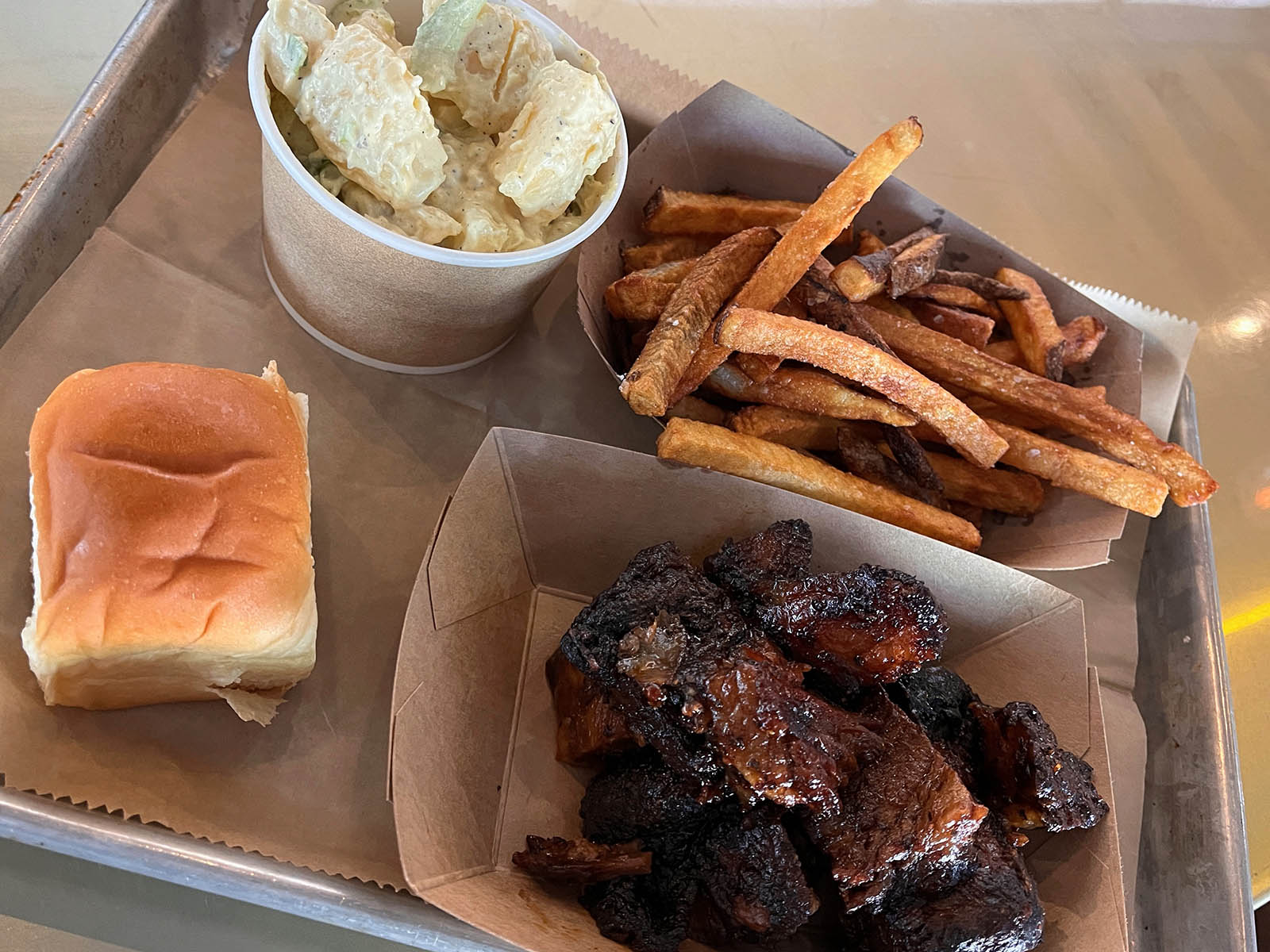 Also in the neighborhood is StormKing, which brews its own beer and makes to top-notch barbecue. Again, eat at the bar, in booths in the dining room or, even better on a beautiful day, out in the patio, which had a garden feel. (Its nearby sister restaurant, Black Sheep Coal Fired Pizza, is said to also be good.)
But perhaps the best meal I had in town was right in my first hotel, the Hotel Emery, where James Beard Award Semifinalist Chef Steven Brown runs Giulia, an Italian restaurant in one side of the lobby.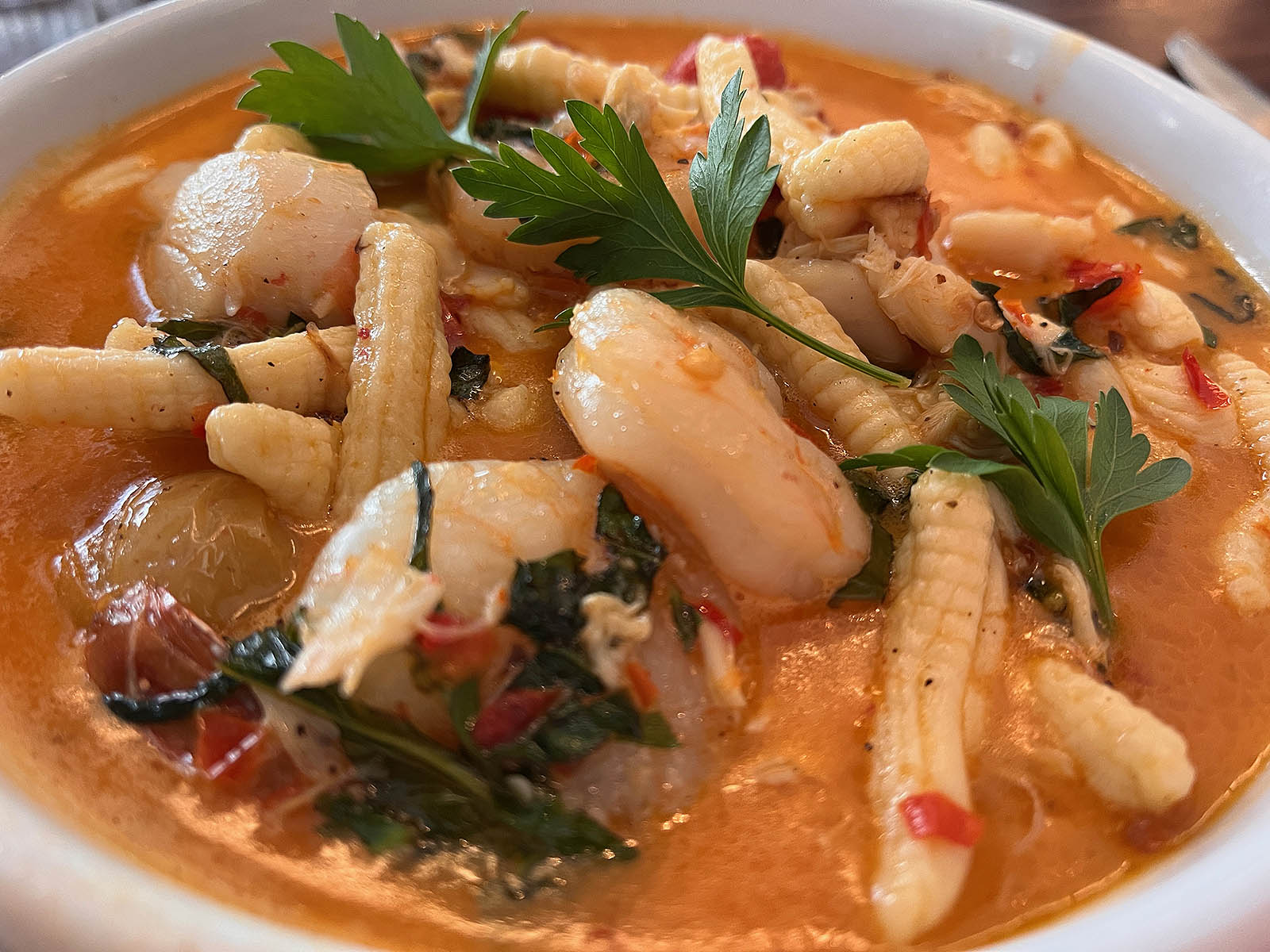 The dining room is attractively modern and airy with soaring ceiling heights and the food is great. I had the seafood cavatelli with shrimp, bay scallops and lump crab that was served in a brodo that gave it more a cioppino vibe than a pasta dish. Call it what you will, but with a hint of heat it was delicious.
Grab a beer...
Minneapolis has a great craft brewing scene, with a wide variety of brews and vibes.
On one end of the spectrum is the gigantic Surly Brewing, which has good food, an awesome patio, plus a thrumming dining room, and beer that's got such good distribution that you've likely already tried some of it. While this might be too mega for some, when I visited, it was packed full of couples and families and groups of friends all clearly enjoying themselves, the beer and the food.
With a similar vibe and a bit out on its own just north of downtown along the river is Pryes, which also has a lively taproom and a busy outdoor space. It also serves wood-fired pizzas.
There's a nice cohort of taprooms in the North Loop, including the respected Modist, Fulton and Inbound, each of which brews excellent beer and has a welcoming, fun taproom. Also in the mix right there is StormKing, which has a nice patio and the added benefit of some amazing barbecue. Also within walking distance are Bricksworth and The Freehouse.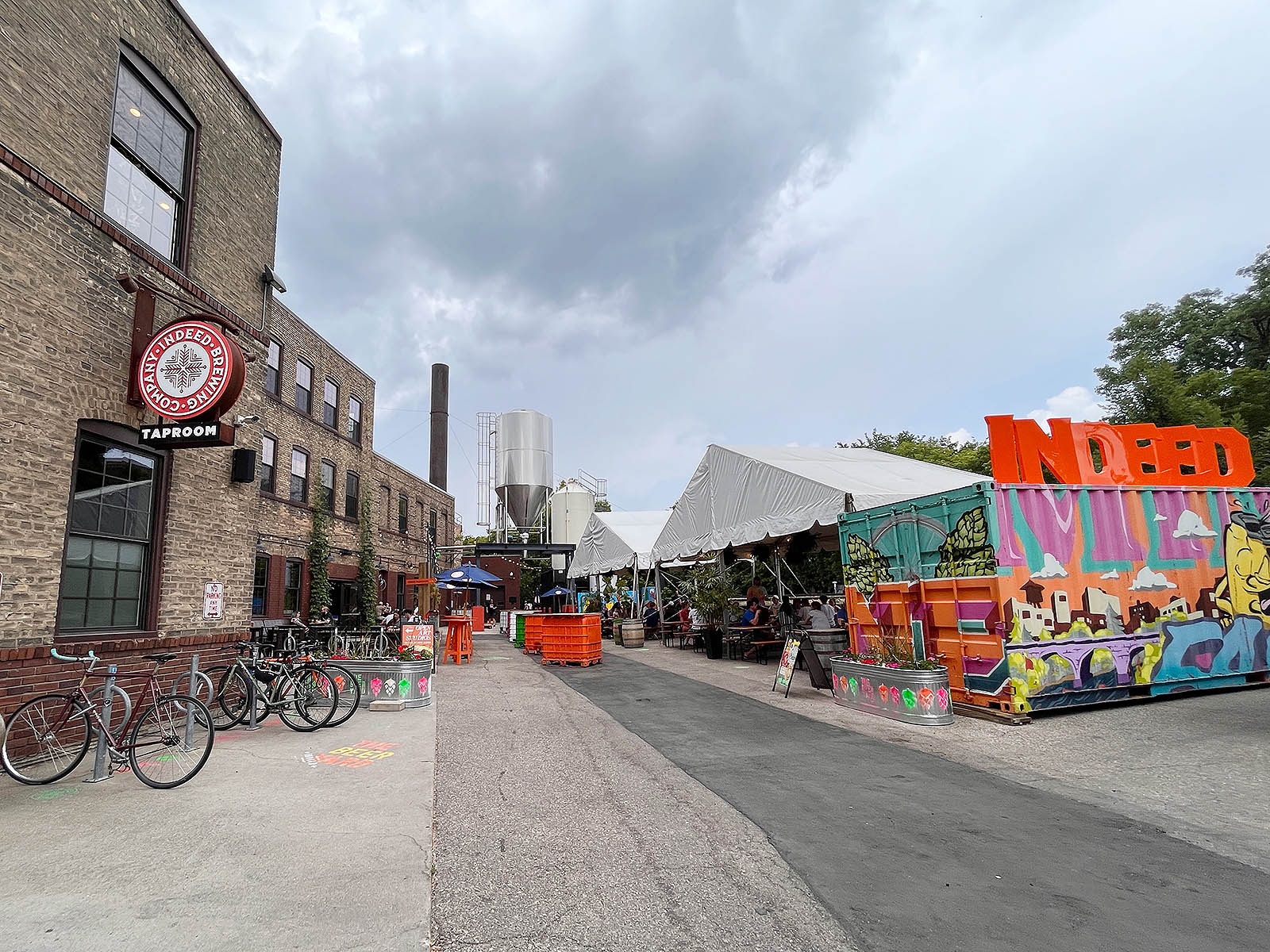 In Northeast, there are a few, too, but a tad more scattered. A must for Milwaukee visitors is Indeed Brewing, which a few years ago opened a second brewery and taproom here in Walker's Point. Experiencing the original, with its patio and food truck – as well as art studios upstairs – is fun.
I walked to Dangerous Man, located in a former bank building and with excellent beer, but some might think that's a bit too far for a stroll. But, hey, when I did it, it was pouring rain, so suck it up buttercup.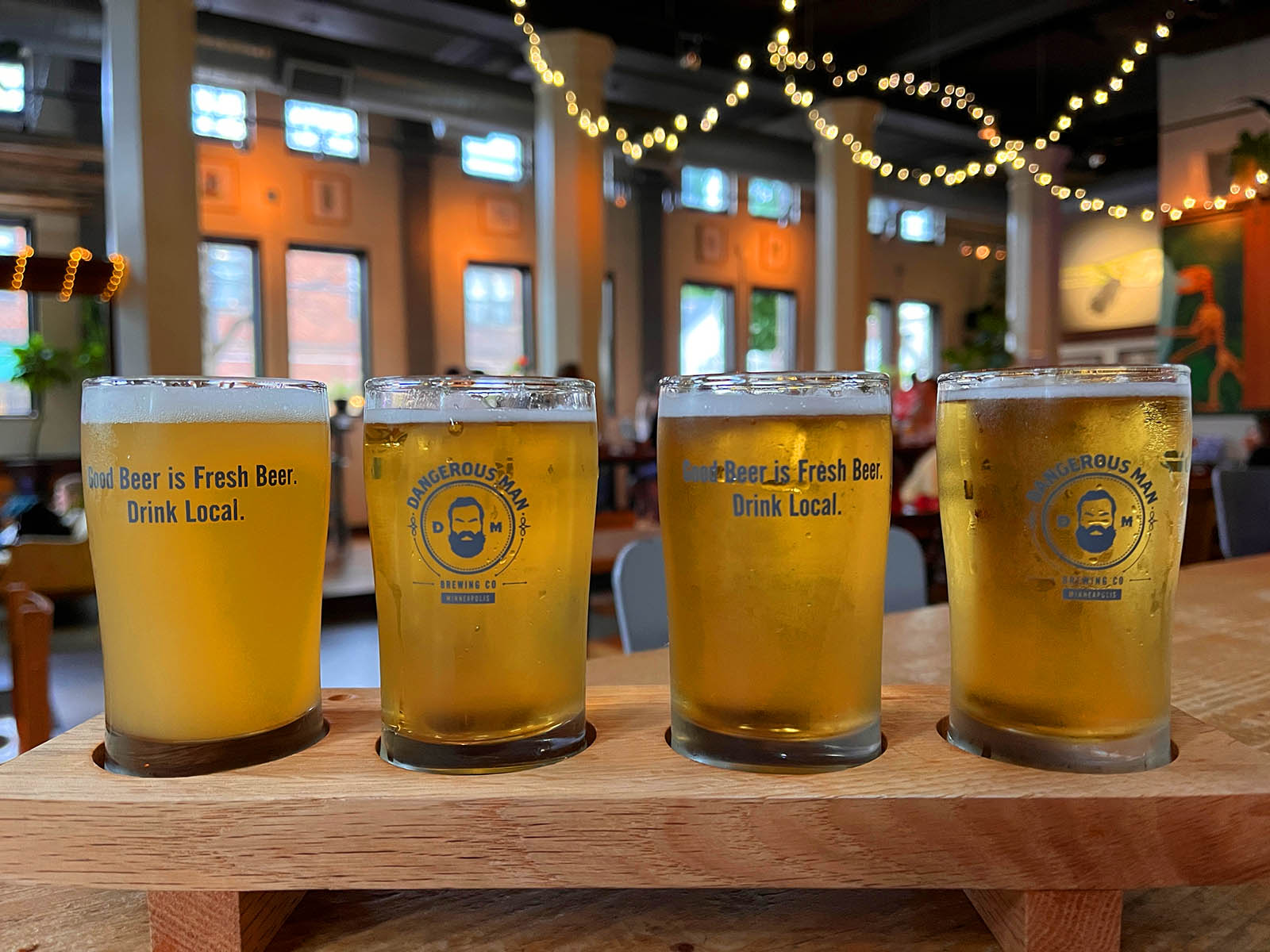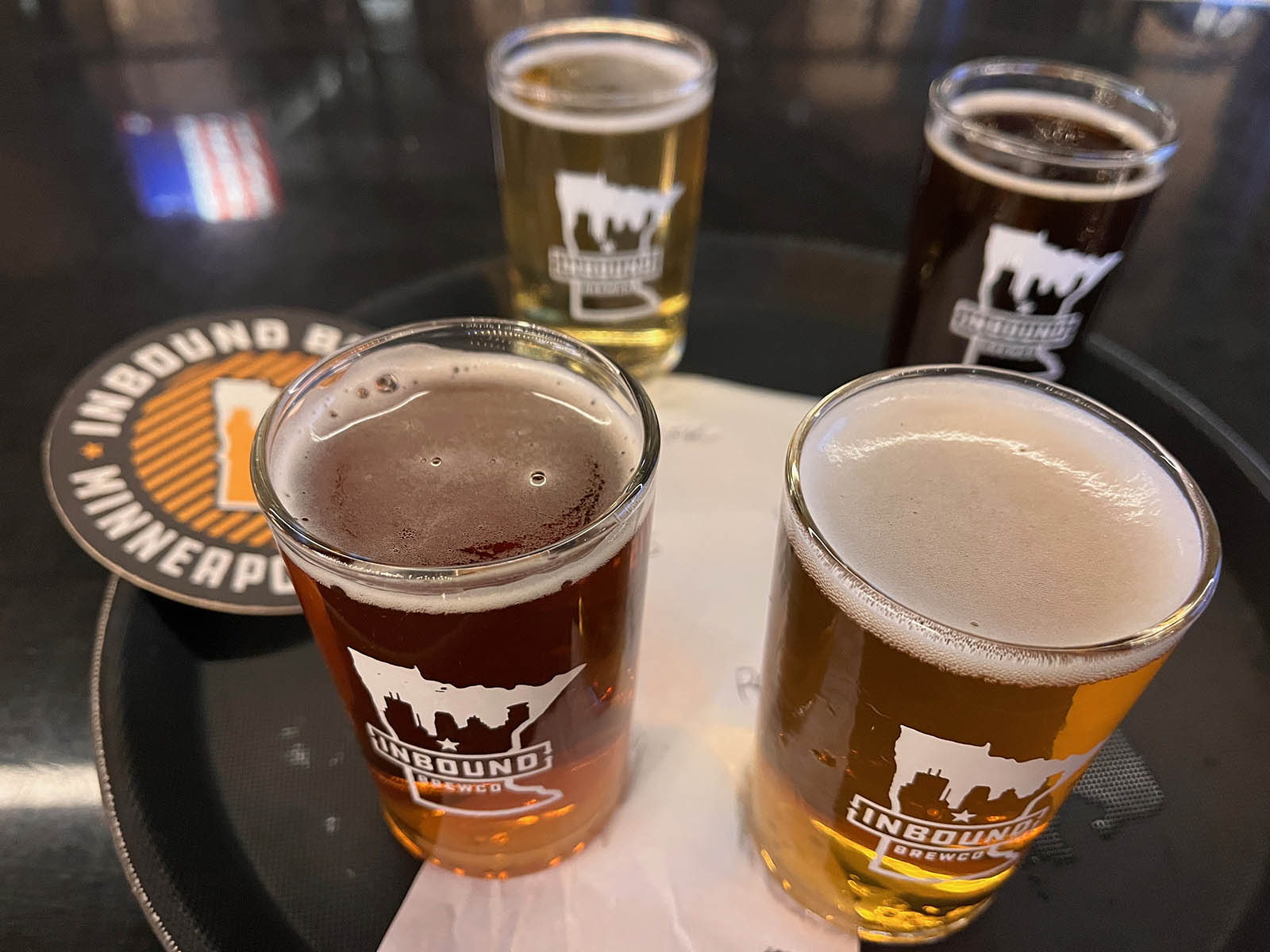 I jest, because who am I to talk, when there were loads of other breweries up in that area that I didn't make it to, including 612, Broken Clock, Falling Knife, Insight, Head Flyer, Fair State, 56, BUCH and others.
But I highly recommend the walk from Dangerous Man to Pryes across the river because you'll get to pass the surviving cream city brick Grain Belt brewery buildings that will remind you instantly of Schlitz.
Of course, there are others scattered across the city, too, and Utepils in definitely on my list for my next visit as is the pioneering Finnegan's Brew Pub, which I saved for my last day in town – based on the hours listed on Google – only to find it closed.
... or a Cocktail
The jet set is all about the Rooftop at the Hewing Hotel, which admittedly is beautiful and offers a great view of the city skyline, but you might find it difficult to get a seat, walk to the nearby Stillheart Distillery tasting room which serves cocktails made with spirits distilled by Stillheart in its crosstown facility.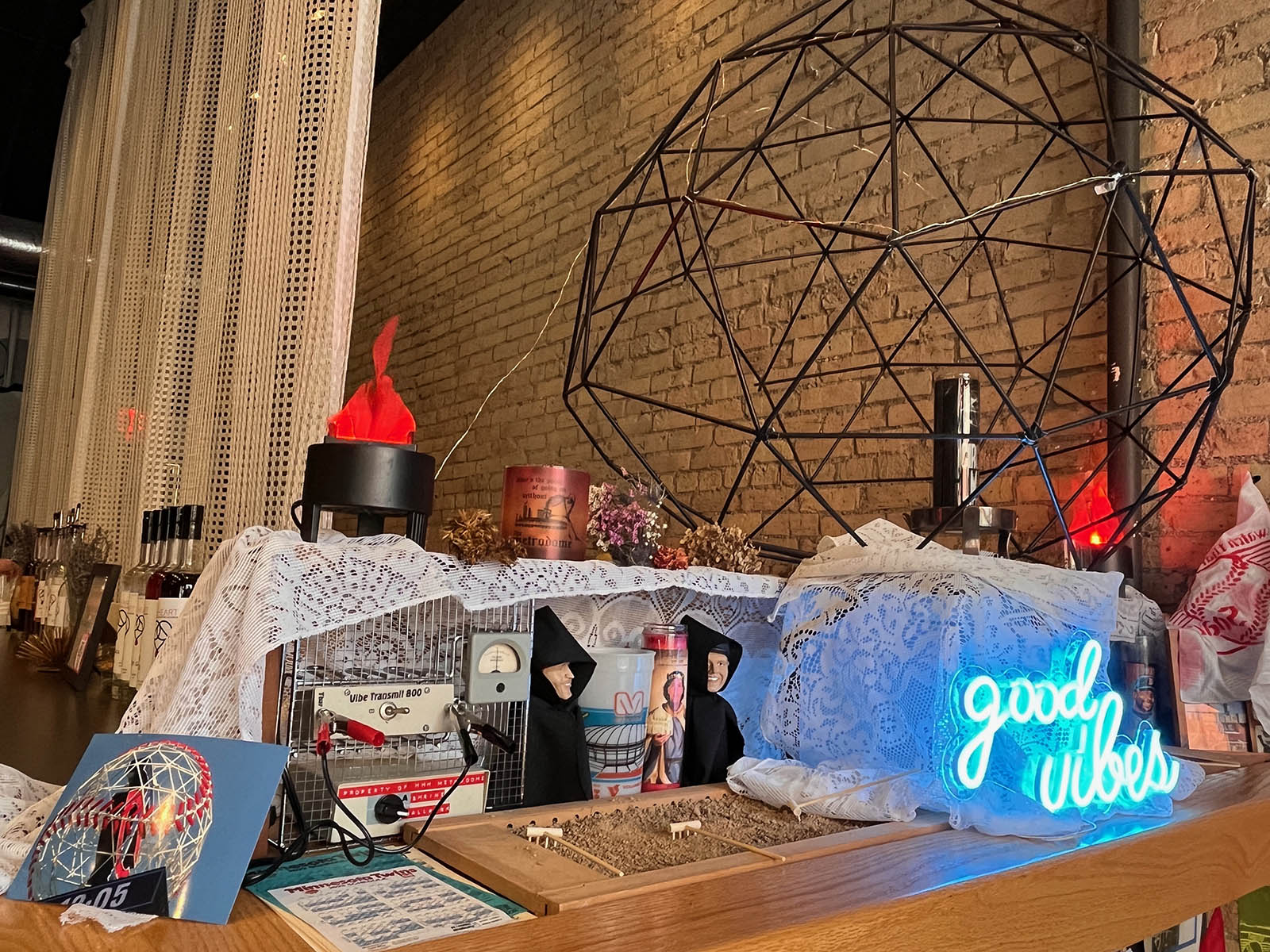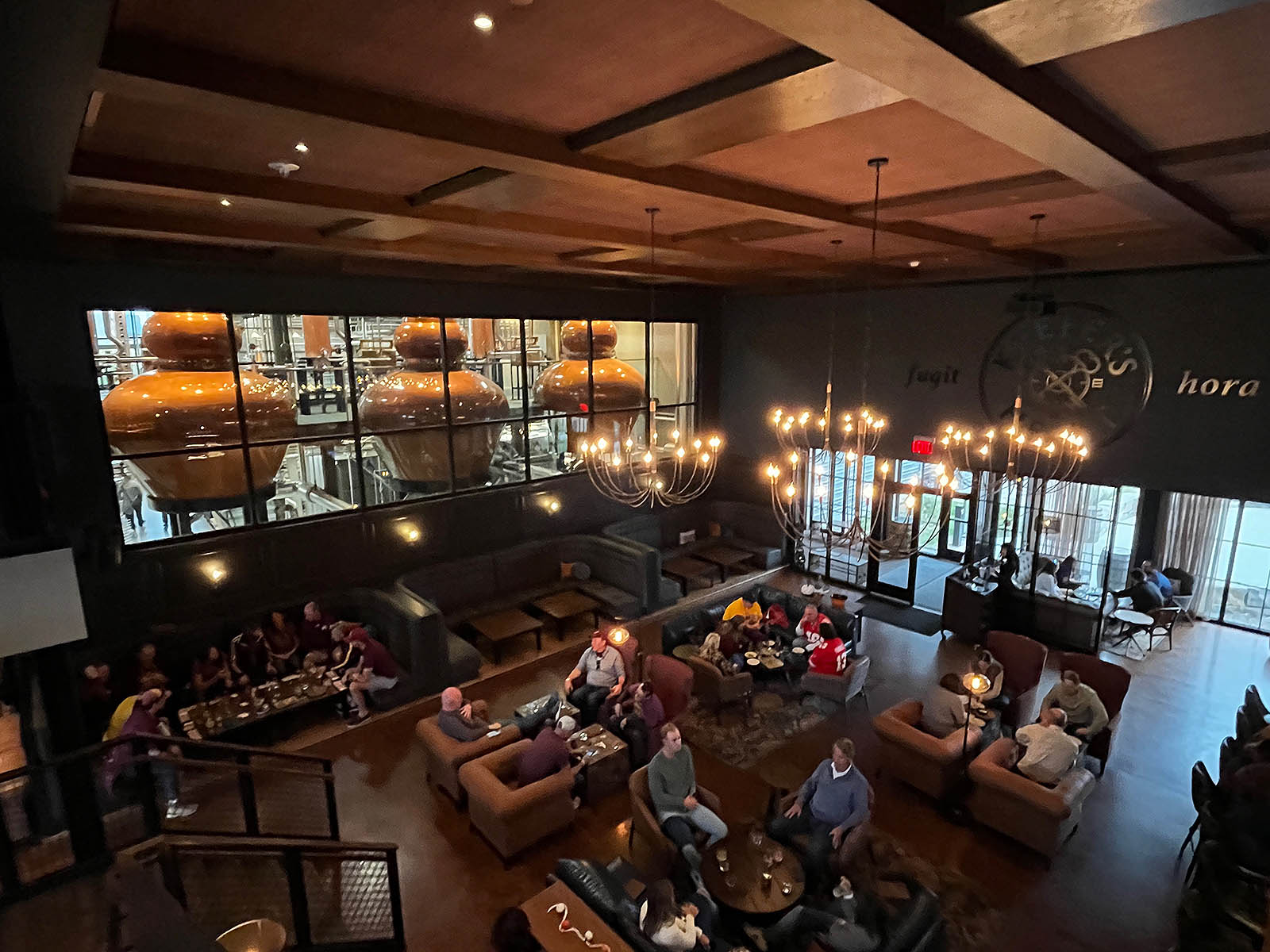 When I showed an interest, the manager invited me down to see the small stillhouse on the lower level here and spent a long time talking spirits with me. It's that kind of place: hip but friendly, with top-notch cocktails (and Bittercube bitters).
Also, check out O'Shaughnessy Distilling Co., next door to Surly, where a trio of astonishingly large pot stills are churning out juice that's blended with Irish whiskey to create the unique Keeper's Heart. The stills overlook a swank tasting room with really nice cocktails. While you're there take a distillery tour.
If you're downtown, check out Miaou Miaou in the Rand Tower Hotel and Prohibition in the Wilbur Foshay's luxe office in the Foshay Tower (both of which I mentioned above).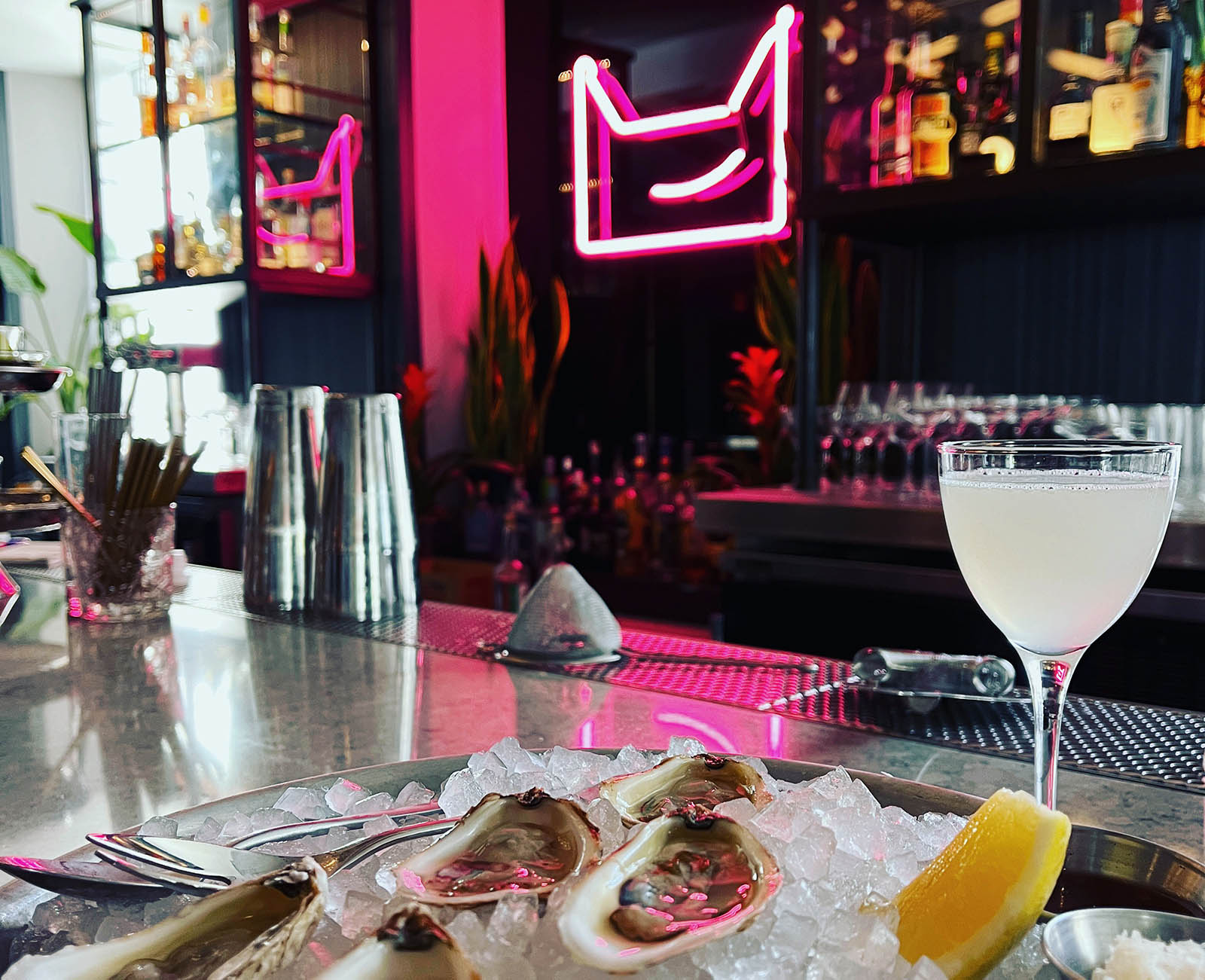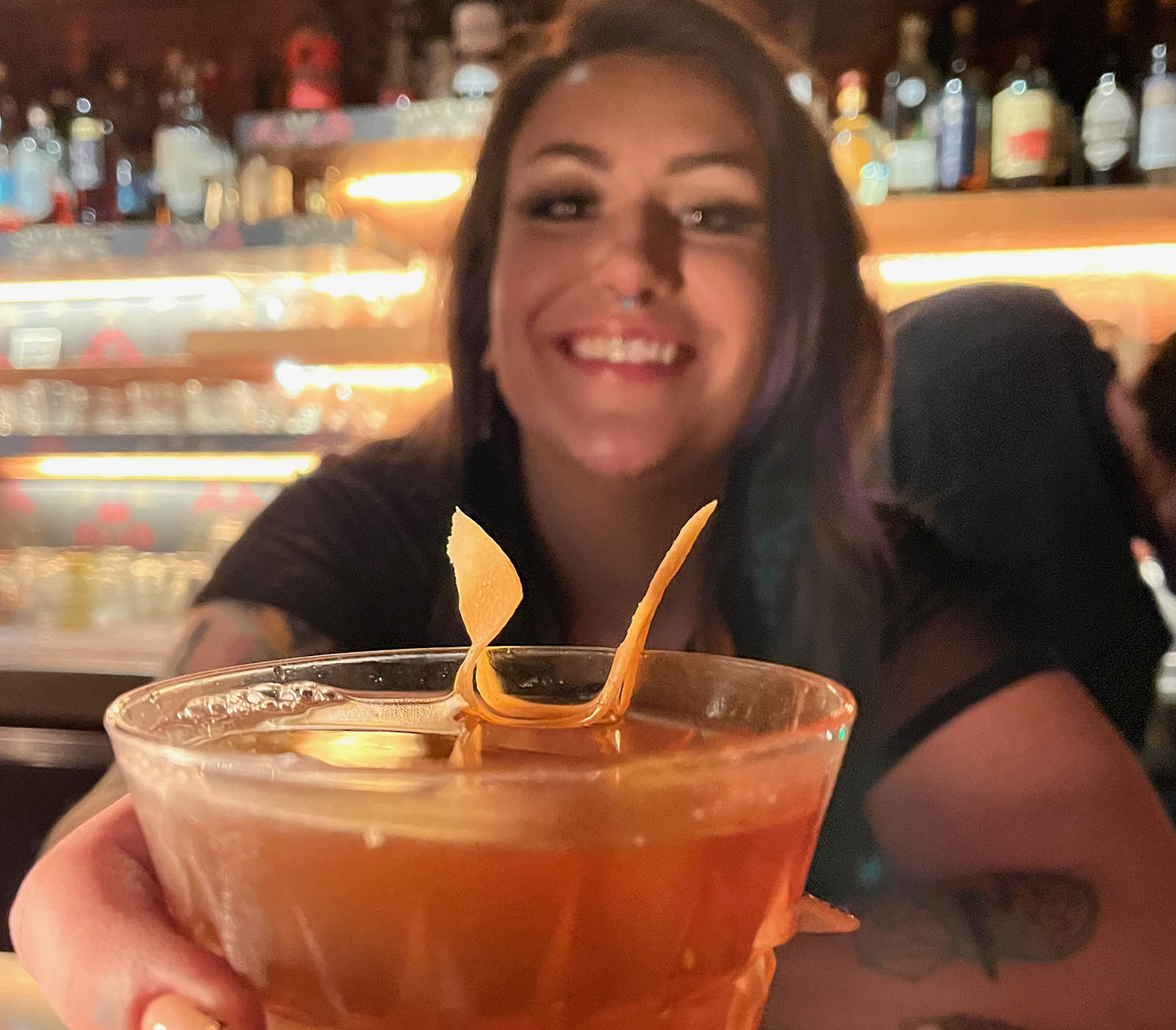 But don't sleep on Young Joni, either. Not only does this pizzeria – next door to Dangerous Man in Northeast – have what some consider to be the best pizza in town, there is a small speakeasy-style cocktail lounge round the back (enter through the alley), where the staff is super friendly and chatty and engaging and mixing up some of the most interesting cocktails you'll find anywhere. And, yes, you can order the pizza back there, too.
Get outside
After all that food and beer, you may the need for some fresh air and exercise and that can range from something like a stroll along the riverfront and the Stone Arch Bridge, to renting a bike and hitting one of the many bike trails around the city, which you can find here.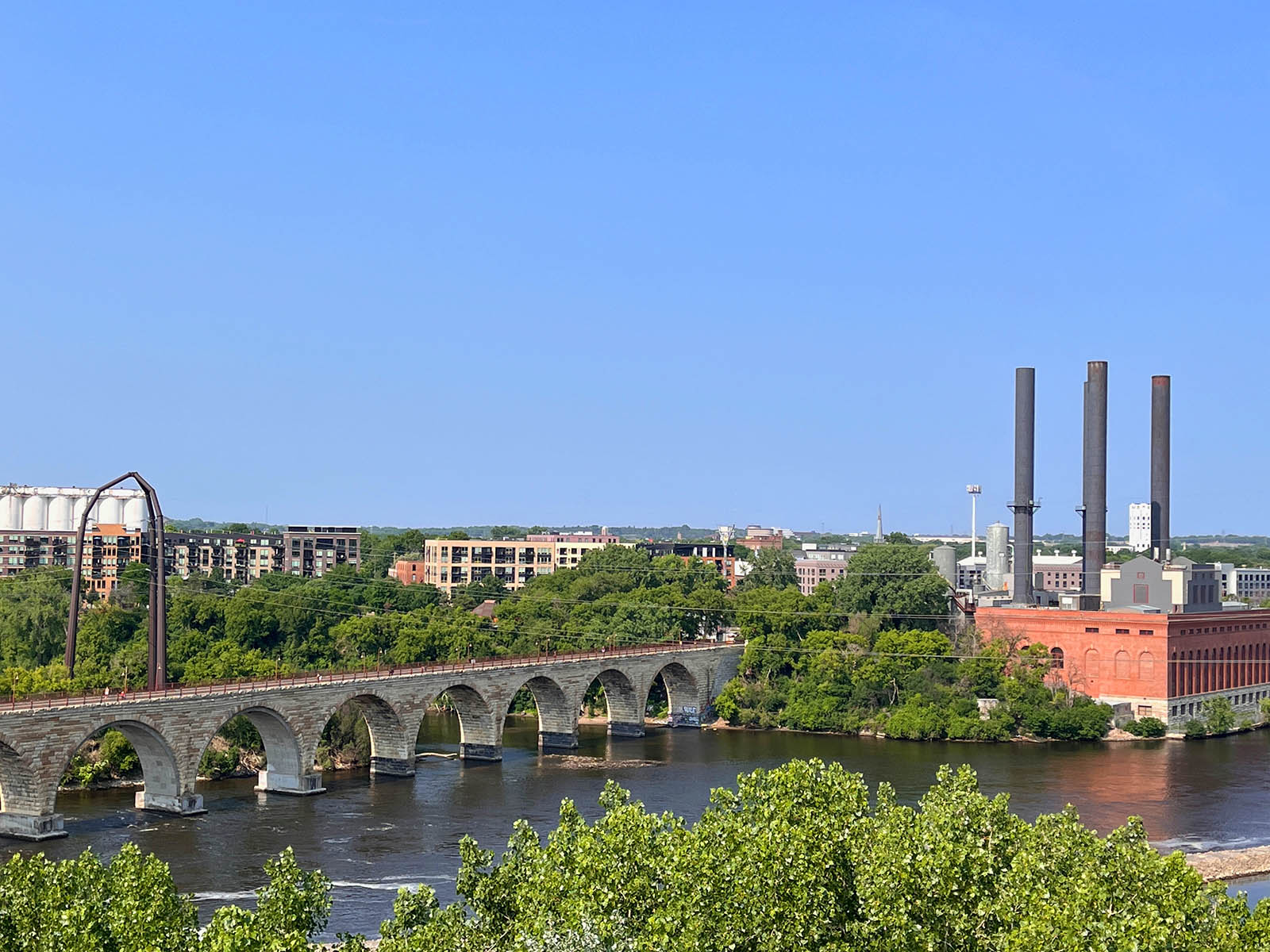 For some great water-based fun, head over to the Chain of Lakes, five bodies of water within the city limits, where you can walk or bike, but also swim or rent canoes, kayaks, paddleboards and more.
For green space closer to downtown, check out Loring Park, which is near the basilica and the Walker and sculpture garden. It's a neighborhood park with a lovely pond, a tranquil garden and grassy areas where you can stretch out in the sun or enjoy a picnic.
My daily routine was a morning 5K that I used to do a little sightseeing, too..
On the first day, I headed for the riverfront, crossed the Stone Arch Bridge and ran along the east bank, crossing over at Nicollet Island and then heading back. On the second day, I mixed it up a bit, heading straight for Nicollet Island, where I did a loop around the whole island before going a bit further east before turning around. On my last day, I headed instead toward Loring Park, did a loop, crossed over the freeway, looped through the sculpture garden and returned.
For more recommendations on museums, attractions, bars, restaurants, hotels, family fun and more, visit Meet Minneapolis.
(NOTE: At just under 350 miles, a trip to Minneapolis from MIlwaukee can be done on a single tank of gas each way if you've got a fuel efficient car. But for this trip, in the interest to maximizing my time on the ground in Minneapolis, I took a nonstop flight from Milwaukee Mitchell International Airport to Minneapolis-St. Paul International.)
Born in Brooklyn, N.Y., where he lived until he was 17, Bobby received his BA-Mass Communications from UWM in 1989 and has lived in Walker's Point, Bay View, Enderis Park, South Milwaukee and on the East Side.
He has published three non-fiction books in Italy – including one about an event in Milwaukee history, which was published in the U.S. in autumn 2010. Four more books, all about Milwaukee, have been published by The History Press.
With his most recent band, The Yell Leaders, Bobby released four LPs and had a songs featured in episodes of TV's "Party of Five" and "Dawson's Creek," and films in Japan, South America and the U.S. The Yell Leaders were named the best unsigned band in their region by VH-1 as part of its Rock Across America 1998 Tour. Most recently, the band contributed tracks to a UK vinyl/CD tribute to the Redskins and collaborated on a track with Italian novelist Enrico Remmert.
He's produced three installments of the "OMCD" series of local music compilations for OnMilwaukee.com and in 2007 produced a CD of Italian music and poetry.
In 2005, he was awarded the City of Asti's (Italy) Journalism Prize for his work focusing on that area. He has also won awards from the Milwaukee Press Club.
He can be heard weekly on 88Nine Radio Milwaukee talking about his "Urban Spelunking" series of stories.